So, the coronavirus is in Milan. What is actually happening – business as usual, apocalypse in the streets, or something in between? Since we are in Milan right now, this post is about what's going on.
We'll add regular updates as the coronavirus in Milan situation progresses.
*March 10th Update* As of last night, the whole of Italy is under lockdown until April 3rd.
DO NOT TRAVEL to Italy until then and if you're here, contact your Embassy for instructions.
If you have read this blog before, or know us personally, you'll probably be aware that we live in Milan – we've been spending about 4/6 months of the year in the city for the past 10 years.
Yet, when the coronavirus disaster slowly unfolded, we were not in Milan – we were on a 7 week road trip around the US. We returned to Milan on March 1st, 10 days after the first coronavirus case was detected.
This puts us in a unique position. We are currently in Milan, and able to report first-hand on what's going on. At the same time, we spent the majority of the past 2 months outside the country, which gave us the chance to see how the coronavirus outbreak was portrayed (and most importantly, perceived) by people outside Italy.
From reading that 'Milan and Venice are on shutdown' to people asking us if we had enough food to make it through the crisis, we heard all sorts of things. Take a look at this message for example – Milan is referred to as the 'Coronavirus epicentre for Europe'.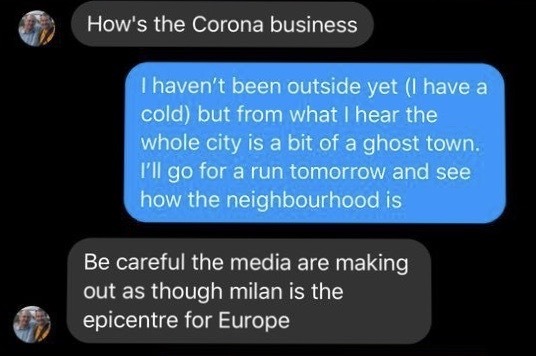 That's why we decided to put this post together – to report on what is actually going on with coronavirus in Milan, and clarify some common misunderstandings.
Coronavirus in Milan – How it Started
Now, I am not a health professional, so in case you live under a rock and have never heard of coronavirus before, I'll direct you to this Q&A by the WHO, covering everything you need to know.
Coronavirus (also referred to as COVID19) was first detected the Chinese city of Wuhan in December 2019. In the vast majority of cases, coronavirus only causes flu-like symptoms, or no symptoms at all.
This may sound like good news, but unfortunately is part of the reason why the virus spread so rapidly – because people were often unaware they were infected, and kept going out, travelling and socialising.
However, the virus is related to the one causing SARS, and even though it is far less deadly, it CAN cause severe respiratory complications. About 20 per cent of people infected with coronavirus develop pneumonia, and about 5 per cent require intensive care and a ventilator. The death rate varies between 1 and 4 per cent.
Most coronavirus victims are older people, or individuals with pre-existing medical conditions. Young people are less likely to develop severe symptoms – but it does happen, as in the case of Patient 1 in Italy, a healthy 38 year-old man who ran two half marathons just a few weeks before.
The bad thing is that coronavirus is much more contagious than SARS and the regular flu virus.
Despite heavy quarantine measures put in place by the Chinese government, the virus escaped China and started to spread worldwide – first in Asia, and then in Europe, with the most severe outbreak outside of Asia located in the Lombardy region.
Milan is the capital of Lombardy, but the main infection cluster is NOT IN MILAN – it's 50 km south.
Coronavirus in Milan – A Timeline
News of the first coronavirus case in Lombardy broke around February 20th. A man was admitted to hospital in Codogno, south of Milan. The man had severe respiratory problems, and tested positive for coronavirus.
Around the same time, the virus was also detected in the Veneto region, with two patients hospitalised near Padova. One of them, a 78 year old man, passed away a few days later.
Since coronavirus is very infectious and spreads rapidly, measures to try to contain the virus were put in place immediately.
This included establishing a 'red zone' including 11 towns – here they are:
In Lombardy, Bertonico, Casalpusterlengo, Castelgerundo, Castiglione D'Adda, Codogno, Fombio, Maleo, San Fiorano, Somaglia, Terranova dei Passerini.
In Veneto, Vò Euganeo.
The 'red zone' has been under quarantine since February 23rd. There are military and police checkpoints, and people are not allowed to enter or exit.
At the same time, the government announced a decree including closures for the rest of Lombardy (including Milan) to curb the infection. The measures included are listed below:
Schools and universities are closed
Cinemas, theatres and clubs are closed
Masses and other religious ceremonies are suspended
Gyms, wellness centres and spas are closed
All sport competitions are cancelled, or happen behind closed doors
Museums are OPEN, but with limited access to avoid overcrowding
Bars and restaurants are also OPEN, but only with table service
Trade fairs have been canceled or postponed – Design Week has been moved from April to mid-June
All these measures are valid until March 8th, when everything should go back to normal.
If you're looking for Rome/Sardinia specific info, check this post by my friend Claudia from My Adventures Across the World.
Coronavirus in Milan – The Situation Today (March 16th, 2020)
At the time of writing this article, there were 5469 people who tested positive to the virus in Lombardy, and 333 deaths. A great percentage of cases are located in and around the 'red zone' under lockdown, but at this stage coronavirus has been detected in all Italian regions.
Most cases in Lombardy are concentrated in the provinces of Lodi (where the lockdown area is located, 482 cases) and Bergamo (372 cases – two more cities may be placed under quarantine over the next few days). The province of Milan only has 93 cases (source).
*UPDATE MARCH 11TH* cases are all over now unfortunately, and keep rising every day.
What is is known, is that Italy has tested MANY of people for coronavirus – over 60,000 tests were performed since the beginning of the outbreak.
To give you an idea, only 460 people had been tested in the US as of Feb 29th – the number of tests performed were since removed from the CDC website, and the US came under criticism for inadequate testing.
It is very hard to make predictions as to what will happen with coronavirus, in Italy and elsewhere – how long the cases will keep increasing for, and at what rate. Not much is known about the virus, and researchers are working round the clock to find a cure or a vaccine – but this will take months.
*Update March 5th*
All schools in Italy are closed until March 15th. Sport competitions (including Serie A football matches) will happen behind closed doors for a month. Gyms, theatres and cinemas remain open elsewhere in Italy, but access will be limited to prevent overcrowding.
*Update March 7th*
Milan, the whole of Lombardy and 14 other provinces (Modena, Parma, Piacenza, Reggio Emilia, Rimini, Pesaro e Urbino, Venezia, Padova, Treviso, Novara, Asti e Alessandria, Verbano-Cusio-Ossola, Vercelli) have been placed under quarantine/lockdown until April 3rd.
People are advised to remain indoors as much as possible. You can only travel outside of your hometown for health and/or work reasons. If stopped, you have to present a form self-certifying the reasons of your visit.
Museums, theatres, swimming pools, gyms, spas, clubs, and churches remain closed. Shops are currently open and public transport is working, but this is likely to change soon.
*Update March 9th*
The lockdown was extended to the whole of Italy, until April 3rd. DO NOT TRAVEL TO ITALY. If you are here, please stay indoors and contact your Embassy.
Cases keep rising day after day, and intensive care units are full throughout Northern Italy.
Since cases are on the rise in other countries as well, and the virus is spreading incredibly quickly, please reconsider your travel plans until this is over. Even if your country or the country you're planning to visit have little/no cases.
*Update March 11th*
Stricter measures were implemented all over Italy. Restaurants are only open for delivery and take away, bars and cafés are closed, and most shops are closed as well.
Pharmacies, supermarkets and food stores remain open, but access is limited and there are often long queues outside.
People are still asked to stay indoors. You can only leave your home for work, necessities (getting food/medicine) or health reasons.
The Coronavirus Reality in Milan (March 4th – Before Lockdown)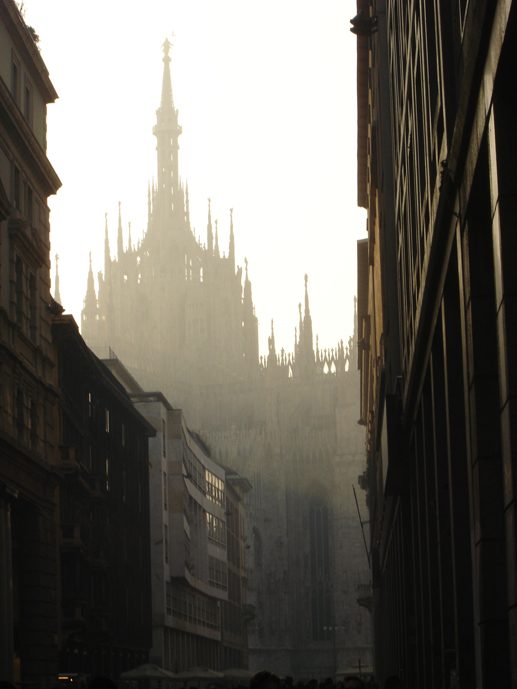 Let's move onto discussing what I can indeed talk about – life in Milan at the time of coronavirus.
Despite the closures mentioned above, life in Milan goes on largely as normal. The only places in lockdown/quarantine are those in the 'red zone' south of Milan, and the one town in Veneto.
Milan and Venice are not under lockdown, and they are not controlled by military police. People are free to come and go as they please.
The city is far less busy than usual – partly because schools and universities are closed, and people have been encouraged from their employers to work from home. Public transport is almost empty – it feels as if we were in August, when people leave the city for summer holidays.
Shops in the city centre are all open. Bars and restaurants are also open. Cinemas and theatres are closed, including the famous La Scala. However, after closing for a few days last week, museums and attractions are now open – including the Duomo and Last Supper.
Supermarkets haven't run out of food, and we are not starving. Hand sanitiser and face masks are indeed hard to come by, but this is true almost all over the world.
The only place where you'll find checks are Milan's three airports. All arriving passengers are checked with a temperature gun, and those with a temperature above 37.8°C have to undergo further testing.
Coronavirus in Milan During Lockdown
**March 16th Update**
Since this post was first written, the situation in Milan and Lombardy deteriorated very quickly. In less than a week, new coronavirus cases and new deaths have doubled – as of March 10th, there were 10,149 cases and 631 deaths.
And then, as of March 15th, cases in Lombardy had risen dramatically to 13272, with 1218 victims.
The main issue of this outbreak is the strain on the healthcare system. About 5 per cent of people infected with coronavirus experience respiratory complications, requiring intensive care and the aid of ventilators to survive. These people remain in ICU not for one or two days, but for ONE OR TWO WEEKS.
Less than a week from the start of the coronavirus epidemic, ICU were full. Coronavirus patients in intensive care went from 166 to 877 in ONE WEEK.
The Lombardy regional government (healthcare in Italy is managed on a regional basis) started doing whatever they could to set up new ICU beds. Other departments in hospitals were turned into ICU in the blink of an eye – 350 new beds were created in less than a week.
Currently, hospitals that were recently closed are being opened again to fit more people are cases continue to grow. On top of that, doctors and nurses are falling ill, exhausted by never ending shifts and the stress of dealing with this emergency.
The only thing we can do, as individuals, is staying at home. Lockdown measures in place only allow people to leave their home for work or health reasons, to buy food, to walk their dogs, or to go help a sick relative. Public gatherings are absolutely forbidden.
In other countries, the situation isn't as dire – yet. It's frustrating to have to live through a lockdown and see that in other countries coronavirus is still perceived as 'somebody else's problem'.
It's nerve wracking to live every day waiting for the daily 6 pm conference giving the count of new cases and new deaths – and get terrified at that ever-rising curve, growing steep each day.
It's exhausting to learn that friends and neighbours are falling ill, and there's nothing you can do – except staying away. It's heart breaking to know that coronavirus victims are dying alone, with no friends of family, with no hugs, with no one even holding their hand.
If you are reading this, I am begging you not to travel. Not to Italy, not anywhere else. Not even if you come from (or head to) a coronavirus-free country. Over 50 per cent of people infected with coronavirus do not have any symptoms, and travelling helps spread the virus.
Together, we can beat this.
Should I Cancel My Milan Trip Because of Coronavirus?
TL;DR – you don't have a choice! Milan (and the rest of Italy) is currently in lockdown until April 3rd.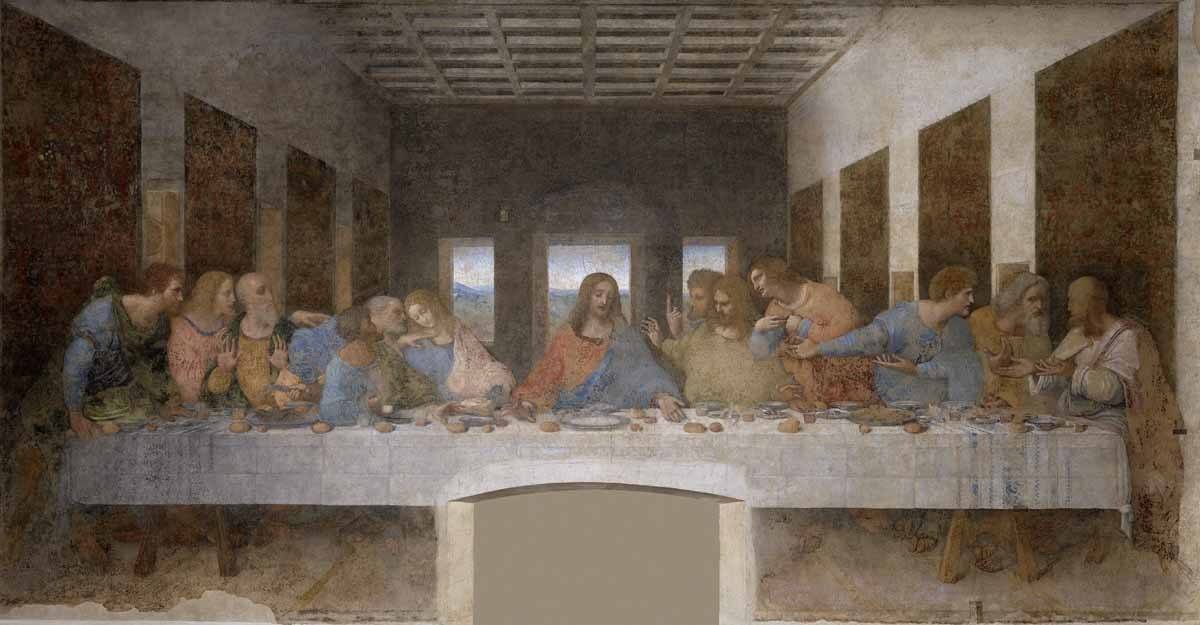 This is a very hard question to answer. Coronavirus has had catastrophic consequences for tourism in Milan and the rest of Italy. In the first week following the outbreak, over 200 million euro worth of bookings were cancelled, for the month of March alone.
13 per cent of Italy's GDP is tourism related, so if the coronavirus emergency continues all through the summer season, consequences for the already-crippled Italian economy will be truly terrible.
On the basis of this, you might think I am going to recommend you to visit and support the Italian economy. After years of over tourism, we have reached the other end of the spectrum – there's no one around.
Life is mostly normal in Milan, so why not come and have fun, and enjoy the city with very few tourists about?
Well, because it's not that simple. First of all, because of practical reasons – many airlines have stopped flying to Milan altogether, or have severely reduced Milan-bound flights. Several countries have introduced travel restrictions for people coming from Italy, especially from Lombardy.
The CDC has raised the travel advisory for Italy to Level 3, and Level 4 for Lombardy. Some countries have stopped allowing access to Italian visitors, or visitors coming from Italy – it's impossible for me to list them all, as information changes hourly.
Even if your country doesn't limit entry to Italians or travellers coming from Italy at present, the situation may change, and you may find yourself stuck in quarantine upon your return.
There's also one more point to consider. It has been reported that coronavirus is more severe in elderly people and those with chronic conditions.
So, a healthy person may experience nothing but a sniffle and carry on with their life as normal – but by doing so, they may inadvertently contribute to spreading the virus, which may hit an older person with much worse consequences.
There's also one more point to consider – the strain on the healthcare system. Coronavirus causes respiratory complications in 17-29 per cent of hospitalised cases, often requiring intensive care and respiratory support (source).
As a result, if the infection continues to spread, more and more people will require intensive care. Lombardy is already experiencing a severe shortage of intensive care beds and healthcare professionals, many of whom have fallen ill.
Conclusions
The final decision on whether or not to cancel your Milan trip because of coronavirus rests with you. Personally, if you had planned to come in March or April, I would either cancel or postpone my trip.
I am usually a strong advocate of travel, but this time, I think it's right to recommend my readers to stay put for a little while – especially if you're planning to come to Milan. Every single person travelling may spread the virus, since infected people are believed to be contagious even when they do not show any symptoms.
If your trip is due to take place later, don't cancel just yet. It makes no sense to cancel a reservation for August or October now. We literally have no idea as to what will happen next week, let alone few months down the line.
Just wait and see – this nightmare will hopefully be over in a few weeks, or before the summer season at least. Coronavirus is believed to not fare well in high temperatures, so since the weather is getting warmer, that may do it.
We can only hope, at least.
Official Information about Coronavirus in Milan and Italy
Coronavirus Prevention Measures
Wash your hands. Wash your hands. Wash your hands. Shall I say that again? Wash your hands for at least 20 seconds and use hand-sanitiser if possible.
Avoid contact with sick people
Don't touch your nose, eyes or mouth with unwashed hands
If you need to sneeze, do so in your elbow
Use a face mask only if you are sick or caring for sick people – take a look at this WHO advisory page on responsible face mask use
If you are in Italy and experience possible Coronavirus symptoms, call 112 or 1500 (English-speaking operators are available)