How would you feel about going for dinner at a stranger's home? Let me tell you – it's amazing! Here's what happened the night we spent at Eat & Meet, a Budapest supper club!
I've always been convinced that the best food is the one you have at home. Sure, I love restaurants – but nothing compares with home-cooked comfort food, be it a grandmother's lasagna (not my nonna, she's hopeless at cooking), shepherd's pie in the UK or mansaf in Jordan.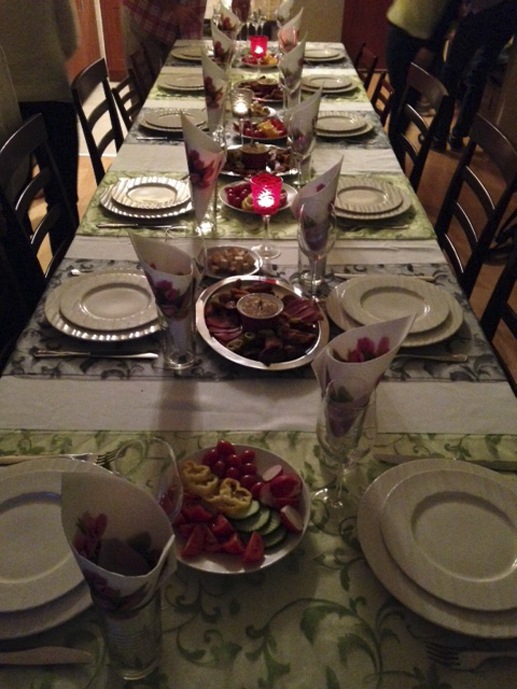 Our experience of supper clubs
A few years ago, when we still lived in London, the 'supper club' craze began. Foodies started opening their homes to guests, cooking feasts that usually cost a fraction than what you would pay at a restaurant. A guy called Horton served up a vegan sushi dinner for somewhere around £15 (BYO was free), while a chef named Nuno offered a 15 course gourmet feast with wine pairing for £100 – to date, that was one of the best dinners of my life.
I thought supper clubs were a brilliant trend, and for a while I searched them out wherever we went. I even cooked in one – just one night, and made a total mess of it. Never having cooked for large groups of people, I burnt my 'signature' risotto with roasted pumpkin and blue Stilton, disappointing the diners and angering the fearsome head chef.
Suzie and her Budapest supper club
That was the end of my supper club adventures – until a few weeks ago, when we visited Budapest and heard about Eat & Meet, run by a young lady called Suzie and her family.
Eat & Meet is different from all other underground restaurants I had visited so far, because it is not aimed at hipsterish locals, but at tourists. Hence the name 'Eat & Meet' – because you get to eat delicious, home-cooked Hungarian specialties, learn about Hungarian gastronomy, while meeting some fellow travellers.
Eat & Meet operates at two locations; Suzie and her family's flat, in a stunning location overlooking the Danube, and in their vegetable garden just outside of the city – depending on the weather. After 2 months of sunny weather, it was raining the night we booked to go to Eat & Meet, so dinner took place in the flat.
And what a flat it was! Suzie graciously welcomed and led us to the balcony, where the grand dame of European rivers, she who inspired artists and musicians, flowed in all her glory, surrounded by the hills and meadows of Budapest's outskirts.
It was a stormy night, and blue hour was just giving way to darkness. Yet, we could still spy some flashes of crimson in the sky, where the sun has set behind the stacked clouds.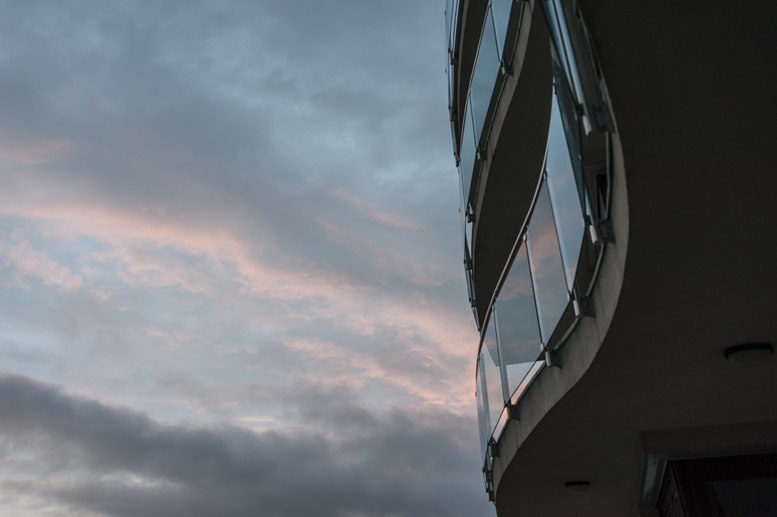 Suzie and her family
Suzie was a wonderful host. She had the kindness, good manners and demeanor of a person that was made for hospitality – she was in her element, welcoming people in her house and sharing her greatest passion, food.
She spoke perfect English and Italian, after having lived in Italy for several years and having studied and one of Italy's most prestigious gastronomy colleges.
Yet, as it often happens in these unlucky times, she couldn't find a job when she came back to Budapest. So she created her own job; she designs and guides food and wine themed tours around the city, and in the evenings runs Eat & Meet.
Her mother, also names Suzie, is the chef; her father Frank is the sommelier, while Suzie overlooks everything like an excellent maitre d'.
Our experience at Eat & Meet
Most of the other guests were Italian (totally random!) save for two Spanish ladies. Everyone was passing through town for a few days, either on a weekend break or as part of a longer trip around Europe. Suzie recommended we all sat next to someone we didn't know, to get the most out of the experience.
The company was fun, it felt like being at a dinner with some long-lost friends. And the food was really excellent, from start to finish.
We began with a shot of palinka, a traditional fruit brandy that is usually drunk at the beginning of a meal in Hungary. Suzie asked us to smell the drink and try to guess what fruit it was made with. Quince? Pear? Plum? The answer was apricot.
Now, I'm not a fan of strong liqueurs, and the idea of having a shot BEFORE rather than after a meal is just plain weird, but I can tell you that Suzie's palinka was the best we had in our time in Hungary.
Them it was time for the feast. We began with some cold starters, accompanied by a glass of Hungarian rose. Cured meats, including smoked Hungarian salami in the spicy and smoked variety, ham and pickled beef tongue, much tastier than it sounds.
There were also some pots of körözött, quark cheese mixed with paprika (a dish I adore) and fried pork scratchings, to be eaten dipped in salt. 
But my favourite was a platter of vegetables from Suzie's garden. The tomatoes are priceless – she said, and she was right. They had the right balance between sweet, savoury and acidic, and were perfectly ripe and flavoursome. I had only ever had such delicious tomatoes in Sicily.
And that wasn't all. We had crunchy peppers and cucumbers, and delicious, dainty radishes. I could've eaten my fill of veggies and paprika cheese – but Suzie warned us to keep some room for later.
Shortly afterwards, mains were served. Pork steaks, marinated in mustard and herbs overnight, fried then baked in the oven until meltingly tender, accompanied by mashed potatoes and fried onions, served with a choice of white or red wine – or even both, if we wanted.
Vegetarians and vegans, fear not – just let Suzie know what you do and do not eat and she'll cater to your needs.
One of the great things about Eat & Meet is that it's literally 'all you can eat'. The starters would've fed double the number of people around the table. When we finished our mains, Suzie offered us seconds. Personally, I was stuffed – and dessert was yet to come.
Suzie's mother served up some huge slices of blueberry crumble cake, that she had baked that afternoon. With the cake, we drank two types of dessert wine, one drier and one sweeter. Normally, Suzie looks after dessert, but she was busy that day, so her mother had to prepare the whole feast. Of course, we could have had seconds, or even thirds of blueberry cake.
Our verdict about Eat & Meet – AMAZING!
The evening wrapped up around 11 pm, just in time for the last metro. It was one of those night that I wish could've just gone on and on – the company was wonderful, the right mix of weird characters and holidaymakers, and Suzie and her family made us feel welcome at all times.
The price for the experience was 30 euro each, which is a total bargain. Some say you can eat in Budapest for less – true, perhaps, but after three Budapest visits in less than a year I can guarantee that you can't eat AND DRINK your fill of delicious food and wine for that same price. Plus, it's a unique experience – as far as I know, there are no other Budapest supper clubs.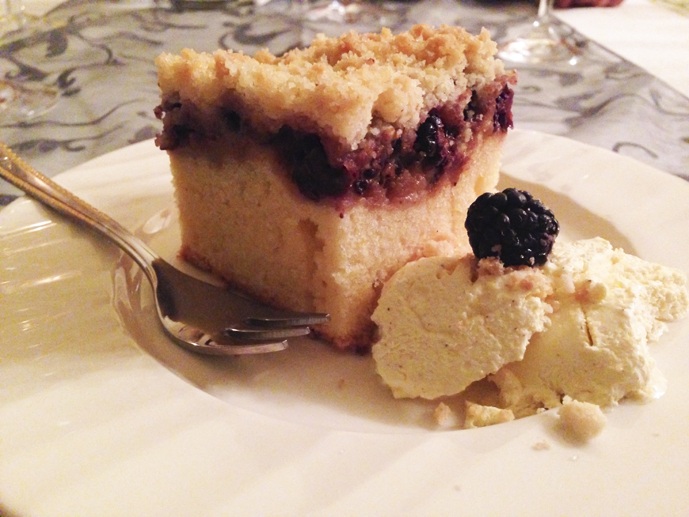 Eat & Meet is a way to gain an insight into the lives of a local family, meet some fellow travellers, get some tips about where to eat and drink in town and have a great dinner – all in one place. I am pretty sure we will be back to have outdoor dinner at Suzie and her family's garden!
We were invited by Suzie from Eat & Meet to join a group for dinner. All opinions are our own – we would never recommend the experience if we didn't love it.
Pin it for later?