Five Insider Tips: our personal favourites and some pieces of advice, recommended by locals and lovers. Five tips you can read over a coffee, planning your next adventure. It seems right to start with Rio de Janeiro, one of this year's hottest destinations and one of the prettiest cities we've ever visited. Here are Five Rio Insider tips!
Rio Insider Tips #1: Praia Vermelha
Recommended by a coconut seller on Copacabana (it pays to know a bit of Portuguese!)
A beautiful little beach on the foot of Sugarloaf Mountain, with amazing views and a less hectic atmosphere than the big Rio beaches.
Plus, there's great street food. One afternoon we tried pretty much all of what was on offer. We had corn two ways; cooked corn on the cob with butter and fresh pipoca (popcorn), served either sweet or salty. For a 'main course', queijo quente (grilled cheese on a stick), which can also be enjoyed marinated in herbs, churrasco, a skewer of beef chunks, and linguica, a garlic sausage vaguely reminiscent of Toulouse sausages.
Dessert was fried churros filled with doce de leite (absolutely delicious). All of the above was washed down with beer and fresh coconut.
Rio Insider Tips #2: Churrascaria Porcao
Recommended by Joao, a Brazilian expat in London
Yes, we do love food. This was one of our favourite dinners ever. Porcao, in the Flamengo district, is a rodizio, a restaurant where meat is served to one's hearts content. The meat is freshly grilled and served carved from a sword.
There was also a salad and sushi bar included in the fare; featuring seared tuna with cayenne pepper and passion fruit sauce, mozzarella rolled around sundried tomatoes, basil and mango salad with toasted sesame and nigella seeds, and great Brazilian-style sushi. The meat was memorable. A piece of sirloin was truly the most amazing piece of meat I ever had in my life.
It was perfectly rare inside, but not oozing blood, grilled with merely a smear of salt, pepper and olive oil. The meat itself had that distinctive taste that only South American grass-fed free-range beef has. Other highlights included skirt, picanha (the cap of the rump, Brazil's favourite cut of beef), the interesting 'baby bife with garlic' (a piece of skirt smothered in garlic paste) and ostrich in parsley sauce.
Pork was delicious too, especially ribs and what we named 'pork potatoes', a piece of loin marinated in lemon, garlic and thyme. Carnivores in Rio, go there. That's all I can say. 
things to do in RioTravelgal Nicole also agrees with me, and also mentioned churrasco as one of her top!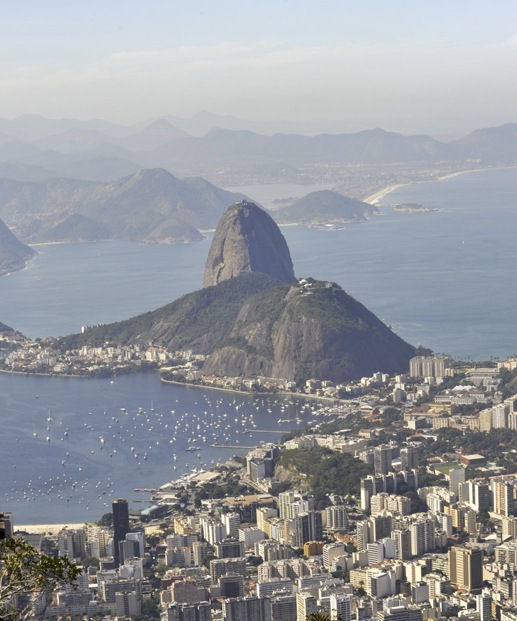 Rio Insider Tips #3: Ipanema Sunday Market
Recommended by Patricia, a beautiful Brazilian hippie mum
A great food and craft market in the fashionable Ipanema district. Don't miss it if you're looking for quirky handmade souvenirs or if you fancy trying street food and desserts from all over Brazil.
When we visited, we had our first taste of pasteis, a street snack that would accompany us during our trip around the country. My favourite filling was the romantically-named Romeu e Julieta, filled with cheese and guava paste.
Rio Insider Tips #4: Santa Teresa and the bondinho
Recommended by my friend Luis, who left his heart there
As a vintage public transport lover, I couldn't miss taking a ride on the last working Rio streetcar. The rickety bonde wound its way up, overloaded with standing passengers hanging from the sides, from downtown Rio, over an arched aqueduct to the bohemian hilltop district of Santa Teresa.
Sadly, the bondinho was decommissioned in 2011 after an accident. Modern streetcars are on their way and service is due to be resumed in 2014. Santa Teresa is worth a visit with or without bondinho ride; it's a neighbourhood of cobbled streets and colonial buildings with great views over the beaches and the Bay of Guanabara, a world away from the glamourous crowds of the southern beaches.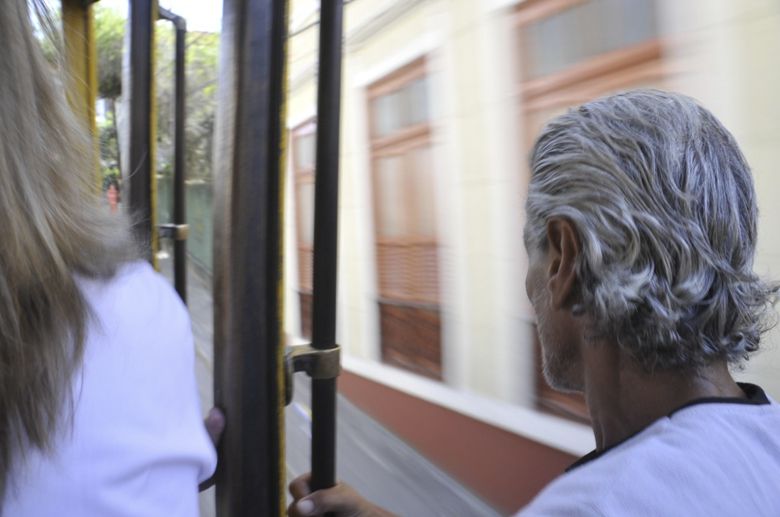 Rio Insider Tips #5: Favela Rocinha
Recommended by us (I know, that's cheating!)
Rio is a marvellous city, and you'll be surrounded by beauty everywhere you go. Beautiful beaches. Beautiful people. Beautiful views. Yet, there's a side of Rio that most tourists don't get to see – that of favelas, informal settlements where up to 30% of Rio's population is thought to live in conditions of poverty and with limited access to electricity, water and sanitation. In many cases, favelas are run by drug lords, and residents experience crime and violence on a daily basis. At the same time, many favelas are vibrant, lively communities, with art and music being created around every corner.
While in Rio, we joined a tour of Favela Rocinha, the largest favela in town, where the movie 'City of God' was filmed. It was an experience that opened our eyes on a face of Rio that we wouldn't have got to know otherwise. I know a lot has been said about the consequences of slum tourism, but our tour had nothing voyeuristic about it, and we were shown examples of community projects created from tour proceeds.
If you're planning to visit other Brazilian cities, here are our Salvador in Five Insider Tips and Five Tips Sao Paulo posts!