I have travelled far and wide, only to find the future I dream less than 150 km away from my hometown. Welcome to Reggio Emilia Via Roma.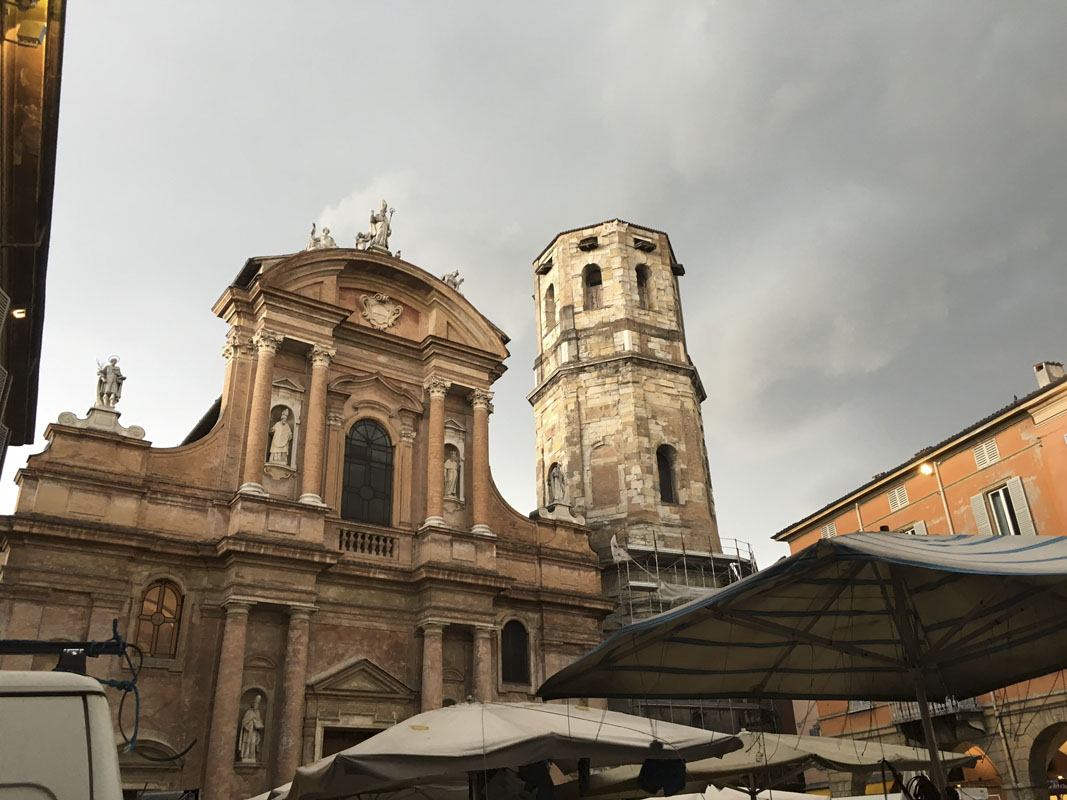 My grandmother was born in a tiny hamlet called Gaggio di Piano, on the hills between Modena and Bologna. She's 93 years old now, and starting to lose her memory. The memory of the present, that is. Because the past is firmly etched in her mind – images of a large country house with cows and horses, her childhood bedroom where she and her 17 year old mother slept huddled together while frost hazed the windows, the calessino that her uncles and grandfather drove to take milk to the cheese maker's and to go and look for work in the nearby villages.
Ebe, my grandmother, was born in a world that no longer exists. One by one, my great-grandmother's 15 brothers and sisters all left their family home in the hills, and went to the city to look for work. Some went to Modena. Some to Bologna and Reggio Emilia. Some went as far afield as Rome, Genova and Milano.
The country house of their childhood was abandoned, and slowly crumbled, worn away by the wind and the rain, now an abandoned shell, somewhere in the hills.
Reggio Emilia Via Roma and the popol giost
Fast forward many, many years. My sister Caterina and I are in Reggio Emilia, the city my great-uncle Marino moved to, when he left the family home.
'Via Roma was always home to the popol giost' explained Dina, a long time Via Roma resident and one of our guides around the city. The words popol giost resonated with me – I had never heard them before, but I knew what they meant. My grandmother, her mother, uncles and aunts were the popol giost. People that had left the countryside to move to the city, people that had abandoned a crumbling world to seek new fortunes.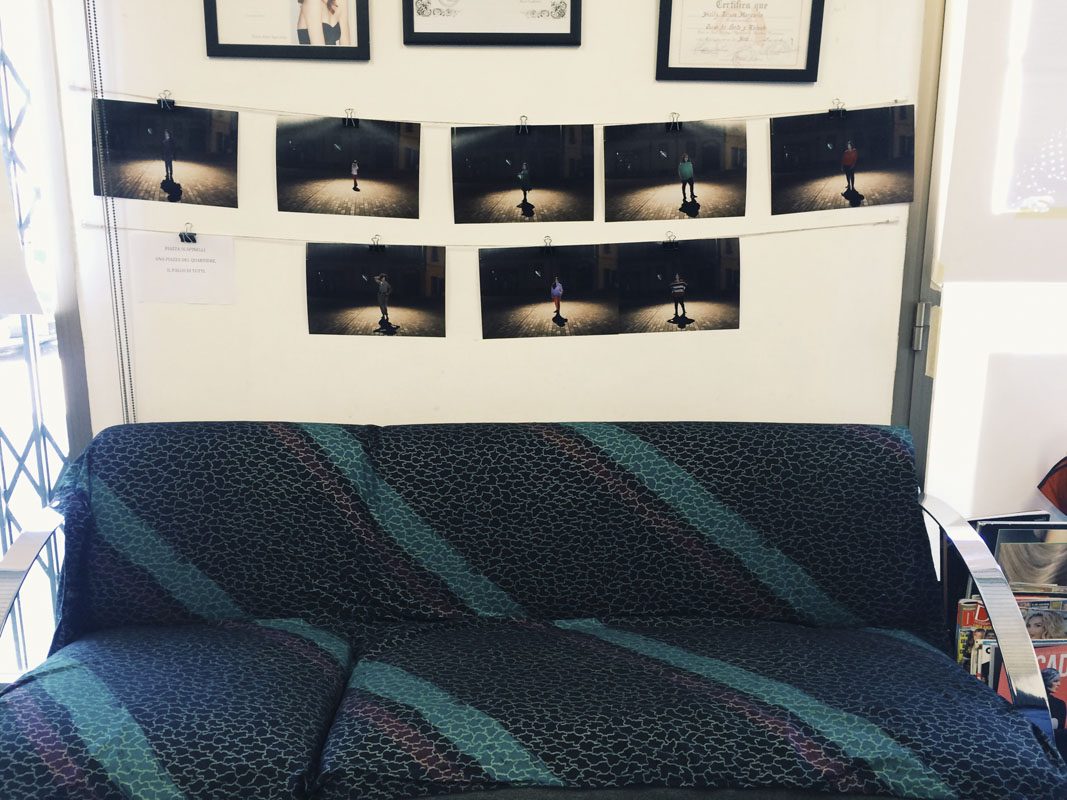 Over the years, the popol giost has taken new names and faces. In the Thirties and Forties, it was country people. After the war, people from Southern Italy moved North, looking for employment in the newly-built Marshall Plan factories. Recently, it's been refugees. Those 'boat people', that so many of us fear – because of their differences, or because the media tell us to.
Those brave, brave people, that found the strength to leave death, misery and hunger and embark on a risky journey half-across the world, with only one hope – future.
Via Roma has many faces. The wealthy, historic one, of the palazzi that line the southwestern stretch of the street. The community atmosphere that you see and breathe as you walk by – small shops, disappearing elsewhere in Italy, here seem to be going strong.
And further north, there's the Via Roma of the popol giost of nowadays. A part of the city that feels like a journey across the world – a Dominican hairdresser stands next to a Chinese clothes shop and an Egyptian baker. Two West African men stride by. From a window two storeys up, I spy an elderly lady in a colourful dress and head-wrap. I lift my hand to wave, and she flashes a toothless smile.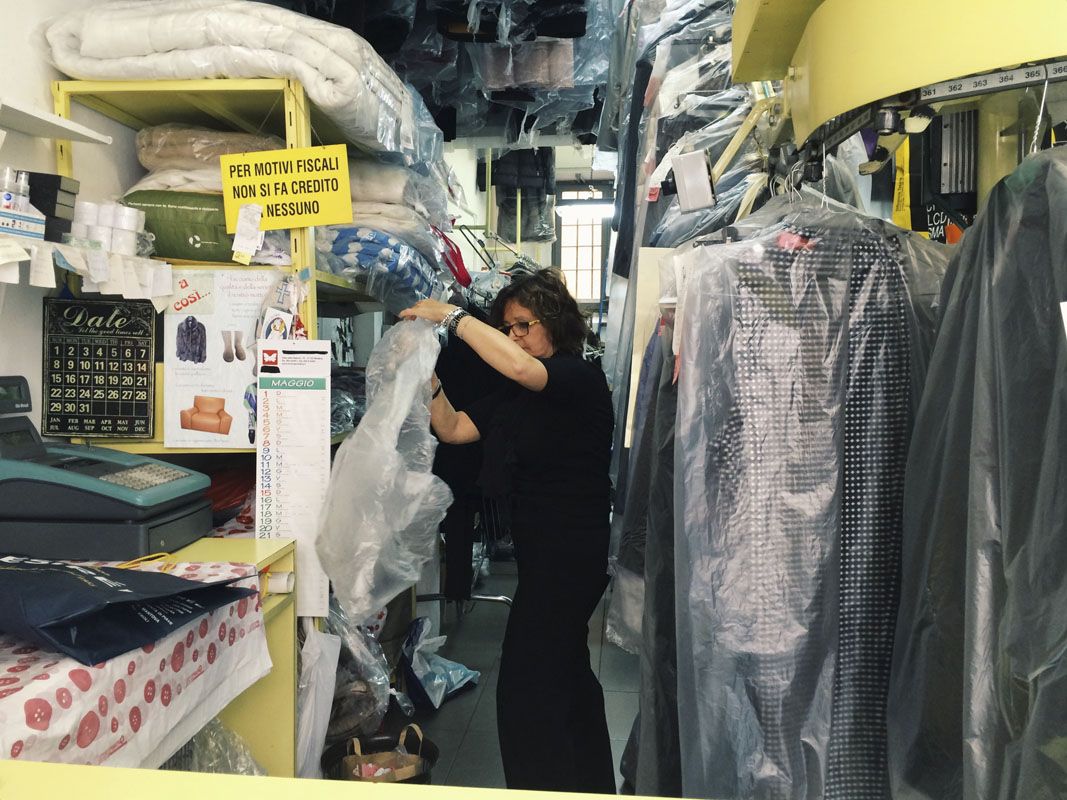 Fotografia Europea in Via Roma
The reason for our visit to Reggio Emilia was visiting the 'OFF' circuit of Fotografia Europea, a photography festival held in the city every year between May and July.
During Fotografia Europea, the houses, courtyards and shops of Via Roma open their doors to artists and photographers, lending them their spaces to showcase their work, and allowing visitors to get a glimpse of what happens behind the walls of this fascinating street.
We were lucky to have two excellent guides – one of them was unstoppable Dina Buccino, born in Puglia but living in Via Roma for several decades, and Alessandra Matia Calò, a talented photographer who – strangely – also hailed from Puglia, but moved to Reggio fifteen years ago.
Dina and Alessandra took us to discover 'their' Via Roma, showing us their favourites among the 60 photo exhibitions showcased around Via Roma. I loved how well the exhibition venues complemented the message of the artists. For instance, the dreamy shots of photographer Sandra Lazzarini, showing women hiding their faces behind scarves and flowers, were exhibited in a flower shop and in a dry cleaner's – hidden beneath blouses and jumpers.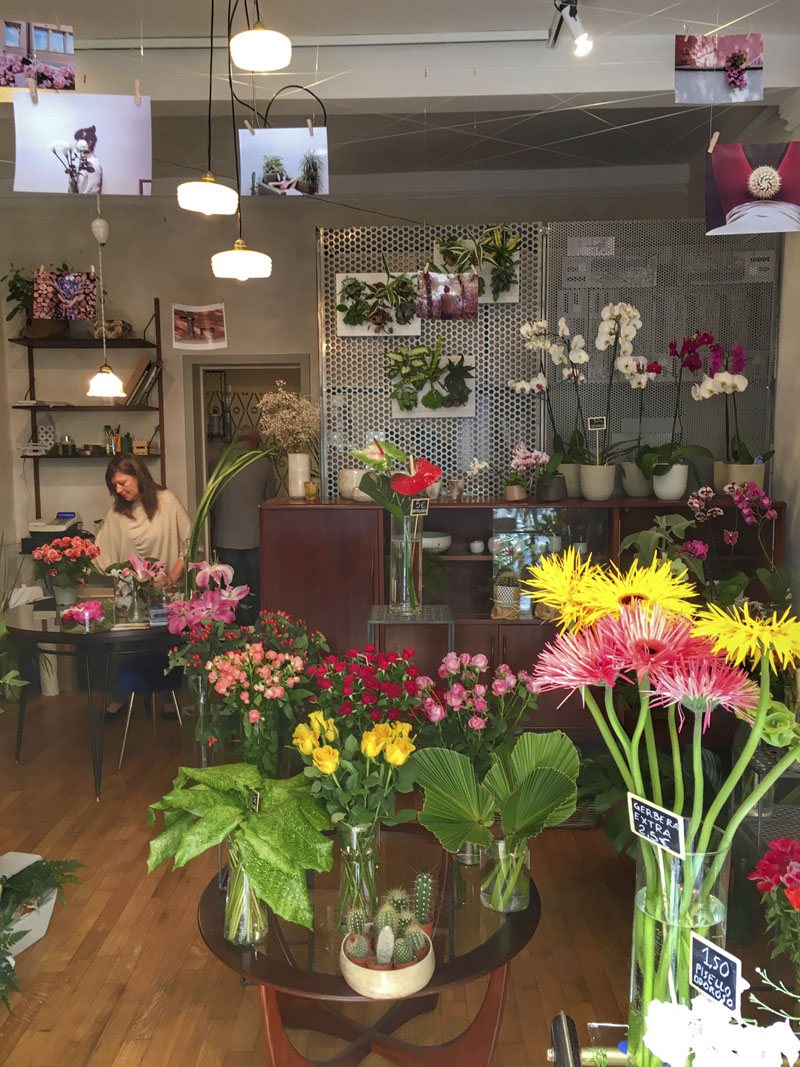 Alessandra was a former sign language interpreter, before deciding to dedicate her life to photography. She took us to the exhibition of Giacomo Albertini, a deaf photographer and artist, who took large-format images of men and women with hearing impairments signing different words. Giacomo provided visitors with earmuffs to block out sound, and gave clear instructions to stand straight in front of each picture, and look at the subjects. When one sense cannot be used, the others become more alert – 'communicating' doesn't necessarily just mean words, or signs. I noticed people's expression – a glint in one eye, the hint of bashfulness on a young woman's face.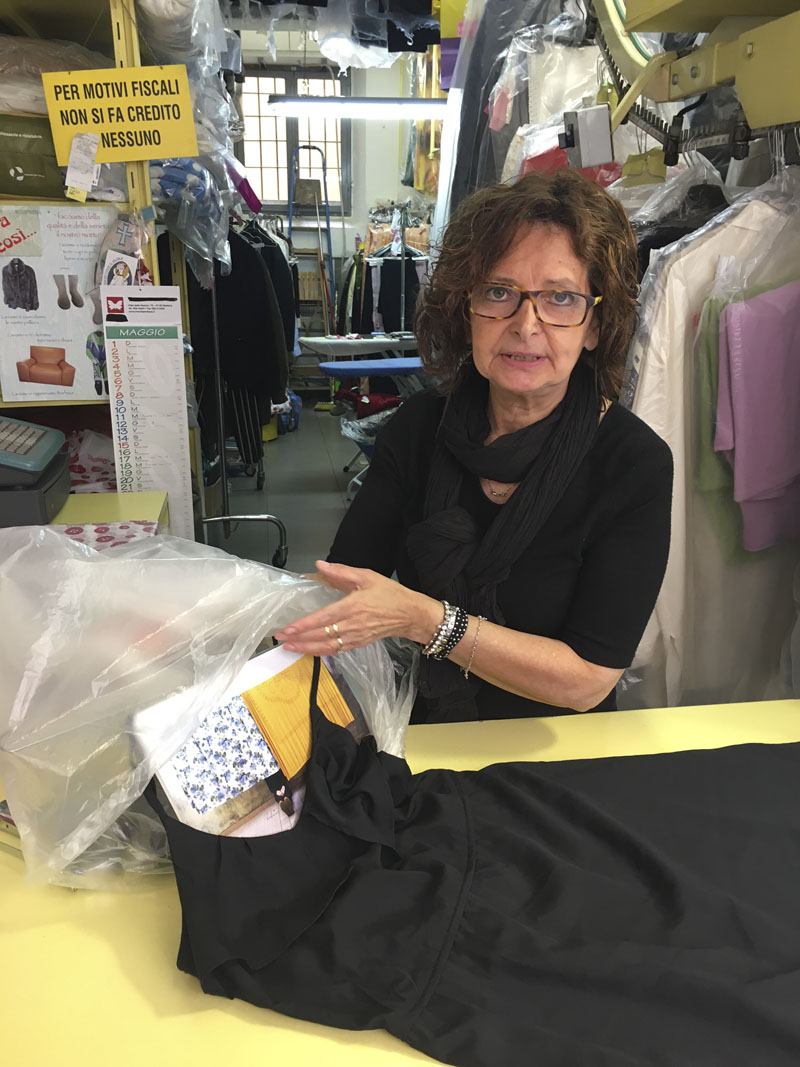 Art became accessible in Via Roma. Exhibitions are hidden where you least expect them – inside a laundromat, in a cellar, on the walls of buildings, disguised as advertising. Alessandra's very own artworks were in a vending machine. For only €10, you could buy a unique piece of art – a booklet hand-folded by Alessandra herself, with poems and images. We bought one titled 'Giardino', with abstract images of plants and gardens, and feminist poems written by an Iranian author.
Dina told us of her work as part of Via Roma's neighbourhood committee. Most local councils with a high immigrant population just worry about security – the whole 'some things never happened before THEY CAME' scenario.
On the other hand, Dina's priority has always been welcoming newcomers – and over the years, she made countless friends. She told us of how she babysat a young Egyptian boy and helped his mother with errands, and in exchange they brought back sweet dates 'from their garden', after a trip to Egypt.
Via Roma is the world in one street. Lots of little villages, behind shop fronts and house doors.
Chinese, Egyptians, Dominicans, Pakistani, Senegalese – they all recreated the communities they left behind, when they embarked on their new adventure. Teresa's shop is one of these small communities. She welcomed us with a big smile – Latin tunes were playing inside, and for a second, I thought I could smell fried plantains, and fancied myself in the Caribbean. Teresa originally comes from the Dominican Republic, and her hairdresser's shop housed a very special exhibition – pictures of her clients, photographed smiling in the way only women smile, when they are happy, confident and at ease.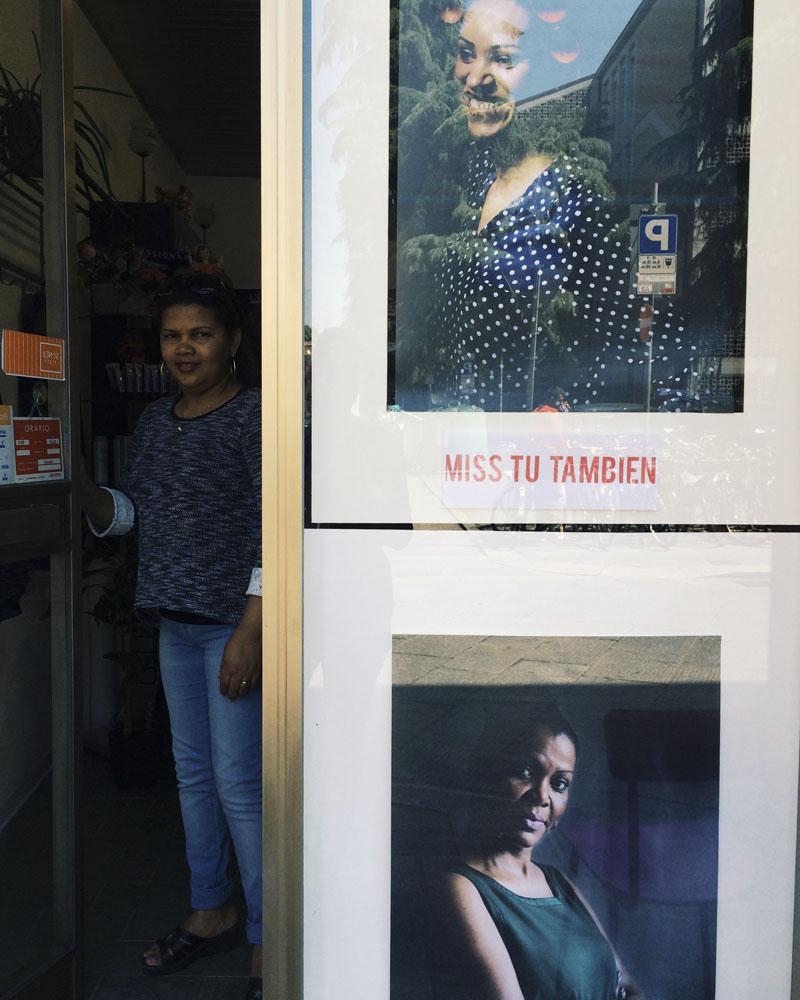 I would have liked to linger – but right next to Teresa's shop was Hotel City.
'You can check out any time you like, but you may never leave' – the tune played in my head, as we climbed the dark stairs leading to the hotel.
Hotel City
I had seen it before – in Van, Hohhot, Varanasi, Poprad, and many others. A dingy, dusty, dubious hotel. Where hourly fares are quoted by default. Where you wouldn't stay, if you could help it. An elderly men with blue eyes and a strong Neapolitan accent manned the desk. 'He is Zio', Alessandra said. And I realised I already knew his story.
On the way to Reggio Emilia I had killed the time listening to the ViaRomaTrip app, recording the stories of Via Roma locals. Zio spoke of how he had lived in Hotel City for fifteen years, always in room number 8. 'I have no alternative, I'll be in the streets' – he said. 'But now I have a home, and I can look out my window.'
'What do you look at?' the interviewer asked. 'Women! I look at women!' And I bet he smiled.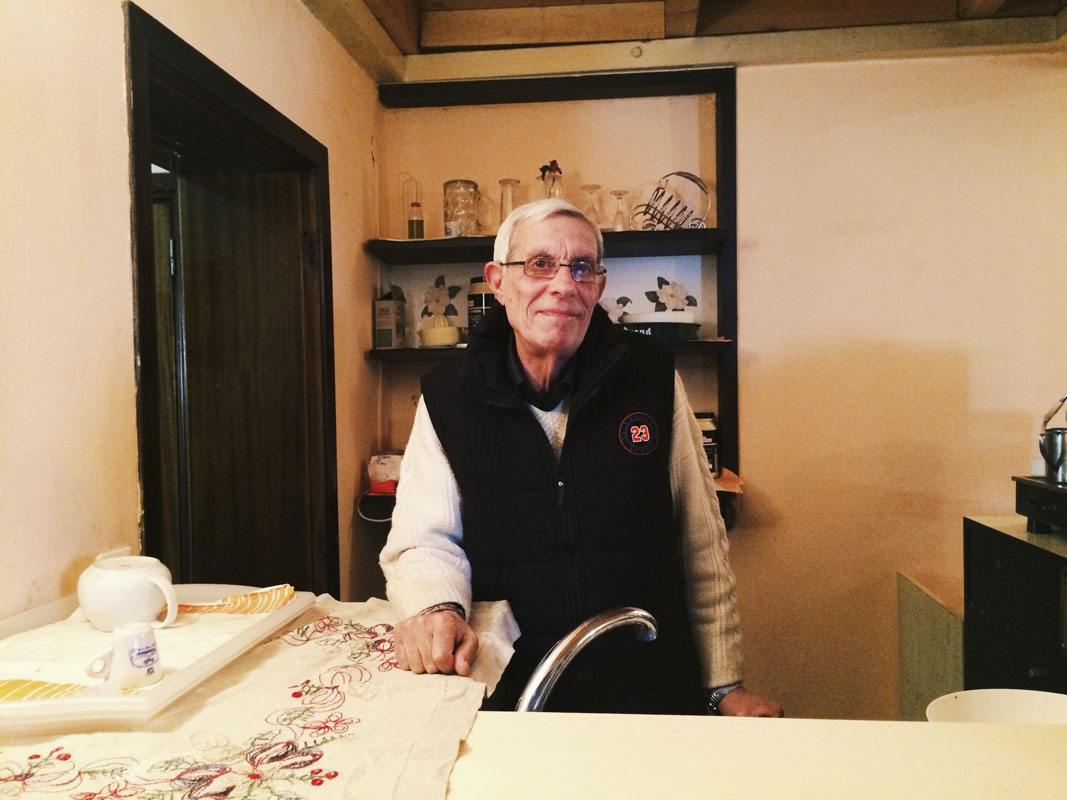 Hotel City has a long history of hospitality, of providing homes for those in need. This is not the kind of hotel you find on Booking or Tripadvisor. Local papers call it 'the refugee hotel', and many avert their eyes when walking past it. Hotel City has the first Italian home for hundreds of refugees – for many of them, their first place where they could find some rest after the dreary 'welcome centres' where they're housed just after landing, after an ordeal that – in many cases – lasted months.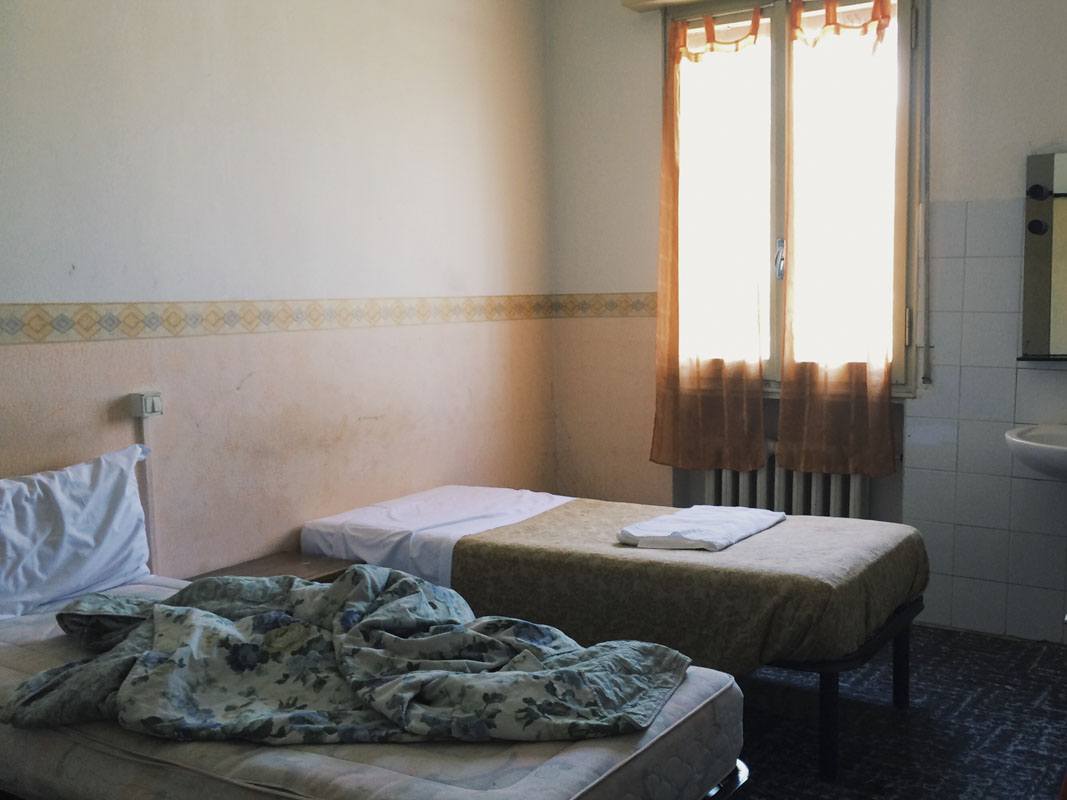 The hotel is run by two brothers, and the comfort and safety of their guests is their first concern. The hotel is one of the Via Roma exhibition venues – yet, when we arrived a video installation was hurriedly being set up in the lobby after having been moved from one of the rooms. 'Somebody needed it' was the answer as to why.
We did, however, manage to visit one of the rooms, number 9. The exhibit was a large picture of a papier-maché volcano, with a Titan Arum flower sprouting from it. It was what was left of a performance that took place the previous weekend – but to be honest, it was as if the room was the real exhibit. There were drawings on the walls and stickers on the drawers.
Lives, hopes, dreams happened here. Each person left something – we could just imagine, and in turn hope that hopes were fulfilled, and dreams came true.
Life and art intersected between the walls of Hotel City. A videomaker worked while Zio sat behind the counter in the lobby. Two young men hang their washing on a radiator, right next to a photo exhibition dedicated to a Swiss pianist by artist Gianluca Groppi.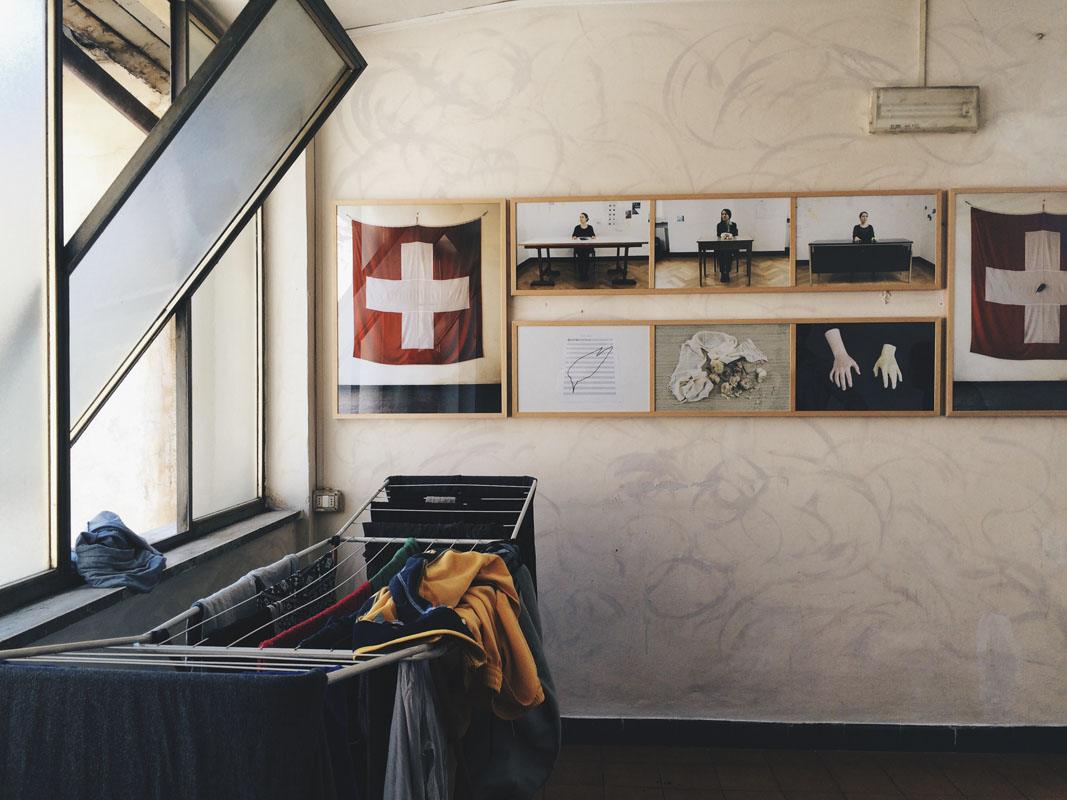 We left Hotel City and headed for lunch at Ghirba Biosteria, right at the end of Via Roma. We had completed our journey, going from the 'fancy' end of Via Roma to the home of the 'new popol giost', a place a million miles away from media scaremongering, a few blocks that in fact conceal entire communities, worlds-in-exile, homes away from home.
Via Roma is homely. It is welcoming. At a time when the newspapers show humanity going down the drain, Via Roma shows that humanity exists, and it is beautiful.
Practical Reggio Emilia Via Roma Info
Reggio Emilia is easy to get to from all over Italy. Those coming with high-speed trains can highlight at the uber-modern Reggio Emilia Mediopadana station, connected to the city centre with frequent buses. Reggio Emilia's 'regular' train station is walking distance from the city centre – regional and intercity trains from Lombardia, Emilia-Romagna and other nearby regions alight there. We travelled on a regional train from Milan – price was €12.90 and it took under two hours.
Fotografia Europea runs from May to July, but the OFF circuit and the Via Roma exhibitions were only open for two weekends. Check the Fotografia Europea site for next year's edition or visit the official exhibitions until June!
I don't think you can stay at Hotel City, but I could be wrong. Let me know if I am!
Ghirba Biosteria is a wonderful option for lunch in Via Roma. It's right at the end of the road, next to the large arches overlooking onto the rail line. Food at Ghirba is all locally sourced, and mostly organic and vegetarian. We had a lovely 'orzotto' (risotto made with barley) topped with caramelised onions, and a blueberry cheesecake for dessert. The restaurant is run by a cooperative of women and also organises cultural events.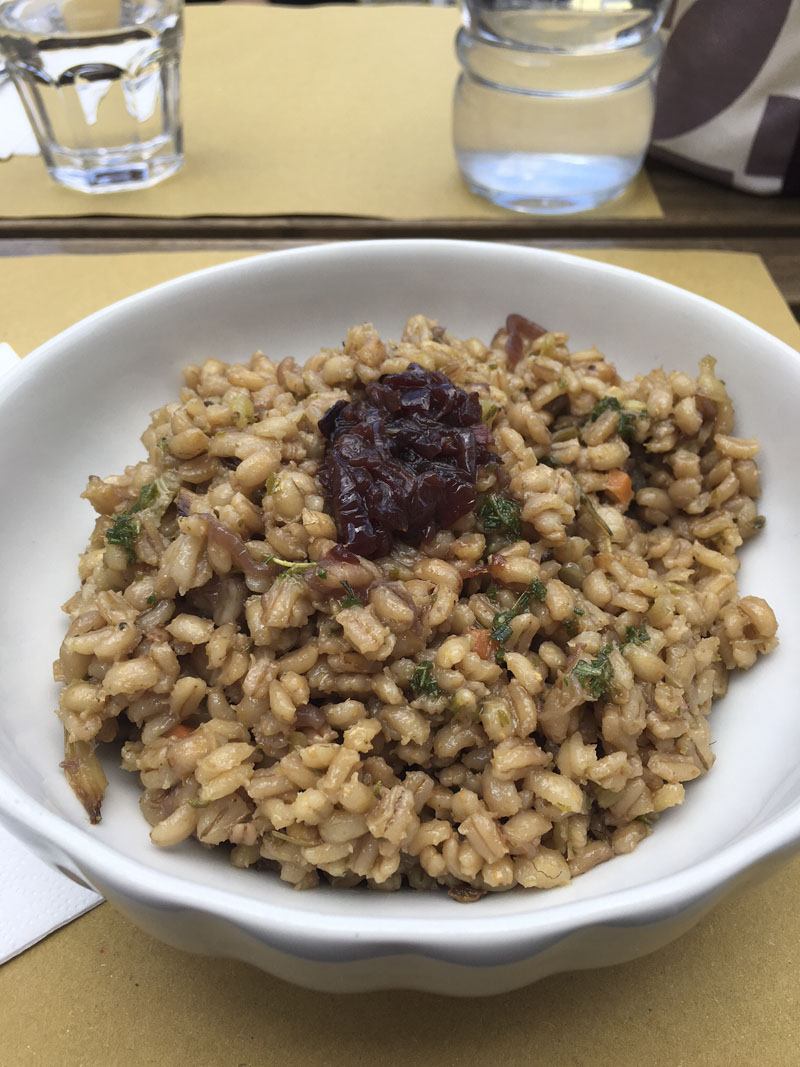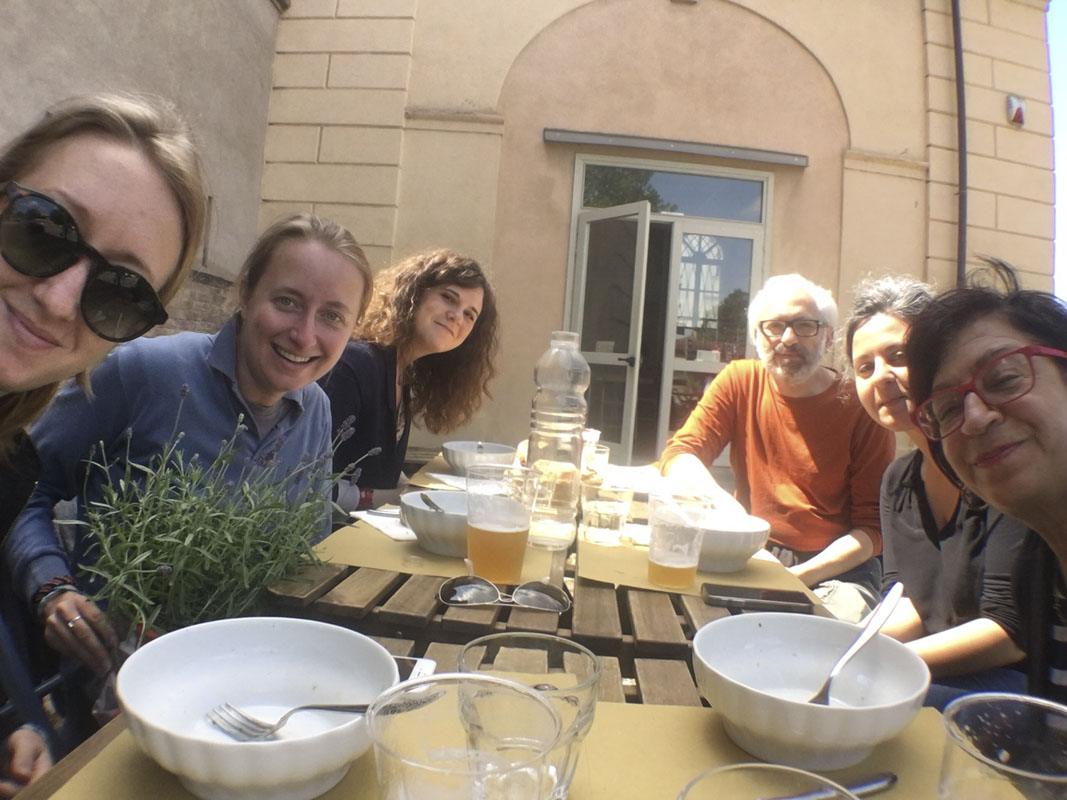 Pin it for later?