Have you heard of the #JustOneRhino campaign, bringing together 125 of the world's leading travel bloggers for a fundraiser to save the life the life of one rhino? A donation of just $20 allows you to enter a raffle with more than $15,000 in prizes. By the way, did you know how the rhino got its horn?
I have thought long and hard on how to start this article. We've never been to Africa, we've never seen a rhino in the wild. Yet, before hearing about the #JustOneRhino campaign, we've never stopped to consider that, perhaps, we will never see one.
I cannot imagine a world without rhinos. I remember drawing them when I was a child – of course, their coolest and most distinctive feature was always their horn. I was never any good at drawing, so the horns were always a little chunky and wobbly. I cannot imagine a world where children will not know what a rhino looks like, where these animals survive only on faded photographs and history books.
So, I am going to show you a story I found on Myths and Legends, an educational website.
How the rhino got its horn
"One day a beautiful hippo boy was born. He was different from the other hippos. The other hippos liked getting wet and swimming, but he liked staying dry. The other hippos liked fighting, whereas he liked to hide. His mum and dad were afraid that he would never be tough or like the water, like the other hippos did. One day, he over heard them speak, so he cried and ran away.
He went all over Africa but one day he heard a noise, like a trumpet. It was an elephant. It was trapped by two lions and three cheetahs, but the hippo ignored him and pretended that he was not there, so he went to get something to eat.
But then, the elephant screamed and the hippo went and charged the other animals, so the elephant was safe. The elephant said thank you and they became best friends.
One day a terrible storm came, so they ran inside a cave to survive. The storm went on for two days straight; it was a hurricane. The hippo and the elephant ate leaves from the back of the cave. There was a tree with about a million leaves on it. When the storm went away, they went out to get more food and found lots of fruit and vegetables. Then they returned to the cave, which became their new home.
One day the cave fell down and a rock fell on the elephant. His tusk fell off  onto the hippo's head, and then all the dust fell on him. He saved his friend the elephant, but when he went outside it was boiling hot and all the dust melted onto him and so did the huge horn on his head. He became a real rhino.
And that is how the rhino got its grey skin and horns."
If we want rhinos to be a part of our future, and our children's future, we need to act now.
The bleak future of rhinos
In South Africa alone, rhino deaths are rising, with poachers killing these majestic animals at a rate of one every seven hours. It was estimated that in 2014, more than 1020 individuals lost their life. If this continues, it will be less than 20 years before they're all gone.
One of the reasons for such fierce poaching is that rhino horns are worth huge amounts of money on the Asian medicine black market, thanks to the false belief that they hold aphrodisiac and healing properties. In many countries, penalties for dealing rhino horn are far lower than the black market price for it – meaning that the number of poachers rises every year.
Rhino deaths trebled in South Africa between 2010 and last year.  The Western Black Rhino was declared extinct in 2011, and there are fewer than ten Northern White Rhinos left in the wild.
The #JustOneRhino project
This is where #JustOneRhino is hoping to make a difference. The initiative is part of the larger Rhinos Without Borders (RWB) project, brainchild of Nat Geo explorers and creators of The Great Plains Foundation Dereck and Beverly Joubert, famous for their conservation work for Africa's big cats. #JustOneRhino was launched by RWB in collaboration with Travelers Building Change and Green Travel Media.
RWB plans to relocate 100 rhinos from South Africa to Botswana, where they will be much safer thanks to the country's low corruption rates and anti poaching efforts. #JustOneRhino aims to collect $45,000 dollars to pay for the relocation of one animal – an incredible feat that will involve a massive logistic project and dozens of skilled professionals.
How can you help?
If you can donate a minimum of $20 to the project, you will enter a raffle with amazing prizes up for grabs. The more you donate, the more entries to the raffle you'll receive. Prizes include travel gear, holiday packages, tours and hotels stays, including a stay at La Francesca near the Cinque Terre. Donations are open until March 1st and the drawing will be on March 3rd, World Wildlife Day.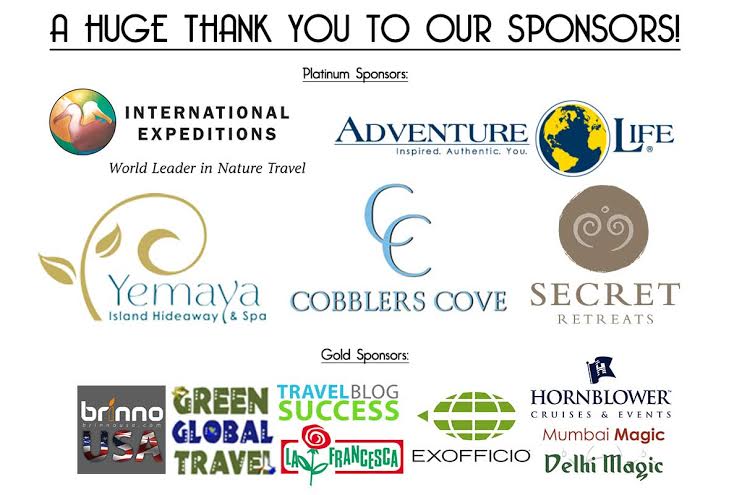 Here are some of the wonderful prizes in store:
International Expeditions
10-day Galapagos Voyage for one. Value $5,298
Adventure Life
South Africa Big Five Safari: Kruger & KwaZulu-Natal + Swag Bag for 2 people. Value $5000
Cobblers Cover Hotel, Barbados
Seven nights bed and breakfast in a Garden View suite. Value $5,187
Yemaya Island Hideaway & Spa, Nicaragua
10 nights' stay & wellness package for two people at Yemaya Island Hideaway and Spa on Little Corn Island, Nicaragua. Value $5,241
Secret Retreats
• Vouchers for 2 people at Bali Jiwa Villain in Bali, Indonesia. Value $1,000
• (2) Vouchers for 2 people at The Scent Hotel in Koh Samui, Thailand. Total Value $3000 ($1,500 for each 2-person package)
• Vouchers for 2 people at 4 Rivers Floating Lodge, Koh Kong, Cambodia. Value $900
• Vouchers for 2 people at Flower Island, Palawan, Philippines Value $900
In addition to the above prizes, donors are also eligible to win:
• eBag Luggage
• WeWOOD Watches
• Dinner/Brunch Cruises
• 2 nights in an Italian Villa
• 2 Tours in India
• ExOfficio Gift Certificate
• 2 nights Renaissance Asheville
• Travel Blog Success Lifetime Membership
• African Elephant Photo Pack
• HDR Timelapse Video Camera w/Lens
• Blogger Mentorship Package from Green Global Travel
To donate, please head to the Travelers Bulding Change home page!
If you can't donate, you can still help – share this article on social media using the#JustOneRhino and #RTTC tags, tell your friends and family and spread the word as much as possible.
Together, we can help #JustOneRhino – if not more!
Welcome to the new Weekend Travel Inspiration Linkup!

Ready, set, link! 
1. Link one of your inspirational travel photos or stories to this post by adding your info.
2. Copy and paste our badge and a link to this page.
3.  Visit some of the other wonderful travel bloggers, read their posts, and leave a comment.  It would be great if you could comment on 2-3 posts.
4.  Tweet it and include this hashtag. #wkendtravelinspiration .
5. Follow all the hosts of Weekend Travel Inspiration – Corinne at Reflections Enroute, Paula at Contented Traveller, Rhonda at Albom Adventures, Rachael at Safari 254, Crystal and Francisco at Bay Essence.
What inspires you to travel?
Link up your travel inspiration using the blue button below. Remember to link back to the collection on your blog.
[inlinkz_linkup id=484742 mode=1]