A photostory of our visit to Zoo del Pirineu as part of out post-TBEX blog trip around the Pyrenees of Catalunya. Don't let the word 'zoo' fool you into images of animal cruelty and tiny cages – this is a labour of love, created by a family who truly has a passion for animals.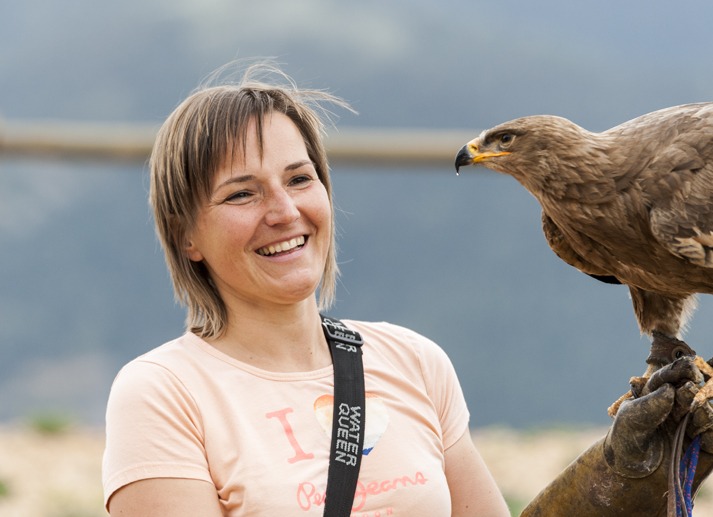 Evanescent as flame, peregrins sear across the cold sky and are gone, leaving no sign in the blue haze above. But in the lower air a wake of birds trails back, and rises upward through the white helix of the gulls.
Only hardcore nature lovers will know The Peregrine, JA Baker's book, published in 1967. The British writer discovered two pairs of peregrines near his house in coastal Essex and, for seven months, he followed them daily. The book is a magnificent elegy of the wild landscapes of marshland, woods, estuary and sea, and of these extraordinary birds, the fastest in nature, so fast that sometimes they're invisible to human eye.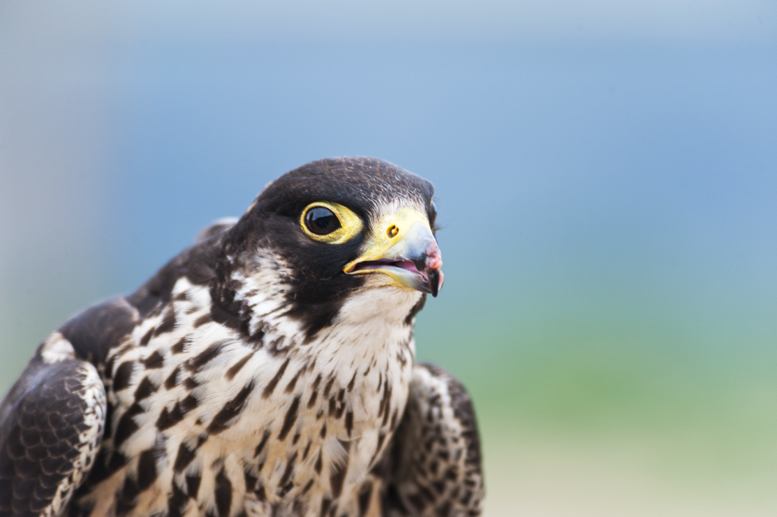 Birds of prey speak of the wild. They are fierce, primal, pure. They are pure instinct, soaring over mountaintops, circling the thermals, following the smell of quarry. They are wisdom, having seen the world from a point of view that no other animal can match. It's hard for a nature lover to remain unmoved by a bird of prey – JA Baker spent seven months outdoors, stalking peregrine falcons, becoming obsessed with them. Towards the end of the book, 'the hunter has become the thing he hunts'. He became falcon.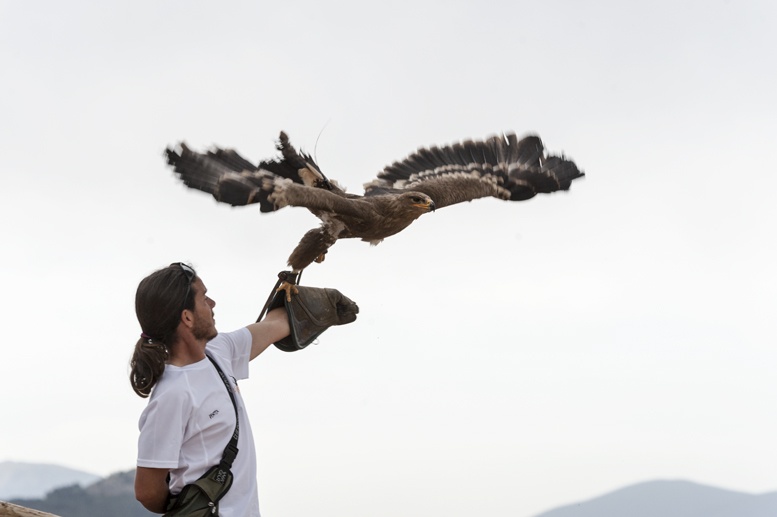 Mankind and birds of prey have lived together for four thousand years. The first instances of falconry were found in Mesopotamia, in 2000 BC. Since then, the art of falconry has spread worldwide, and it now forms an important part of the immaterial heritage of several countries, from the UK to the UAE, from Kazakhstan to Mongolia.
Like JA Baker, Stania Kuspertova is another person who decided to dedicate her life to birds of prey. After working in falconry for decades in Germany, she moved to the Pyrenees of Catalunya with her birds and her family, as the German climate was not ideal for her birds. They settled in Canalda, near Solsona, and a few years later Stania and family opened Zoo del Pirineu, in the effort to preserve the wildlife of the region.
I know, the word 'zoo' will make many of you shudder. I've been reluctant to visit 'zoos' for years, after learning of my sister's horrid experience at Lujan Zoo near Buenos Aires, where baby lions are sedated so that visitors can hold them, and animals are kept in tiny, filthy cages.
(terrible shots from Lujan Zoo – Photo Credits Caterina Ragg)
Zoo del Pirineu is nothing of the sort. It's a family business, borne from Stania and her family's love for animals. They rescue wounded animals or babies who lost their mother, nursing them back to health. Birds of prey are trained to perform in shows – if a bird is taken too early from the wild, it will be unable to fend for itself.
The training of birds of prey mimicks their natural instinct – all birds are exercised regularly and allowed to fly, using food as a reinforcement to get them back. Sometimes, however, animals follow their instinct and return to the wild. Stania told us of a pair of white storks that never returned from their free flight. Perhaps they're Africa-bound now, following the instinct of migration that is part of their chromosomes.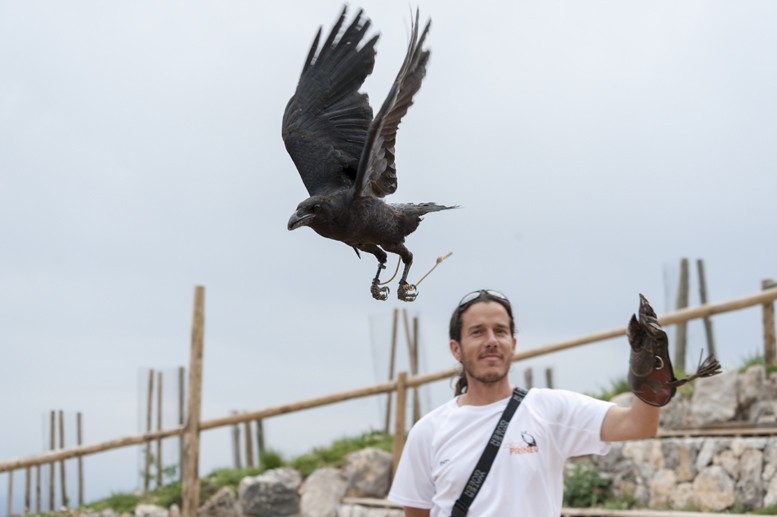 We walked around the Zoo led by Stania, who showed us the animals one by one. Each of them had a name, and she spared a few words about their personality. I was stunned to see a Steller's sea eagle, the largest species of eagle in the world, native of Eastern Russia, with a wingspan that is over 2 meters. Then, we saw seven of eight Catalunyan owl species, including the clumsy-looking eagle owl and the cute tawny owl – Stania's ambition was to have one each, and her ambition is soon to be fulfilled, as she was given a baby owl of the last species she didn't have, that is now a fledgling and is being hand-reared by Stania and her partner Eloi.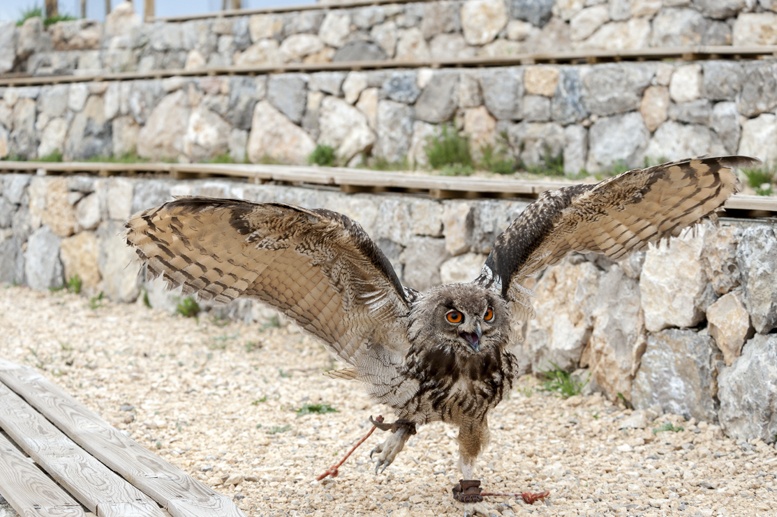 The Zoo lies on the side of a valley, surrounded by the peaks of the Pyrenees. When we visited, we could barely make out some dots circling overhead, following the thermals. Stania explained they are wild vultures, eagles and hawks. Watching them hunt is incredible. They are able to see their quarry from a distance of several kilometers, and glide towards them at the speed of light, so that a ruffle of leaves and the commotion of other birds becomes the only testament to their flight.
Watching the birds of prey show may not be such an intense feeling, but it allows viewers to get close to the birds, to admire them in all their beauty and power. Birds of prey – from the smallest kestrel, to the largest eagle – are sharp. Sharp, piercing eyes, sharp feathers, sharp beaks and talons, they look like a blade as they slice through the air, following smell, sight, instinct.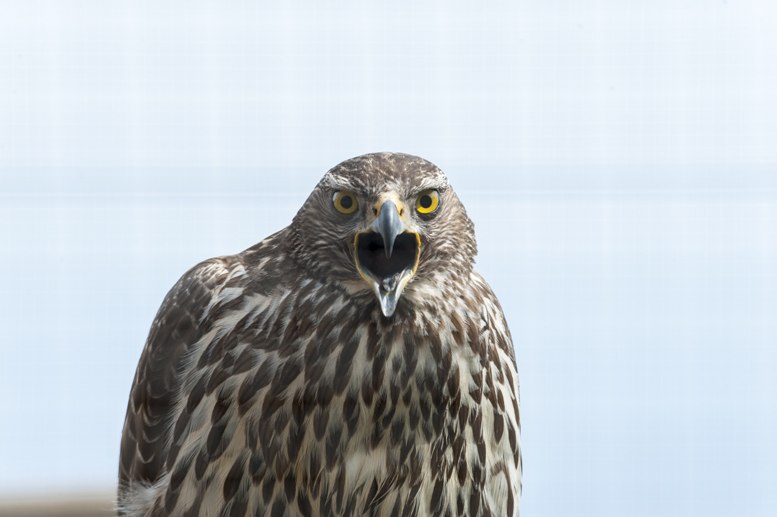 At Zoo del Pirineu, you won't just find birds. There are foxes, wild pigs, stoats and ferrets. We also visited Stania and Eloi's house, where baby animals are kept. We saw the super cute and fluffy baby owl, about ten centimeters tall, and a sweet baby fox that was recently rescued after having been found wandering the forest. Stania and Eloi aim to get foxes used to people, to allow children to get close to them without stressing the animal. Much of the work done by Zoo Pirineu is with children, teaching them about animals and the environment. For many children (and not only), a visit to Zoo Pirineu is the first chance to see wildlife up close.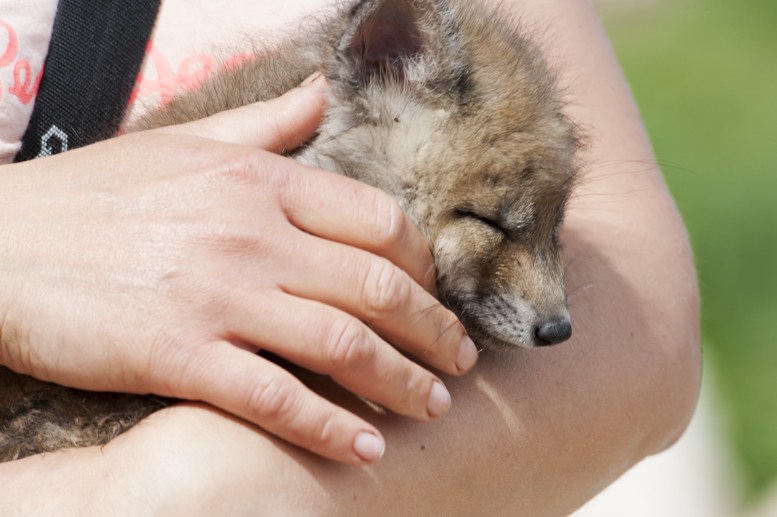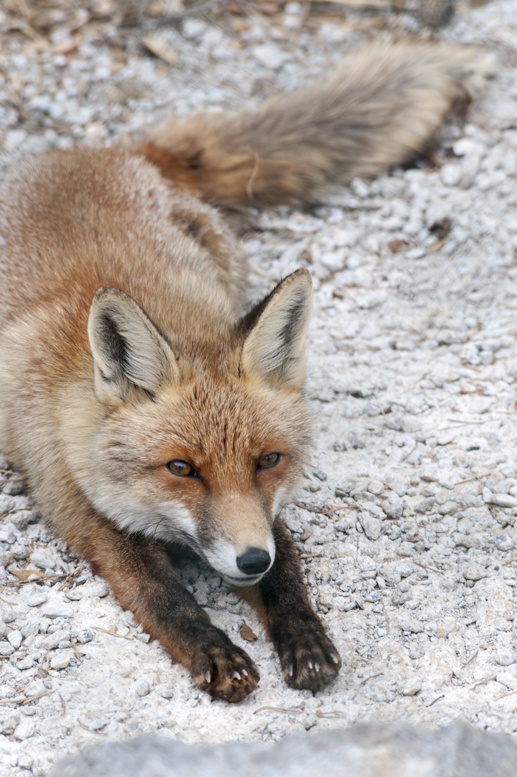 Our visit was quite brief, so we didn't get the chance to ask Stania and Eloi all the questions we had about their work. They explained that running a zoo is a tough business, keeping them busy 24-7. Before running back to the animals, they said goodbye to us. There was something hawk-like in Stania's gaze – a piercing look, as if she could see through you.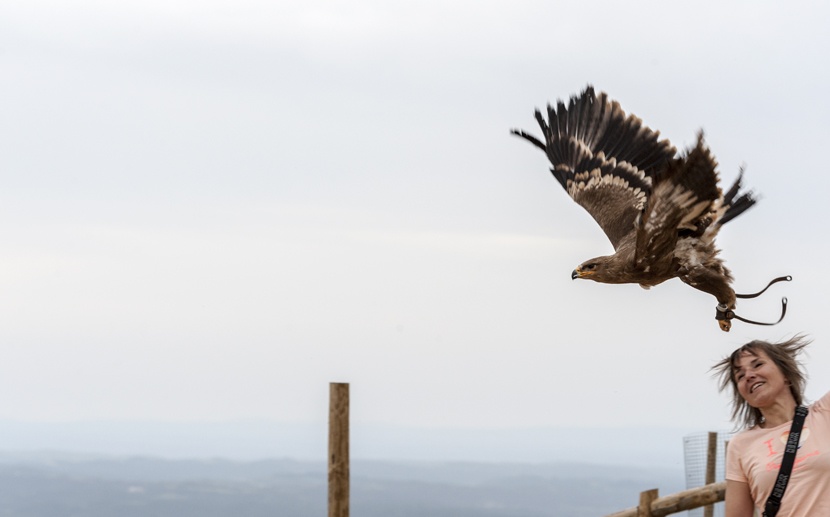 Perhaps, just like JA Baker, she has become falcon. I wonder if she has absorbed some of their knowledge – how the world looks from high over the mountaintops, how to follow the wind to get what you want, where you want. I only wish we had had more time, to learn some of that wisdom for myself.
Scroll down for more shots from Zoo del Pirineu!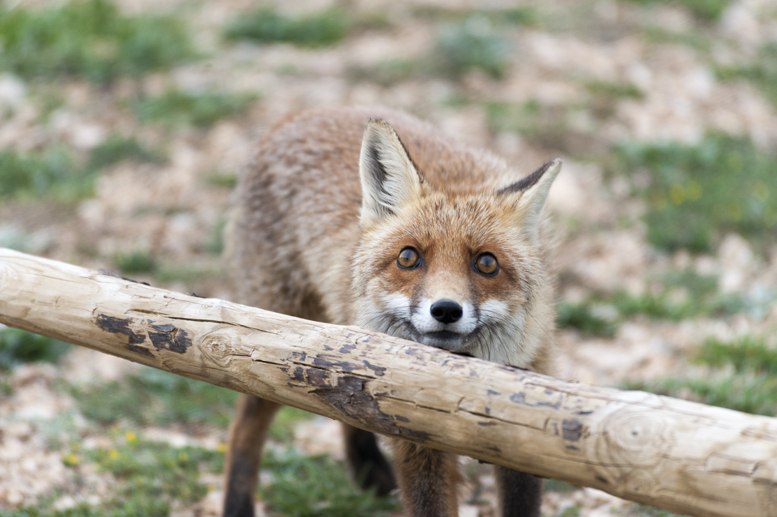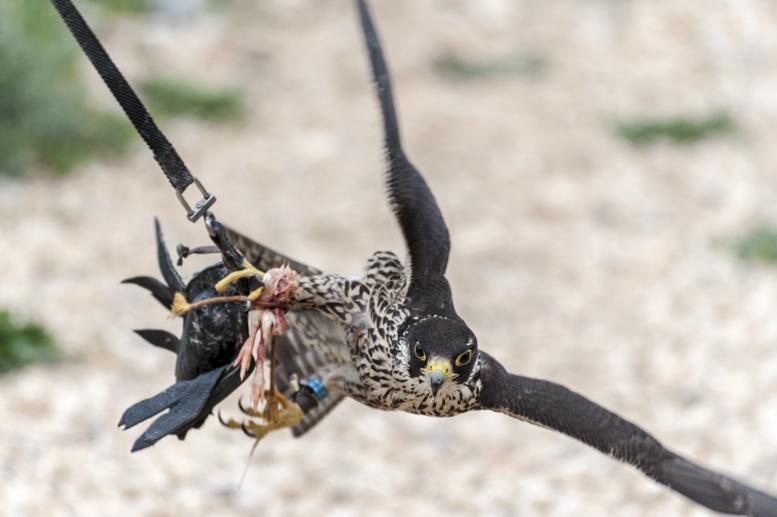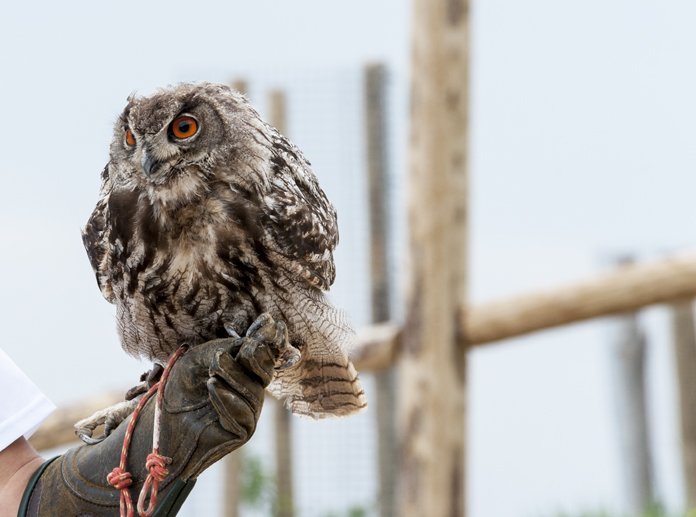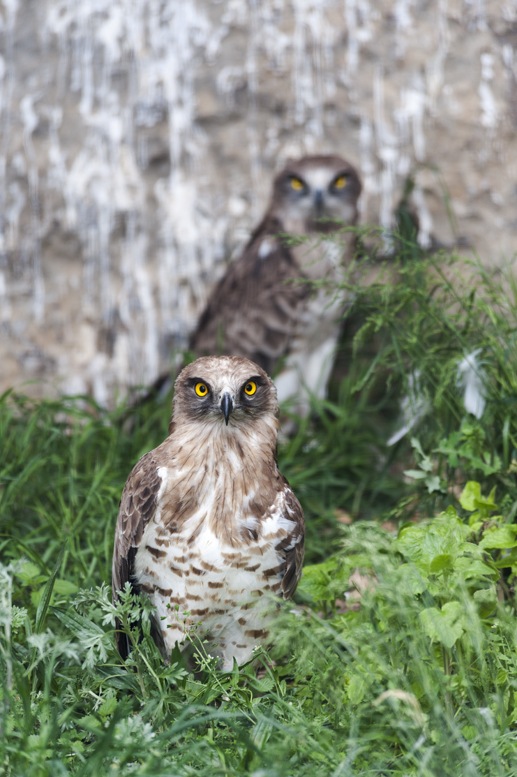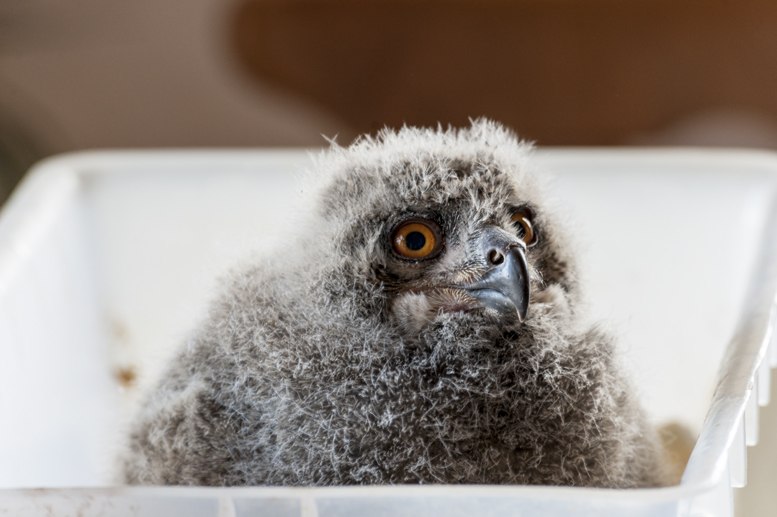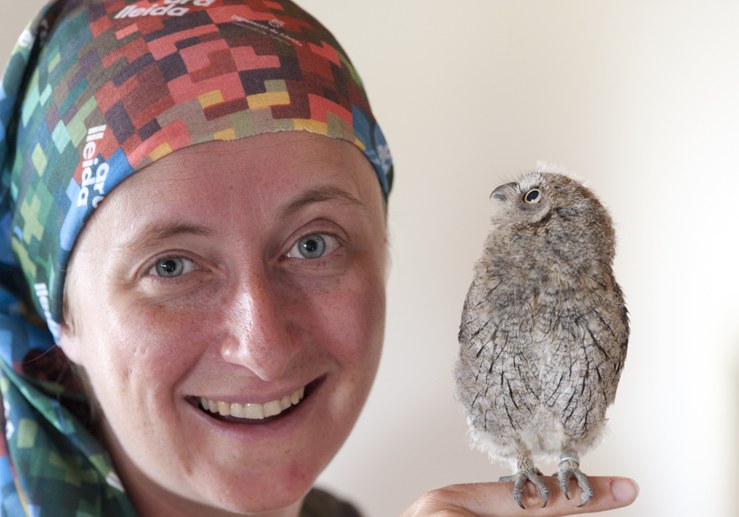 We would like to thank Zoo del Pirineu and Visit Costa Brava for having welcomed us on this post-TBEX tour. The tour was organized by Contrast Trip, a wonderful tour operator owned by a local family, offering tours around the Pyrenees of Catalunya. Definitely get in touch if you're planning a trip to the area!
Pin it for later?