Margherita's visit to Ragusa Ibla, between the memories of fifteen years ago and the feelings and emotions of today. A love letter to a place that means a lot, and why you should visit, too.
Dear Ragusa Ibla
we go back a long way, you and I.
We first met in 2000, a few months into the new millennium. I was 16 years old and I had fallen in love with a local boy. I remember travelling to Sicily for the first time, with him – everything was brighter, more vivid, more colourful than back home in Milan.
I remember he told me 'I was born in Ragusa Ibla, where they make movies.' I knew nothing about you – I just remembered Ragusa from my geography books, the southernmost of Italian provinces, right at the very bottom of Sicily's south. A place that felt so far from my home – more than a day's travel, in that era of slow trains and expensive airlines.
The boy's mother told me you looked like a 'presepe', a Nativity, little houses clinging to the mountainsides, especially pretty at nights when the lights twinkle under a starry sky.
Oh, and you are pretty. I walked your streets many times, during my time with the boy. I don't have exact memories of places or people, but I recall many fleeting instants here and there. The smell of softener from bed sheets hung out to dry. An underground restaurant where I stole a bottle of wine and slipped it into my faux Vuitton bag. People sitting on their doorstep on white plastic chairs, talking into the summer night.
Then the boy and I broke up, and I never thought I would see you again.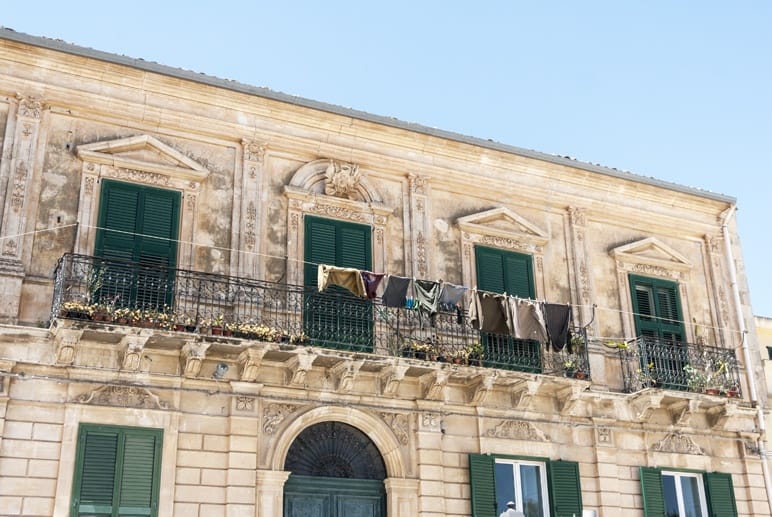 Once again, I was wrong. Fifteen years later almost to the day when I saw you for the first time, I was in a car with three more people, a fellow blogger and two young ladies that work for Sicilying, a web company that promotes Sicily and all its beauty. Our tour was going to be focused on the theme of rural hospitality in Eastern Sicily, and our first stop was you.
As soon as I saw you, little houses clinging onto the mountainside like a 'presepe', indeed, I nearly threw myself out of the car to photograph you. I had underestimated the power that Sicily has – nowhere else makes me as happy. It could be the sun, the colours, the slower pace of life. But every time I am in Sicily, I feel at peace.
Slowly slowly, memories came back to me. 'You're going to love the people from Ragusa!' the two ladies said, unaware that you and I indeed go back a long way. We stopped at the Giardini Iblei, a beautiful landscaped garden that was once the garden of a local noble family.
An elderly man came up to us, in a way that you would never, ever see up north. He was happy to see 'foreigners' enjoying his city and pointed to a baroque church on the far side of the gardens. 'Go stand under the altar, then tell me if the dome doesn't fool you' he said, half-Italian and half Sicilian. And indeed, I was fooled – the roof of the church was painted in concentric circles, making it look like there was a dome, even though there wasn't.
Then, we walked towards your historic centre. It was early May but the temperature was already over 30 degrees, and at lunchtime, the streets were all but deserted. We stopped at Salumeria Barocco for a quick lunch of cured meats and cheeses, and then we spent the rest of the afternoon just wandering around.
Sometimes, I was lost in my own thoughts – but at all times, I felt at home. Your centre is large enough to wander aimlessly, and small enough so that you retrace your steps after a while. We walked towards San Giorgio, your Cathedral, with a dome that is very real indeed, but will still fool you by appearing all of a sudden, out of nowhere – for the cathedral is set back from the square, and reveals itself a little at a time, until you stand in front of it and appreciate the beauty of its baroque façade, all angels and gables, and the majestic dome right at the back.
We walked around at golden hour, at blue hour, at night time. You are as beautiful in the harsh sun of midday as you are when the sun dips behind the Monti Iblei, the hills covered in trees and bushes that surround you. I loved how mass-tourism still doesn't seem to affect you, despite your stunning beauty, on par with that of many Tuscan towns. I loved your unusual sights, like the 'Circolo di Conversazione' – literally, a conversation club, where the well-to-do Ragusans of today and of yesteryear meet to indulge in the pleasure of having a chat.
Most of all, I loved how you made me feel. We walked up to the back of the Cathedral and I could have spent hours looking at the dome and the mountains all around. It was one of those perfect moments that are so rare when you travel, because it's always too crowded, too cold, too noisy or too something. Not that day, though. It was quiet, and the weather was perfect, and there was something about your little 'presepe' houses that seemed to complete the morphology of the surrounding hills, streaked by dry walls – as if the city had not been built there by chance, but belonged there even when it didn't exist.
Well, I feel like I belong to you too. I promised it won't be 15 years till next time.
So long, and thanks for all the memories
Margherita
A place to stay in Ragusa Ibla
You'll have noticed that this is not your everyday blog post – I let myself be carried away by my feelings and memories, and as a result, it may not be the best in terms of accuracy and practical info. There is one practical recommendation I wanted to give – a place to stay, B&B Vista Iblea. As the name reveals, the view over the mountains is what really steals the show. The rooms are comfy, there's a great breakfast and the owners are super nice, and even mailed me the business card holder I had forgotten.
And if you fancy a dinner to remember, head to Masseria Posto di Blocco 452 about 20 minutes drive, owned by the same family. You can read about it here – The Charm of the Sicilian countryside!
Many thanks to Alessio from Gente in Viaggio and Stefania and Serena from Sicilying, who invited me on this trip. All opinions are my own – and the memories were priceless.