Are you planning a trip to Israel and will spend a Shabbat in Tel Aviv? In this post we'll reveal what to do during Shabbat in Tel Aviv, what to expect in the city and how to make the most of the Jewish day of rest!
No matter how hard I'll try, there's no way this post will convey my love for Tel Aviv. The city is young, vibrant, full of life. It's a place that I immediately felt 'mine' – I loved the streets, the beaches, the open-air cafes, the carefree vibe, the young and impossibly beautiful locals. Tel Aviv is not a place of 'sights' like Jerusalem – it's a place you visit because it feels good.
I can't get enough of the city, because it makes me feel happy.
Tel Aviv is the perfect antidote to winter in places like London and Berlin – the weather is largely dry and sunny year round. To give you an idea, the summer season ends in late November, and starts again in mid-March. Nine months of beaches and sunshine people – definitely one of the best cities in the Mediterranean!
To make matters even better, travelling to Tel Aviv doesn't even require much planning. You can get a three-month visa on arrival, English is widely spoken, infrastructure is excellent, and the food scene is incredible.
There's only one thing to remember – Shabbat, the Jewish holy day. Tel Aviv is a far more secular city then Jerusalem, which comes to a standstill every Shabbat, but some services may be unavailable or harder to come by during the day.
However, fear not – there's plenty to keep you entertained in Tel Aviv during Shabbat. Here is our guide to Tel Aviv on Shabbat – what to do, what to expect and how to behave if you're invited for Shabbat dinner!
What is Shabbat?
Shabbat is the day of rest in the Jewish faith, and it is observed throughout Israel. It begins on Friday at sunset, and ends on the following evening at nightfall – according to the Jewish calendar, the days always begin at sunset, so you'll find shops and services gradually closing down on the evening before a major holiday.
According to the Jewish faith, God created the world over a period of six days, and rested on the seventh. The Shabbat commemorates God's rest – Jewish people traditionally refrain from working, lighting fires, answering the phone, watching TV, cooking, driving, and even turning lights on and off.
Some individuals will be more strict than others in the way they observe Shabbat – but generally speaking, most people don't work on Shabbat in Tel Aviv, with the exception of hotel and service staff in restaurants.
What to Expect if you're Spending Shabbat in Tel Aviv
The first thing that Tel Aviv tourists should remember is that public transport doesn't run on Shabbat. Buses and trains cease to operate on Friday evening, and start again 24 hours later. You'll find some taxis and sherut (shared taxis) – but generally speaking, it's hard to move around on Shabbat.
Israeli flagship carrier El Al doesn't fly on Shabbat, but other airlines do – I would strongly recommend against arriving at Ben Gurion airport during Shabbat, since there are no trains or buses and even taxis are few or far between. If you really cannot avoid landing on the Shabbat, contact your accommodation to arrange airport pickup, or book an Uber upfront.
Around Tel Aviv, the beaches are packed on Shabbat, and so are brunch restaurants and cafes around Rothschild and in Jaffa, but places like Carmel Market, as well as small, family run restaurants and street food stalls are closed.
However, there's still plenty to do on Tel Aviv during Shabbat, so don't despair – here are my 10 favourite Shabbat activities!
What to do during Shabbat in Tel Aviv
1) Attend a Shabbat dinner
Most Tel Aviv locals will begin their Shabbat celebrations with a traditional dinner. The key moments during a Shabbat dinner are the lighting of the candles, which is traditionally done just before sunset, the kiddush (blessing over the wine), and the prayer for giving thanks to the bread, often recited by children.
It's tradition to remain silent between kiddush and the blessing of the bread – when the bread is sprinkled with salt and passed around, people start speaking again.
If you're lucky to have local friends, they'll probably invite you to share Shabbat dinner with them. The food on offer will vary, but the item that's always present is challah bread – usually two loaves, symbolising the double portion of manna that fell from the sky every Friday, during the 40 years that Jewish people spent wandering in the desert.
Blessings aside, a Shabbat dinner is a akin to a normal dinner party, and there are no set behavioural rules. It's polite to dress nicely, and take a small gift to your hosts – however, if you they follow a kosher diet, please don't take home cooked food or food not labeled as kosher.
Also, it's good manners not to use your phone during Shabbat dinner. Besides this, if you're not sure how to behave, just ask or follow the example of fellow diners.
If you don't have local friends, you can still have a 'Shabbat dinner experience' every Friday evening at Abraham Hostel, and you can also join in the cooking beforehand if you wish!
2) Tel Aviv Bike Tour
Tel Aviv is a wonderful city to explore on two wheels, since it's fairly flat but spread out, and it has a good bike lane system. A great way to start your Shabbat in Tel Aviv is joining Abraham's bike tour, a three-hour ride around the city's main points of interest led by a local guide.
Our tour included Rabin Square, Hayarkon Park, the power station at the north of the city and a lovely ride down the waterfront, past all the different beaches. You'll also be able to keep your bike for the rest of the day to ride at leisure, with no extra charge.
Here are some of the best cycling tours around Tel Aviv!
3) Cycle around Tel Aviv
If the Abraham Bike Tour is full (it often is!), fear not – riding your bike around Tel Aviv is easy even by yourself, and Shabbat is the perfect time to do it as there is far less traffic. Bicycles can be rented in several locations around the city – Abraham charges only 55 NIS for the day, and the bikes are in excellent conditions.
A wonderful Tel Aviv bike itinerary can be from downtown to the waterfront via the charming neighbourhood of Neve Tzedek, down to Jaffa for lunch and then all the way north to Hayarkon Park and the power station, stopping at one of the beaches for lunch.
Have a look at these unusual Tel Aviv tours, many of which run also on Shabbat!
4) Go to the Beach
Going to the beach is the number 1 activity in Tel Aviv on Shabbat! If the weather is nice and warm, the ENTIRE city heads to the beaches, which get absolutely packed with people – but the vibe is great.
There are several beaches in Tel Aviv, each attracting different kinds of people. Starting from the north, the beach opposite the Hilton hotel is divided in three parts – a walled-off one for orthodox Jewish people, with entrances for men and women on different days of the week, a dog-friendly beach and an LGBT-friendly one, easy to recognise with rainbow gazebos.
Moving south, the next beach is Gordon, ideal if you actually want to swim as there's a swimming pool nearby. After Gordon there are Frishman and Bograshov, popular with young people, and further south you'll find Banana Beach, perfect for families.
5) Have fun on the Waterfront
If you don't fancy jostling with the crowds for some towel space, you can just enjoy the beach vibe from the waterfront promenade! On Shabbat, it's great for people-watching – there's always something interesting going on, between bronzed locals riding longboards or rollerblades, impromptu swing parties and families taking their dogs and children for a walk.
There are also lots of great places where you can have a drink near the beach – Banana Beach has a cool bar, or just walk around and take your pick!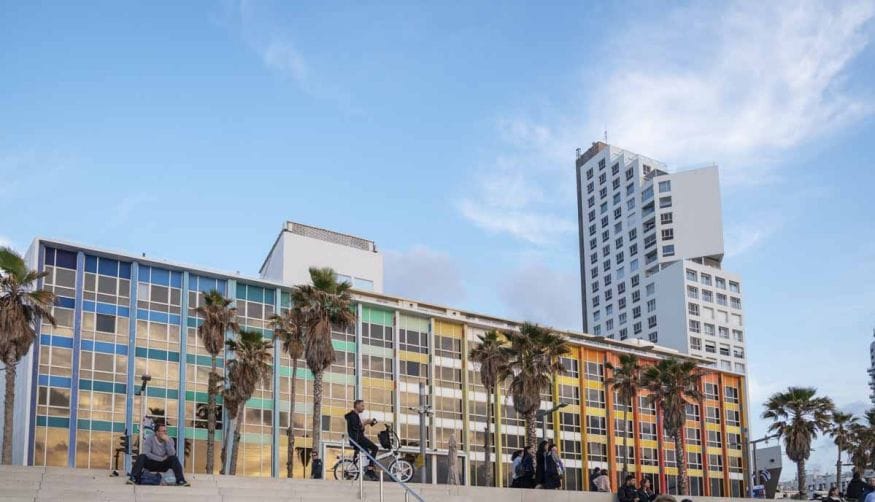 6) Do Water Sports
Another way to escape the crowds on the beach is doing some water sports – you can easily rent SUP boards and kayaks from Gordon Beach and explore at leisure. The same beach also has a roped-off section reserved to water sports, making Gordon a convenient place to head to for water sports.
Tel Aviv is also a great place to have surf lessons – Topsea comes highly recommended, and there are group classes available on Friday.
7) Enjoy Brunch
Tel Aviv knows how to brunch, and Shabbat is the day to do it! As I mentioned before, many street food joints and other restaurants will be closed on Shabbat, but brunch restaurants will most certainly be open, with queues around the block!
One of the best places for a Shabbat brunch in Tel Aviv is Benedict, located on the corner between Allenby and Rothschild, a restaurant specialising in breakfast food which also has the added benefit of being open 24 hours. Another excellent option is Dallal in Neve Tzedek, just a short walk from Jaffa.
7) Party the Night Away!
Thursday and Friday night are the main 'party nights' in Tel Aviv. The area around Rothschild and Allenby is full of pubs, bars and clubs – Florentin is another good option for a night out. The issue is that in Tel Aviv, clubs are not immediately 'obvious' – more often then not you enter from a nondescript road, leading you to an inner garden or an underground maze.
A great way to find out where to party in Tel Aviv is joining the pub crawl organised by Abraham Hostel, taking place every night between Thursday and Saturday. We visited five different bars and clubs – don't ask me the names as I have no idea, but I can guarantee it was fun.
Here are some of my favourite bars in Tel Aviv, ideal for Shabbat night (or any other night, really):
Shpagat – easy going bar along Nachalat Binyamin, ideal for a beer on the way back from the beach
The Prince – the best rooftop bar in town, also on Nachalat Binyamin, also serving delicious tapas-style food.
Beerbazar – a craft beer bar in Kerem, the Yemenite quarter just behind Carmel market
Sputnik – an easy-going club on Allenby, with an inner garden and rooms playing different music
9) Have an Unforgettable Lunch in Jaffa
Jaffa is another lovely place to head to on Shabbat. With its twisted alleyways and seaside location, it's a photographer's dream – and it is also where you'll find The Old Man and the Sea (known locally as HaZaken VeHayam), THE BEST restaurant in Tel Aviv, which luckily, is also open on Shabbat!
The Old Man and the Sea has two locations in Jaffa – the original one on Kedem Street, on the hills overlooking the coast, and 'the new one' in Jaffa port. The restaurant serves an array of grilled meat and seafood specialties, but the real reasons are the 22 (yes, twenty-two) salads and dips served with each order.
We recommend just ordering the salads, and maybe one main dish to share between two – a pitcher or fresh lemonade, coffee and sweets are also included in the price.
10) Learn about Bauhaus Architecture
Besides Jaffa, there aren't many must-see sights to speak of in Tel Aviv – the city is all about the vibe. However, Tel Aviv is also known for its examples of Bauhaus architecture, much of which can be seen in the city centre, between Rothschild, Allenby and Neve Tzedek.
If you want to know more about Bauhaus architecture in Tel Aviv, you can join a free walking tour organised by the local tourism board, departing every Saturday morning at the corner between Rothschild and Shadal at 11 am.
Where to stay in Tel Aviv
There's only one place to stay in Tel Aviv – Abraham Hostel. I wouldn't dream of staying anywhere else. If you're a hostel person, you'll love the communal vibe of the place and the numerous activities on offer – not to mention the stunning rooftop.
If you're not a hostel person, you'll love the spacious double rooms with ensuite bathroom, a great deal in a pricey city like Tel Aviv.
Breakfast is always included at Abraham, and it is served from 6.45 to 10 in the bar. There's a large kitchen adjacent to the bar for guest use, and a menu with a selection of dishes on offer until 11 pm.
If you're visiting Tel Aviv on a Jewish festivity like Yom Hazikaron, Pesach or others, you'll find that even restaurants that stay open on Shabbat will be closed. Luckily, the Abraham bar stays open, so you won't have to go hungry!
If Abraham is full, try these other amazing Tel Aviv hotels!
I would like to thank my best friend for having shared this trip with me, Abraham Hostel for having welcomed us, and Tel Aviv for being the most amazing city in the world.
Pin it for later?