Have you ever heard of Mullerthal, Luxembourg's little Switzerland? If you like adventure, make a note of it – there are so many outdoor things to do and beautiful landscapes!
Ever since I visited Luxembourg for the first time, I've been wondering why it's not more popular as a tourist destination – after all, it's right in the centre of Western Europe, well-connected by rail and plane, and there are plenty of things to see and do, including dozens of castles despite the country's tiny size – check out our post about castles in Luxembourg if you're a castle-lover!
Until our more recent visit, we didn't think that Luxembourg would offer much to adventure travellers. After all, Luxembourg is landlocked, and there are no mountains (the country's highest point is a mere 560 meters). Then we spent three days in Mullerthal, a region known as 'Luxembourg's little Switzerland' because of its rocky formations, forests, caves and streams, giving the region a kind of 'Alpine Vibe' despite its low altitude.
Mullerthal aka Little Switzerland is a real adventurer's paradise, a place where you can hike, bike, kayak, go waterfall-hunting, discover picturesque towns and even a Roman villa, without having to travel far. Here's our guide to what to do in Mullerthal/Little Switzerland, ideal if you're visiting in Spring, Summer or even Autumn!
If you're looking for more inspiration from elsewhere in the country, check our things to do in Luxembourg post!
Hike the Mullerthal Trail
What if I said that a country as tiny as Luxembourg had an amazing set of long-distance trails, allowing you to spend a week or more discovering canyons, forests, rock formations and all what makes Little Switzerland special?
Trust me, I'm not joking – the Mullerthal Trail is Luxembourg's best long-distance trail, three loops around the Mullerthal region for a total of 112 km which can be hiked in six stages. There are also four 'extra tours' connecting to the main Mullerthal Trail, adding a further 75 km to the total kilometres.
Each of the three main loops is thought to be divided into two stages of approximately 20 km each. You can choose to stay at hotels and B&B along the trail, or choose a base and use Luxembourg's excellent public transport system to head back there at the end of the day.
The paths are marked by a red M on a blue background, and even though we only hiked a small section of the trail, signage seemed to be excellent.
Mullerthal Trail Route 1 – 38 km
The first loop starts in Echternach, the largest city in the Mullerthal region, which actually makes for a great base if you're planning to hike the entire Mullerthal Trail.
The first stage of the trail heads east from Echternach, following a route through woods and rock formations that is roughly parallel to the River Sûre, marking the border with Germany. During the first stage you'll pass the Tudor Castle in the village of Rosport, and the Gisterklaus pilgrimage chapel near Moersdorf, the oldest pilgrimage site in the country.
From Moersdorf, you can hop on bus number 485 back to Echternach.
The second stage will take you from Moersdorf back to Echternach via forests, nature reserves and agricultural areas, offering a glimpse into the landscape diversity of Luxembourg's Little Switzerland.
Mullerthal Trail Route 2 – 37 km
Route number 2 is considerably harder than the other two, with some steep ups and downs, but you'll be rewarded by beautiful views. This route also starts in Echternach, but then loops further west – on Day 1 you'd be heading towards Berdorf, a town known for its futuristic water tower and for the wonderful rock formations just a short distance away from the city.
During our visit to Mullerthal, we hiked part of local path B2 in Berdorf, and then followed some of the Mullerthal Trail Route 2 near Ruetsbeschschlëff. We also passed close to Wanterbaach, where a section of the iconic Little Switzerland limestone cliffs have been set up as climbing crags – this is actually the only place in the region where it's possible to climb outdoors!
After a steep but scenic 6 km from Echternach to Berdorf, with stunning views over the former as you leave the city behind, you'll cross the Schnellert forest towards Mullerthal, the village giving its name to the region and to the entire hike. On your way through the forest you can visit an ancient mill that now houses a restaurant and info point.
From Mullerthal, you can hop on bus number 111 back to Echternach to break up the hike.
On the following day, hike from Mullerthal along the Black Ernz stream, until you reach
Schiessentümpel, Mullerthal's most famous waterfall! Sadly, we visited just after a heavy flood which caused terrible damage to the trail and surrounding region, and many natural landmarks didn't look their best. However, we were very pleasantly surprised to see that the trail was being repaired at lightning speed.
The rest of day 2 continues east back to Echternach, via some truly wonderful canyons and rock formations.
Mullerthal Trail Route 3 – 37 km
In Mullerthal, Route 2 and Route 3 meet – you can use Mullerthal as a base, or take advantage of easy bus connections to Echternach. Castle lovers will enjoy this loop – from Mullerthal, hike counterclockwise towards Beaufort, home to a beautiful castle with a moat dating back to the 11th century. Then, follow the Black Ernz and then head into the Hallerbach valley until Larochette, home to another spectacular ruined castle.
For the second stage, start by following the White Ernz stream towards Blumenthal, a very scenic village on a plateau, then turn north making for Mullerthal, passing the Schiessentümpel waterfall on the way.
Visit Echternach, Luxembourg's Oldest City
Whether or not you decide to hike the Mullerthal trail, chances are you'll be visiting Echternach during your time in Little Switzerland. The town is the oldest in Luxembourg, founded in 698 AD by English monk Willibrord, whose abbey survives to this day.
Echternach is right on the shores of the River Sûre, just a stone's throw from Germany. It's a pleasant place to spend a day or two checking out its points of interest – make sure you don't miss the Echternach Basilica, rebuilt in the 1950s after being heavily damaged during the Battle of the Bulge of WW2, the pedestrian city centre with a beautiful market square, and the Abbey Museum that still preserves manuscripts copied in the Echternach scriptorium, one of the most important in Europe.
Other things to do in Echternach include a Roman villa located just south of the city centre, the largest and best preserved north of the Alps, and Echternach lake, surrounded by a large park where you can swim, run, cycle or enjoy one of the excellent playgrounds if you're visiting with children… or even if you're not!
Join the Dancing Procession in Echternach
Echternach is also known for its dancing procession taking place on the Tuesday after Pentecost in honour of Saint Willibrord, part of the UNESCO intangible cultural heritage list, attracting visitors and pilgrims from all over Europe.
The procession covers a distance of only 1.5 kilometres, from the yard opposite the abbey and then along the small roads of Echternach's town centre, reaching the market square and then heading back to the Basilica, but it takes several hours due to the two-step 'dance' with jumps from left to right. Pilgrims parade in rows of four or five, wearing white tops and black skirts or trousers, holding the ends of white handkerchiefs folded into triangles.
Anyone can join the Dancing Procession, as an individual or a pilgrim group – the people from the Willibrordusbauverein, the association in charge of organising the procession, will help anyone in need.
If you're not visiting on the right day, you can learn more about the Dancing Procession at the Dancing Procession Visitor Centre, located inside the Abbey. The origins of the Echternach Dancing Procession are unknown – some say that it has its roots in pagan cults, others that it is meant to exorcise the symptoms of epilepsy or the plague.
Cycle around Mullerthal
Hiking is definitely one of the best things to do around Mullerthal, but if you prefer to explore on two wheels, you can take advantage of a vast network of cycle trails. Most hotels offer bicycles for rent, if you don't have your own, and cycle trails are in excellent conditions, despite the recent floods.
We cycled from Wallendorf-Pont to Echternach and then all around Echternach Lake and back, about 40 km over the course of a day. I'm well aware that is nothing for serious cyclists – other alternatives are cycling all the way to Trier in Germany, following the cycle paths running along the Sûre and Moselle Rivers (about 35 km from Trier), or cycling from Echternach to Vianden to see the famous castle, then looping back via Diekirch (about 70 km for the entire loop).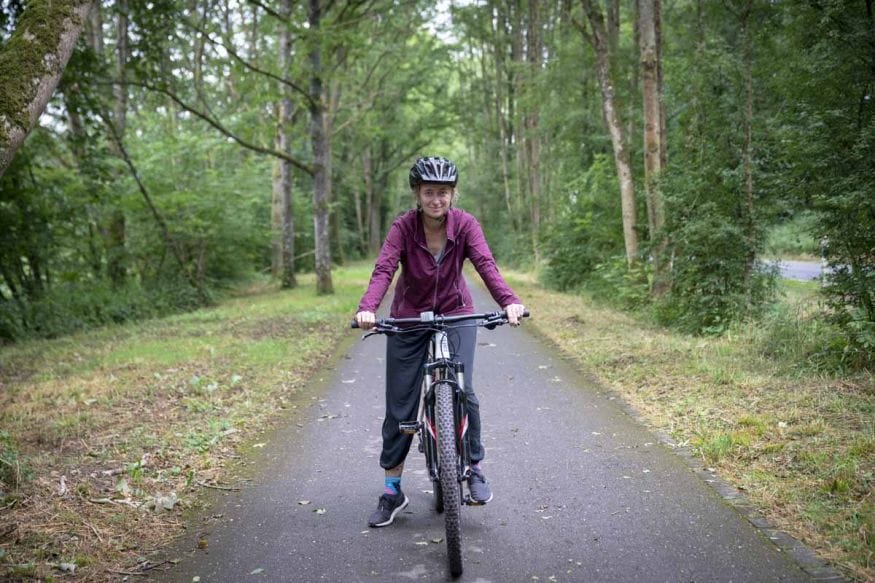 These routes are great if you like cycling on flat terrain, as the cycle paths run alongside rivers. If you prefer hills, there's a cycle path running from Echternach to Luxembourg City with a lot more ups and downs – and you'll have the added benefit of being able to hop on a train between Luxembourg city and Diekirch for the way back with your bike, if you're tired.
Kayak the River Sûre
In Mullerthal you can also kayak 7 km along the River Sûre following the current, between Dillingen and Echternach. We meant to kayak, but we woke to a grey, cloudy day and didn't want to be stuck on the river in case it rained, given the recent floods, so we opted for a bike ride instead.
Guess what – it didn't end up raining and we could see as we cycled along the river that it would have been a beautiful kayaking trip, passing several picturesque riverside villages before reaching Echternach, where you can drop off your kayak and explore the city. Next time, I guess!
Visit Beaufort Castle
Another unique place to see in Mullerthal is Beaufort Castle – or maybe I should say 'castles', since there are two, a Medieval and a Renaissance castle, located side by side. The medieval castle is now in ruins, but you can still get inside and check out the dungeons, the chapel and rest of old windows and decoration. The ruins have also been fitted with stairs to allow people to climb to the upper level, where you can get great views over the Renaissance castle just next door.
The Renaissance Castle next door was built in the 17th century and is in good conditions, since it was never attacked. The castle was inhabited until the last descendent of the noble family died in 2012, when the building was opened to the public – it is now possible to join guided tours to visit the elegant interiors and taste the Cassero blackcurrant liqueur, produced in the castle cellars.
Camping in Mullerthal
One thing that we noticed while touring Mullerthal was the high density of campsites – we counted at least three over the 15 km cycle ride between Wallendorf-Pont and Echternach! Our local guide confirmed that camping is a popular pastime in Mullerthal, especially for people from Belgium, the Netherlands and Germany, who like to visit with their own campervans or mobile homes.
If you prefer camping in a tent, or if you've never camped before and would like to experience the thrill of staying in a campsite without having to buy camping equipment, we have the place for you – Camping Martbusch in Berdorf, literally steps away from the Mullerthal Trail. The campsite is large and surrounded by nature, and offers a choice of powered or unpowered sites as well as 'Pods', cute wooden cabins shaped like a tent, with electricity and even a toilet and kitchen if you opt for the 'Megapod'.
Where to Stay in Mullerthal
Our base in Mullerthal was Hotel Restaurant Dimmer in Wallendorf-Pont, steps away the bridge over the Sûre to Wallendorf in Germany. If you like hopping between countries, this is the hotel for you!
Hotel Dimmer has rooms in the main building and in an annex located in the former railway station, which was decommissioned in the 1970s. We stayed in the annex, with rooms named after former railway stations and a decor that pays homage to the building's previous use.
The main building is where breakfast and dinner are also served – if you're joining for dinner, please be aware that Luxembourgish food is described as 'French quality with German portions', which means that the food is rich, and the portions are HUGE. My bouillabaisse was enough for four!
In the basement of Hotel Dimmer there's also a small SPA with steam bath, sauna and tepidarium – just what you need after a day enjoying adventurous activities all around Mullerthal!
Getting to Mullerthal and Around
We highly recommend all those who decide to visit Mullerthal to get a Luxembourg Card at the cost of only €28 for three days, including free public transport all over the country and free entrance to many sights like Echternach Abbey and Museum.
From Luxembourg Airport, you can get onto bus number 16 to the Luxemborg City centre, and then switch to bus number 111 to Echternach – travel time is about an hour.
Another useful bus to get around Mullerthal is number 500, connecting Echternach to Ettelbruck and viceversa via Diekirch, where you can connect with the railway line.
For info about getting around Luxembourg, check out the official public tranport site!
We were guests of the Luxembourg Tourism Board and the Mullerthal Tourism Board during our time in the country. We would like to thank Rachel and Marianne for their kind help. 
Feature picture photo credits: Office Régional du Tourisme Région Mullerthal – Petite Suisse Luxembourgeoise
Pin it for later?