After a short absence, yours truly are back. Today we'll take you to the Alpe di Siusi / Seiser Alm, a stunning place in South Tyrol, with legends of witches and spirits.
Everybody has their own version of paradise. For some, it may be a palm-fringed white beach. For others a meadow full of wildflowers, or a bustling city.
I had never thought of what my very own heaven would look like. Until I got to Alpe di Siusi, and straight away I thought, that's it.
Alpe di Siusi – Alpine Paradise
Alpe di Siusi (also known as Seiseralm in German) is Europe's largest Alpine plateau, an expanse of emerald-green meadows dotted cows and horses, roaming free and eating fresh grass, still pearled with dew.
The plateau is surrounded by the jagged peaks of the Sciliar, the witches' mountain, and the Sasso Lungo group, the pink hues of their Dolomite rock impossibly beautiful under the deep blue morning sky.
The air was clean and crisp, and the mountain scenery seemed to possess a stillness that is rarely found at lower altitudes. Every single image – the animal-shaped clouds, the stone houses with wood stacked round the back, the tiny, late summer wildflowers peeking through the grass – everything was full of some kind of otherworldly atmosphere, as if the place was pervaded with legends.
Our guide was Hexe Martha, a local sixty-something woman who also looked like she came from another world. She spoke excellent English, and her heavily-accented Italian revealed something very common around this area – that we are not actually in Italy.
Nor in Austria, or Germany for that matter. South Tyrol is just South Tyrol – call it Sudtirol, or even Alto Adige, it remains something essentially unique, a border region that breeds fiery, independent characters.
South Tyroleans can be a bit crazy – but growing in the high mountains can do that to you. But back to Hexe Martha now. Her eyes were the most striking I've ever seen. They were dark, and seemed to look through you, as if to say 'there's nothing you can hide from me'. She looked like a benevolent teacher, the one who knows what you're thinking even before you do. I wonder if that was true.
The witches of the Sciliar
Martha's moniker 'Hexe' meant 'witch' – the Sciliar-Alpe di Siusi area has a long tradition of witchcraft, that has its roots in the dawn of times. Before the arrival of Christianity, the Sciliar 'witches' were simply local women who used herbs to cure illnesses and carried out rituals for a good harvest.
From the Middle Ages onwards, witches have been persecuted and some of them met a horrific death, after their harmless rituals were believed to be evidence of pacts with Satan. However, the witches trials of the 16th century didn't put an end to the stories of witches and spirits.
The grandfathers and grandmothers of the area still tell their grandkids about the salingen, fair maidens turned into flowers, the salvans, happy forest-dwelling elves, and of course about witches – and the most famous of them is, strangely enough, called Martha, and is able to turn herself into a squirrel.
Nowadays, our very own Hexe Martha leads tours for children and families around the plateau, sharing with them the secrets of the area. I didn't need to ask her to tell me a story – every mountain peak, every blade of grass concealed a tale.
'See that house over there?' said Martha, pointing to a tiny mountain house, lost in a sea of green. 'A shepherd lived there once upon a time, when there was an endless summer in this land. Harvests were plentiful, people were happy and the sun shone every day, year after year.

Then, one day, it snowed. The shepherd's son didn't know what it was, and thought it was salt falling from the sky. So, he collected as much as possible and stored it in jars.

When his father came home, the son discovered that the water had melted, and told his father about the event. It was snow, the father replied. I have heard about it from a very old woman. She said that when snow starts falling, it means that summer is over. It's the beginning of a long, long, winter.'
In other words, winter is coming.
Then, Martha pointed to the Sciliar, striking with its part straight, part jagged summit. 'That's where the witches gather', Martha said. 'And down there, near Bulaccia, there are some boulders shaped like chairs. The legend says that's where the oldest witch used to sit to lead the coven – and enjoy the stunning landscape'.
Alpe di Siusi Hiking and Flavours
The Alpe di Siusi area is the ideal place for a quiet wander in the heart of nature. The plateau stretches in all directions, hemmed in by the peaks of the Dolomites.
There are no big Alpine climbs, no crazy ups and downs on uneven terrain. Just small, grassy hills – making it ideal for family outings. In the distance, we could see a group of children running around a 'maso', the traditional mountain houses of this region. It was the weekly mountain picnic organised by Hotel Cavallino Bianco, the best hotel for families in the area.
We spent the whole morning walking around, sitting on the grass, watching the cows graze and the clouds chase one another in the sky. Then, it was time for lunch. There's nothing better than a nice alfresco lunch under the mountain sun, after a morning spent hiking.
I must admit, the hike was anything but strenuous. And when I saw that our lunch destination was the stunning place below… you can imagine my jaw dropped.
We had lunch the Gostner Schwaige, run by young chef Franz Mulser, who became famous for his use of local flowers and herbs in his dishes. We started with some cheeses and cold cuts, including speck, a South Tyrolean cured ham flavoures with juniper berries. The table was beautifully decorated with local flowers, and every single morsel of food was fresh and delicious. Add that to the setting, and you've pretty much got the recipe for a perfect lunch. It was one of those wow moments – the food, the blue sky, the company. It's hard to put into words how perfect it was.
I can't contain myself when I get food in front of me, and so when the main course of canederli (knoedel in German) came, I was already stuffed. Canederli are large dumplings made with bread, milk and eggs, and can be flavoured with cheese or speck (or both). At Gostner Schwaige we also had inventive versions made with nettles, buckwheat and beetroot. Just mouthwatering – especially when covered with melted butter and eaten with creamy homemade sauerkraut.
Yet, dessert trumped it all. Franz came out of the kitchen, wearing the traditional blue apron of South Tyrol (my dad has a similar blue apron, and I always wondered where it came from). He set up an outdoor stove and started mixing eggs, flour, cinnamon and fresh plums in a heavy pan – and added a splash of schnapps for good measure, and some wild herbs and rose petals. There you have it – the tastiest kaiserschmarrn I have ever tasted.
Kaiserschmarrn takes its high-sounding name from Emperor Franz Joseph, who loved this traditional Tyrolean shredded pancake. Hexe Martha loved it too – she has three servings.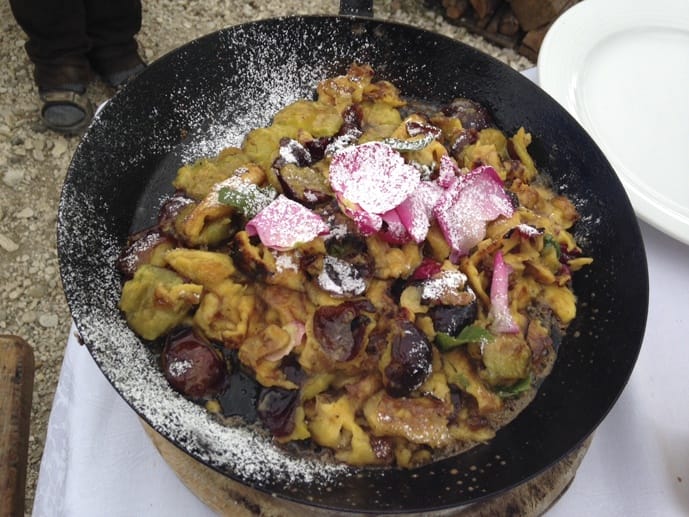 Slowly, slowly, it started to get dark, and we retreated to our hotel for the evening. I must admit I was a bit scared to fall asleep in this land of spirits and witches, in a room by myself. I felt at the border between two worlds, the real and the unknown, between light and darkness – but which one is real, and which one is imagined?
When I woke up to this stunning sunrise, I realised I was right. The Alpe di Siusi is, indeed, another world – one where spirits dance in the sky.
How to get to Alpe di Siusi
There are buses to get to Alpe di Siusi from the stations of Bolzano/Bozen, Bressanone/Brixen and Chiusa/Klausen. Or you can take the cable car from Ortisei/St Ulrich – definitely the most spectacular way.
You can also reach the plateau by car, but please note that unless you are staying in one of the Siusi hotels, roads are blocked from 9 am to 5 pm. So, once again, we recommend public transport!
Where to sleep in Alpe di Siusi
I stayed overnight in the wonderful Alpina Dolomites, a 5 star property with a great view overlooking the plateau. The hotel offers everything you may need and more – including fresh apples and spring water in your room on arrival, a super comfy bed with fluffy pillows and blankets (who knew you could sleep so well, even in the land of the witches?) and rain shower with top-class toiletries.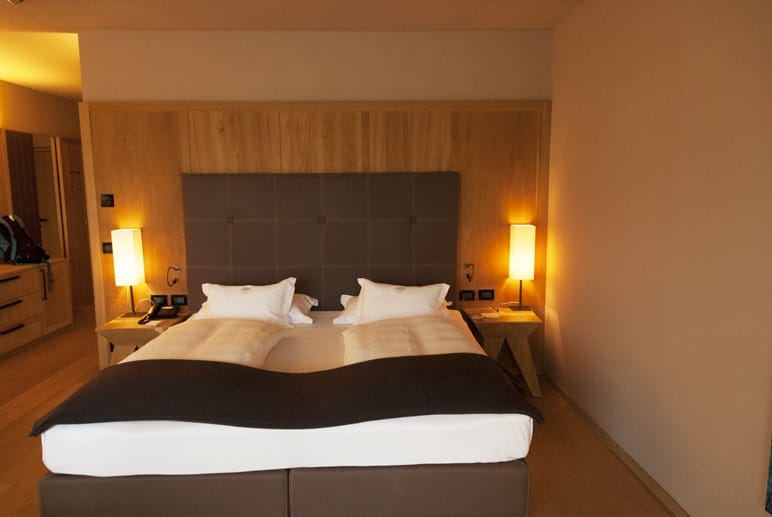 The hotel also has a spa and wellness centre with indoor-outdoor heated swimming pool with killer views, sauna and a-la-carte treatments. I was eager to try the traditional South Tyrolean hay bath, but sadly the spa was fully booked. Make sure you book in advance if you want some pampering after your hike!
We would like to thank SMG – Südtirol Marketing for having welcomed us on this trip. All opinions remain our own – but trust us, Alpe di Siusi is really paradise on Earth!
Just a few more Alpe di Siusi pics…
Pin it for later?