There's no place like the Alps for hiking! From Lake Garda to South Tyrol, there are literally hundreds of kilometres of trails to explore. Yet, when it comes to natural beauty, Switzerland is hard to beat. Let's have a look at the 8 best hikes in Switzerland for everyone, including solo hikers!
Switzerland may be known for chocolate, and being for neutral, but for me it was always about the Alps. I moved here over 15 years ago to live in this mountainous playground, and have never regretted a moment of it.
I spend most summers in the mountains, at least when it is sunny, and I have done over 100 hikes during my time here. So, it is often hard to pick 'the best' hikes in Switzerland when I am asked. But I will certainly do my best to share some insider tips with you, helping you plan your ideal Switzerland hiking trip.
I have tried to cover a wide area of the country, abilities, and scenery. From the highest Alps in the south of Switzerland, to the mountains surrounding Interlaken and Lucerne, the following are 8 of Switzerland's best hikes for a day out in the Alps!
1) Bachalpsee & First (Grindelwald)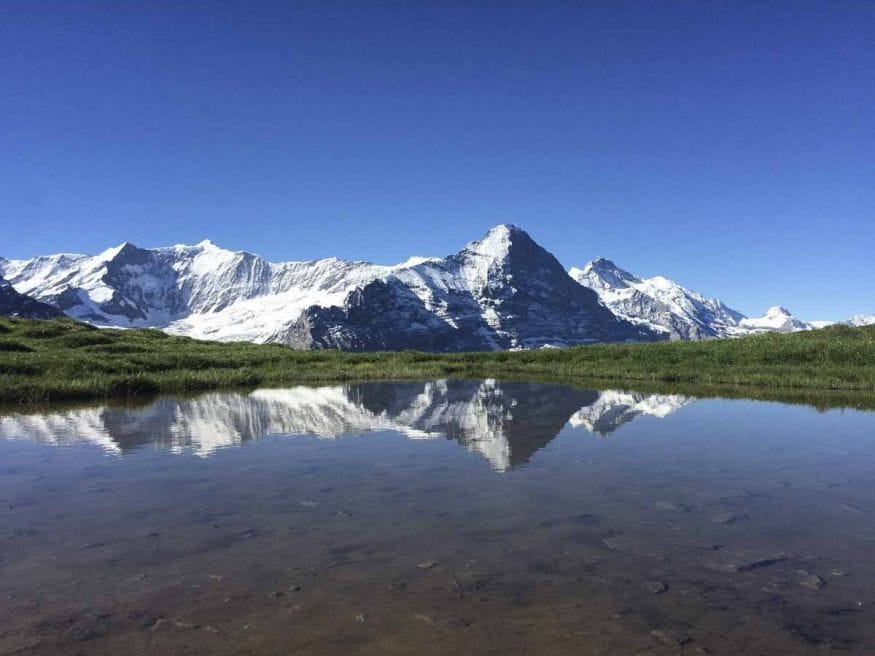 If you are headed to the Interlaken or Grindelwald area, then getting a panoramic view of the Eiger, Monch and Jungfrau should be on the top of your list. These three peaks, at over 400m high, are the jewels of the Bernese Oberland.
There are a number of hikes you can do along the ridge opposite these mountains, but the most stunning, and accessible, is the hike from the First Gondola to the Bachalpsee. It will take you less than an hour and the sight of those peaks reflected in the lake are something you will never forget. Truly one of the best hikes in Switzerland for novice hikers!
For the more adventurous, there are some other options as well. You can extend the hike all the way up to the Faulhorn hut to get an even grander view of the region. Alternatively, when you head back to the gondola you can take a walk around the First Cliff Walk and get some stunning shots.
The last option, perfect for adrenaline junkies out there is to take the new zip line they have installed there. It's long, it's fast and you will certainly get a rush.
Best Interlaken Tours for Adrenaline Junkies
Best Places to Stay in Interlaken
2) Eiger Trail (Grindelwald)
On the opposite side of the valley is the Eiger Trail, another worthwhile hike just above Grindelwald. You take the train to Kleine Scheidegg and walk downhill from there. It may not seem as stunning as the views from First, but you get to pass right below the Eiger itself – really, you have to include this in your Switzerland hiking trip!
For those of you know a little mountaineering history, it's a great place to come. You can stare up at the route, from bottom to top, the climbers take to reach the top of this intimidating peak. After all, this mountain has claimed the lives of 65 climbers.
And if you are doing the day trip up to the Jungfraujoch, a must in my opinion, you can stop here on the way back and do the walk from there.
Best Jungfraujoch Tours from Interlaken
3) Saas Fee Hohenweg (Grachen to Saas Fee)
Saas Fee is the oft-forgotten neighbour of the more famous Zermatt, but it is a place that is almost as jaw-dropping to visit. It is also surrounded by inspiring 4000m peaks, glaciers and blue mountain lakes – and truly some of the best hiking in Switzerland!
One of the best hikes I have done in this region is a day-long walk from Grachen to Saas Fee. It might seem a bit long for many people, but it is what they call a Hohenweg. This means "highway" in German, but what it really means is that you walk almost at the same altitude the whole way, which makes it a whole lot less taxing!
The great thing about this hike is that you get continuous views of the mountains as you slowly, but surely approach Saas Fee throughout the hike. What more can I say?
4) The Charles Kuonen Suspension Bridge (Zermatt)
There are lots of exciting things to do in Zermatt, so you won't have time to be bored. However, if you want to get a bit of exercise and some mind-blowing views, then I have the perfect Switzerland hike for you. It's a loop up and over the recently opened Charles Kuonen suspension bridge above the town of Randa, just below Zermatt.
It is said to be the longest pedestrian suspension bridge in the world, and as a result, it has attracted a lot of attention of late. As such, I recommend going early, or late to do this hike, to help avoid the crowds. Also be aware, you have to ascend a little to get to the bridge, so I don't recommend this for those of you who are not reasonably fit.
Another tip for this hike, and the one in Saas Fee, is to do it in the autumn. The trees are changing to yellow, and the views are even more amazing – if this isn't one of the best hikes in Switzerland, I don't know what is!
Best Zermatt Day Tours
Best Places to Stay in Zermatt
5) Uina Gorge (Engadine)
This is one of the most memorable hikes I have done in Switzerland, for a number of reasons. I approached this gorge on a two day hike that ended up with us biting off more than we could chew. However, the end of the hike was through the magnificent Uina Gorge, a truly unique experience.
The gorge itself is carved tightly through the rock as it winds slowly through the Engadine Alps, but it's the path you have to take that is so spectacular. It has been carved out of the rock on the side of the vertical walls, and is certainly not for those with vertigo. That is not to say that it's dangerous, as I am no rock climber. But some careless people who have mountain biked down here have fallen to their deaths!
For those of you walking though, it is a simple enough affair, up and down on the same trail from Sur En near Scuol.
6) Top Of Rigi (Lucerne)
Lucerne is another 'must see' for anyone in Switzerland, but that does not mean you have to stay in the city the whole time. There are plenty of hiking opportunities to keep you busy here, and one of the simplest to do is to the top of Mount Rigi.
Rigi itself is nothing to write home about, but the views from the top – north towards Zurich, and south over Lake Lucerne – are sure to fill the memory card on your camera!
You can make the hike as long and hard as you like. We often hike from the bottom, to train for longer and harder hikes in summer. However, you can take the cog-railway up to almost any stop and walk from there. So, it can be a one hour hike, or a 3-4 hour hike. Then take the train down (or vice versa if you like) to Vitznau.
When combined with a lovely day trip on the boat from Lucerne, with an ice cream on the lake while you wait for the boat back, there is nothing more memorable!
Best Day Tours from Lucerne
Best Places to Stay in Lucerne
7) Oeschinensee (Interlaken)
This is one of the first hikes I did in Switzerland, many, many, moons ago. To this day I remember how hard it was to walk up 500 m in altitude, which makes me now look back and laugh. It's not that hard, but I was unfit and inexperienced. The walk is actually very easy, you just need to take it slow and steady – making it one of the best hikes in Switzerland for first-timers or solo hikers!
The lake itself is one of the clearest and best placed in Switzerland. It is absolutely surrounded by high alpine peaks and sheer cliff walls. It is only the side you walk up via that is open to the world. It is something of a sight to behold, that is for sure. And, not that many foreigners come up here.
It is a day trip you can actually do from Interlaken, if that is where you are based. Just take the train to Kandersteg. It's only an hour on the train.
8) Seealpsee (Apenzell)
Last but certainly not least is another beautiful lake, nestled amongst the Appenzeller Alps – the Seealpsee. The name itself always amuses me – because it kind of repeats itself – seealpsee, which means Lake Alp Lake, when taken literally.
Anyway, back to the important stuff, the hike. This is actually a popular hike for locals and tourists alike, because you can easily hike up to the lake, and also add on a visit to one of the most popular spots in Switzerland – the Äscher Restaurant. You might have seen in around on the internet. It is that crazy alpine house built right against the sheer cliffs in the alps.
Unfortunately it has become a little too popular due to its inclusion in National Geographic's Destinations of a Lifetime book. But, if you get up here early or late in the day, you might just beat the crowds.
For those of you who hate hiking uphill, there is also the option to take the cable car up to Ebenalp, where a friend of mine often paraglides from (be on the lookout, they are everywhere). From there, you can hike a short way down, via a small cave and along the cliff edge (super safe) to the hut.
If you get here early enough, and manage to get a seat, try their Rösti, apparently it's very tasty. I am always too late to get a seat!
This guest post was
brought to you by Anna Timbrook.
Anna was born to travel the world, having studied languages all her life. Although she has indeed traveled the world, she now calls Switzerland home and spends her time writing about her experiences on her travel blog
Expert World Travel
with her husband.