MondaysinMilan is back! If you're planning to visit and wondering where to stay in Milan, this place is for you – here are the best hotels in Milan, all tried and tested. Which means that I have actually slept there. How's that for a guarantee?
One of the questions I'm asked most often by readers is where to stay in Milan. Many of you have found this blog searching for things to do in Milan, or for where to find the best Milan street food, and naturally, you'll also be wondering about the best hotels in the city.
Up until a few months ago, I was clueless when it came to recommending Milan hotels. When people asked me about the best place to stay, I was always tempted to respond 'that's my house!' Normally, I ended up recommending Milan Airbnb, which I still think can be a great deal in the city, but sometimes people just need a hotel – and honestly, I had no clue.
Then, a few months ago I was asked to start reviewing Milan hotels for the Telegraph. Between October and mid-December, I stayed at 17 different properties around the city – from 5 star luxury hotels, to boutique palazzos in the heart of the city, to functional business hotels and quirky hostels.
Let me say that again – I have slept and eaten in EVERY SINGLE ONE of the places marked as 'Tested' in this article, which are 17 in total. I don't think there are many people that can claim to have done the same.
Each of the hotels I visited had something special – in some cases, it was all about the location, in others it was the service, or a delicious breakfast. I have come to the conclusion that the perfect hotel doesn't exist – it all depends what you're after, of course, on your tastes and preferences. I have tried to emphasise positives rather then negatives, and naturally I am hoping to be able to add more and more Milan hotels year after year!
Since Milan is a large city, if it's your first time visiting it may be hard to decide where to stay. For this reason, at the beginning of each paragraph we've included an overview of the best Milan neighbourhoods, including what to see, and what makes them special, to help you choose the ideal neighbourhood in Milan for your needs.
Here are the best neighbourhoods in Milan
Click below to jump to the relevant section!
Milan City Centre (Duomo)
The city centre is the area surrounding the Milan Duomo, the cathedral and most famous landmark in town. This is where most of Milan's sights and attractions are located – places like Galleria Vittorio Emanuele, the La Scala Theatre, Last Supper, Sforza Castle and more are all a short walk away. Milan's best hotels are also near here.
Not to mention, the famous shops of Via Montenapoleone and Via della Spiga (the area also known as the Golden Quadrangle) are also a short distance away – shopping lovers, this is where you should stay in Milan!
Perfect for: people looking for 5 star/luxury hotels, walking distance to Milan's main sights, close to luxury boutiques.
Sina De La Ville (Tested)
Recommended for… location, location, location!
You can't possibly find a better place to stay in Milan in terms of location! Sina De La Ville is right in the centre of Milan, less than 200 meters away from the Duomo, but it's tucked in a side street which is quiet round the clock.
It's one of those classic, a little old-fashioned places, and it's very convenient for theatre lovers as La Scala and its museum are just next door and artists often stay at the hotel. So you never know, you may just have breakfast with your favourite ballet or opera star!
The Square (Tested)
Recommended for… the creative Arya Restaurant and rooftop views
Strictly speaking, The Square isn't a 5 star hotel – it's classified as 4 star superior, but it's still one of the best hotels in Milan. I won't get into the details of how stars are assigned and all that, but after having stayed at The Square I can guarantee that even though it isn't 5 star, it's pretty damn close.
The hotel is in uber-central Piazza Missori, a short walk from the Duomo – you can get a bird's eye view of the city centre by climbing on the rooftop centre, which is shared with sister hotel Cavalieri located just next door. In summer, the rooftop terrace is a great place for an aperitivo or alfresco dinner, as the hotel's restaurant moves outdoors.
Naturally, I visited in November, so no alfresco eating for me. I did enjoy a lovely dinner at the restaurant, on the first floor for the winter season – I still remember the homemade maccheroncini with porcini mushrooms, yum. The decor is best described as sleek and minimal, with touches of gold here and there. Another great hotel!
Hotel Manzoni (Tested)
Recommended for… freshly made breakfast and luxury boutique feel.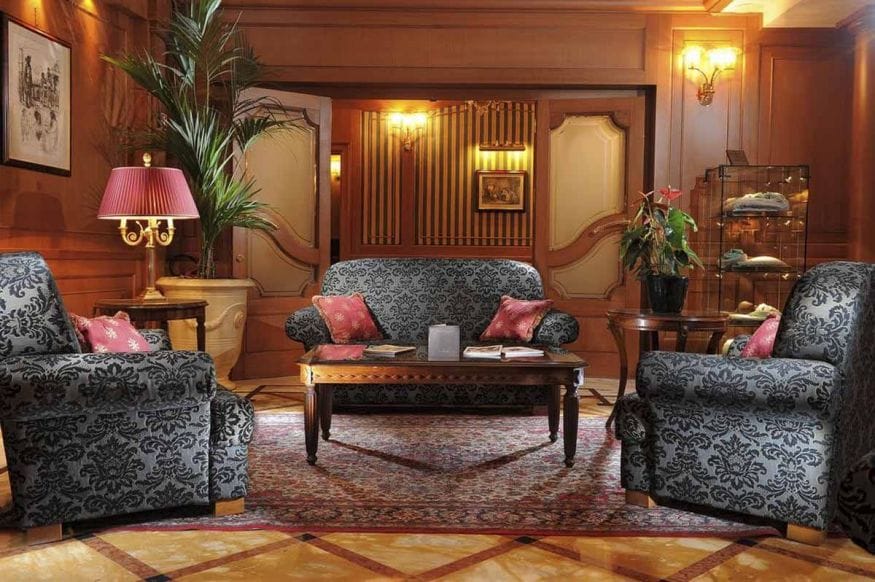 This hotel was one of the best surprises of my whole assignment, and it is definitely one of the best places to stay in Milan. I thought it was going to be a stuffy, old fashioned joint – what I found instead was a beautiful townhouse, all gleaming marble and Murano chandeliers, with some of the friendliest service I've ever experienced. The hotel only has 48 rooms, so it feels really intimate – I really did wish I could have stayed longer instead of my usual one night.
And the restaurant. OMG, so good. I had freshly cooked risotto, melt-in-you-mouth salmon and a delicious chocolate cake. But what really took my breath away was breakfast – there's an entire a la carte menu with eggs, pancakes, fruit shakes, sausages, salmon, and more, and you can order whatever you want from it, for no extra charge. You can also ask for one of everything, if you like.
Babila Hostel (Tested)
Recommended for… music lovers
When I heard a hostel had been opened in a late-Gothic building in Via Conservatorio, naturally I had to check it out. Via Conservatorio is one of the most charming streets in the city centre, and it's named after the music conservatory, located right next to Babila Hostel. Hostels are often noisy, but at Babila Hostel the only noise you'll hear is that of music students practicing.
The hostel is set in a beautiful building which was carefully renovated to preserve original architectural features while adding comfort and modern touches – and the result is amazing. There's also a bistro serving moderately priced, home cooked dishes. The carbonara is great, and this is truly one of Milan's best hostels!
Brera
This upscale neighbourhood is known as 'the artists' district', because of the abundance of art galleries, artist studios as well as the famous Brera Art Academy and Art Gallery, displaying works by the great Italian masters.
It's also one of the most pleasant places in Milan to walk around, with pedestrian streets, great restaurants, pavement cafés and a 'village' atmosphere – it's Milan's answer to Montmartre.
Perfect for: those looking for peace and silence, and still wanting to be close to the Duomo area – only about 20 minutes walk away.
Palazzo Segreti (Tested)
Recommended for… eclectic decoration and boutique feel
Palazzo Segreti is also in a really good location, on a side street off Via Dante. It's located in a beautiful palazzo, renovated into an intimate 18-rooms boutique hotel. When renovating historical properties it's very easy to get cheesy or unnecessarily opulent – what I loved best about Palazzo Segreti is that the interiors were renovated in a really stylish manner, using bold colours and raw materials. This is a great Milan hotel for design lovers!
The 18 rooms are all uniquely decorated, and the largest suite has a Jacuzzi next to the bed. It almost feel as if you're staying in a private home – the moment you step into the hotel, the traffic and chaos of Milan's city centre is immediately forgotten.
NH Palazzo Moscova (Tested)
Recommended for… TRUFFLES!
First reason to love this hotel – it's housed in a former station, and you know how much I love trains and stations! And this is not just any station, but Milan's first one, opened in 1840. There's a beautiful Neoclassical façade and a striking front terrace, ideal for aperitivo in summer – making it a wonderful place to stay in Milan near Brera.
Rooms are bright and comfortable, but the thing I liked best about this hotel was the truffle-themed restaurant – and surprisingly, my favourite dish weren't the butter tagliolini heaped with shaved white truffle, or the slow-cooked egg with chanterelles and black truffle, but the truffle tiramisu!
Navigli
The area known as 'Navigli' includes two of Milan's three surviving canals, as well as the Darsena, an artificial lake that was once Milan's harbour, and it has now been redeveloped into one of the coolest nightlife destinations in the city.
It's probably the best place in Milan for foodies, with lots of restaurants and cafes, but it's also visiting if you're into shopping – you'll find many vintage stores. The Navigli are also probably the prettiest neighbourhood in Milan, with picturesque canal views, and they're only 20 minutes walk from the Duomo.
Perfect for: nightlife, shopping and canal views.
Nhow (Tested)
Recommended for… art and design lovers
Nhow was definitely one of my favourite hotels, a concept property by hotel chain NH dedicated to the world of art and design and located along Via Tortona, at the centre of Milan's hippest design district. The hotel is located in a reconverted electrics factory – some details dating back to the building's industrial past were kept, and the addition of bold colours, a striking wave video wall and playful touches throughout make Nhow one of the best Milan design hotels.
The hotel spaces house contemporary art and design exhibitions, rotating every six months, and the hotel is right at the centre of Design Week events. The spectacular two-floor Penthouse Suite is also worth mentioning, as is the internal terrace connected to a club, where legendary design week parties are held.
The Yard
This is another wonderful choice for a luxury hotel in the Navigli area! The Yard has 32 individually-decorated suites just steps away from the Darsena. The mood is reminiscent of a gentlemen's club, and the decoration is best described as hipster X retro, with hat boxes, vintage trunks and soda bottles, and comfy leather chairs to sit on and enjoy a perfect gin and tonic.
In the rooms, you'll find textile hangings from all over the world, design lamps and other unique pieces. There are also two restaurants onsite, including an excellent gourmet pizzeria – it's really a wonderful Milan hotel in the Navigli area!
Maison Borella
This hotel is hard to beat in terms of atmosphere. It is Milan's only waterfront hotel, located in a 19th century palazzo overlooking the Naviglio Grande, and still retains some original features like wooden beams on the ceiling.
The rooms are bright and airy and include all mod-cons like air conditioned (not always available in Milan!), satellite TV and fast Wi-Fi. There's also a lovely inner garden covered in plants, and a common lounge room turning into a verandah during the warm season. The hotel also has a restaurant, and the nearby Navigli offer plenty of dining options.
Magna Pars
This luxury hotel is right next to Porta Genova underground station, and it's a great option for those looking for a sleek, contemporary atmosphere. Think floor-to-ceiling windows, minimalistic furniture and shiny white surfaces.
The hotel is located in a former perfume factory and pays homage to its past with perfume-infused rooms, 'olfactory aperitivo' and beauty treatments using scented oils. There's also an inner garden and restaurant focusing on Mediterranean cuisine using local ingredients. It's one of the most elegant hotels in Milan.
Ostello Bello (Tested)
This hostel is not only Milan's best, it's also one of the OG luxury hostels in the world, offering affordable accommodation with truly unbeatable value for money. The price for a dorm bed may be higher than your run-of-the-mill hostel, but lots of perks are included – like breakfast, complimentary aperitivo, use of a communal kitchen stocked with basics, pocket Wi-Fi routers and even the use of laptops.
There's always something going on at Ostello Bello, be it a karaoke night, a book presentation, or just an aperitivo attracting Milanese and travellers. The hostel is located in Ticinese, a neighbourhood half way between Duomo and Navigli, and another wonderful nightlife destination.
Porta Venezia
Porta Venezia may be located a little further away from the city centre, approximately half an hour walk, but it's a great option in terms of value for money. It's also one of Milan's most multicultural areas, with a sizeable population of Ethiopian/Eritrean heritage – and lots of amazing restaurants!
Shopping lovers should also consider staying in Porta Venezia – Corso Buenos Aires, Milan's longest shopping street, is just a short walk away!
Perfect for: shopping, dining and value for money.
Westin Palace Milan (Tested)
Recommended for… the luxury atmosphere and the delicious Milanese food at PanEvo restaurant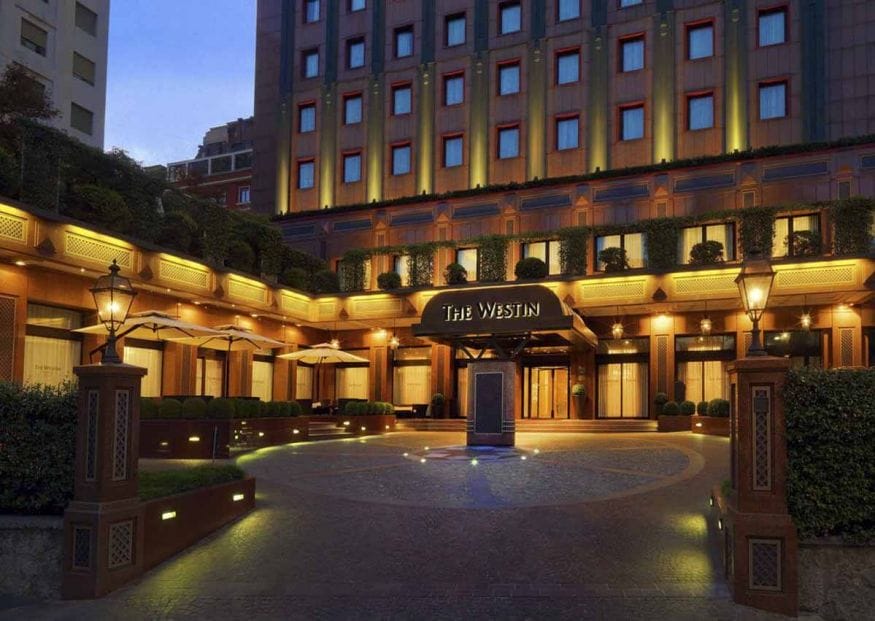 Westin Palace is located on Piazza della Repubblica, right across the road from Principe di Savoia, another historic 5 star luxury hotel. It's the kind of place where you feel luxury the moment you walk in – the grandiose lobby is full of chandeliers and shiny marble, and service is top-notch. The hotel has a spectacular rooftop terrace, and a gym with steam room, in line with the Westin brand's focus on health and wellbeing.
The rooms are spacious and come either in classical or contemporary style – the former have marble coverings and period furniture, whereas the latter are bright an airy, with fashion illustrations on the wall. It's definitely one of the best five star hotels in Milan!
Finally, the hotel's PanEvo Restaurant is worth a mention if you fancy trying some traditional Milanese cuisine – the saffron risotto with ossobuco and cotoletta (breaded veal schnitzel) were the best I've ever had, and trust me, I've had quite a few!
Sheraton Diana Majestic (Tested)
Recommended for… the inner garden and historic atmosphere.
As I mentioned above, different moods call for different hotels. Some days you want to surround yourself with the privacy and comfort of a boutique hotel, other days call for livelier atmospheres, or for cutting-edge design places. This is why I could never say which Milan hotel was my favourite – but if I really, really had to choose one, it would probably be the Sheraton Diana Majestic.
'Il Diana' has been a gathering place for wealthy Milanese for over a century, and its brunches and aperitivo still attract locals. I love the decor, effortlessly blending tradition and modernity, and the feeling of being in a place where so many people met, lived, ate and drank before me.
And I haven't mentioned the garden yet. Imagine a place with cascading wisteria, sprinkling fountains and secular trees in the heart of the city. That's Diana's garden – if you're visiting Milan in April, May or June, make sure you stay here.
Milan Centrale Station
The district surrounding Milan Centrale Station, the largest in Milan, may not be the best in terms of sights and activities, but it can't be beaten in terms of convenience.
There are dozens of hotels in the immediate vicinity of the station, some offering excellent value for money. If you have an early flight or train ride, we highly recommend booking one of the hotels listed in these section – but please be careful if you walk around after dark, as the area around the station can be seedy.
Perfect for: transport convenience, early departures, value for money.
Starhotel E.c.ho. (Tested)
Recommended for… the 'urban garden' feel
Once upon a time, this hotel was one of the many anonymous business hotels surrounding Milan's Stazione Centrale. Then, it was completely renovated, becoming one of Milan's top green hotels. Walking in, you have the feel to have entered an 'urban garden' – reception is all decked out in muted green and brown tones, there's art made with reclaimed wood and leaves and the walls of the hotel restaurant are decorated with blown-up images of a Florentine garden.
But it is in the details you cannot see that Starhotel reveals its extraordinary commitment to environmentally friendly policies. The rooftop space is covered with solar panels (a rarity in Milan), excess heat from the hotel's cooling system is used to aid the water heating process and grey waters are processed and recycled onsite.
To make matters even better, the hotel has wonderful views over the station building, and it's blissfully quiet at night – this is my favourite hotel near Milan Centrale station!
43 Station Hotel (Tested)
Recommended for… budget stays in a convenient location
When I asked the hotel manager to describe the hotel, she said 'our aim was to open the perfect three-star station hotel'. 43 Station does not bother itself with unnecessary facilities and amenities – after all, most clients only use the hotel as a base, for business or leisure trips.
Having said that, I thoroughly enjoyed my stay. Rooms and common spaces are decorated with custom Milan-themed wallpapers, breakfast is excellent quality and the rooms are soundproof and super comfy. If you need a place to stay near Milan Centrale station, this is an excellent option.
NYX Milan (Tested)
Recommended for… street art lovers
NYX Milan isn't just a hotel – it's also a contemporary art gallery, with a special focus on street art. Prominent local artists were commissioned to create pieces on each of the floors and in the internal courtyard, dominated by an impressive 3D artwork. Other art pieces can be found in the lobby and patio area, which opens up into the courtyard in summer.
Guided tours are sometimes organised to introduce guests to the art on display, or you can pick up an booklet at reception introducing artists and their work, and tour the hotel by yourself. The 'street' theme continues in the restaurant, which serves several dishes inspired by street food from Italy and beyond. It's another solid hotel option near Milan Centrale!
Ostello Bello Grande (Tested)
Recommended for… the vibe and all the extras!
This is the Central Station outpost of the popular Ostello Bello in the Ticinese/Navigli area, offering all what made the Ostello Bello brand famous but in larger, more comfortable surrounds. This, in theory, should make it easier to find a room – but in fact, this place is almost always fully booked!
It's hard to say what makes Ostello Bello Grande so popular – perhaps the quirky flea market decor, lively bar, and especially all the included extras – not just wifi and breakfast, but also portable mifi devices, free aperitivo, welcome drink, tea and coffee, free food always left in the kitchen, free laptops and tablets to borrow… you name it.
If you are looking for where to stay in Milan near the Central Station on a budget, don't miss Ostello Bello Grande!
Porta Romana
This is a mainly residential neighbourhood about 20 minutes south of the Duomo, a great option for those looking to stay in a place not overrun by tourists, but still close to the main city attractions.
Porta Romana is also good for those looking for dining and nightlife – Via Muratori and surrounds are full of excellent, local-only restaurants like Trippa, my favourite!
Perfect for: quiet atmosphere and value for money.
Grand Hotel Visconti
This is your classic luxury hotel, with a gleaming marble-covered lobby, secluded inner garden and fitness centre including Turkish bath and sauna. Rooms are large and comfortable, with that 'classic' look – think huge beds, matching curtains and wall hangings, marble bathrooms and the like.
This hotel is worth a mention for two reasons – first of all the swimming pool, which is truly one of the best in the city, and one you can actually do laps in! Second, it's also a great luxury option in terms of value for money, with a huge breakfast included in the room price. Definitely one of the best Milan luxury hotels!
Un Posto a Milano
Those looking for unique places to stay in Milan shouldn't miss Un Posto a Milano, a B&B located in Cascina Cuccagna, a 17th century farmhouse – which is now in the middle of the city!
Fear not, all rooms have been renovated, while maintaining some 'countryside' details like rustic walls and exposed beams. The farmhouse garden is a great place to hang out. Don't miss visiting the adjacent restaurant, also named 'Un Posto a Milano', and checking out the pop-up shops housed in the farmhouse spaces.
Opt for an ensuite room if you want some privacy, or choose one of the rooms with shared bathroom if you want to save money!
Madama Hostel and Bistrot
Are you wondering where to stay in Milan on a budget? We've already covered the two outposts of Ostello Bello, but here's another top option! Madama Hostel is a recently-opened design hostel in Porta Romana, right next to Ohibò cultural centre.
The rooms and dorms were all individually decorated by street artists, there's a bistro serving breakfast, brunch and light meals, and tasty homemade pastries. The hostel often organises events and gigs in collaboration with the cultural centre next door. This is a great Milan budget hotel option!
Lambrate
Welcome to the best neighbourhood in Milan, and the place I still call home in between trips. Lambrate is a district in the eastern part of Milan, once a separate village that has now been incorporated into the city. It's about 20 minutes from the Duomo by underground.
Lambrate is known for its alternative vibe, courtesy of a sizeable student population in nearby Città Studi, Milan's university district. The area also has an industrial past – for instance, have you ever heard of Lambretta? The iconic motorbike was made in Lambrate, and that's where it took its name from.
It's worth choosing Lambrate as your place to stay in Milan because it's definitely a place where tourists are few and far between, prices are lower, and you'll see that Milan is not just about fashion and luxury hotels!
Perfect for: alternative/industrial atmosphere, and value for money.
NU Hotel
This modern hotel wth an Asian vibe is only minutes away from Lambrate station and offers 38 comfortable and bright rooms, which definitely won't break the bank.
Breakfast is included (with sushi!) and if you don't know where to eat, you can visit the fusion Asian restaurant onsite. The hotel also offers fitness classes in collaboration with nearby gyms, and massages can be arranged.
Venturacinque B&B
Have you had enough of Milan hotels and want to stay in a Milanese home? Venturacinque B&B is the place for you, a stylish bed and breakfast in Via Ventura, in the heart of post-industrial Lambrate.
You can choose between two rooms, or rent out the entire loft for a period of 6 nights minimum. The B&B is run by a Milanese couple who's happy to give insider tips or help you arrange tours in the city. They also rent bikes and are keen runners, so this is definitely the best place to stay in Milan if you are into exercising!
Too Cute
Another wonderful option if you're looking for a B&B in Milan! Too Cute is located in a two-storey loft around the corner from a famous Saturday street market, and all rooms face the inner courtyard, ensuring guests a quiet night sleep.
There are 6 rooms, tastefully decorated in an eclectic style mixing slate-grey walls, antique chests and plexiglas lamps. Breakfast is included in the room price and can also be served in the rooms.
The full name of this B&B is 'Too Cute 2b Str8' – everyone is welcome, especially LGBT travellers!
New Generation Hostel Urban Città Studi
New Generation is a mini hostel chain, with four locations between Milan and Rome, all offering an above average hostel experience at affordable prices. It's not quite 'design hostel' territory, like Madama or Ostello Bello – but it's not your flophouse either.
Staff is friendly, the beds are comfy and all hostels, including the Città Studi location, have large, well stocked kitchens. There is a large common room with a pool and table football, vending machines in case you get hungry, and some retro props to add atmosphere.
Sempione & Fiera
The district described as 'Sempione/Fiera' extends from the Arco della Pace at the end of Parco Sempione, until the northern outskirts of Milan. If you're visiting Milan for a trade fair, this is a good option – all hotels listed are in the vicinity of Fiera Milano City, the old complex where trade fairs and events are still held, and the larger Fiera Milano in Rho is easy to reach in just 10 minutes by car, or 20 train.
The first hotel included in this list is close to the Arco della Pace, a buzzing nightlife area about half an hour walk from the Duomo – this is ideal if you're visiting the fair, but still want to be close to the city.
The other hotels are in the northern outskirts of the city, and are probably better option for business rather than leisure travellers, as the centre is over half an hour away by public transport.
Perfect for: those travelling by car, heading to the fair or convention centres, or just wanting to be away from the centre.
Enterprise Hotel (Tested)
Recommended for… beautiful interior design and amazing breakfast
Enterprise Hotel is not far from the Arco della Pace, the victory arch found at the end of Parco Sempione, close to many aperitivo places. However, there's really no reason to eat out as Sophia, the hotel restaurant, is one of the best we've eaten at, with a fusion Italian/Asian menu that included a tasty tuna fillet and a yummy slow-roasted, coffee-infused suckling pig.
The breakfast buffet is also worth a mention – there's literally anything you can think of, from omelettes to bacon to lots of juices, cereals, fresh fruit… you name it. You can even have a steak for breakfast!
Food aside, Enterprise Hotel is worth a visit for its Asian-inspired furniture and decoration. Ah, and there's also a spa. Definitely one of the best hotels in Milan!
Milan Suite Hotel (Tested)
Recommended for… those visiting Milan by car
This hotel is located in Villapizzone, a neighbourhood in the northern outskirts of Milan, linked to the centre by train and suburban rail. It takes about half an hour to reach the centre, but the northern ring road is only a few minutes drive away, and it's easy to park your car in the vicinity of the hotel.
Milan Suite Hotel is especially aimed at business travellers – there are suites and luxury rooms on offer, some even with their own spa and private hanging gardens. It's the sister property of Enterprise Hotel, and it boasts the same Asian-inspired interior design.
Radisson Blu Milan (Tested)
Recommended for… the wonderful swimming pool and spa
Radisson Blu is also located in Villapizzone, a short distance away from Milan Suites Hotel, making it also ideal for those travelling by car. The two best things about the Milanese Radisson hotel are the spectacular glass-topped swimming pool and the yummy hotel restaurant – I'm still dreaming about the red prawn spaghetti!
Actually, let's make it the three best things and mention the rooms as well, which are a lot larger and more comfortable than the rooms usually found in four star properties. All in all, a great hotel if you prefer to be away from the centre of Milan!
Pin it for later?