After our Sierra Leone itinerary, another important post for anyone planning a trip to this West African country – 19 important things to know before going to Sierra Leone, to make sure you don't get there unprepared!
Should you travel to Sierra Leone? Well, it depends. Are you after an East Africa-style safari experience? Are you the kind of person that can't live without their creature comforts? Then, Sierra Leone is probably not the destination for you.
Would you like to explore an offbeat, developing travel destination, and don't mind roughing it a little? If the answer is yes, you'll probably love Sierra Leone – I certainly did, after spending 8 days there in October 2021.
Sierra Leone is a really beautiful country, a place where hills and mountains meet mangrove-fringed beaches, where you can sail down river estuaries to deserted islands, where chimpanzees still roam in primal rainforests.
It's also a country with a very difficult past, where the legacy of colonialism caused one of the bloodiest civil wars this world has ever seen, followed by two terrible epidemics. Sierra Leone is the kind of country portrayed in the media as a place of death, misery, and destruction – something which may have been true 20 years ago, but certainly not anymore.
Sierra Leone used to be a popular tourist destination in the 80s and early 90s, before the civil war. The tourism sector never really picked up again, and up till now, Sierra Leone received very few international arrivals besides returning diaspora – in 2019, it was ranked 191th out of 195 countries.
Outside capital Freetown, getting around and finding good places to stay might be a bit of a challenge – but you'll be rewarded with beautiful nature, wild beaches, and the feeling of being somewhere untouched by mass tourism.
One thing is certain – Sierra Leone is a trip like no other. There are some things you should know before visiting, to decide whether it's the right destination for you, and also because planning goes a long way.
Here are 19 important things to know before visiting Sierra Leone – if you have any doubts, feel free to get in touch!
Going to Sierra Leone? Here are 19 Things to Know!
1) Sierra Leone is a safe country
Ok, I know what you mean. When you first told your family and friends you were planning to go to Sierra Leone, they all looked at you with a mixture of horror and concern, muttering is it safe?
Well, the answer is yes. The Civil War was over in 2001, the government is stable, and there have been no instances of coups or political turmoil like in neighbouring countries.
In terms of tourist safety, I personally felt a lot safer in Sierra Leone than in some places in South America or Southern Africa. Petty crime like pickpocketing or bag snatching does occur, but the usual precautions apply – don't go around alone at night, don't flash your valuables, and the like.
If you are an experienced traveller (and if you're planning to go to Sierra Leone, you probably are), just follow the usual precautions, and more likely than not you'll be fine.
2) There have been no Ebola cases since 2016
Ok, so you've told your friends the war has been over for 20 years, but WHAT ABOUT EBOLA?
Sierra Leone was indeed one of the worst-hit countries during the 2014/2016 Ebola outbreak, killing 4000 people. Effective contact tracing systems were put in place to track and isolate new cases, and there have been no recorded cases since 2016.
3) However, malaria is a concern
Malaria is indeed present in Sierra Leone, even though incidence is decreasing year after year. Risk is higher in the rainy season (May/October) but it's present year round.
As a traveller, there are several things you can do to protect yourself from malaria – first and foremost, preventing mosquitoes from biting you by using DEET repellent, long-sleeved clothing and sleeping under a mosquito net.
Currently, there's no malaria vaccine available to the wider population. However, you take malaria prophylaxis – a travel clinic in your city should be able to give you further information on the different kinds of prophylaxis and help you choose the best for your needs.
4) You'll need to get a visa in advance
Citizens of all nationalities except those from ECOWAS (Economic Community of West African States) need a visa to enter Sierra Leone.
Visas on arrival are issued to citizens of several countries, at a cost of $25 for African Union countries, and $80 for others.
You can find the full list of countries eligible for visas on arrival here. Visas on arrival are issued for 30 days, which can be extended once you're in Sierra Leone.
5) And get tested when you arrive in the country
To enter Sierra Leone, first of all you'll need a negative PCR test taken 72 hours before you travel. You'll also need to register on this website and pay for two tests you'll take as soon as you land – one rapid, and one PCR test.
If the rapid test is negative, you'll be allowed to exit the airport. The results of your PCR test will be sent to you via SMS, or you can check them yourself on the website linked above using the authorization code you'll receive.
You'll also need to take a further PCR test at least 48 hours before you depart. Once again, the results will be sent to you via SMS, or you can download them via the same website.
Make sure you leave enough time for the test results to be processed – if you haven't got your results by the time you need to leave, head to the testing lab located in the airport and they should be able to fast-track your results.
Needless to say, if you test positive you need to quarantine for 2 weeks. Make you're you have good travel insurance covering quarantine costs – we use Safety Wings!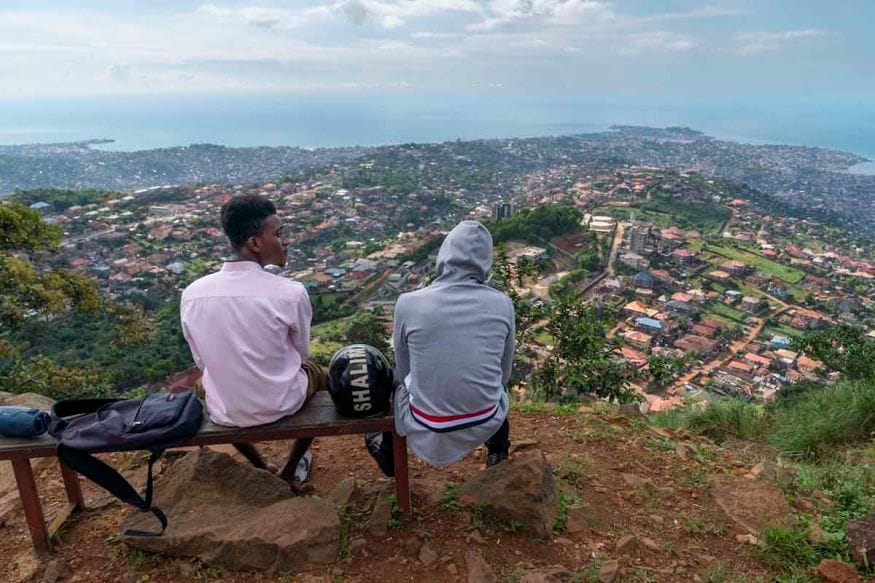 6) You also need a Yellow Fever vaccine
Finally, make sure you are immunized for yellow fever before travelling to Sierra Leone. Yellow fever vaccinations are now valid for life, so even if you have an expiry date on your certificate, your vaccine is still valid – no need for a booster shot!
7) Sierra Leone is closer to Europe than you think
Ok, we've got all health and safety-related things to know about Sierra Leone, let's move onto practical tips, starting with how to get there!
Sierra Leone is reasonably close to Europe – it only takes approx 6 hours to fly to Lungi International Airport (FNA) from London, Paris, or Brussels, and about 7 hours to Istanbul. In theory, this would make travelling to Sierra Leone possible even for just a long weekend.
Unfortunately, most airlines have stopped flying to Sierra Leone in recent years. You can still fly directly to Freetown from Paris with Air France, Brussels with Brussels Airlines, and Istanbul with Turkish Airlines. Flying elsewhere in Europe or North America will take considerably longer, as you'll need to have one (or more) layovers.
8) Getting around may be a challenge
To get around Freetown, you can take keke (rickshaws), moto-taxis or poda poda (minibuses). The first two are quite easy to figure out – just hail one and say where you have to go, the only risk is that you may be charged a 'tourist price'.
Poda poda work on set routes within Freetown, and also connect major cities within the country. They're ideal for travellers on a budget, but be prepared – you'll be very uncomfortable as they're generally packed to twice their capacity.
The best way to get around the country is renting a 4WD, at a cost of approx $100/day. You can drive yourself, or hire a driver to take you around – something we highly recommend as minor roads can be in really terrible condition, especially during and after the rainy season.
Some destinations within the country, like Bonthe/Sherbro Islands and the Turtle Islands, can only be reached by boat. Public ferries have a very erratic schedule, so unless you have plenty of time you'll probably need to charter a boat. A local guide will definitely help you with that – contact a local tour operator like VSL Travel for info.
9) There are two distinct seasons
When is the best time to travel to Sierra Leone? The country has two distinct seasons – the dry and wet seasons, each with a set of advantages and disadvantages.
The wet season lasts from May to October, with temperatures between 25 and 32°c (about 80/90°F). Expect monsoon-style downpours rather than steady rain, but be aware that roads will get very muddy, which makes travelling harder.
The rains start easing off by late October, and the dry season stretches from November to April. January to March are the hottest months, with temperatures reaching up to 40°C (100°F) – the weather is dry and dusty, with the harmattan wind blowing from the Sahara.
The dry season is a better time to get around Sierra Leone, but extreme heat and hazy conditions can be a challenge.
10) English is spoken everywhere
Unlike most West African countries, where the predominant language is French, English is the official language in Sierra Leone. Most people speak English to a certain degree, but the lingua franca of the country is Krio, a Creole language including elements of English, French and Portuguese.
Each Sierra Leone ethnic group has their own language. The most widely spoken are Mende (spoken by 31% of the population, especially in the southern part of the country) and Temne (37%, mainly in the north).
11) There's a significant Lebanese community
I was really surprised to discover there's a sizeable Lebanese community in Sierra Leone, measuring approximately 100,000 people (over 7 million total).
History of Lebanese immigration to Sierra Leone dates as far back as the 19th century, when a silkworm scarcity hit the Middle East and many silk traders resettled in West Africa. Immigration continued all through the early 20th century – initially, most Lebanese worked in agriculture or as traders, now many are involved in the diamond and hospitality businesses.
Many hotels in Freetown, including the excellent Country Lodge and Roy's Hotel, are owned and run by Lebanese families. On restaurant menus you'll see Middle Eastern specialties like hummus, falafel and shawarma – a nice break from Sierra Leonean fare!
12) It's religiously diverse
Islam is the predominant religion in Sierra Leone, with approximately 77% of the population identifying as Muslim, followed by 22% Christians (various denominations), and 1% practicing traditional African beliefs.
Sierra Leone is a very diverse and religiously tolerant country at heart. Our guide Abdul told us that it is not uncommon for people in the same family to have different beliefs – for instance, he is a Muslim but two of his sisters are Christian, and they all regularly attend services in both churches and mosques together.
Religious acceptance is taken very seriously in Sierra Leone, so much so that the country was named by the UN as one of the most religiously tolerant in the world.
13) Locals call it 'Salone'
As soon as you land, you'll see and hear 'Salone' everywhere – this is how locals call their country. I guess Sierra Leone is a bit of a mouthful!
14) Make sure you exchange cash
The official currency is the Sierra Leonean Leone – at the time of writing, 1 USD was equal to 11,ooo leones, and 1 Euro to 12,500 leones. You can exchange dollars and euro at the airport for the best rates, or in exchange offices in Freetown and other cities.
Tourist restaurants and hotels will also accept dollars for payment, charging a flat rate of 10,000 leones to 1 USD (slightly less than the official rate). However, small restaurants, market stalls, small shops and the like will only accept leones, so make sure you exchange some cash when you arrive.
Large hotels will accept cards, but don't rely on them. Also, there's only one ATM accepting international cards in the whole of Freetown, at the Standard Chartered Bank. Make sure you have enough cash for the whole of your trip!
15) And get a SIM card at the airport
The easiest way to stay connected during your time in Sierra Leone is picking up a sim card at your arrival at Lungi airport. As soon as you walk out, you'll be approached by people offering free sim cards and help loading data and airtime.
We got an Africell sim and for the equivalent of $10 got enough data to last us for the entire 8 days we were in the country. Please make sure you have some leones to pay for your data/airtime – dollars may be accepted, but there's an exchange office right inside the airport, so you may as well get some.
Phone signal was pretty good everywhere, except for remote locations like Tiwai or the Turtle Islands.
16) Water and electricity may be unreliable
Most hotels in Freetown have running water, electricity and a stable Wi-Fi connection, but the same can't be said for places outside the capital.
In rural Sierra Leone, tourism is still developing – don't expect luxurious eco-lodges like you may find in Southern or East Africa. The places where you'll be staying probably won't have running water, and electricity is usually supplied by generators or solar panels.
That means you can't really have your fan running at full blast, plus all your devices charging, or power will cut out.
17) It's not really a budget destination
Sierra Leone is not really the right destination for cash-strapped travellers. There are no hostels, and reaching rural places is very hard to do unless you have your own transport – especially if you are planning to travel to the Turtle Islands or anywhere else that requires you to charter a boat.
You could keep your costs lower by travelling in a group of 4 in the same vehicle, but Sierra Leone is still a fairly expensive destination – budget at least $100/day, more if you are planning to stay in higher-end hotels like The Place at Tokeh.
18) Wildlife is very shy
On paper, Sierra Leone is a really good wildlife destination, home to several monkey and primate species including the nocturnal galago, plus chimpanzees, and the elusive Pygmy hippo.
However, don't expect East or Southern Africa-style safaris. The rainforest is thick and the animals are very unhabituated, so they get spooked quite easily. Your best bet to see chimpanzees will be at Tacugama Sanctuary near Freetown, and to see a Pygmy hippo you'll need to be very, very lucky.
19) But the beaches are incredible!
Beaches are one of the main reasons to visit Sierra Leone. The Freetown peninsula is home to some really spectacular beaches, less than an hour away from the capital – two great options are Tokeh, where you can stay in one of the best hotels in the country, and River N.2, home to a great community project.
To truly get away from it all you can head to the Turtle Islands, a remote archipelago about three hour sailing from Bonthe Island. Don't expect much in terms of infrastructure – the real beauty of this place is that it's so remote and untouched.
I was a guest of Blogilicious and the Tourism Board of Sierra Leone as part of the #explorefreedom campaign. Thanks Muneera for having us, and thanks Claudia, Annette and Cacinda for all the adventures!