Have you considered travelling to Sierra Leone, but don't know where to start? We're here to help you out with this Sierra Leone itinerary, perfect for 1 or 2 weeks!
So, you've decided to travel to Sierra Leone. I assume you've already done your research on what to expect, and the kind of travel experience you're in for. Otherwise, make sure you read our 19 things to know before going to Sierra Leone article!
When you first mentioned 'Sierra Leone', your friends and family will have probably tried to convince you to change plans, thinking you're about to jet off to some war-torn country.
After all, Sierra Leone has indeed had a difficult recent past – a bloody civil war ravaged the country from 1991 to 2002, followed by a two-year Ebola epidemic that claimed over 4000 lives. Meanwhile, movies such as Blood Diamond have done very little to change people's perceptions about the West African country.
However, I'm sure you don't need me to tell you that reality is vastly different. Sierra Leone is an amazing country with a very difficult past, which has shaped people's resilience and wish for a better future.
It's a place with stunning beaches, rainforests, desert islands within day-trip distance from the capital, with a complex cultural heritage and a very difficult history. On top of that, tourism is just starting out again after a very long hiatus.
You might need a little patience here and there, but one thing is certain – Sierra Leone is a bright, intense, diverse travel destination, probably unlike anything you've experienced so far.
I spent just over 1 week in Sierra Leone, but I believe 2 weeks would be better to experience what the country has to offer and move around without stressing out.
Getting Around Sierra Leone
The 1 and 2-weeks Sierra Leone itineraries described below are best organized with the help of a local tour operator like VSL Travel, who can arrange a 4WD and driver (approx $100/day) to take you around the country.
Travelling around Sierra Leone with public transport can be done, but it will be uncomfortable and time-consuming. If you only have one week to spend in Sierra Leone, and a smallish budget, we recommend focusing on Freetown and its beaches, which can easily be reached by taxi.
1 Week Sierra Leone Itinerary
Day 1 – Freetown
More than likely, you'll be starting your Sierra Leone itinerary from Freetown, the country's capital, which happens to be a really cool city! The city is surrounded by rainforest-covered mountains and beaches, and located at the estuary of the Sierra Leone River, creating Africa's largest natural harbour.
Depending on the time of your flight, we recommend spending at least 2 days exploring Freetown and its surroundings. The first day should be dedicated to sights in Freetown itself – having a guide and/or driver will definitely make getting around easier.
Here are the places we recommend visiting in Freetown:
Sierra Leone National Railway Museum: dedicated to Sierra Leone's former railway network, with a collection of vintage locomotives and carriages (including one that was built in honour of Queen Elizabeth's visit).
Fourah Bay College: ruins of the first public university in Sub-Saharan Africa, destroyed in a fire in 1999.
Old Wharf Steps: locally called 'Portuguese Steps', this staircase leading up from the harbour was built in 1818, making it one of the oldest landmarks in the city.
Cotton Tree: Freetown's best known sight, this cotton tree is older than the city itself.
Sierra Leone National Museum: a small but very interesting museum, perfect to gain an insight into the country's history and cultural heritage.
Sierra Leone Peace & Culture Monument: opened to honour those who lost their lives during the Civil War.
Big Market: a good place to buy fabrics, handicrafts and other souvenirs.
Leicester's Peak: the highest point in town, offering great views over the city.
Lumley Beach: a 4-km long beach lined with beach bars and restaurants, a good place to go running or walking along the ocean.
Day 2 – Banana Islands/Tacugama Chimpanzee Sanctuary
For your second day, I recommend choosing between one of these two destinations – I guess you could visit both if you started very early, but it would turn into a very long day.
The Banana Islands are a small archipelago of three islands, about an hour outside of Freetown. The two largest, Dublin and Ricketts, are located by a stone causeway and are inhabited, whereas the smallest, Mes-Meheux, is uninhabited and great for snorkeling.
You can easily arrange a day trip to Dublin, spend some time walking around the island and perhaps stop at Big Sand Beach for a swim, then make your way across the causeway to Ricketts. The Banana Islands are a great place to get a taste of island life without moving too far from Freetown – but to really experience the vibe, it's best to spend one night.
If making your way to the Banana Islands sounds like too much of a hassle, we recommend visiting Tacugama Chimpanzee Sanctuary, located in the rainforest on the mountains surrounding Freetown and home to about 100 rescued chimps.
The Sanctuary runs daily tours, taking visitors to see the various enclosures where chimps are kept in 'families' before slowly being reintroduced to the wild.
Most of the chimps at Tacugama have been rescued from the bushmeat or illegal pet trade, so part of the Sanctuary's work includes community outreach to spread awareness about chimpanzee conservation.
They also offer accommodation in jungle bungalows, and other activities including yoga retreats and movie nights.
Day 3 – Bunce and Tasso Islands
Bunce Island is another unmissable stop before leaving Freetown and continuing your Sierra Leone itinerary.
The island is located approximately 45 minutes by boat from Freetown, and it was the centre of the trade of enslaved African people for over 100 years. Bunce was fortified by British enslavers and used as a holding point for thousands of enslaved people, before being forced on the voyage through the Middle Passage.
Nowadays the fort where so many people were imprisoned lies in ruins, slowly being reclaimed by the vegetation. Guided tours take you around the island, describing what various sections of the fort were used for, and showing the door enslaved people walked through before leaving their homeland behind for the last time.
Visiting Bunce Island is an immensely moving experience, so please refrain from taking selfies or behaving inappropriately.
Bunce Islands tours also include a visit to nearby Tasso Island, where you'll have lunch. There's a community project with a guesthouse, restaurant, and rescue program for Timneh Grey Parrots – we only visited quickly but if you're planning to spend 2 weeks or more in Sierra Leone, I think it would be nice to spend one night!
Day 4 – Tiwai Island
Travel time: 4.5 hours from Freetown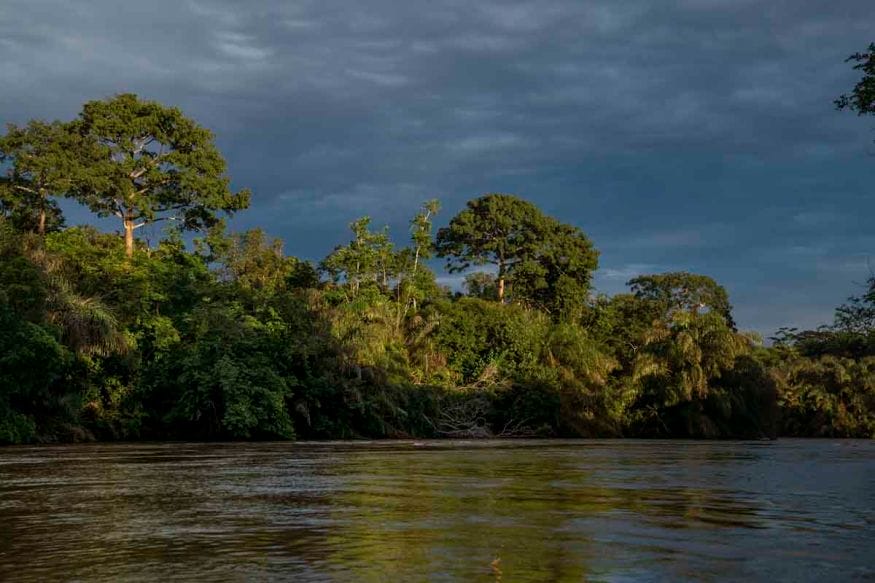 Let's leave Freetown behind and explore Southern Sierra Leone for the next 3 days. The first location will be Tiwai Island, a wildlife reserve on the Moa River in the southern part of the country.
Tiwai's most famous resident (and drawcard) are the pygmy hippo, native of the swamps and rainforests of West Africa and about half as big as their larger cousins. However, pygmy hippos are VERY SHY, so you're very unlikely to see one in the wild.
Does that mean you shouldn't visit? Not at all. Tiwai Island is home to several primate species, including the galago/bush baby and the red colobus monkey, lots of birds, small deer, pangolin, and many more.
You'll have the opportunity to join walking tours through the rainforest during the day and at night, as well as sunset boat tours in search of wildlife. Mind you, don't expect a Southern/East African safari here – the wildlife is not habituated and very easily spooked, so you might go on an outing and see nothing at all.
Accommodation is in basic rooms in the research station, or tents.
Day 5 – Bonthe/Sherbro Island
Travel time: 5 hours from Tiwai Island + 45 min ferry
The next stop on your Sierra Leone itinerary will be Bonthe/Sherbro Island, just off the Southern coast. It's quite a journey to get there, first along a bumpy mining road and then on a tiny boat from Yagoi.
Bonthe, the largest town on the island, is now a sleepy town with sand roads and crumbling colonial buildings, revealing its once-bustling past. Traditionally, the island was home to the Sherbro people, one of Sierra Leone's indigenous ethnic groups.
Later, it became an important centre for the trade of enslaved people, and after abolition, formerly enslaved people returning from the Americas and British colonies established communities there.
Bonthe grew to become a bustling town, rivalling Freetown in terms of trade and social life until as late as the 1970s. Then, it fell into a slow decline – only traces of its former grandeur survive now.
If you can, arrange a community tour with a local guide who can share historical information about Bonthe and show you some of its most iconic buildings and sights. There are no restaurants, but a local lady called Nada can prepare dinner for you upon request (the fish with onions was really good!)
Day 6 – Back to Freetown
Travel time: 45 min ferry + 5 hours drive to Freetown
If you are planning to spend 2 weeks in Sierra Leone, Bonthe is the ideal departure point for the Turtle Islands, where we recommend spending at least a couple of days to make the journey worthwhile.
Otherwise, time to head back to Freetown along the bumpy, dusty mining road you followed on the way to Bonthe. Make sure you schedule regular stops, as you'll be spending the majority of your day travelling!
For a treat, we recommend spending the last day of your week in Sierra Leone at one of the beaches near Freetown – so arrange to be dropped off at the beach of your choosing!
Day 7 – Freetown Beaches
Freetown is close to some really beautiful beaches, which can't be missing from your Sierra Leone itinerary! We have two suggestions on where to spend the last day of your week in Sierra Leone, depending on your budget.
If you don't mind spending a little more, book a room at The Place at Tokeh, the best resort in the country, located on a stunning beach just a short drive from Freetown. Accommodation is in bright, spacious chalets with a huge bed, comfortable bathroom (oh hi water pressure! I missed you!) and deck where you can spend the time.
There's also a pool if you're not comfortable swimming in the ocean, and a great beach restaurant with sunset view!
An alternative for those on a smaller budget is River N.2 beach, just a short distance away from Tokeh. River N.2 is managed by a community association, and offers accommodation in a guesthouse right on the beach – which happens to be the most beautiful in Sierra Leone!
There's also a restaurant where you can eat or enjoy sundowners with your toes in the sand, and a market selling handicrafts made by local women. Income from these projects support a school for local kids and the construction of new homes.
2 Weeks Sierra Leone Itinerary
Do you have 2 weeks to spend in Sierra Leone? You could follow the 1-week itinerary spending a little more time in each place – perhaps a night or two in Banana Islands, and a night in Tacugama to visit the Sanctuary and spend a night in one of the jungle chalets.
Then, you could take your pick from one of these sights and add it to your itinerary. Rogbonko and Mount Bintumani are both in the northern part of the country, whereas Turtle Islands are in the south and can be reached from Bonthe.
Turtle Islands
The Turtle Islands are a remote archipelago of eight islands, located just to the western edge of Bonthe Island. They're as remote as they come – there's no electricity or running water, and no accommodation save for a VERY basic guesthouse on the beach.
We recommend spending two nights minimum on the Turtle Islands, since it takes about 3 hours each way by boat from Bonthe.
We stayed in Baki, one of the inhabited islands, and spent a day doing nothing besides swimming, walking down the mangrove-lined beach, and doing crosswords with our toes in the sand.
The beach was nice, but don't expect white beach and clear sea – if that's what you are after, beaches like Tokeh or River N.2 are a better option. The Turtle Islands are covered in mangroves, making the beach quite muddy, and the water a little dark.
The charm of these islands is their sheer remoteness, and the fact that they are pretty much untouched by tourism. You'll be greeted and welcomed with a lot of curiosity, so be ready for that!
Rogbonko Village Retreat
Rogbonko is located about three hours north of Freetown, it's one of the best community-based projects in Sierra Leone and a good option to experience village life.
Depending on how long you are planning to stay, you'll get an opportunity to visit the local school and share in the daily village activities, such as gathering wood and cooking traditional food.
Accommodation is in traditional houses with thatched roof, with no electricity – allowing you to enjoy the beauty of the sky at night!
Mount Bintumani
If you're into hiking, you might want to consider climbing Sierra Leone's highest peak – Mount Bintumani, measuring 1945 meters.
You may think it doesn't sound like much, especially if you've climbed much higher mountains in the Alps – but try hiking in Sierra Leone's blistering heat, and you'll understand why a minimum of two days are usually required to summit Mount Bintumani!
Mount Bintumani and Rogbonko Village Retreat can be combined with the 1-week itinerary described above for a great Sierra Leone 2-week itinerary!
Sierra Leone Marathon
Keen runners might want to add the Sierra Leone Marathon to their next season's race list! The Sierra Leone Marathon takes place in May/June, and is organized by NGO Street Child, based in the northern part of the country.
There are 4 distances to choose from (marathon, half-marathon, 10 and 5 km) and you'll need to raise a minimum of £1000 to join, which goes on to support Street Child's activities in the country.
I was a guest of Blogilicious and the Tourism Board of Sierra Leone as part of the #explorefreedom campaign. Thanks Muneera for having us, and thanks Claudia, Annette and Cacinda for all the adventures!