Jordanian food? Mah. I knew Lebanese food, and I was aware that food is amazing throughout the Middle East. I had no idea that after a week-long holiday to Jordan I would be in love not only with the country, but also with its cuisine. In this article, we would like to share our love with you.
All pictures in this post are by Caterina Ragg, a fantastic photojournalist who will soon be sharing more of her work with us. Not to mention, she is also my sister!
"If you don't eat enough, then we're not doing our job" said Salaam, one of our guides around Jordan, as she dished out the third serving of mansaf. "Please, Salaam, I have had enough!" I replied. She smirked, adding that the best way to upset a Jordanian is to leave the table with a full plate.
So, we ate. Breakfast, lunch and dinner every day, plus countless snacks and coffees, concluding each meal with sticky, gooey desserts.
Jordanian food – what's special about it?
The staples of Jordanian cuisine are similar to those of other Middle Eastern countries, courtesy of centuries of shared history and trade. Take hummus and falafel, for example. No Jordanian meal is complete without a bowl of creamy hummus, seasoned with olive oil and a pinch of za'atar, a mixture of thyme, oregano and sesame seeds. Yet, Jordanians will admit hummus was invented in Syria. Or Lebanon, they're not sure. Falafel stalls can be found on every other street corner, with bubbling vats of oil and men dishing out stuffed pittas with lightning speed. "Falafel come from Palestine, probably Gaza" ensured the waiter at Al Mohandes restaurant in Aqaba. "But the best ones are here".
There are also unique Jordanian specialties. Recipes change from family to family, from one side of the country to another. They are eaten communal-style, scooped up with bread from a myriad of smaller and larger dishes on the table, emphasising the convivial nature of meals in this part of the world.
Jordan in Ten Dishes – prepare to get hungry!
As you walk in a Jordanian kitchen, the smell of roasted meat is softened by the scent of fresh herbs and the zing of spices. Here's a list of ten foods that represent the spirit and flavours of Jordanian cuisine.
Looking for more Jordan content? Find out 10 reasons to visit Aqaba and why Wadi Rum is such a great adventure destination!
The first and foremost, Jordan's national dish. Its origins lie in the customs of Bedouin tribesmen, who roamed the desert with their herds. Owing to the scarcity of water, it is made with dehydrated, easily-transportable ingredients, such as rice and dried yoghurt called jameed. Chunks of lamb are marinated and cooked in rehydrated yogurt, and served on a bed of rice drizzled with yogurt sauce.
The dish itself is synonym of integration, generosity and hospitality; the love of mansaf is what unites all Jordanians. The spirits of the people gathered around the table are united in one dish, as everyone eats with their hands from one communal platter.
We ate mansaf in Shobak, in the home of a local family, accompanied with cups of warm yogurt sauce to drink. The host showed us how to eat it, standing around the table, rolling the rice and lamb with three fingers of our right hands. "You cannot eat mansaf any other way. With knife and fork it doesn't taste as good" he assured.
The best mansaf is eaten in a Jordanian home. Ask around, and I'm sure you'll have no problem scoring an invitation.
#2 Zarb
You just spent the day visiting Wadi Rum, marvelling at the shapes and waves sculpted in sandstone by the desert wind. You climbed over sand dunes and rocks to watch the sun setting over the desert valley. You rode back to camp on a camel, to be greeted by the smell of meat roasting over a campfire. Zarb is a dish made for the desert. A Bedouin version of barbecue, made roasting lamb, chicken and vegetables over hot embers and stones in a sand pit. The same cooking technique is found elsewhere across the globe, from Hawaii to New Zealand.
For a real Zarb experience, head to one of many Bedouin camps in Wadi Rum, like Rahayeb Camp.
#3 Sayadieh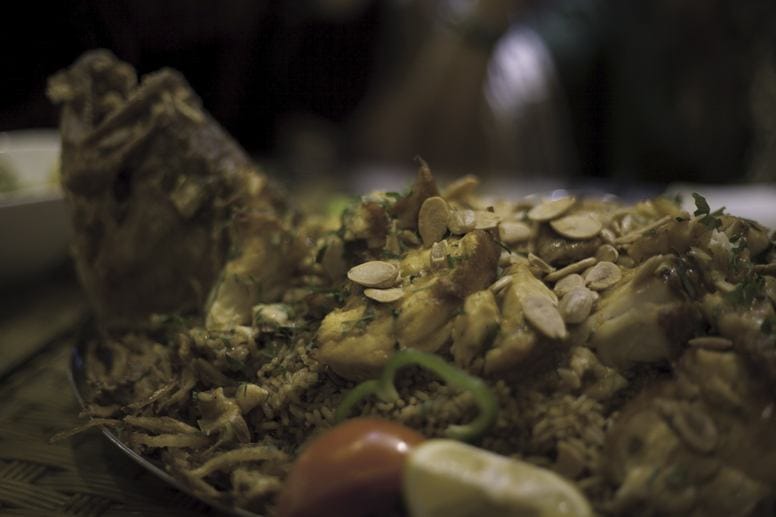 This is Aqaba's special, a dish of grouper with 'special onion sauce'. Even though some say it comes from Lebanon. Or Syria. The flavour of fish fillets is intensified by the special sauce of caramelised onions and peanuts, adding a sweet, nutty flavour. It is best eaten in one of Aqaba's restaurants, like Captain's, watching the fishermen's boats returning to the harbour with the day's catch.
Meaning upside down, watching it being served is half the fun. This dish of spiced rice and chicken is cooked in an earthen pot which is the flipped upside down before being dished out. You'll find maqluba in most restaurants across the country; we had it three or four times, and each time it tasted different. Once it was zingy with za'atar, another time sweet with cinnamon, another earthy with the taste of roasted almonds. The best one was at Al-Qantarah restaurant in Wadi Musa.
#5: Starters
Don't make my mistake of stuffing yourself with dips and salads once you get to the table. They are called starters for a reason. Even though more often than not they are enough to be a meal. Besides Middle Eastern favourites, such as hummus, falafel, tabouleh and labneh, there are some Jordanian specials. A favourite of mine is mouttabal, a Jordanian take on Lebanese babaghanoush, roasted aubergine mashed with tahini and yogurt. Another dish I loved was klayeh, a Bolognese-like dish of cooked minced beef tangy with lemon and sumac. For great starters and quick eats, head to Al Mohandes restaurant in Aqaba's historical centre.
#6: Breakfast
Now, here I was surprised. I am a lover of sweet and savoury breakfasts, from full English to French pastries. When I saw my first Jordanian breakfast, I was disappointed. A few sad-looking bowls with olives, tomatoes, cucumbers, yogurt. A bite and I realized I was mistaken. It is great way to sample the quality of the single ingredients; the crunch of fresh cucumbers and sweetness of sun-ripened tomatoes, the creaminess of labneh, thickened yogurt, spread on warm pitta bread and seasoned with olive oil and za'atar.
#7: Ara'yes
Flatbread stuffed with spiced minced meat, baked in the oven and served hot and greasy. My own personal favourite Jordanian street food. "Bedouin pizza!" said the man who sold it to me from a cart in Aqaba souq. A bite and I was addicted forever.
#8: Pastries
Another Jordanian obsession. The best ones come from Tarboush Bakery in Aqaba, ensures Salaam. They come in all shapes and sizes and with a variety of fillings; my favourites were za'atar, stuffed with cheese and the ubiquitous herb mix, and sabanekh, filled with spinach, onions, lemon juice and sumac.
#9: Tea and Coffee
Jordanian coffee comes in two types, one more delicious than the other. Cardamom-scented Turkish coffee, sweetened with shovelfuls of sugar, and Arabic coffee, lighter and spiced, served in thimbleful-sized cups.
#10: Sweets
Jordan is a paradise for a sweet tooth like me. Every meal is completed by baklawa, heavenly sticky mouthfuls, stuffed with pistachios and drenched in sweet syrup. Other desserts to remember include Umm'Ali, a bread pudding flavoured with raisins, dates, nuts and rose water, and knafeh, shredded pastry stuffed with fresh cheese and cream and soaked in rose-water syrup. For baklawa and knafeh, head to Anabtawi Sweets in Aqaba, and grab a seat in the courtyard.
Enjoy! Sahtain!