Did you read our Five Quick Penang Tips? One of the places we loved the most on the island was Penang Butterfly Farm, a butterfly and insect sanctuary near Batu Ferringhi, a few miles away from the centre of Georgetown. Not only is it a great way to entertain the little ones, it is also an institution that carries out very important conservation projects. Interested? Read on!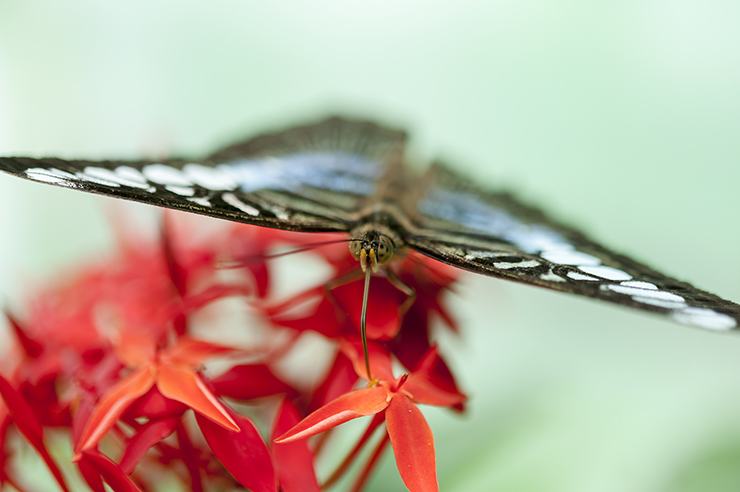 Sometimes everyone needs a little time out. Sightseeing, trying all sorts of food, haggling, finding one's way around a new, foreign city. We do indeed love Penang, but after a couple of very intense days, we felt like taking a break. A friend recommended visiting Penang Butterfly Farm. I laughed, at first, thinking it was a place for coach tours and little kids. But I am not one to shy away from new experiences, though. Why not, I said.
Penang Butterfly Farm doesn't look like much from the outside; a sort of roadside amusement park. Once you step in, the atmosphere changes completely. Butterflies flitter around freely, specks of colour zipping past, flying from one branch to another, hovering in front of your eyes for an instant, just long enough to catch a glimpse of their amazing colours. It wasn't just a butterfly kingdom. We saw fuzzy, stripy caterpillars slowly inching their way over tree branches, glow-in-the-dark scorpions, soft-shell turtles and wide-eyed geckos.
The primary aim is conservation. Visitors are educated on the role of butterflies in nature and their breeding cycle, in order to build awareness of the dangers they face due to pollution and habitat loss. Income from merchandise and tickets is invested back into the field, to help preserve the survival of Malaysia's over 1000 endemic butterfly species.
Walking through the pavilions, surrounded by free-flying butterflies, was a magical sensation. It felt like stepping out into an ancient elves' wood, surrounded with myriads of flickering, colourful jewels. We have tried to convey this feeling through this photo story. Sometimes beauty is not per se; it is a key to unlock the door to a bigger, better future.