Back to Russia! Did you follow our Russian river cruise in August and September? We travelled between Moscow and St Petersburg on the Waterways of the Tsars Viking River Cruise – here's what we got up to!
We both share a deep connection with Russia. I was named after the heroine of Master and Margarita, one of the best Russian books of the 20th century. Nick is actually of Russian ancestry – his maternal great-grandparents were from St Petersburg, and spent the best part of 50 years wandering around Europe escaping wars and revolutions, before settling in Australia.
Russia has been at the top of our travel dreams for several years, but somehow something always came up whenever we made plans to visit. Once we couldn't get a visa on time. Another time we couldn't get time off. Winter is too cold, summer is too hot.
This year, Russia was one of our travel resolutions. Our desire was for the trip to be special – something different from what we'd done so far. We wanted a higher level of comfort, help with visa arrangements, and a trip that would help us understand the country we longed to visit for so many years. The Waterways of the Tsars river cruise with Viking ticked all boxes, so we made arrangements for a departure from Moscow in late August.
Things to Know Before a Russian River Cruise with Viking
When we announced our friends we would be travelling on a Russian river cruise, some of them were really surprised. A CRUISE? You guys are such hardcore independent travellers! What are you doing ON A CRUISE with all those OLD PEOPLE? True, the average age on a Viking river cruise might be a fair bit higher than 35 – but really, who is to say we wouldn't enjoy the experience?
This awesome post by One Modern Couple really nails the point – a Viking river cruise is an experience that can be enjoyed by people of all ages. In their words 'River cruises are cultural, experiential, educational and scenic. Enjoy the ride, take in the surroundings, learn about the countries you are visiting – from history to local life, food to language – and experience the destinations in a thoughtful way.' 
Whether you're 30, 60 or 90, it doesn't really matter.
Secondly, who's to say that travelling in a group is not 'real' travel? We have always been (and continue to be) lovers of independent travel, but sometimes you just can't beat the insights given to you by a local guide. Viking River Cruises offer plenty of guided tours included in the cruise price, all led by experienced local guides.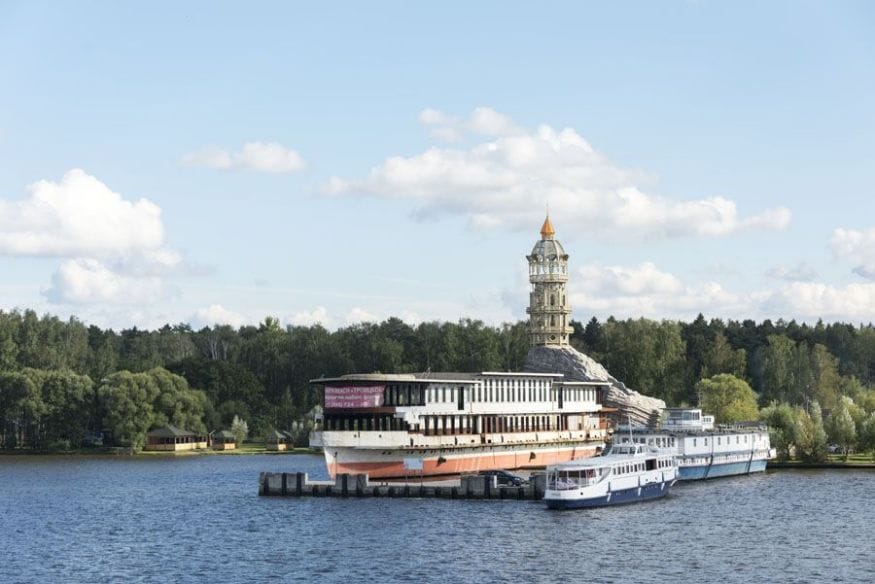 Meals were always excellent – breakfast and lunch included a combination of buffet and à la carte specialties, while dinner was always à la carte. Every day we were given the choice to sample some Russian specialties, like beef stroganoff, borsch, pelmeni, solyanka and lots of delicious desserts.
Another great plus of a Russian river cruise with Viking is that during sailing time lots of cultural activities are on offer – things like cooking demonstrations, Russian language lessons and lectures about Russian history and culture, led by the local tour escorts who were with us for the whole duration of the trip. On top of that, every day we received a briefing detailing the following day's activities, optional excursions and that night's menu.
Whenever we passed points of interest on the boat, such as Mother Volga statue or the sunken Kalyazin Cathedral, we were always called out on the loudspeaker to make sure we wouldn't miss them. There was no pressure to join in any of the activities – we could spend the whole day chilling on the deck or on our veranda, looking at the beautiful colourful churches built on the riverbank, surrounded by nothing but nature.
Waterways of the Tsars – the Itinerary
The Waterways of the Tsars cruise is 13 days long, starting either in Moscow or in St. Petersburg. Most Russian river cruises had always been described to me as 'Volga Cruises' – in fact, our boat cruised along a variety of waterways, including the Moscow Canal, the Volga-Baltic Waterway, the Rybinsk Reservoir, Lake Onega and Ladoga (the two largest lakes in Europe) and the Neva River (the shortest in Europe!)
Here's a map to give you an idea of the route.
Days 1-4 Moscow
Three days were barely enough to get an idea of how amazing Moscow is. Our days were packed from morning to night with tours and activities – from visiting Moscow must visits like Red Square, the Kremlin, the Moscow Metro and the Arbat, to quirky locations like the Museum of Cosmonautics, located in one of Moscow's best districts for Communist architecture (one of our passions!)
Even though our itinerary was packed full, we managed to spend half a day touring Moscow independently, visiting some of the sights mentioned in The Master and Margarita – Patriarch's Ponds, both Bulgakov Museums and Sparrow Hill. Let's just say that we need to get back to Moscow soon to explore more! Meanwhile, here's our things to do in Moscow for first timers article, detailing our Moscow visit with Viking.
Day 5 Uglich
After setting sail from Moscow, our first stop was Uglich, a cute town on the Volga River, famous for its pretty churches and for being the location of one of the darkest chapters in Russian history.
After the death of Ivan the Terrible, his youngest son and heir to the throne Dmitry was exiled to Uglich, where he was murdered at the age of 10. Suspicion fell on the tsar's chief advisor, but Dmitry's cause of death (i.e. throat slitting) was ruled to be an accident. This episode started a period of political unsettlement, that ended with the start of the Romanov dynasty.
We spent an afternoon around Uglich, starting with a home visit of a local family where we had the chance to try homemade grain vodka (the best we've had in Russia) and a variety of pickled vegetables, tea and cakes. Then, we toured the Kremlin – the word 'kremlin' actually means fortified city, and several Russian cities have one. Moscow's Kremlin just happens to be the best known!
Day 6 Yaroslavl
The following morning we reached Yaroslavl, a much larger city compared to Uglich. It looked like the perfect Russian city – large enough not to get bored (there was even a cat cafe!) but small enough not to get frustrated with the traffic and crowds found in Moscow or St. Petersburg.
Our Yaroslavl visit was centred around four points of interest. The centre of Yaroslavl is located on the Strelka, a promontory formed at the confluence of the Volga and Kotorosl rivers. Our first stop was the covered market, where we tasted some local products, and then we headed to the Church of Elijah the Prophet, where we had a guided tour (and played with some cute cats). Afterwards, we visited the Governor's Mansion, now an art gallery. We were welcomed by some beautiful ladies in period costumes, and treated to a music concert. Our final stop was the Yaroslavl Kremlin, where we admired the façade of the Dormition Cathedral, destroyed by the Bolsheviks and rebuilt and reopened in 2010 in time for Yaroslavl's millennium celebrations.
Before heading back to the ship, we stopped at the lookout over the Millennium of Yaroslavl Park at the end of the Strelka – the flowerbed right in the centre displays a bear (Yaroslavl's coat of arms) and the city's age – 1006 at the time of our visit. Looking good!
Day 7 Kuzino
Kuzino is a small village in in the middle of nowhere – we visited on a chilly and rainy morning, to visit the stunning Kirillo-Belozersky Monastery, the largest in Europe. The Monastery is surrounded by walls and located on the shores of Severskoye Lake, with waters so pure that boat traffic is prohibited.
Kirillo-Belozersky was founded at the end of the 14th century, and had its heyday between the 15th and 17th century, when Russia's tsars and noblemen (including Ivan the Terrible!) paid frequent visits and showered the monks with icons and precious gifts. Luckily the Bolsheviks spared the monastery from destruction, turning it into a museum instead. The day we visited was the feast of the Assumption and the churches were crowded with locals, but we had a lovely guided tour of the museum and time to appreciate its beautiful icons.
Day 8 Kizhi (Sailing)
Whenever travelling, you always need a plan B. Autumn was well on its way by the time we reached the northernmost section of our cruise, and we were held at a lock for the best part of one night due to thick fog. This meant we had to sail the whole day and miss out on Kizhi, a tiny island on the northern side of Onega Lake, famous for its spectacular wooden churches.
We were all disappointed when boat staff made the announcement – personally, Kizhi was one of the stops I was looking forward to the most, after reading about it on the Guardian and knowing that the site is very difficult to visit without a river cruise. However, we didn't mind too much because we were both suffering the consequences of the previous night's vodka tasting, organised by Frank, the hotel manager who also happened to be a real vodka connoisseur!
Viking staff were really amazing at keeping us busy during the sailing day with activities like guided tours to the wheelhouse, the room where the captain and sailors pilot the ship.
Day 9 Mandrogy
The last stop before reaching St. Petersburg was Mandrogy, a village on the banks of the Svir River, built in 1996 as a replica of a village destroyed during WW2. A Russian businessman had the idea of 'rebuilding' Mandrogy to provide a stop to river cruise passengers before reaching St. Petersburg. So, the village is not actually 'real' – it's more of an open air museum. Cute little painted houses were built around a little forest, with people in traditional dress showcasing traditional crafts and selling souvenirs.
Those in search of souvenirs loved Mandrogy – the quality of matrioshka dolls, icons and other handicrafts was far higher than anywhere else we had been. We are not into souvenirs, but if there was a place to get something, Mandrogy would be it. The village was pretty, but it felt a bit fake for us – kind of like a tourist amusement park. Which in a way, it is.
However, we did enjoy Mandrogy for two reasons – the first was the chance to attend matrioshka painting workshop where we decorated our own matrioshka dolls. That's the best kind of souvenir in my opinion! The second was the delicious piroshki place where we had some delicious buttery pastries filled with green onion and egg. Just ask Viking staff and they'll point you the way to the piroshki place!
Days 10-13 St. Petersburg
After 6 days spent cruising, covering a distance of 1800 kilometers, we made it to Saint Petersburg. We had three gorgeous sunny days, and the city dazzled us with its beauty and artistic wealth – after all, it's UNESCO-listed! There's no way I can convey everything we saw and did in three days in just a couple of paragraphs, so watch this space – a St. Petersburg article is coming soon!
There are several St. Petersburg experiences already included by Viking in the tour price – a visit to the Hermitage Museum, a ballet performance, a visit to Catherine Palace in the village of Pushkin and a St. Petersburg city tour, either on foot or by bus. On top of that, we also joined some optional tours – a river cruise, a morning tour to amazing Peterhof Palace and my very own favourite, a Cossack performance!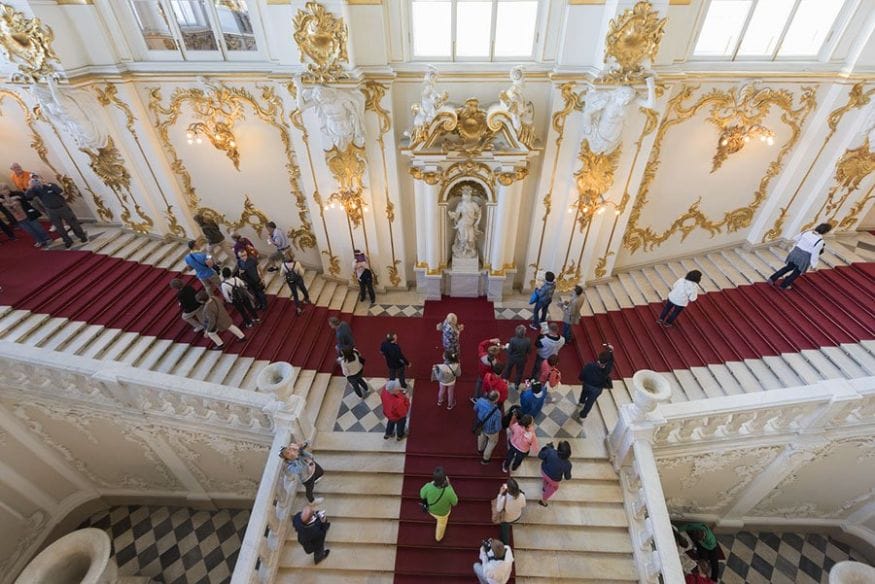 Things to Know Before Travelling to Russia
Make sure you sort out your Russian Visa on time. Viking Cruises helps with an invitation letter that you can use to apply for your own Russian visa at your closest consulate – the process is pretty straightforward, provided you are applying in your own country, and takes approximately 2-3 weeks.
You can also ask Viking to sort out your Russian visa for an additional charge. This is especially convenient if you live in the US or if your hometown doesn't have a Russian consulate.
River cruises of Russia only run between April and October, when the waterways are not frozen. The weather can be change dramatically between Moscow and Saint Petersburg, the latter usually being much colder than the former. Make sure you check the weather reports before packing!
English isn't widely spoken around Russia, not even in the main cities. If you're planning to spend some time travelling independently, learning a bit of Russian is a VERY good idea. The Russian language classes we had on board came in very handy!
Russia's currency is the rouble, which fluctuates quite a bit. Larger cities are full of moneychangers, and some souvenir shops (like those in Mandrogy) also accept euro and USD.
We would like to thank Viking Cruises for having welcomed us aboard the Waterways of the Tsars cruise.
Pin it for later?