Have you ever considered Taiwan as a hiking destination? The island may be small, but it has a lot to offer in terms of natural attractions, with some truly incredible hiking trails.
In this post, Taiwan resident and published author Nick Kembel shares his 16 favourite Taiwan hikes – including hikes near Taipei, as well as hikes in Northern and Central Taiwan. To find out more about hiking in Taiwan and more, check out Nick's blog and Taiwan Travel Planning Facebook group!
Taiwan is nothing short of a hiker's dream. The Vancouver Island-sized country has a staggering 286 mountain peaks above 3000 meters (9800 feet), one of the highest densities of tall mountains in the world. These include Yushan (Jade Mountain), the tallest peak in Northeast Asia.
Hiking is a national obsession in Taiwan. Summiting the Baiyue or 'top 100 peaks of Taiwan' is a rite of passage. But while there are definitely a lot of verticals, not all hiking in Taiwan is overly strenuous.
In this article, I'll introduce 16 of the best Taiwan hikes, ranging from easy strolls that I've done with my kids, to high altitude multi-day treks requiring permits and equipment.
You'll find this list is pretty heavily focused on Northern Taiwan, where there is a diverse array of incredible hikes that can easily be done as day trips from the capital, Taipei.
The list then moves on to the Central Mountain Range, where the island's tallest and most revered mountains are located, finishing up with a few fun hikes in Southern Taiwan.
Best Hikes Around Taipei
The first seven hikes are all located within easy reach (1-2 hours) of the Taipei City center. The first entry is the only one in the Taipei City limits, while the other six are all located in New Taipei City.
The latter is the largest city in Taiwan, and completely surrounds Taipei City. It encompasses the entire northern end of Taiwan.
1) Qixing (Seven Star) Mountain
This is the only hike I'll introduce that is right in Taipei City. Qixingshan, or Seven Star Mountain, is the tallest peak in Yangmingshan National Park, a mountain massif covering parts of Taipei and New Taipei City.
Seven Star Mountain is Taiwan's tallest dormant volcano, at 1120 meters, and is located in Beitou District, famous its hot springs and Beitou Thermal Valley.
This 4.5-kilometer out-and-back hike is known for its wildflowers, butterflies, and silvergrass covering the slopes in autumn. The trail also affords excellent views looking down on Taipei, when it's not clouded over!
2) Wuliaojian Ridge
One of the most notorious Taiwan hikes within day-tripping distance of Taipei is Wuliaojian, west of Taipei in Sanxia District of New Taipei City. This loop hike is 4.8 kilometers in length, but don't be fooled by its short distance!
Wuliaojian is an adventure lover's dream. The trail is rife with wild ascents on ropes and ladders. You'll need to scale mighty rock walls and traverse narrow ridges.
Nothing along the trail is extremely difficult, nor do you need any equipment, but you may find your heart beating out of your chest more than a few times before the day is over.
Looking for great hikes near an amazing city? Check out our Best Hikes in Hong Kong post!
3) Hongludi (Tudi Gong/Earth God) Trail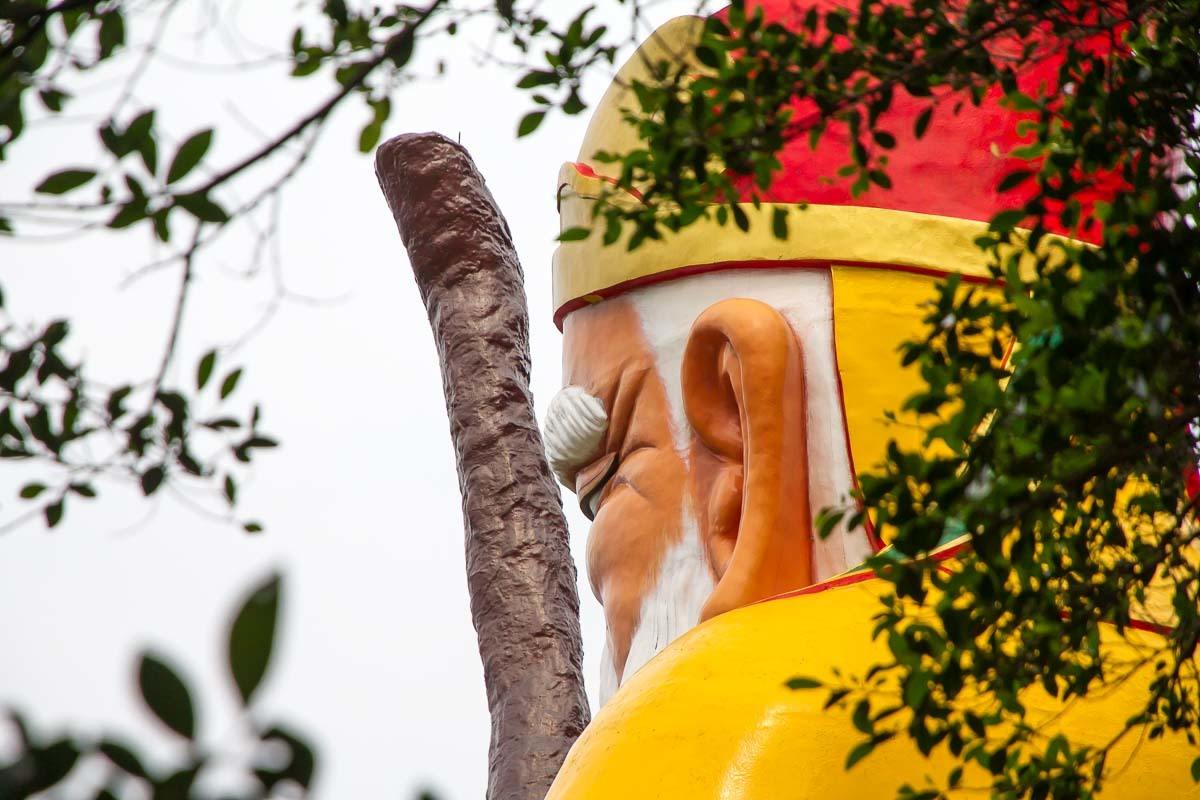 Hongludi Trail is a lesser-known hike south of Taipei in Zhonghe District of New Taipei City. Not knowing its name when we went there, my friends and I called it the 'Tudi Gong Trail' or 'Giant Earth God Trail', as it involves hiking a ridge that leads to an enormous statue of Tudi Gong, the Earth God.
As the protector of lands, bearded Tudi Gong is a folk deity popular all over Taiwan, and hikers will get used to seeing (usually much smaller) statues of him on trails. This particular one is huge, though, and overlooks a neighbourhood where some of my friends live.
The trail, not to be confused with "Mount Hongludi", starts at Hongludi Nanshan Fude Temple, then follows the ridge northeast for a few hours before ending beside Hwa Hsia University.
The temple can be reached on foot from Nanshijiao MRT Station. You could also do it in reverse, ending at the temple, but the trailhead behind the university is tricky to find.
While you're in the neighbourhood, it's also fun to visit Myanmar Street, the center of Taiwan's Burmese population, for some excellent Burmese food.
4) Huangdi Dian (Emperor's Palace) Trail
Huang Di Dian, or Emperor's Palace Trail, is often compared to Wuliaojian (#2) due to its awesome ridge walk at the top. The ridge goes on and on, requiring some balance, especially while you get caught up in those 360-degree views. Like Wuliaojian, it also features some fun rope ascents.
The only drawback is that you have to walk up quite a few steps to get to the fun bits. The 8.2-km out-and-back trail includes 617 meters of elevation gain, and is off-the-beaten-track in Shiding district of New Taipei City, southeast of Taipei. Definitely a fun Taiwan hike to add to your list!
Looking for more info about Taiwan's capital? Here are 6 free things to do in Taipei!
5) Pingxi Crags
Yet another adrenaline junkie's favourite is the Pingxi Crags hike east of Taipei. You'll also find this hike listed individually as Xiaozi, Cimu, and Putao Mountains, which are the three rugged stony crags that jut 360, 410, and 450 meters into the air, respectively.
English speakers tend to combine all three into one hike and call it the Pingxi Crags collectively.
Each of the crags has a death-defying ladder going up to its tiny peak. Again, there's nothing particularly dangerous about the hike, just don't look down! The Crags hike can be accessed by riding the fun Pingxi small gauge train line.
6) Sandiaoling Trail
Sandiaoling is one of my favourite easy hikes in Taiwan. I took my wife there on one of our first dates, and my kids walked the easier part of it when they were still toddlers.
Sandiaoling includes three stunning waterfalls, and it can be a shorter out-and-back hike from nearby Sandiaoling train station, or a longer one ends at either Houtong (Taiwan's Cat Village) or Dahua Station on the Pingxi Railway line.
The first waterfall, Hegu, is seen from a distance, while the second one, Motian is incredible because you can climb up under a rocky overhang behind the falls. You can go back from here for an easy walk, or climb a new metal staircase (it used to be a pretty terrifying wood & rope ladder) to the third waterfall, Pipa Cave.
7) Teapot Mountain
One of the most iconic easy-medium day hikes in Taiwan is Teapot Mountain in Ruifang district of New Taipei City, east of Taipei. The trail begins at Jinguashi Gold Ecological Park, a preserved mine from Taiwan's gold rush, and ascends a 600-meter mountain with a distinctive rocky peak that looks like a teapot.
The coolest thing is that once you get to the teapot, you can climb right into it, as a rocky tunnel leads deep into it and out the other side. The 3.5-km hike also includes impressive views looking down on the Pacific Ocean.
Best Hikes in Northern Taiwan
For the next five entries, we move to hikes in northern Taiwan beyond Taipei and New Taipei City. These include hikes in Yilan County, Hsinchu County, Taichung, and the north of Hualien County.
Some of these peaks are at the northern end of the Central Mountain Range, which I focus on in the final section.
Besides the first one, all the below hikes require permits, and #9-11 also require cabin reservations. It's best to do these with local hiking groups such as Taiwan Adventures.
8) Caoling Historic Trail
The first hike in this section, Caoling Historic Trail, connects New Taipei City with Yilan on the northeast coast. In old times, it was the only route between the two areas, and it features a few historic relics.
The real draw of the hike today, though, is that it features fantastic coastal views from cliff-top bluffs, where you can even spot roaming buffalo. In November, the hike becomes jam-packed with locals, who come to see the hills painted white with silvergrass.
The trail begins near popular Fulong Beach and ends in the village of Dali, or you can follow a more difficult extension called the Taoyuan Valley to Daxi.
9) Dabajianshan (Mount Sylvania)
3492-meter Dabajianshan is located in Hsinchu and is found in Shei-Pa National Park. Together with Xueshan (#10), it lends the park its name (Xue is also written "Shei" and Da is also written "Pa").
The mountain's most distinctive feature is its upper half, which is a sheer vertical barrel peak. Like several other high mountains in Taiwan, most people climb it in three days (two nights). You can only get to the base of the barrel; scaling the cliffs to the summit is no longer allowed.
10) Xueshan (Snow Mountain)
Shei-Pa National Park's other famed peak is Xueshan, or Snow Mountain. At 3886 meters (12,749 feet), it is the second tallest mountain in Taiwan. The hike is rated medium and can be done by anyone in moderate shape.
As the name suggests, you have a good chance of seeing snow on Snow Mountain if you hike it in winter (snow is rare in Taiwan and usually only seen on a few mountaintops in winter).
To get the full experience, I did this hike in February, the coldest month in Taiwan. We got dumped on with snow! We couldn't see anything from the summit, but getting there, which included walking through waist-deep snow, was a real adventure!
11) The Holy Ridge
The Holy Ridge has been called the most dangerous hike in Taiwan. The 5 to 6-day traverse begins at Snow Mountain (#10) and follows a 3000-meter ridge line north to Buxiulan Mountain.
This hike is for experienced hikers only, as it requires technical skills and being extremely fit. Local operators will general only take people that can prove their experience or that they've been on hikes with before.
12) Zhuilu Old Road
Next we move over to Taroko Gorge, one of Taiwan's most popular scenic attractions (some call it the "Grand Canyon of Taiwan") on the east coast of Taiwan in Hualien County.
Zhuilu Old Trail is a death-defying trail carved into the side of 700-meter cliffs. The trail is narrow in sections, with no rail or fence to stop you from tumbling down.
Although not super hard, it does require permits and a guide, which you can arrange through a local English-speaking company like Island Life Taiwan.
Best Hikes in the Central Mountain Range & Southern Taiwan
The Central Mountain Range is the backbone of Taiwan. #9, 10, and 11 above were at the northern tip of the range, and below we get right into the heart of it.
While there aren't as many famous hikes in the far south of Taiwan, I've included one fun one in Kaohsiung City at the end.
13) Hehuanshan
Along with Snow Mountain (#10), Hehuanshan is practically synonymous with snow in Taiwan. It is one of the few places in Taiwan where you can drive up high enough to see snow, at nearby Wuling Pass (3275m), the country's highest navigable pass.
In fact, Hehuanshan even used to have a small ski resort on its slopes! It's hard to believe that this ever existed in subtropical Taiwan.
It is possible to hike to Hehuanshan's East Peak (3241) in a few hours, North Peak (3422 meters) in one day, or you can do a multi-day hike to the North and West Peak (3421 meters) in a multi-day trek. All are popular, but the latter is rated as difficult and requires a permit.
14) Ruitai Historic Trail
The off-the-beaten-track Ruitai Historic Trail in Chiayi County is an alternative to the extremely popular hiking trails in nearby Alishan National Scenic Area, one of the country's most touristed destinations.
The 3 to 5-hour hike meanders through a huge bamboo forest. The gentle swaying and creaking of towering stalks of bamboo will accompany you the whole way.
Although it's geographically close to Alishan, you'll need to take an infrequent mini-bus from Chiayi to the mountain village of Ruili, where the trail starts.
The trail ends in Taihe, from where you can reach Fenqihu, a popular mountain village that is on the main train & bus line from Chiayi to Alishan.
15) Yushan (Jade Mountain)
Hiding down near the bottom of my list, Yushan or 'Jade Mountain' is Taiwan's tallest peak, at 3952m (12,966 feet). It sits in the eponymous Yushan National Park, Taiwan's largest land-based national park. It is isolated and not easily seen from other parts of Taiwan.
Jade Mountain was once nearly voted in as one of the New7Wonders of Nature, and I even do my banking at Yushan Bank in Taiwan!
I did the three-day (two-night) hike to Yushan's peak in my first year of living in Taiwan over a decade ago, and it was definitely one of my most rewarding experiences in Taiwan. It's not particularly hard, and I even saw some older kids doing it.
The highlight was seeing an epic sunrise above a sea of clouds from the peak. The hike is understandably popular, and you'll need to secure a permit and cabin reservation well in advance (there is usually a quota for foreigners, so you may be able to get in faster than locals can).
16) Shoushan (Monkey Mountain)
I felt I had to at least provide one entry for Southern Taiwan, so I've gone with Shoushan, popularly known as "Monkey Mountain", right in Kaohsiung City. The mountain, along with neighbouring Chaishan, is known for its large population of resident macaques.
You are pretty much guaranteed to spot the macaques if you hike anywhere on the series of trails covering the two mountains. Be careful, though, as they are known to grab items out of the hands of curious hikers. Don't lose your phone!
Final Thoughts About Hiking in Taiwan
As you can see, Taiwan abounds with hiking opportunities and has something for everyone. I hope that you've found more than enough ideas for amazing hikes to add to your Taiwan bucket list!