Welcome to yet another instalment of our 'Best Hikes in…' guest post section. After our latest post about best hikes in Taiwan, we'd like to show you 10 of the best hikes in Hong Kong.
This guest post was brought to you by Sean from LivingOutLau. Sean was born in Hong Kong and spend the majority of his life in New York City. After years of studying and working, he decided that the corporate world was not for him and set off to travel the world with a backpack.
After years of travel, he moved back to Hong Kong, where he will be rediscovering his roots and the wonders of Hong Kong!
Imagine Hong Kong in your mind.
What can you see? Soaring skyscrapers dotting the landscape, bustling night markets that never sleep, or enticing Asian cuisine that makes your mouth water?
As a mega metropolitan city with 7.5 million people, this Pearl of the Orient is the epitome of city life – nightlife, food, and skyscrapers. However, there is a side of Hong Kong that many tourists do not know about – the side that is filled with wide stretches of soft-sand beaches, and lush hiking trails that explore peaks after peaks all over Hong Kong.
That is why we have written this post on the 10 best hikes in Hong Kong. Don't forget to add one or two of these hikes to your Hong Kong itinerary to balance out all the delicious food you will be eating!
Enjoy!
Best Iconic Hong Kong Hikes
1) Lion Rock
Duration: 2.5-hour loop / Difficulty: Moderate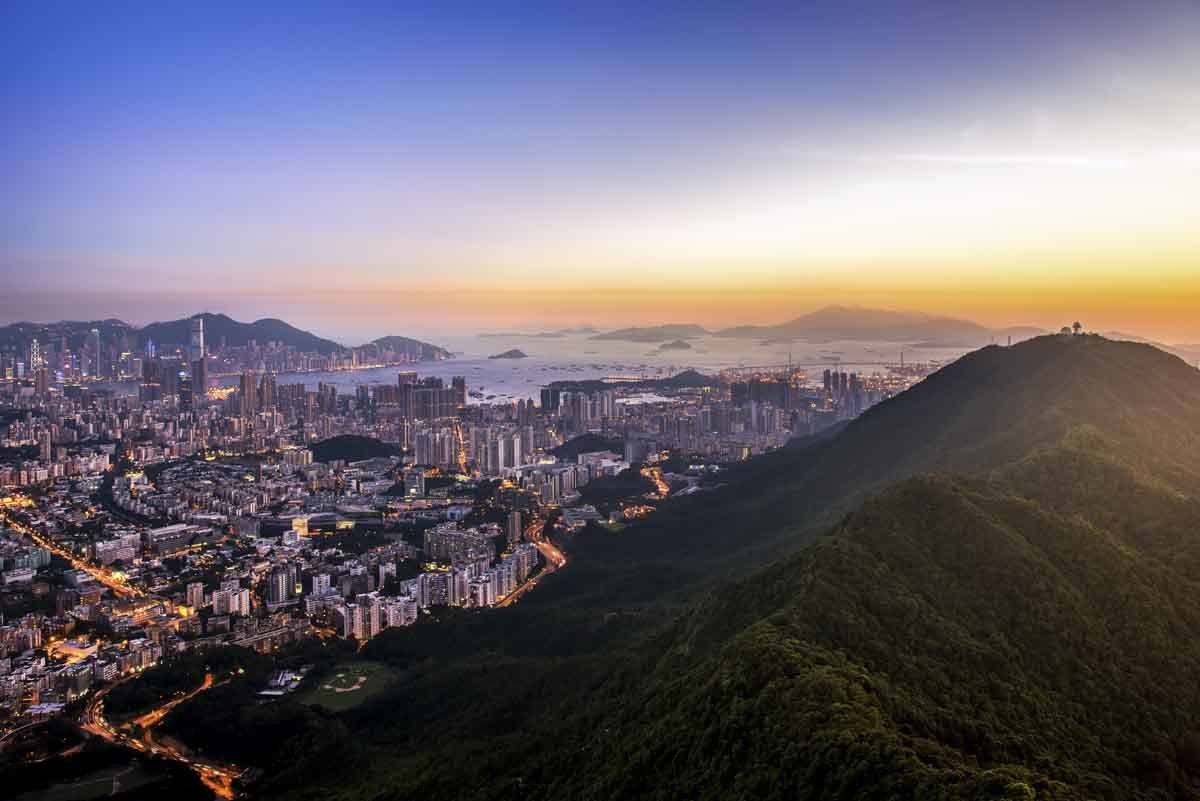 Lion Rock is one of the most popular hikes in Hong Kong and it is not surprising why. Situated between Kowloon Tong in Kowloon and Tai Wan in the New Territories, Lion Rock provides stretching views of Kowloon, Sha Tin, and the surrounding areas.
On a nice cloudless day, hikers can expect to see Victoria Harbour, all of Hong Kong Island, and The Peak.
Lion Rock earned its name from the unique shape resembling a crouching lion. Near the peak of the mountain, visitors will find the Lion's Head, Lion's Back, and Lion's Tail. A continuous ridge runs through these three parts of the mountain, formally creating the Lion Rock.
In terms of difficulty, Lion Rock is a moderate difficulty hike in Hong Kong. While there are many trails leading to Lion Rock, locals usually prefer the hiking trail via Wong Tai Sin.
From the Wong Tai Sin MTR (Mass Transit Railway) Station, it is a steep 40-minute incline to the start of the Lion Rock Country Park entrance. Surprisingly, after you have actually entered the country park, the hiking trail gets easier, with more shade and gradual slopes.
After you have entered the Lion Rock Country Park, you are only one hour away from the Lion Rock itself. On the trail, hikers are blessed with short glimpses of the potential view from the summit. Don't get too caught up in the scenic path, as the view at the top will be even better.
The final part of the trail to the summit is a never-ending series of steps that will make you run to the closest massage parlour after your hike. However, the pain is certainly evanescent when you arrive at Lion's Tail, the entrance to the rock formation known as Lion Rock.
Here is where you need to be careful, as the ridge is not protected by any barriers or railing. Falling over the edge could result in a lethal injury! For this reason, we don't recommend hiking Lion Rock with your kids.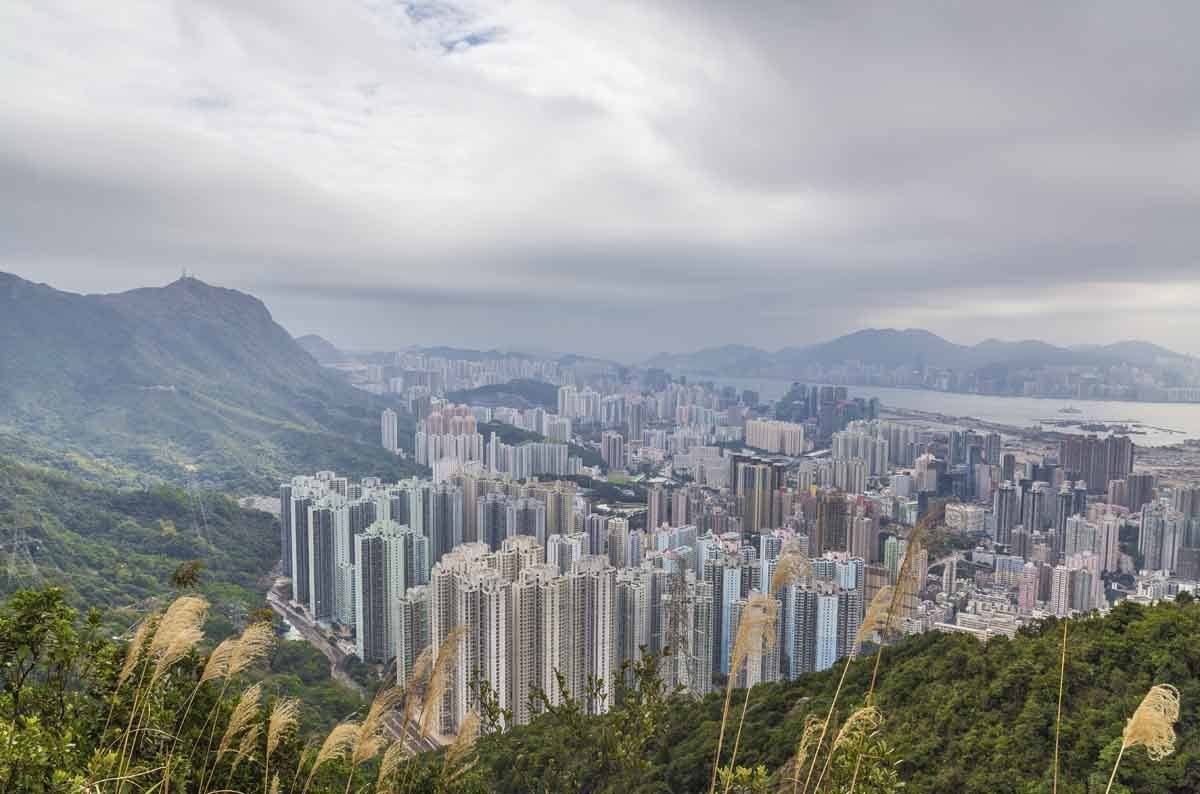 After catching your breath, make your way to Lion's Back and then Lion's Head, where the view will certainly impress. Though at this distance, you won't be able to see the shape of the lion formed by the 140-million-year-old granite.
After you have taken enough pictures and dropped your jaws enough times, make your way down towards Lok Fu, almost completing a full circle. The 45-minute path back down is fairly safe as it is mostly steps.
If you are looking for a nice intensive and safe hike that offers great views of urban Hong Kong, we recommend the Lion Rock hike.
2) The Peak Hike
Duration: 1 hour one-way / Difficulty: Easy-Moderate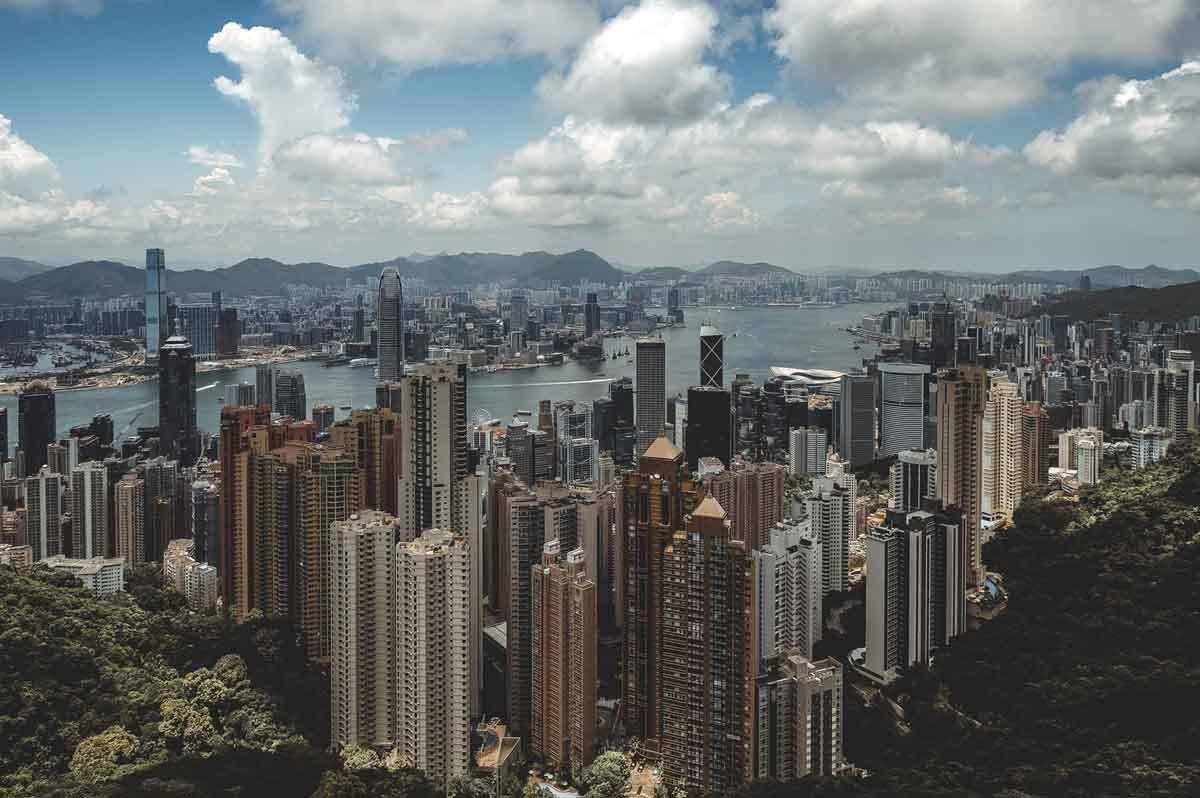 Visiting The Peak (also known as Victoria Peak) is a quintessential tourist experience in Hong Kong. Rising 552 meters above sea-level, the Peak is the tallest peak in Hong Kong Island.
One of the most popular things to do in Hong Kong at night is to come to the Peak and admire the sweeping night views that encompass shimmering skyscrapers, Victoria Harbour, and even parts of Kowloon (on a good day).
Chances are you might already be familiar with this scenery, as the iconic view is often depicted in travel magazines, tourist agencies, and websites.
While most visitors decide to take the Peak Tram to the Peak, they can also take a short 1-hour hike to save some money and burn off those dim sum! The hike starts at the Central MTR Station and goes via Old Peak Road, a covered road with a steady incline.
In one hour, you go from nearly sea level to 400 meters high, so this Victoria Peak hike isn't exactly a walk in the park.
Once you have arrived at The Peak, there are numerous lookouts for that iconic view. Our favorite is Victoria's Peak Lions Pavilion because it is easy to get to and the pavilion itself is quite suiting for the scenery.
Visitors can also embark on the additional 45-minute The Peak Circular Walk, which is a flat leisure loop that takes you through some of the best viewpoints on The Peak.
3) Suicide Cliff
Duration: 2 hours out-and-back / Difficulty: Moderate-Difficult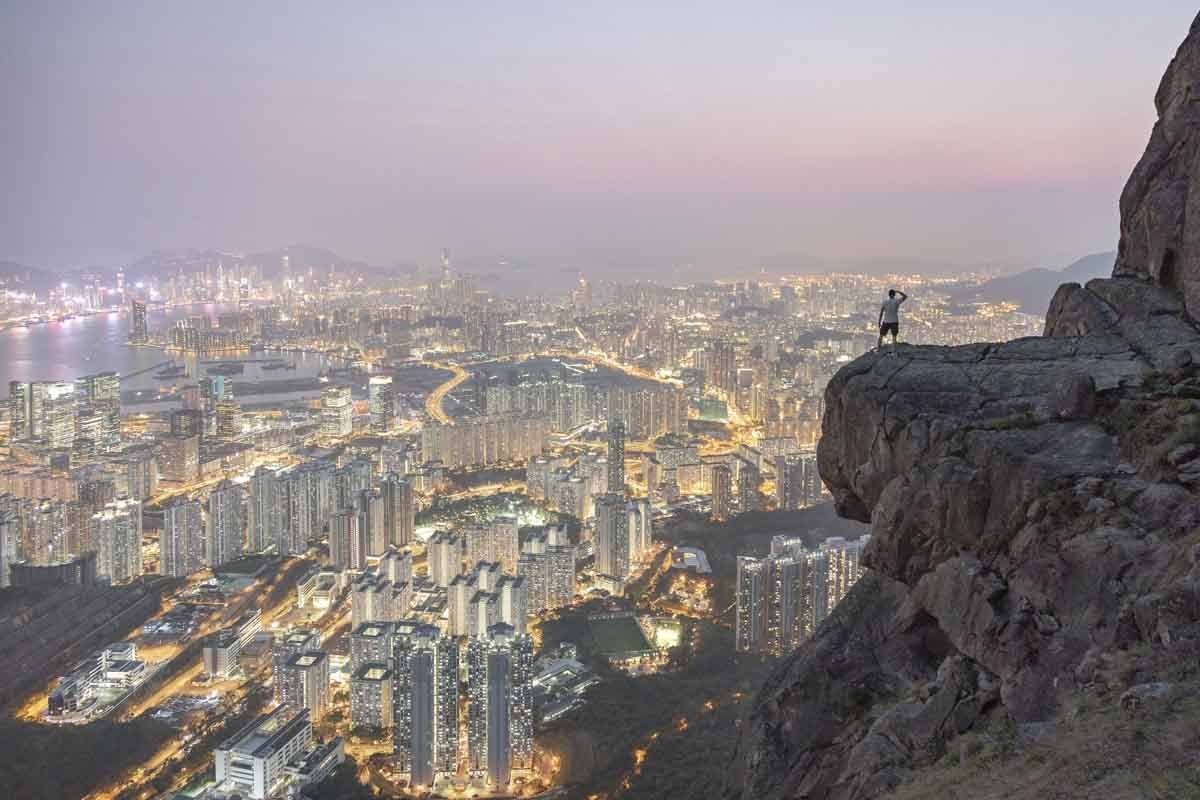 Made famous by a National Geographic photography contest in 2016, Suicide Cliff is becoming one of the best hikes in Hong Kong. As part of the natural boundary between Kowloon and New Territories, hikers have a chance to admire the sweeping views on both sides on this short trail.
On one side it is the peaceful fishing town of Sai Kung with its numerous outlying islands and beautiful port, and on the other side is the bustling city life of Kowloon.
Unlike the name suggests, Suicide Cliff is not named for the suicides in the area, but for its sheer cliff drops. This can be seen at the famous vantage point, where a tiny platform juts out from a nearly vertical cliff. This doesn't stop it from being a popular photography spot (especially at night), as the dramatic cliffs contrast the skyscrapers in the distance.
However, please be careful as you approach these unguarded cliffs. Accidents have occurred too many times on this famous mountain! Some parts of the path might require scrambling, and with the steep incline, it is not recommended to do this hike in the rain.
Best Offbeat Hong Kong Hikes
4) Ham Tin Hike
Duration: 1.5 hours one-way / Difficulty: Easy-Moderate
Ham Tin is one of the many beaches in Tai Long Wan (Big Wave Bay in Chinese), a 3 kilometre-wide bay on the east coast of the Sai Kung Country Park.
With a beautiful coastline, turquoise blue water, and soft white sand, Tai Long Wan is considered one of the most beautiful places in Hong Kong as far as natural landscape is concerned.
A hike to Ham Tin beach will not only reward you with a fresh dip on one of the most beautiful beaches of Hong Kong but also breath-taking views along the way.
The Ham Tin beach hike is fairly easy, since most of it is at sea level. The most difficult part of the hike itself is actually getting to the starting point Sai Wan Pavillion.
Because of its secludedness, visitors must take the special 29R village bus from Sai Kung town to Sai Wan Pavillion. The bus runs with a sporadic schedule so proper planning is required. On weekends, there is often a long queue for the 29R.
In that case, it might be better to just take a taxi from Sai Kung town to Sai Wan Pavillion. If you do not wish to hike but still want to enjoy the pristine beach, you can also take a speedboat departing from the Sai Kung Pier to Ham Tin.
Once you have arrived at Sai Wan Pavillion, it is smooth sailing from there. The trail takes approximately 1 to 1.5 hours and you will pass by the small Sai Wan fishing village, as well as cows roaming in the wild if you are lucky!
To get back to civilization, you would either have to hike back the way you came in or take one of the speedboats going from Ham Tin back to Sai Kung. There are 2 restaurants/stores in Ham Tin that can arrange that for you and they also serve cold drinks and local food!
5) Ma Dai Stream Hike
Duration: 45 minutes one-way / Difficulty: Easy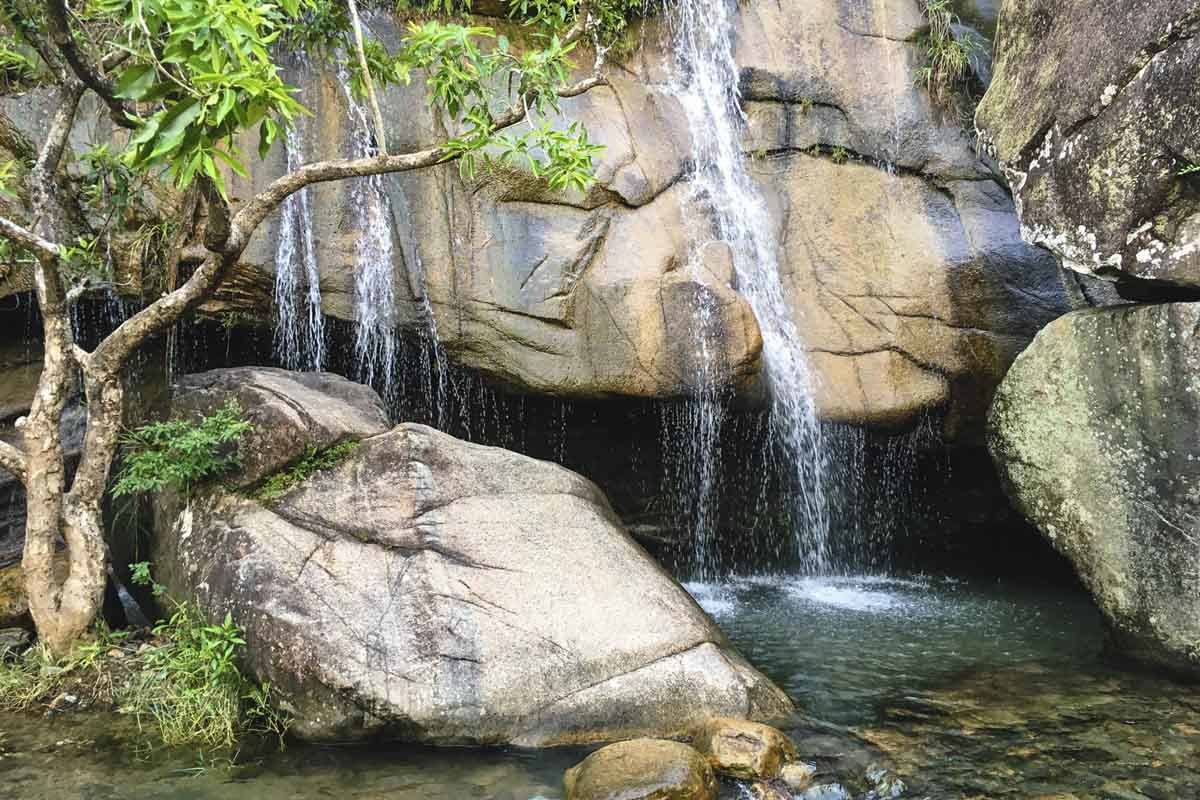 Ma Dai Stream hike is one of our favourite Hong Kong hikes in the summer because it leads to a series of refreshing waterfalls.
The trail starts on a well-paved concrete road that leads to a reservoir, where hikers will then have to embark on an off-road dirt path to access the waterfalls in the rear. Because of the number of swimmable pools in Ma Dai Stream, hikers can visit on a weekend and have an ample amount of personal space.
This is a simple hike perfect for families looking to escape the debilitating heat and humidity Hong Kong is known for.
The Ma Dai Stream is located in Ma On Shan Country Park, and visitors can easily get to the hike from the Tai Shui Hang MTR Station. When you are done swimming at the waterfalls, simply retrace your steps to get back to Tai Shui Hang.
6) Ap Lei Chau Hike to Ap Lei Pai
Duration: 2 hours out-and-back / Difficulty: Moderate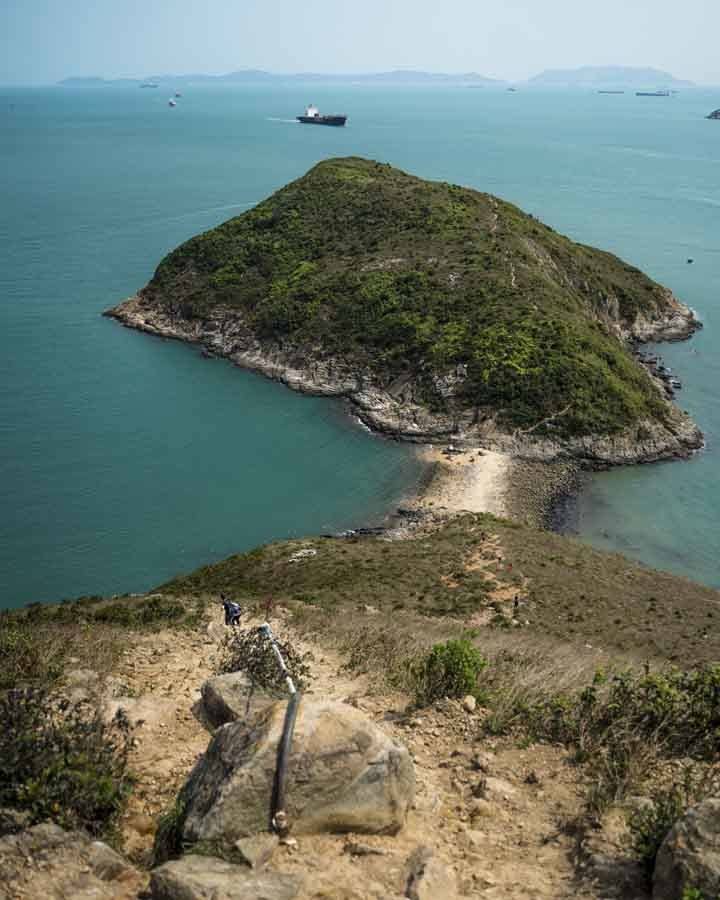 The Ap Lei Chau Hike To Ap Lei Pai is one of the most unique hikes in Hong Kong. The hike involves crossing a narrow sandbar that connects the Ap Lei Pai to the main island of Ap Lei Chau. On Google Maps, the islands are not even connected, so it is a possibility that the sand bar is submerged during high tide (but very unlikely).
The hike starts in Lei Tung MTR Station, where hikers will first have to summit Mount Johnston. At 196 meters high, Mount Johnston might look intimidating from the ground level, but summiting it only takes about 20 minutes. Once you are at the top, you will have views of the beautiful South China Sea on one side and towering public housing estates on the other.
Descending from Mount Johnston to the sandbar is where this trail might get tricky. The steep descent is rocky and slippery at some places, and hikers might get a false sense of confidence from conquering Mount Johnston. Luckily, a rope is placed along the descent to assist hikers with both going up and going down.
Once you cross the sandbar, you are officially done with the most treacherous part of the hike. Compared to Ap Lei Chau, Ap Lei Pai is a smaller island with a third of the height and a little bit more vegetation.
Visitors usually come to Ap Lei Pai for the stunning views at the tip of the island, the Mount Johnston Lighthouse, and a small tidal pool near the end.
7) Pineapple Mountain
Duration: 1.5 hours one-way / Difficulty: Moderate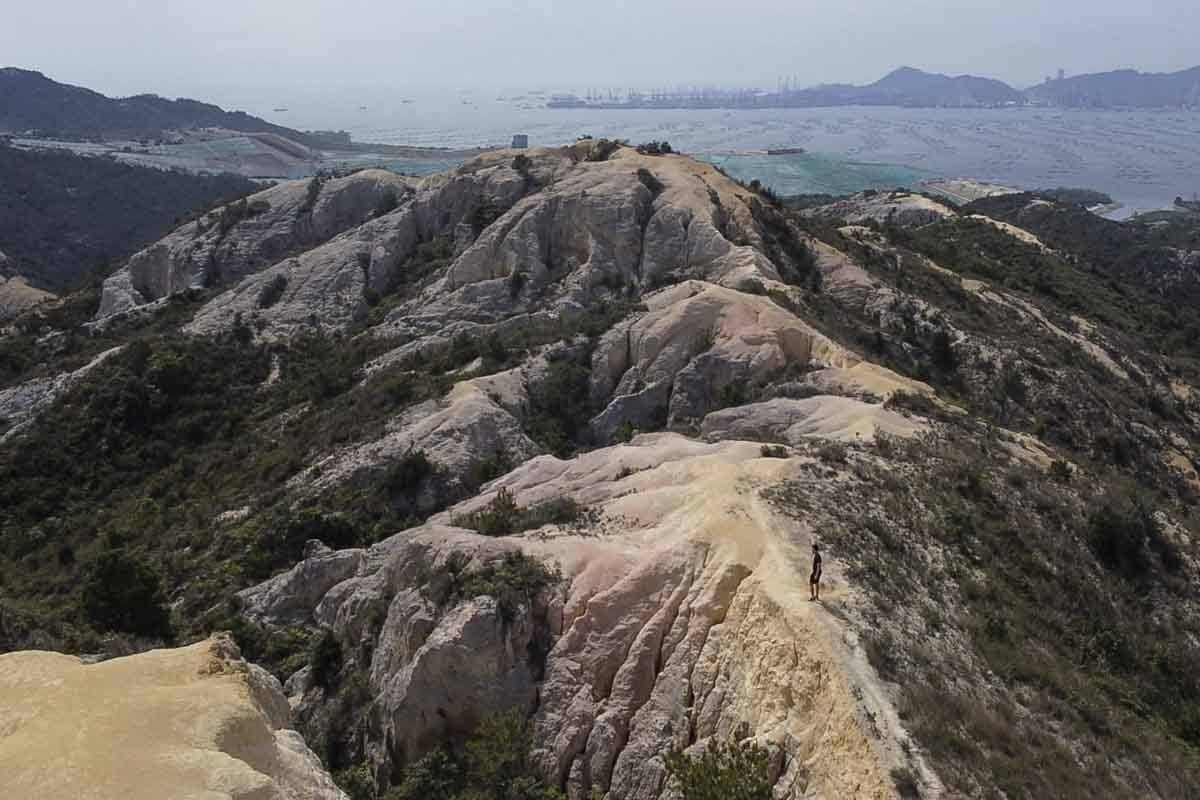 Pineapple Mountain is the home to one of the most unique geological formations in Hong Kong.
Given the humidity and temperate climate, one should expect trekking through forest and lush terrains when hiking in Hong Kong. However, the Pineapple Mountain is dry and barren, and often referred to as the Grand Canyon of Hong Kong. It is quite an unusual phenomenon, as the surrounding area is filled with vegetation.
The Pineapple Mountain hike is moderate in difficulty, but you must be aware of the slippery hiking trail and the lack of shade. We would advise against hiking the Pineapple Mountain in the summer, as the heat, humidity, and lack of shade are a deadly combination.
The hike starts at Leung King, which is easily accessible via the light rail. Once you have arrived at Leung King, it takes about 45 minutes to reach the most picturesque location on Pineapple Mountain.
Most hikers will decide to traverse through the entire mountain and end up in Ha Pak Lai, a small village where they can take the minibus back to civilization. Alternatively, if you don't want to wander too far, you can return the way you came.
8) High Junk Peak
Duration: 2.5 hours one-way / Difficulty: Moderate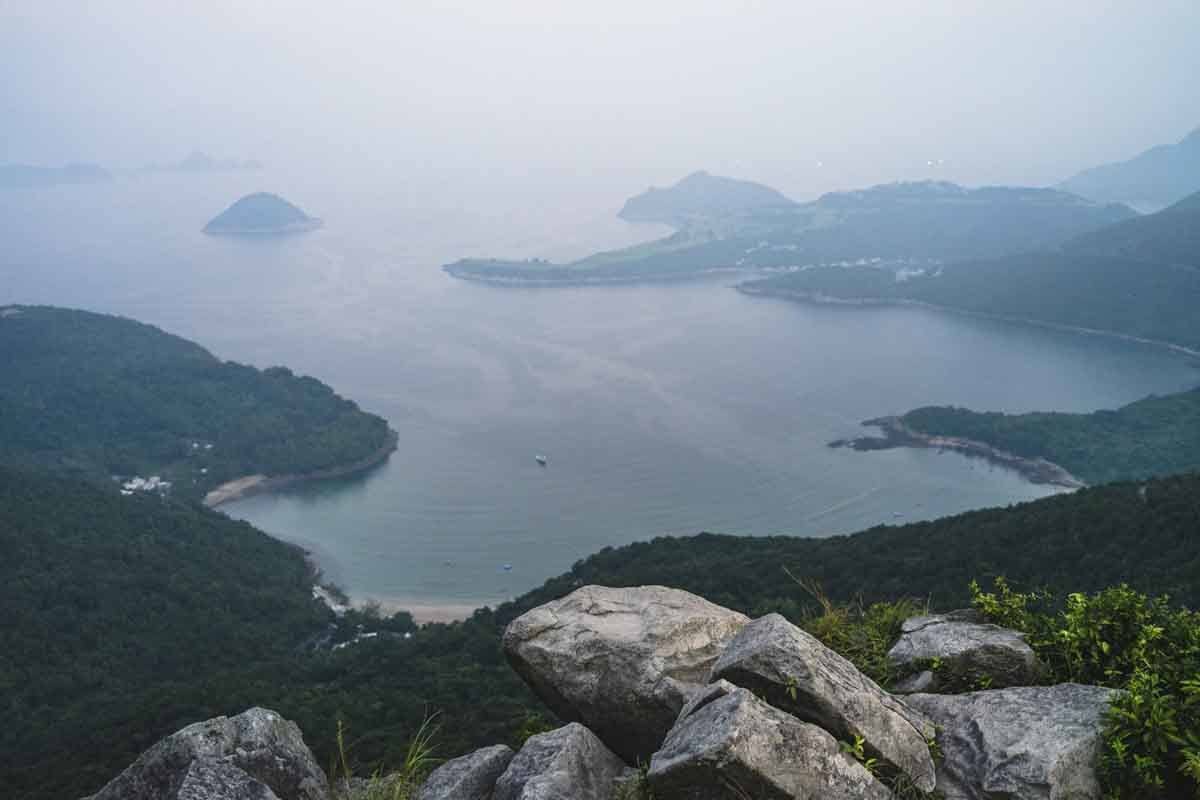 At 344 meters high, High Junk Peak is the highest peak in the Clear Water Bay Peninsula, offering incredible views of Clear Water Bay and the stunning greenery around it.
The High Junk Peak hike is perfect for someone that wants to get a little bit into nature, but not so much that it feels like you have stepped thousand years back in time.
The hike starts off at the Ng Fai Tin Pavillion and quickly gains altitude through a series of big steps. Along the trail, you will see Sai Kung and Clear Water Bay on one side and Lohas Park and Tseung Kwan O on the other.
About 30 minutes into the trail, you will have the option to either summit High Junk Peak or go around it and head towards the end. Hikers that decide to summit High Junk Peak must be prepared for the steep but short incline.
The hike eventually ends in Po Toi O, a small fishing village where hikers can celebrate their conquest with a delicious seafood dinner (or lunch)!
9) Dragon's Back
Duration: 4 hours one-way / Difficulty: Easy-Moderate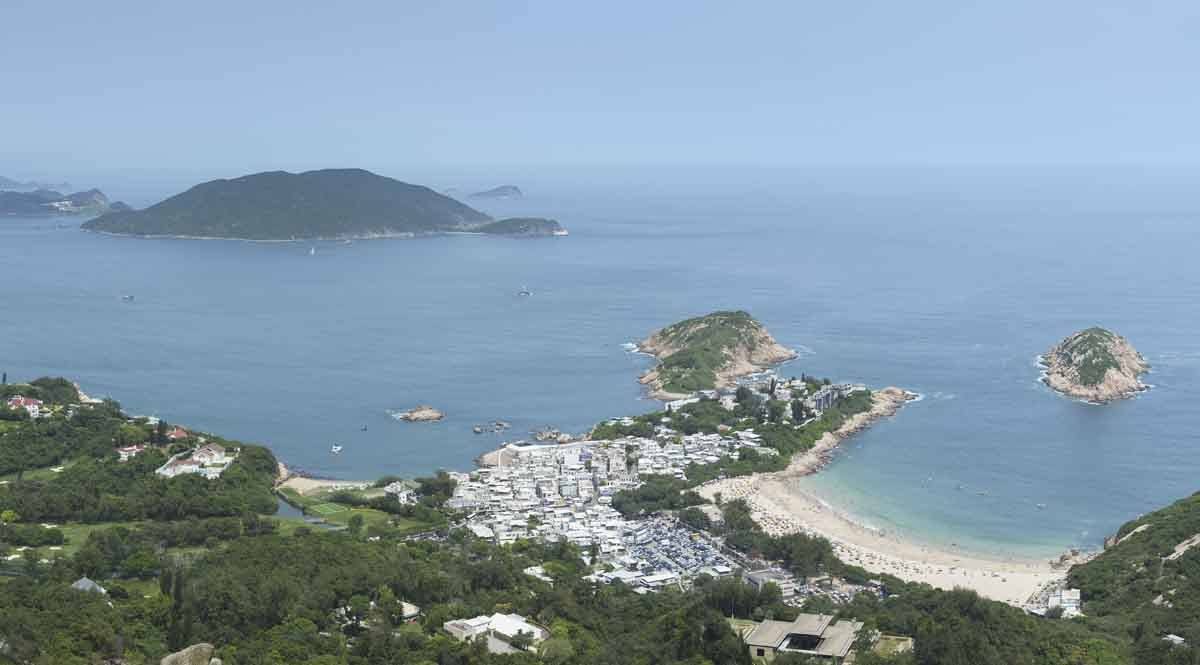 With its attractive name, easy trail, and stunning views, Dragon's Back is one of the most popular hikes in Hong Kong.
Starting at Shek O in the southeast corner of Hong Kong Island, the Dragon's Back trail takes you through various scenic locations and ends at Big Wave Bay (not the same Big Wave Bay as the Ham Tin Beach hike), where exhausted hikers can have a dip in the glistening ocean.
Dragon's Back is many tourists' first hike in Hong Kong and they are often surprised by the beautiful landscapes tucked away into the corner of the bustling Hong Kong Island. However, we highly advise against going on the weekends, as this popular hiking trail will be packed with enough hikers to ruin its natural beauty.
The majority of the trail is on a flat ridge nicknamed the Dragon's Back, perfect for anyone traveling in Hong Kong with kids and looking for some outdoor activities in nature.
Because of its somewhat remote location, the MTR doesn't reach the trailhead of Dragon's Back. Hikers will have to take the MTR to Shau Kei Wan MTR Station and then transfer to the bus No. 9, eventually getting off at the To Tei Wan Bus Stop. To return to where you came from, there are buses departing from Big Wave Beach towards Shau Kei Wan.
10) Sharp Island Hike
Duration: 2 hours out-and-back / Difficulty: Easy-Moderate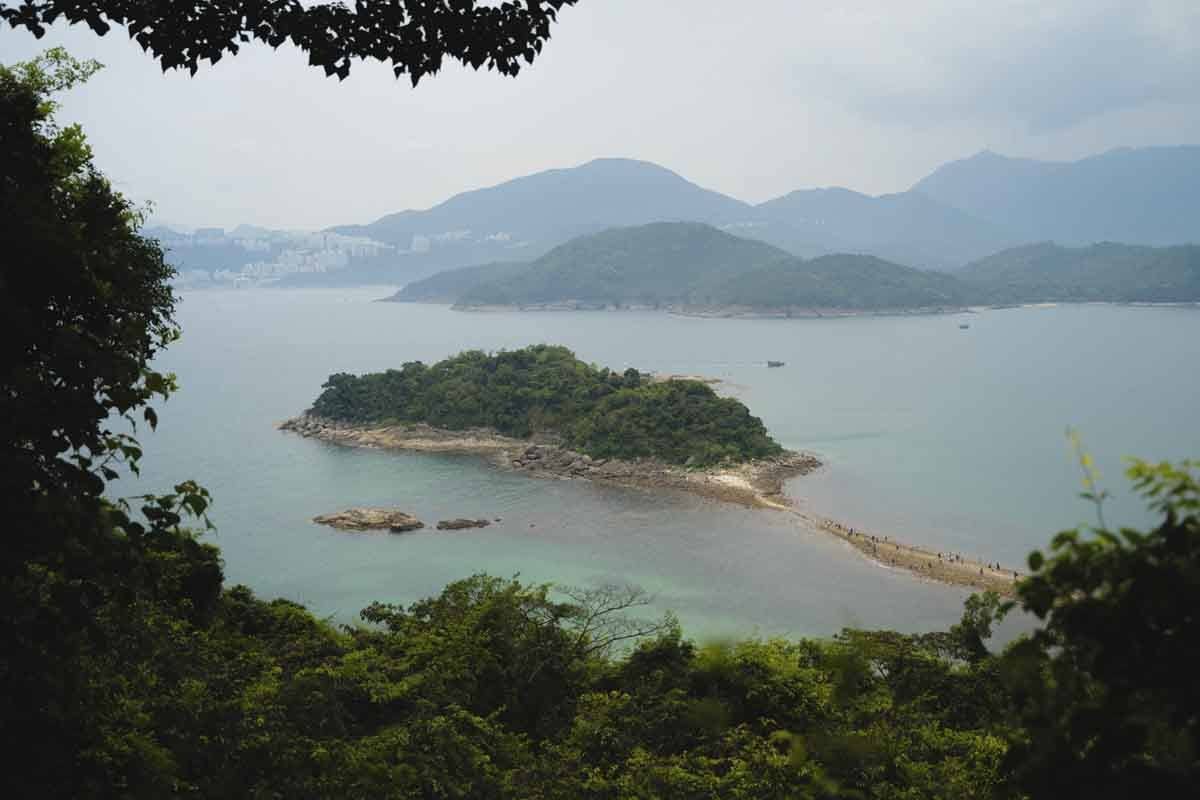 Sharp Island is the largest island in the Kiu Tsui Country Park located off the coast of Sai Kung. Only accessible via a speedboat from Sai Kung, visitors usually take a day trip to this beautiful island to swim, hike, and check out the unique tombolo.
The Sharp Island hike starts at the Sharp Island Pier, where the speedboat will drop you off. The hike immediately gains altitude through a long sequence of steps that later turns into a dirt path.
The hiking trail is situated along the side of the island, offering hikers with beautiful views of the different islands off of Sai Kung and Kiu Tau, a small island connected to Sharp Island via a tombolo.
The 1-hour hike will finish at Hap Mun Bay, a crescent-shaped beach with some of the highest water quality ratings in Hong Kong. Take a refreshingly dip in the turquoise water and grab a quick snack from the snack bar before tracing your step back to Sharp Island Pier.
If you are visiting Sharp Island, don't miss the opportunity to cross the tombolo onto Kiu Tau. This sandbar is completely submerged during high tide so plan accordingly. Kiu Tau is home to many volcanic rocks, some with the nickname 'Pineapple Rocks" due to the irregular cracks caused by erosion and weathering.
This concludes our hiking guide to the top 10 hikes in Hong Kong. Don't miss out on this "hidden" side of Hong Kong that many tourists do not get to see!