If you're planning a getaway, Tuscany in spring is always a good idea! Here are 6 unusual places to visit in Tuscany in spring… but trust me, the region is amazing year round!
Tuscany is one of those places that can be visited all through the year, offering something different each season. In autumn and winter there are fewer tourists and you'll be able to taste specialties like mushrooms, truffles and olio nuovo, freshly pressed olive oil, but the rain and cold might dampen your desire to discover the region. In summer, sunshine is pretty much guaranteed – but so are the crowds and the often-unbearable heat.
The solution? Visit Tuscany in spring. Provided you avoid Easter and Public Holidays, the region is still not overrun with tourists, meaning you'll still be able to find good deals on Tuscany hotels. The weather is warm and dry, perfect to hike or explore cities – and if you avoid the main Tuscany tourist attractions, all the better!
Tuscany in Spring – What to See
I've been visiting Tuscany ever since I was a little girl with my parents, who strangely enough met while volunteering on an Etruscan archaeological site on the border between Lazio and Tuscany. The region was where we spent our holidays for the first fifteen years of my life – and in this article I'll share with you 6 of my favorite unusual places in Tuscany, perfect to visit in the spring.
1) La Verna Monastery
The Foreste Casentinesi national park is located in the Apennines, on the border between Emilia Romagna and Tuscany. St Francis of Assisi often came to the area to pray and meditate, and the forest is full of sights related to the Saint's life. One of the items on my ever-growing list of things to do in Tuscany is hiking the Foreste Sacre path, a 5 day hike through the national park following the footsteps of St Francis.
The path ends at La Verna Monastery, one of many churches founded by the Saint – the church is spectacular indeed, on a hill overlooking the valley, but what surprised me the most was discovering the nature surrounding the church. St Francis prayed in caves, on the foot of secular trees, in flower meadows and under moss-covered rocks. In nature, he could see the divine – you don't need gilded altars and wealth to feel close to God.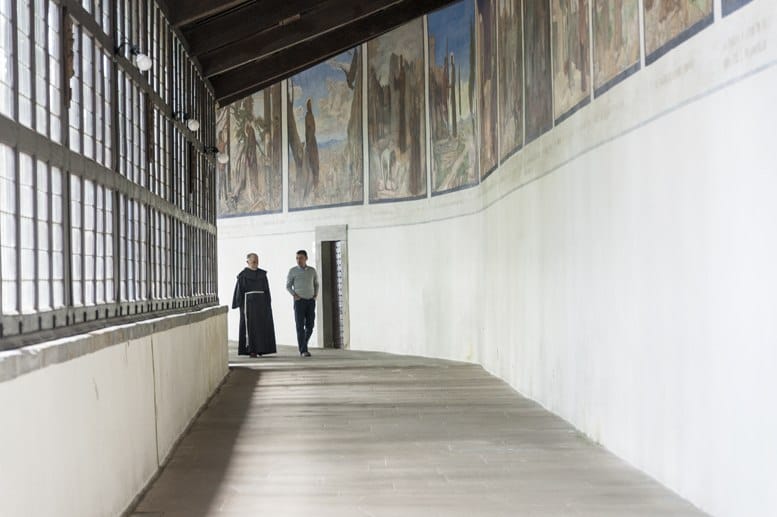 2) Oltrarno, Florence
Ok, I know I said I would focus on unusual places in Tuscany to visit in spring – and Florence is hardly unusual, isn't it? The largest and most famous city in Tuscany is really one of those places where you'll have a hard time escaping the tourist crowds of Florence's historic center – from the station to the Duomo, Uffizi and Ponte Vecchio, you'll be shuffling along a thick, selfie stick-brandishing crowd.
So, what do do? Head across the Arno river to the opposite shore, Oltrarno – meaning 'on the other side of the Arno'. Oltrarno is a wonderful place to discover Florence's artisanal tradition – workshops dating back centuries can be found, sometimes hidden in backstreets and courtyards. Oltrarno is also a Florence nightlife hotspot – Piazza Santo Spirito is a popular aperitivo spot, while Piazza della Passera is great for an ice cream or an alfresco dinner at 4 Leoni, one of my favourite Florence restaurants.
3) Abetone
Have you ever considered skiing in Tuscany? Many people don't even know that Tuscany has mountains – however, the Tuscan Apennines rival the Alps in terms of ski slopes and mountain activities! The most popular ski resort in Tuscany is Abetone, located in the province of Pistoia not far from the border with Emilia Romagna.
The skiing season lasts until late April and the Abetone slopes offer a variety of difficulty levels, from beginners to daredevils – the slope dedicated to Alberto Tomba, a local skiing champion, is said to be one of the most challenging in Italy. If you visit Abetone when the skiing season is up, there are some great hikes to do on the forested hills, including small villages to explore and a wonderful spa hotel to rest those weary bones at the end of the day.
4) Elba Island
Elba Island has been a holiday destination for my family since 1987 – it's my mother's 'happy place', and she especially loves visiting in May or June, when the summer crowds haven't yet arrived. Elba is Italy's third largest island after Sicily and Sardinia. It's a popular tourist destination because of its beautiful beaches and wild nature – but when I say 'popular', don't expect Florence style crowds!
Some corners of Elba remain wonderfully undiscovered – one of the best things to do in Elba is renting a zodiac and searching for secluded coves, where you're likely to be alone. Elba is also a popular diving destination thanks to its sea grass meadows, attracting a range of marine life, and in spring it's a great place to hike. There's a 4 day trail called 'Grande Traversata Elbana', also on my list of Tuscany things to do, as well as many day hikes in the hilly interior of the island.
The only issue it may still be too cold to swim in Elba during springtime. If you're after a Spring beach holiday, your best bet would be heading further south – check this post to find out more about the best beaches in Southern Italy!
5) Pitigliano
Tuscany is full of cute hilltop villages – those places where old style Fiat 500 are the only way to navigate the cobbled backstreets, with artisan workshops and family-run restaurants ready to be discovered.
If I were to choose one village to visit, I'd probably opt for Pitigliano, built atop (and into) a tufa mountain. Pitigliano is striking from afar, with the houses and buildings almost blending into the rock. The town was also home to a thriving Jewish community until the Holocaust – there are still tours on offer to discover the Jewish history and heritage in town.
6) Lucca
Lucca is one of the best small towns in Tuscany, with a lovely historic center, a relaxed feel and lots of historical sights to discover. Lucca's best known sight are its well-preserved medieval city walls surrounding the historic center. You can walk all along the Lucca walls – the 4.5 km walk is lined with trees, perfect for a run or a bike ride. Other Lucca attractions include Piazza Anfiteatro, built on a Roman amphitheater with a perfect oval shape, Torre Guinigi with trees planted on its 30 meter summit, and the stunning San Frediano and San Michele churches.
I know this article is meant to be about Tuscany in spring – but if you happen to be visiting the region in October/November, don't miss going to Lucca Comics, Italy's largest comic book and cosplay convention. Skip entering the pavilions unless you have a special interest in comic books – watching cosplayers parade on top of the city walls is more fun, and completely free of charge!
Pin it for later?