Let's visit Naantali together! Here is the last post from our epic summer hike across Finland, all about Naantali, a lovely town next door to Turku and famous for being home to Moominworld! Let's explore it together in 15 pictures!
There's nothing like Nordic summer. Having lived in London for years, and having visited places like Lapland and Helsinki in winter, I know how brutal Nordic winters can be. The cold, the snow, the lack of sunlight – so much so that when summer finally arrives, it really feels like rebirth, more than elsewhere on the planet.
Naturally, Nordic summers can be unreliable. During the course of our 40 day hike across Finland, we've encountered all kinds of weather – from sub-zero temperatures when we camped in Sipoonkorpi, to glorious sunshine in Hanko, and 4 seasons in one day when we slept in the Bengtskär lighthouse.
Visit Naantali in Summer!
Naantali was our last stop before reaching Turku, the last place we visited in 'Mainland Finland' before heading to Åland for another week-long hike. The day we got to Naantali was one of the hardest of our whole journey – a long, rain soaked walk across Rymättylä island. Clouds hang low for most of the day and an annoying, sticky rain fell with no respite. The path was boring and mostly uphill – more than once I was on the verge of sticking my thumb out, but we soldiered on.
When we reached our hotel, the sun burst through the clouds and the sky cleared in a matter of minutes. The next three days were glorious – the sun glittered over the Baltic, and every night at 11 pm we were treated to long, multicoloured sunsets.
Just like Hanko earlier in our journey, Naantali was another wonderful 'summer town', a place where the magical northern summer shines at its best. A happy town, full of kids and grown ups pretending to be kids at Moominworld, a town surrounded by wonderful nature unleashing everyone's inner explorer, a town with buildings so cute they looked straight out of a gingerbread dream.
Here we've decided to share with you our 15 favourite pictures from our three days in town, in the hope they'll inspire you to visit Naantali.
Things to do in Naantali – Visit Kultaranta
Our first night in town wasn't spent in Naantali but in Kultaranta, a village right next to Naantali famous for being home to the summer residence of the Finnish president. In summer, the Kultaranta Estate opens its doors – you're not allowed to visit the house itself, as the president and foreign guests are often staying, but you can join guided tours of the spectacular landscaped gardens, complete with fountains and water features.
When we visited, the gardens of the presidential residence were decorated with animal statues by artist Hannele Kylänpää. This made me smile because it reminded me of the first Finnish politician I ever heard about, president Tarja Halonen, famous among other things for her love for cats – so much so that she featured her famous cats Rontti and Miska on the official Christmas cards she sent during her mandate. When her beloved Miska died, Putin gave her a Siberian kitten as a present, who was named Meggy. As a cat lady, I LOVE this story!
One of the best features of the Kultaranta gardens are the stunning fountains and flower displays. The flowerbeds in the garden contain many purple and white flowers – the colours of Finland are blue and white, and blue flowers don't exist, I guess purple is as close as it gets!
The building on the back of this picture is the Presidential residence. The residence was built in 1914 and it was originally owned by Alfred Kordelin, a wealthy Finnish businessman. The residence was then acquired by the Finnish government after Kordalin's premature death. We loved the blend of landscaped gardens and 'wild' areas found in the Kultaranta gardens, and we can just imagine how awesome the view over the whole property would be from the tower!
This is Naantali as seen from the Kultaranta residence. Tours take place every day in summer but visiting hours are over by 4 pm – meaning that the Finnish president gets to enjoy this stunning waterfront walk every night at sunset. You can barely see Naantali from here – the only building visible through the trees is Naantali Church, the rest is hidden by nature. As in most other Finnish towns, in Naantali nature is everywhere, and there are several scenic walks to enjoy around town.

Enjoy Naantali's Summer Sunsets
One of the best things to do in Naantali in summer is staying out till late. This picture was taken around 10 pm – the sun still shines high in the sky, and there were people on the beach enjoying sunshine and an after-dinner dip. The abundance of light is one of the perks of visiting Nordic countries in summer – Naantali is well below the Arctic circle so you won't actually experience the midnight sun, but with 11 pm sunsets and 3 am sunrises in late June, the sky never really gets dark.
Naantali is also one of the few Finnish towns with a well preserved historic centre. In Finland, houses were traditionally built with wooden planks – these days, summer cabins are still constructed out of wood. As a result, Finnish cities suffered many fires throughout history and most of these houses have been destroyed. There are very few towns where it's possible to see traditional wooden houses – Porvoo is one, Ekenas near Hanko is another, and then there's Naantali. You can also rent these cute houses for the night, if you fancy sleeping right in the centre of town.
Wild swimming is a traditional Finnish pastime. I'm sure you're all well aware of the Finns' love for sauna – if you want to know more, here's an article about our favourite Finnish sauna experiences. The best way to make a sauna night even more amazing is to combine it with a dip in the sea or a lake, and that's what pontoons like this are for. There was no one swimming that evening, but the silence and light in that very instant gave us both a feeling of peace.
Walking away from Naantali's old town, heading back towards Kultaranta, you'll encounter these rocks on your right hand side. They're quite easy to climb – in my opinion, they lead to the best sunset viewpoint in town.
Here's the view from the top of the rock. On the left hand side (not visible in the picture) is Kultaranta, and the church at the far end of the image is Naantali's very own. The town is completely surrounded by nature, showing its best in the warm evening light.
Such a beautiful sunset spot, you can't possibly believe we were going to be the only ones there, right? This couple seemed to be as amazed as we were by Naantali's beauty and nature.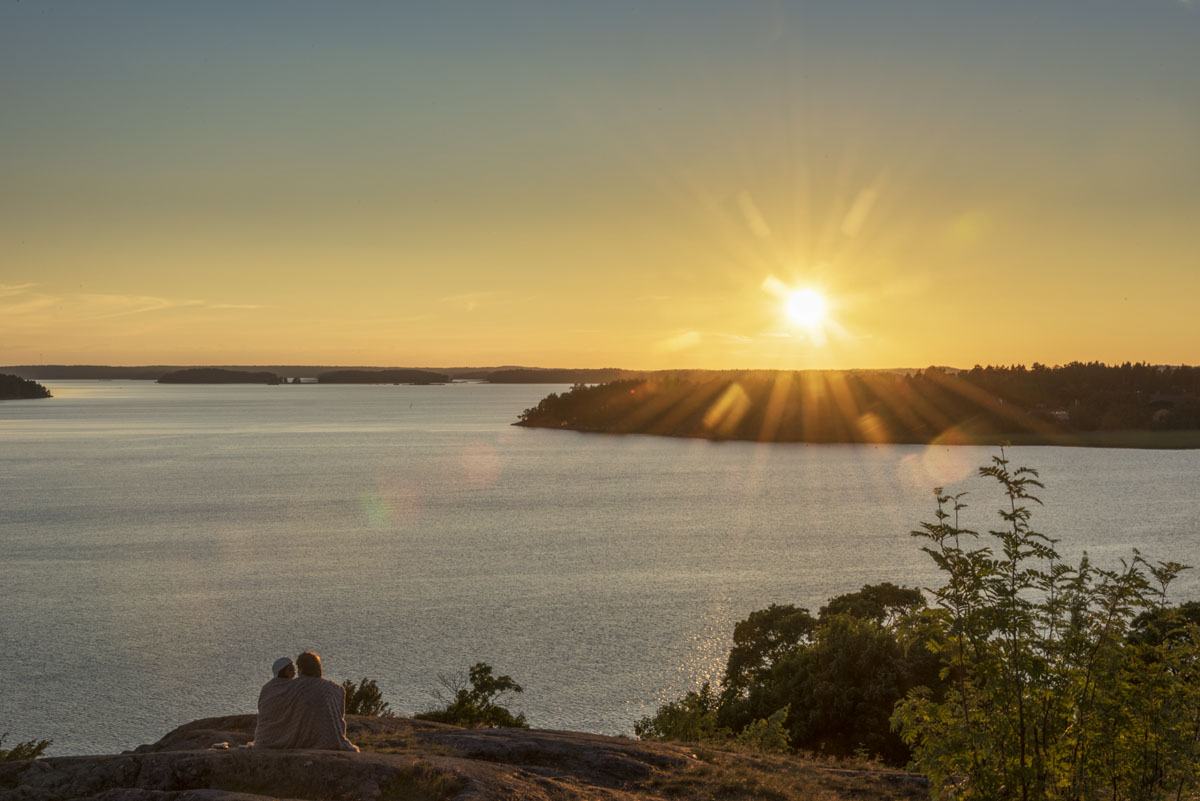 This is what Naantali looks like in summer at midnight. Pastel-coloured houses and a unicorn sky.

Enjoy Moominworld – even as a grown-up!
Moominworld is located on the island of Kailo, connected to Naantali via a footbridge. The island is dedicated to the Moomin, troll-like fantasy characters created by writer and artist Tove Jansson and beloved by children and adults worldwide (myself included). Here I'm posing with Little My, one of the protagonists of the stories, a mischievous and independent girl, naturally one of my favourite characters. Moomin and other characters wander around the park, posing with people for selfies and making children smile. The park is immersed in nature and includes reproductions of houses and other places from the book series, designed to provide children and visitors with a hands on experience.
Moominworld also includes a dancing and singing show held in various languages – the perfect way to conclude your Moominworld experience. If you're not traveling with children, you may feel a little out of place at Moominworld – the whole day we only saw only one another couple without little ones. but who cares, right?
During the Finnish summer, nature puts on a different show each night. I know, this sounds terribly cliched, but you just need to check #EverymansFinland on Instagram (the hashtag we used for the duration of our 6-week trip) to see what I mean. Sunsets are so bold and colourful they rival the Philippines – filling our hearts with joy day after day. This picture was taken after sunset near the Naantali Spa hotel, a couple of kilometers away from the city centre. A flock of wild geese glided on the still waters, and all around us everything was silent.

Where to stay in Naantali
During our three nights in the Naantali area, we had the chance to stay in three different places, all offering very special experiences.
We spent the first night at Kultaranta Resort, a place frequented mainly by golfers offering comfortable rooms and cabins close to an awesome golf course, in the vicinity of the Kultaranta presidential residence. Sadly, we didn't have time to play golf, but we did have fun watching the golfers swinging from the resort's terrace, with a chilled glass of Aura beer to keep us company. The Kultaranta resort is also home to Finland's best pizza – and trust me, I know a thing or two when it comes to pizza!
Our second night in Naantali was spent in a pink wooden house in Naantali's historic center. Rental of these historic houses can be arranged on the Visit Naantali website or at the tourist info office, only a couple of minutes walk away. The main advantage of choosing this type of accommodation (besides the fact that the houses are just too cute!) is that you truly are in the middle of everything, you're able to enjoy the town when the tourists are gone, and the lovely sunset walk I described is only a couple of minutes away.
BTW, did you know that Naantali is home to the world's best waffles? If you have a sweet tooth like me, head to Cafè Amandis right next to the waterfront, serving delicious waffles with sweet and savoury toppings. Not only are the waffles delicious, they look good too!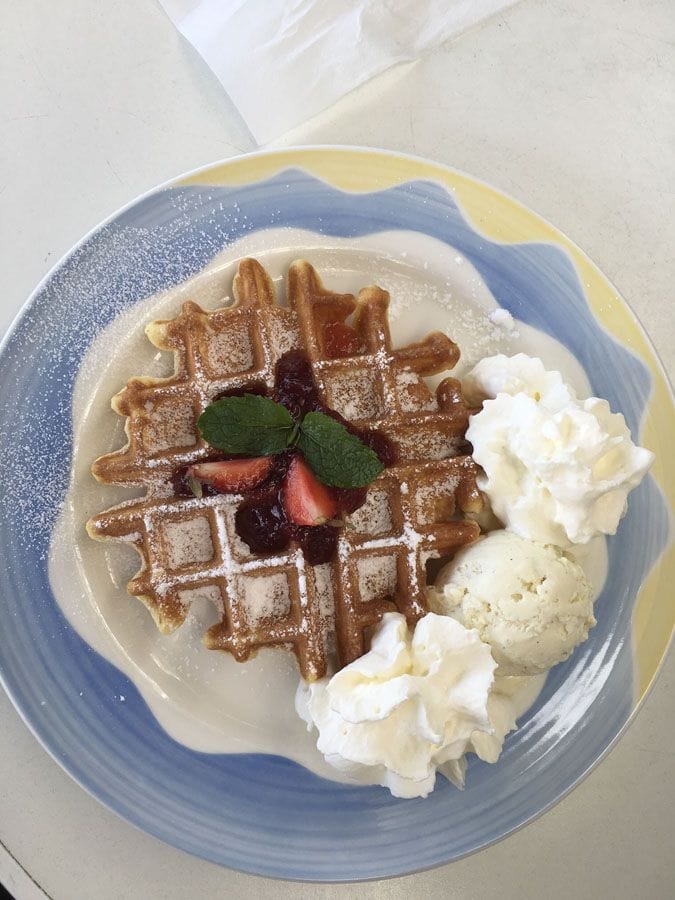 On our final night, we moved to the Naantali Spa Hotel, a large four star property located 2 km away from the Old Town. We didn't have much time to enjoy the hotel's facilities, but for what we could see it's absolutely huge, more like a resort than just a hotel! There are several restaurants serving all kinds of cuisines, a vast pool area and even a Roman-style bath. There's also a great beach nearby, the same one you can see in the pic at the top of this post!
We would like to thank Visit Naantali for having hosted us. All opinions are our own.
Pin it for later?