Tbilisi is amazing – but the rest of Georgia isn't too bad either! Even if you just have a short time in the country, there are lots of cool destinations within day-trip distance from the city. Let's have a look at the 10 best day trips from Tbilisi, even in winter!
Due to its isolation and decades of Soviet rule, Georgia has been relatively offbeat for decades. We visited for the very first time in summer 2011, and we were surprised to see only a small number of tourists about.
Fast-forward almost a decade, tourism influx to Georgia has definitely increased, but most people seem to just stay in the capital. There's a lot to see and do around Tbilisi – its alternative vibe makes it a kind of 'New Berlin', and CNN has hailed it 'an almost overnight must-see destination', after tourism numbers soared to over 8 million a year, raising concerns about whether or not the country is ready to deal with the current tourist boom.
So, yes, Tbilisi tends to be crowded. Well, guess what – it's time to get out of the city. Mountains, wineries, ancient cities, monasteries, hiking trails, even Stalin's birthplace – this (and a lot more) is what you can see on a day trip from Tbilisi.
Whether you're visiting for a week, a month or a long weekend, it's worth dedicating at least a day for a tour away from the capital. Here we've collected 10 of the best day trips from Tbilisi to get you started – including our favourite!
1) Into the Caucasus – Day Trip from Tbilisi to Kazbegi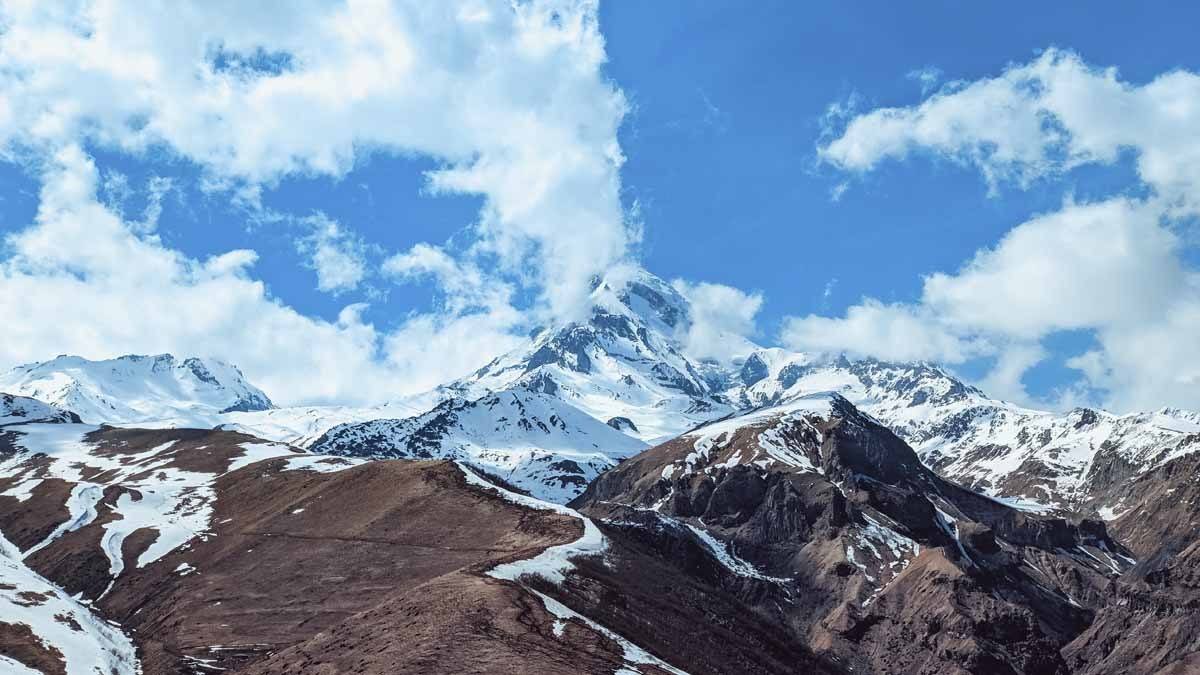 If you only have time for one day trip from Tbilisi, we highly recommend heading to Kazbegi. But first, let's clarify things a little. The name 'Kazbegi' refers to a mountainous region in the Caucasus mountain range, located in the northern part of the country, but not only – there's also Kazbeg Mountain, Kazbegi National Park, and the largest town of the region is also referred to as Kazbegi, even though it was officially renamed Stepantsminda in 2007.
The journey from Tbilisi to Kazbegi is reason enough to visit the region. It follows the scenic Georgian Military Highway, originally built to connect Georgia with Russia, winding its way through the Caucasus with panoramic views at every turn.
Kazbegi National Park and its surrounding region are one of the most scenic parts of Georgia. The summit of Kazbegi Mountain is over 5000 m above sea level and it is rich in history, as Prometheus was supposedly chained on one of its peaks.
Stepantsminda/Kazbegi is a quiet little town, surrounded by gorgeous Caucasus sceneries. The mountains loom just above the town, and the valley it is located in is very calm and relaxing. The town is the perfect spot to plan excursions to the surrounds – nearby, you'll find hot springs, acidic lakes, glaciers, hiking paths, and so much more. However, hiking expeditions are hard to arrange as a day trip, and require a stay of at least a few days.
Other worthwhile things to see in Kazbegi include Sioni Cathedral of the Dormition, a church dating back to the 6th century just outside Stepantsminda/Kazbegi, and the stunning Gergeti Trinity Church, one of Georgia's most loved churches, located on a mountaintop not far from town. It takes about three hours to hike from Stepantsminda/Kazbegi to Gergeti and back, so you'll be hard pressed to do it on a day trip from Tbilisi – so, why not spend the night?
Getting to Kazbegi from Tbilisi
Travel time from Tbilisi to Kazbegi is 'officially' three hours, but in fact it's closer to four once you factor in traffic and time to get out of the city. There are frequent marshrutka departures from Didube station in Tbilisi, and price is around 10 GEL per person.
Alternatively, chartering a taxi for a day trip from Tbilisi will cost about 150-200 GEL one way.
Best Kazbegi Day Trips
Getting to Kazbegi and back in a day by public transport is doable, but you won't get to spend much time there, and you won't have time to enjoy the Georgian Military Highway and its scenic spots.
We highly recommend joining an organized day trip, or spending the night. Here are some cool Kazbegi day trips!
Where to Stay in Kazbegi
It's definitely worth spending an extra day or two in Stepantsminda/Kazbegi, to go hiking and enjoy sights and the majestic Caucasus Mountains. If you do so, make sure you stay at the quirky Rooms Hotel, decorated by young local designers and serving up traditional 'mountain cuisine' with killer Caucasus views.
Alternatively, opt for a traditional stay at Anano Guesthouse, the best rated in the region!
If you're planning a trip to Georgia, don't forget to check out our post about the top 12 best hotels in Tbilisi!
2) For Wine Lovers – Day Trip from Tbilisi to Kakheti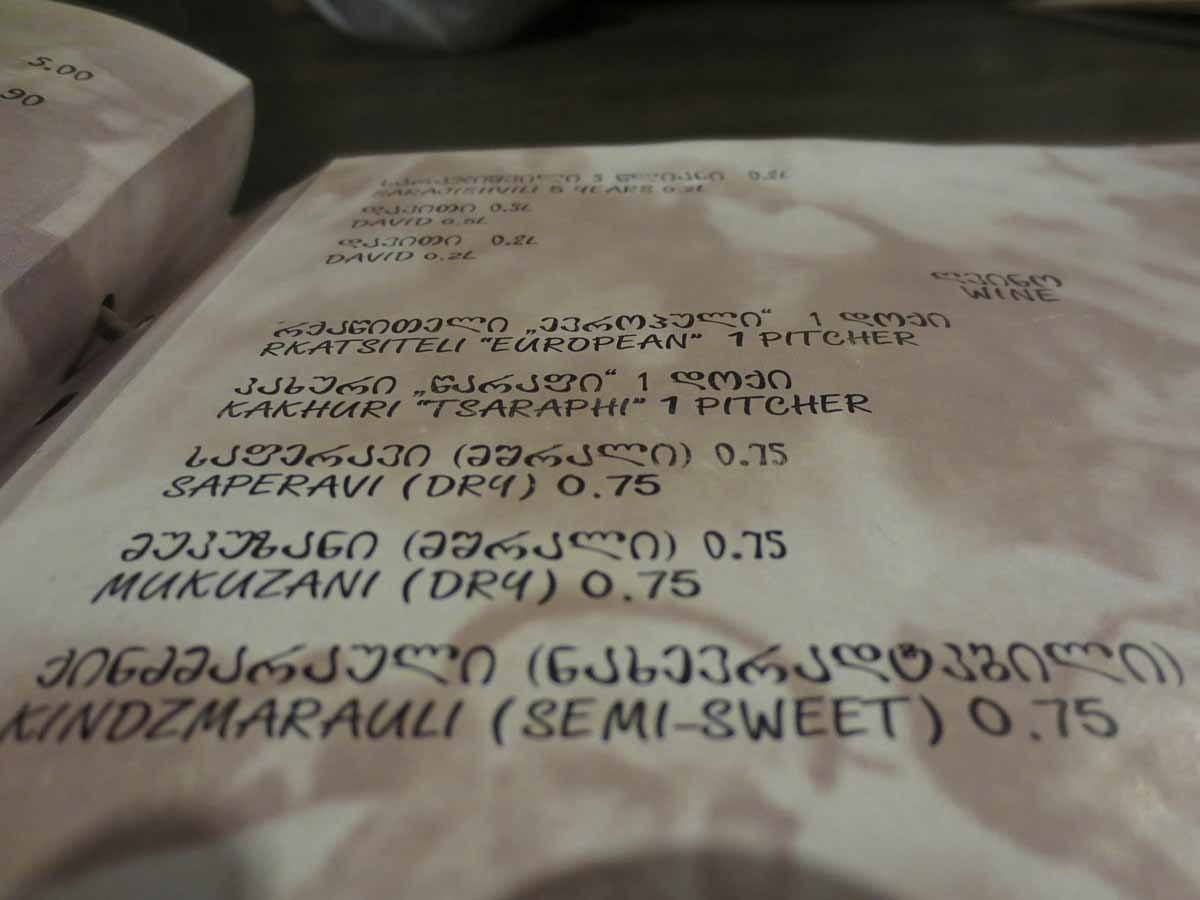 Did you know that wine was actually created in Georgia, about 8000 years ago? The country is still known to produce some of the world's finest wines. Most of its vineyards are using ancient techniques that have been passed down through generations, with a special emphasis on organic and biodynamic winemaking, including wines aged in kvevri (terracotta pots) rather than barrels.
The Kakheti region is the best known winemaking district in Georgia, and a great place to visit if you want to taste some iconic varietals like Rkatsiteli or Saperavi, not to mention chacha, a local firewater made with the byproducts of wine similar to Italian grappa.
The best known town in the wine country is Signaghi. It has a unique rural charm, and it's somewhat reminiscent of a mountainous Italian village, with cobblestone alleyways and hilltop vistas. Here you'll find some of the most famous Georgian wines, which also means some of the world's finest! Don't miss visiting Kakheti as a day trip from Tbilisi!
Getting to Kakheti from Tbilisi
Signaghi is only just over 100 km from Tbilisi, and travel time is about 2 hours by marshrutka or shared taxi, both departing from Samgori bus station and charging 10 GEL per person.
Best Kakheti Day Trips
Even though Signaghi can totally be visited as an independent day trip from Tbilisi, joining a guided tour will give you a chance to get introduced to Georgian wine – and why not, maybe even food!
3) An Ancient Monastery – Day Trip from Tbilisi to Davit Gareja
If you like history and scenic views, it's definitely worth going on a day trip from Tbilisi to Davit Gareja, as this old and unique monastery complex is one of Georgia's most important historic sites.
The monastery was founded by St. David, one of the 13 ascetic Christian monks, in the 6th century. Even though the height of this complex was from the 11th to the 13th centuries, some of it still functions to this very day.
Davit Gareja is located in the Kakheti Region near the border to Azerbaijan, and it is being disputed between the two countries. It takes about three hours to visit the complex by following a hiking trail that includes churches and chapels spread all around.
You'll see painted chapels, cave chapels cut into the mountainside, and stunning sceneries over the surrounding hills as you make your way through the hiking trail traversing the site. Definitely a Tbilisi day trip that should not be missed!
Getting to Davit Gareja from Tbilisi
This is probably the easiest day trip from Tbilisi to organise. Gareji Line runs daily shuttle buses between Tbilisi and Davit Gareja, with departures from Freedom Square at 11 am Tickets are 25 GEL per person for the return trip. Travel time is about 2 hours each way, you'll have about three hours to explore the site before heading back with a stop at a restaurant.
Best Davit Gareja Day Trips
4) Stalin's Birthplace – Day Trip from Tbilisi to Gori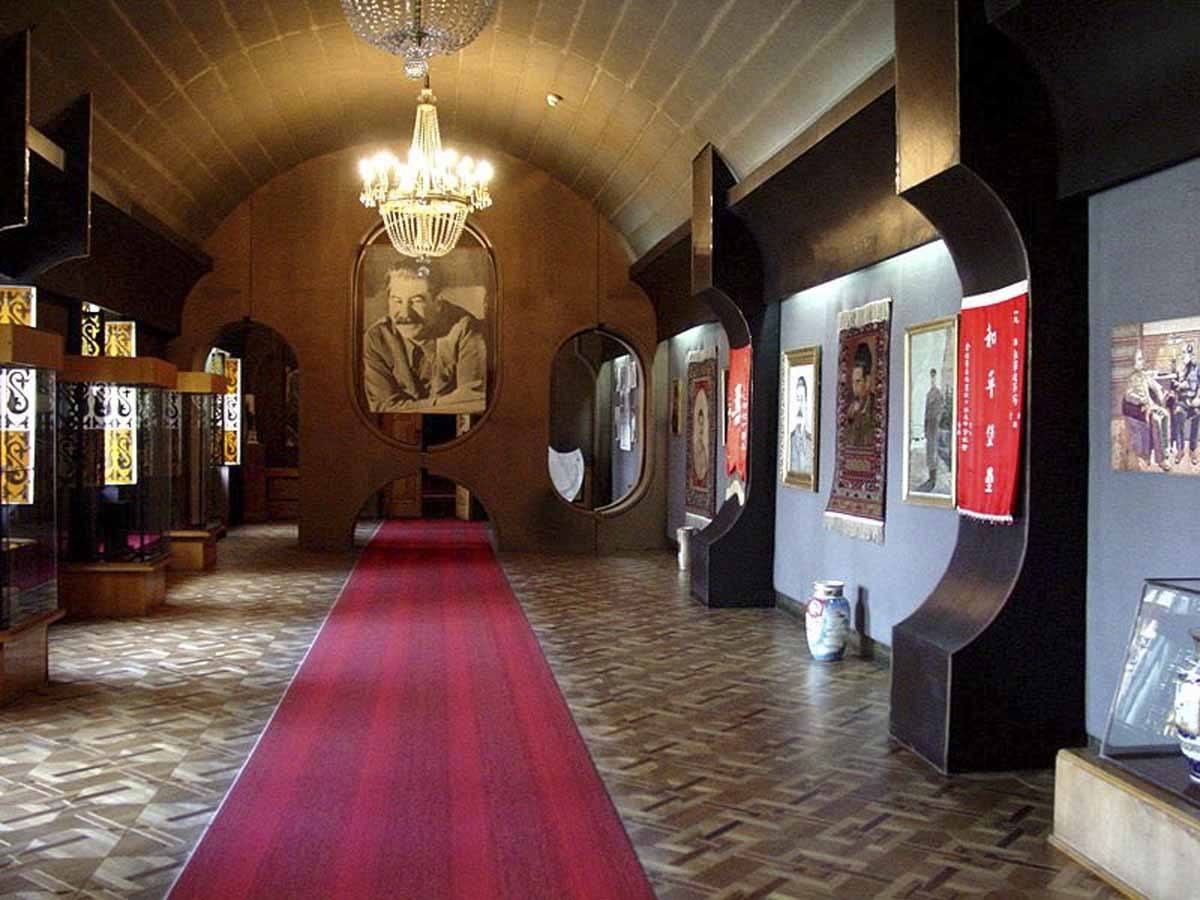 The city of Gori is best known for it being the birthplace of Joseph Stalin. This is enough to turn what is otherwise an unremarkable city into a tourist attraction for lovers of history and dark tourism, with sights related to the life of most famous ruler of the Soviet Union.
The main street of the city is named Stalin Prospect, stretching all across town. The main attraction is the Stalin Museum, with displays about Soviet history, the leader's life and ascent to power. Guided tours are offered, and highly recommended.
The museum is surrounded by gardens, where you can see some of the last remaining Stalin statues, and Stalin's childhood home. There used to be a larger Stalin statue in front of the museum, but it was removed in 2013.
Discovering Stalin-related history may be the main reason for a day trip to Gori from Tbilisi, but not the only one! There are also a lot of other historical buildings and churches, not to mention Gori Fortress, which is even older than the city itself.
Getting to Gori from Tbilisi
Getting to Gori for a day trip from Tbilisi is pretty straightforward. There are frequent marshrutka departures from Didube station (every 20-30 minutes, or whenever full), taking 1 hour and a half. A ticket costs 3 GEL per person.
It's fairly easy to combine Gori and Uplistsikhe – just read on to find out how!
5) Explore a Cave Town – Day Trip from Tbilisi to Uplistsikhe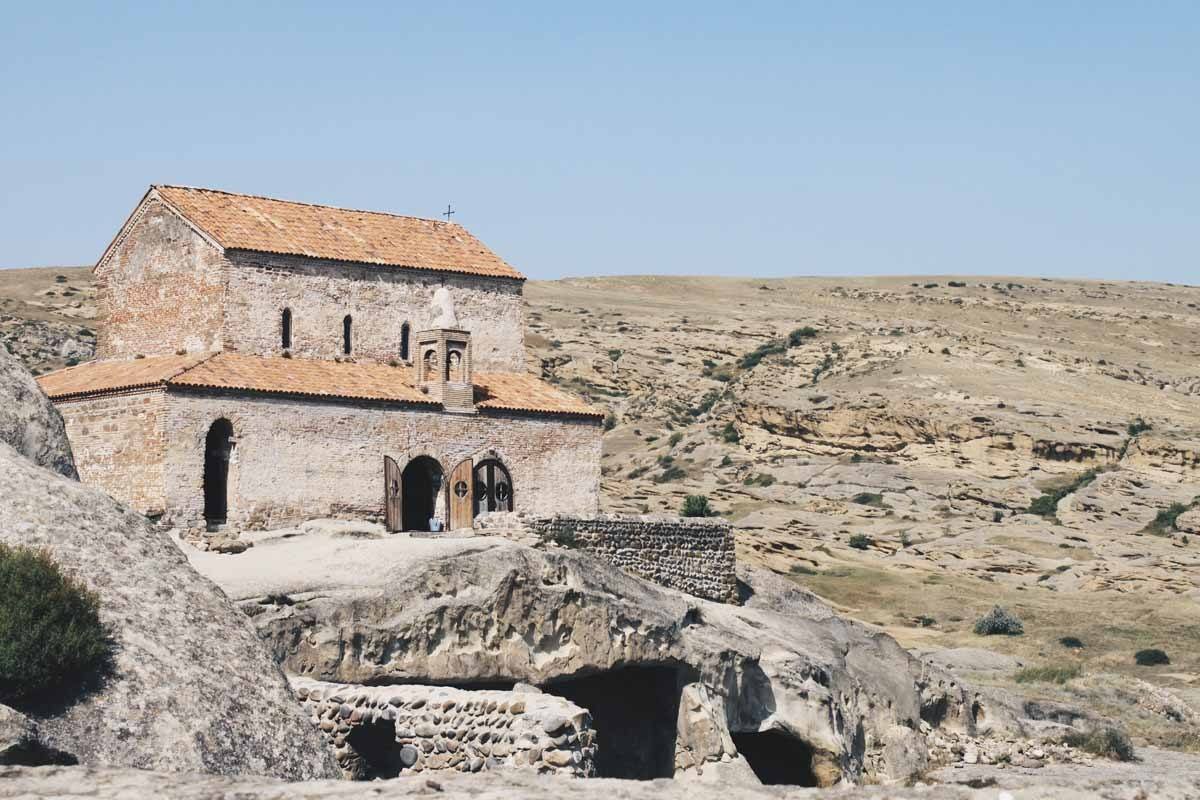 Uplistsikhe is one of Georgia's most important archeological sites, an old abandoned cave town from the Bronze Age, inhabited until the 13th century BC. This town is the precursor to what would afterwards become the Georgian state, and it was an important political and cultural hub.
The people of Uplistsikhe used to live in buildings cut into the rock – nowadays, you can visit towers, walls, temples, amphitheaters, and so much more. It's fun to spend some time wandering the maze of tunnels dug into the cave, imagining how real 'cavemen' used to live.
Getting to Uplistsikhe from Tbilisi and Gori
As I said before, it's easy to combine Uplistsikhe and Gori in a single day trip.
Uplistsikhe is only 25 minutes from Gori by taxi, and the going rate is about 10 GEL one-way. There are also buses between Uplistsikhe and Gori, running every half-hour from Gori bus station, dropping you off just across the river from Uplistsikhe, about 1 km from the site.
To return to Tbilisi, either take a taxi all the way from Uplistsikhe, or make your way back to Gori bus station and hop on a marshrutka.
Best Gori and Uplistsikhe Day Trips
6) For Castle Lovers – Day Trip to Ananuri
Do you love castles and architecture? Don't miss this day trip from Tbilisi! Ananuri is a fortress complex of unique significance, and one of the best representations of Georgian aesthetics and architecture. It's originally a castle from the 17th century, and it served as the home of the Aragvi feudal dynasty for a very long time.
The fort has seen quite a few additions throughout the years. Now, it's is made up of two castles connected by a curtain wall and three churches, one of which is decorated with stunning frescoes. The most notable thing is the style in how everything's built. Since Georgia has always been on a very important crossroads between continents, influences from Byzantium, Persia, and Greece can easily be seen on the castle's walls.
Getting to Ananuri from Tbilisi
Ananuri is located just off the Georgian Military Highway on the way to Kazbegi, so if you're hiring a taxi to travel to Kazbegi, you can ask your driver to stop at Ananuri Fortress.
Best Ananuri Day Trips
7) Visit Georgia's Third-Largest City – Day Trip to Kutaisi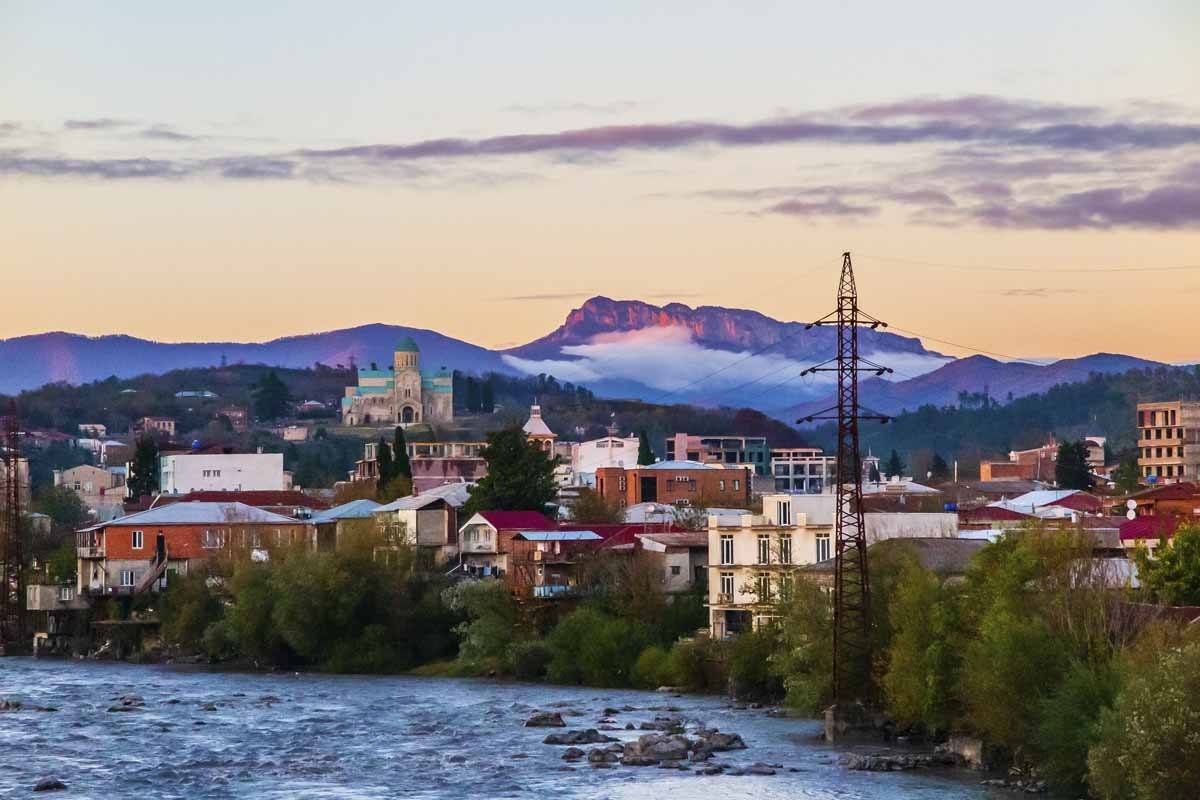 Kutaisi is Georgia's third largest city and one of its most important cultural hubs. It's a vibrant yet compact city, which has perfect old world charm to it. The entire city feels like it's from another era – and in a way, it is, since it's one of the oldest settlements in Europe, capital of the ancient kingdom of Colchis.
From the charming cafes, to old Soviet cable cars, spa resorts, and impeccable natural beauty, Kutaisi is a city that shouldn't be missed, whether as a day trip from Tbilisi or for a longer stay.
Three not-to-be-missed sights, often included in Kutaisi day trips, are Prometheus Cave, with a walking track and underground river, the stunningly-decorated Bagrati Cathedral and UNESCO-listed Gelati Monastery.
Getting to Kutaisi from Tbilisi
The two cities are about three hours from one another, and there are plenty of transport options, but it may be tiring to visit Kutaisi on a day trip from Tbilisi – try to stay longer if possible.
Trains take between 3 and 6 hours to travel from Tbilisi to Kutaisi, and marshrutka depart hourly from Didube station in Tbilisi bound for Kutaisi. Travel time is 3.5 hours and tickets are 10 GEL.
Best Kutaisi Day Trips
Do just need a bus from Tbilisi to Kutaisi (or vice-versa)? Click here to book directly!
8) Ride on Soviet Cable Cars – Day Trip to Chiatura
Chiatura is a relatively new city, that was originally founded in the late 19th century. It first served as a mining colony because the nearby mountains are incredibly rich with important manganese ore.
At first, the city wasn't all that remarkable, but in the 1950s, the government built cable cars to deal with the city's verticality and to transport miners quicker to the mines.
Riding in these cable cars is one of the most exhilarating things to do in Georgia. A trip might normally last you 30 to 40 minutes somewhere in the city, but with the cable cars, it could easily last shorter than 5 minutes. On top of that, there is a distinct small town feel to Chiatura that makes it an all-around pleasant destination to visit.
Getting to Chiatura from Tbilisi
Tbilisi and Chiatura are about four hours apart, and as far as I know there is no direct marshrutka link between the two cities. There is one daily marshrutka between Kutaisi and Chiatura, departing daily at 10 am, but we highly recommend taking a tour to explore this fascinating city and ride the rusty cable cars.
Best Chiatura Day Trips
9) Visit Georgia's First Capital – Day Trip from Tbilisi to Mtskheta
Visiting UNESCO-listed Mtskheta, the historic capital of Georgia, is definitely the easiest day trip from Tbilisi – the two towns are only 25 km apart. Mtskheta is known as Georgia's 'first capital' as it was the capital of the Kingdom of Iberia, ruling over what is now Georgia from the 3rd century BC to the 5th century AD.
On a day trip, you can easily check out Jvari Monastery, a 6th century clifftop monastery about 5 km from the city, with wonderful views over Mtshketa below and the river confluence along which the city developed. Then, you can spend a few hours touring the town centre and visit Svetitskhoveli Cathedral, one of Georgia's most beloved churches, with interior frescoes and carvings.
Mtskheta is a pleasant (albeit touristy) place to wander for a few hours, perhaps picking up some churchkhela to fuel your exploration, the ubiquitous snacks you'll find all over Georgia, made with nuts and grape juice looking like melted candles hanging from strings.
Getting to Mtskheta from Tbilisi
Heading to Mtskheta from Tbilisi is super easy! Just head to Didube station and ask for a marshrutka bound to Mtskheta – they leave every 15 minutes and tickets are 1 GEL per person. The same marshrutka then continues to Gori, so you can combine both in a day if you wish.
Best Mtskheta Day Trips
10) Head into Another Country – Day Trip from Tbilisi to Armenia
By the way, did you know that Tbilisi is less than 100 km from the Armenian border? If you want to tick another country off your list, you can head into Armenia for the day.
Navigating border checks may be hard, so we recommend joining an organised day trip from Tbilisi to visit Northern Armenia, usually including sights like Sanahin and Haghpat monasteries, plus Lake Sevan, the largest lake in Armenia, mountain landscapes and abandoned Soviet towns.
Here are the best day trips from Tbilisi to Armenia!