Finding out where to stay in Cairo can be a daunting task – that's why we've put this post together for you. The best and safest areas in Cairo, and all the best hotels in each of them!
Planning to visit to the Egyptian capital? Well, besides trying to decide which of the top things to do in Cairo you should start with, I'm sure you'll be wondering where to stay.
Cairo is a huge city – the second-biggest in Africa by population in fact, home to a whopping 10 million people (officially, probably double that unofficially). So, let's have a look at where to stay in Cairo – here are all the nicest and safest neighbourhoods, from Downtown Cairo to Giza and beyond, and all the best hotels in Cairo!
Best & Safest Places to Stay in Cairo
The choice of where to stay in Cairo will depend on the purpose of your visit. Are you a tourist visiting for the first time? Opt for Downtown, for convenience to many major sights.
Are you in Cairo for business? Heliopolis and New Cairo are probably a better option for you.
Luxury lovers should take note of the flashy hotels in Zamalek and Garden City, two of the most pleasant Cairo neighbourhoods.
On the other hand, if you want to learn Arabic and meet locals, your best bet will be a residential area like Dokki – a little further from the centre, but much more affordable and quieter, and with no tourists in sight.
Click on the link to jump to the relevant paragraph!
Downtown
Best for Sightseeing
If it's your first time visiting Cairo, opt to stay Downtown, the area comprehending the inner city to the east of the Nile. There you'll find many of Cairo's top sights, like the Egyptian Museum overlooking Tahrir Square, and other places like Islamic Cairo, the Khan el Khalili bazaar, Coptic Cairo and the Citadel are all a short drive away.
Downtown Cairo is also really beautiful, in a 'decadent' way – it was built over 100 years ago by the French, and it retains a bygone European atmosphere.
It's also full of budget-friendly places to eat, like the amazing koshary joint Abou Tarek, and probably the most 'tourist-friendly' neighbourhood in town – women travelling alone here will attract far less attention than in other less central parts of Cairo.
Best Downtown Cairo Hotels
The iconic Nile Ritz Carlton is situated right in the heart of Cairo, walking distance to the Egyptian Museum. Rooms are very elegant, but also functional – they all have fast Wi-Fi connection, a desk, television and coffee machine.
The Ritz Carlton is famous for its nightlife, which attracts a mixture of wealthy tourists and locals. The hotel has 9 different restaurants and bars (you can choose between Egyptian, Italian cuisine, and more!) a casino and various kinds of entertainment for its guests.
The hotel also offers 24/7 fitness centre, a spa and an outdoor swimming pool. The staff is extremely courteous, and can help you with anything.
Intercontinental Cairo Semiramis
The Intercontinental Cairo Semiramis is a luxury 5-star hotel in Downtown Cairo opposite the Nile River. It's a five-minute walk from the Egyptian Museum, and it's also well connected to public transportation through the Sadat subway station.
All rooms have Wi-Fi, large balconies, flat-screen television, as well as soft and hot drinks for the guests.
There are about 12 on site restaurants that offer various options (Italian, Thai, Lebanese and more), a nightclub with traditional belly dancing shows, a heated outdoor swimming pool, a gym, spa and wellness centre, and a casino. Truly one of the best hotels in Downtown Cairo!
The Fairmont Cairo Nile City is for perfect if you want very elegant and luxurious experience. The best thing about this upscale hotel is the rooftop pool, with an amazing view over most of Cairo and the Pyramids.
The rooms are equipped with everything you need (TV, Wi-Fi, air conditioned, minibar etc) and most of them offer breathtaking views of the Nile. You can choose from 6 different restaurants (serving Italian, Middle Eastern, International and Asian cuisines) and a bar.
Le Riad Hotel de Charme is a small yet luxurious boutique hotel located in the heart of Old Cairo. The hotel itself reflects the style and history of the Ottoman houses found in this part of the city.
The look of the hotel may be historical, but you'll find all mod-cons – all rooms and suites have wi-fi, warm colours, antique wooden furniture and paintings from local talented artists. The suites are large and comfortable, with spacious marble bathrooms.
The hotel has a 24-hour front desk, a rooftop restaurant, with panoramic views Old Cairo, and a relaxed tea lounge for breakfast and happy hour.
Zamalek
Best for Nile Views and a Luxury Stay
Zamalek (also known as Gezira) is an island in the Nile River, right opposite Downtown Cairo. It's way more chilled than the busy, traffic-congested city centre – this is a place where you can relax with a drink and stroll around leafy avenues, go on a boat ride along the Nile, or enjoy lunch in an upscale café.
Zamalek is also well-connected, being only a few minutes drive from Downtown Cairo and its attractions. It's a definitely the best place in Cairo if you're looking for flashy restaurants and nightclubs. It's also home to many Cairo embassies.
Other attractions in the area include the Opera House, Cairo Tower, and many of Cairo's best luxury hotels.
Best Cairo Hotels in Zamalek
The Sofitel El Gezirah is a luxury 5-star hotel situated on the River Nile. This hotel is known for its private promenade on the Nile so as a guest you can enjoy strolls and amazing views of the river, the sunset here is spectacular.
All guest rooms have air conditioning, satellite TV, free Wi-Fi and a minibar. The hotel has 7 restaurants, (Moroccan, Egyptian, Italian and Asian cuisines) and 2 beautiful bars, a spa with swimming pool, fitness centre and you can also get a massage as well.
The staff is very friendly and can help you organise tours and excursions anywhere in Egypt, from the Pyramids to Aswan!
Garden City
Best Alternative to Downtown
For convenience, Downtown Cairo is hard to beat. However, we already highlighted its downsides – traffic above all. If you don't want to give up on that convenience but don't fancy the traffic, we have the perfect solution for you!
Garden City is a small neighbourhood located right to the south of Downtown. It was built in the early 20th century to provide homes for the Cairene elite – over the decades it started to crumble around the edges, and some once-grandiose palazzos were replaced by modern apartment blocks.
Garden City is also home to some of Cairo's best luxury hotels – and if you ask me, it's a much nicer place to stay than Zamalek!
Best Cairo Hotels in Garden City
Four Seasons Hotel Cairo at Nile Plaza
Looking for the best luxury hotel in Cairo? Look no further! This 5-star hotel in Garden City is pure luxury and comfort. It has everything you could ask for and even more, including top-class service and wonderful views of the Nile from its rooms.
All rooms are spacious, bright and equipped with the best mod-cons. Some suites have a small living room with sofas, while others have a private spacious terrace ideal for meals.
The hotel is also equipped with spa facilities, gym, salon, and an indoor pool. There's an outdoor landscaped pool as well.
One more thing is worth mentioning – the delicious breakfast buffet, served every morning. This is the best hotel in Cairo when it comes to breakfast!
There are about 76 5-star Kempinski Hotels spread around various countries in the world, all known for the great experience and comfort they offer, and the Kempinski Nile Hotel is definitely not far behind.
Situated in the Garden City district, the hotel is well connected, 5 minutes' walk from downtown Cairo and the Egyptian Museum.
Each of the rooms at the Kempinski have Wi-Fi, high definition TVs with satellite channels and soft drinks. In most of its rooms you can view the panorama of the banks of the Nile.
The hotel also has 2 pools (1 outdoor, 1 indoor), 2 Restaurants (Turkish and Italian cuisine) and great staff that is always ready to make your stay even more enjoyable
Maadi
Best for Expats
If you want to escape the chaos of Downtown Cairo, but your budget can't stretch far enough for a fancy stay in Zamalek, try Maadi. This area to the southeast of Old Cairo has a similar affluent feel, with lots of trees, less traffic, the stunning Al-Azhar Park, and upscale restaurants.
It's a bit further from Downtown, and it's more of a residential neighbourhood compared to Zamalek, which is all about hotels and embassies.
Best Cairo Hotels in Maadi
Villa Belle Époque is found in Maadi, a Nile-side suburb whose name means 'ferry-boats'. Maadi is a relaxed, sophisticated and sought-after area of the capital, home to over a dozen embassies, and of the capital's expat community.
Villa Belle Époque was built in the 1920s and has been recently refurbished. Occupying a 1300 m2 plot, the hotel, its swimming pool, and patios are surrounded by lemon, mango, olive and guava trees, and palms.
Each room or suite offers fast Wi-Fi, flat-screen TV, and a minibar. The staff is very attentive yet discreet. The Villa also boasts a fitness centre, a restaurant and a swimming pool that is immersed in a very pretty garden.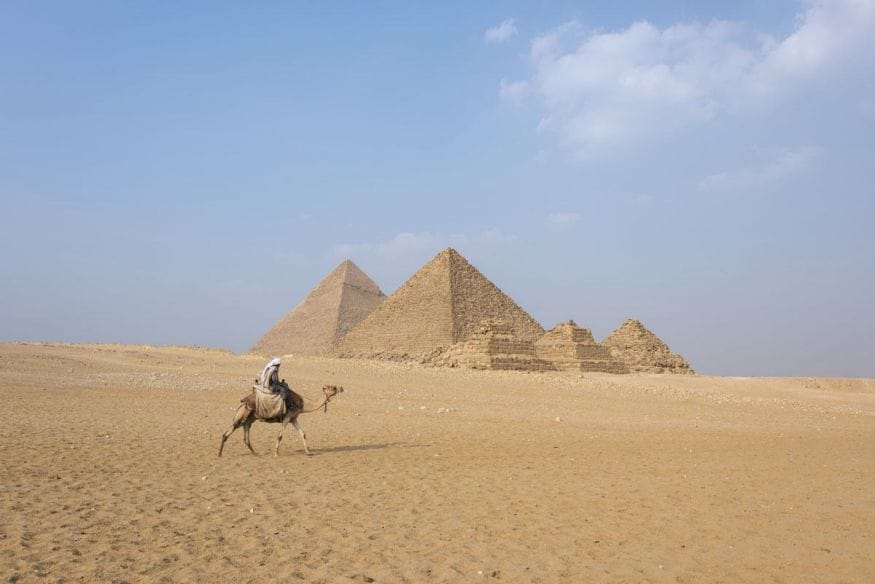 Giza
Best for the Pyramids
Giza is home to the Pyramids, and not much else. If you want to visit the Pyramids and not bother with Cairo, by all means choose to stay there – but you'll be missing Cairo with all its amazing sights and contradictions.
Having said that, there are some amazing hotels where you can get rooms with Pyramid views. Yes, you heard that right – you can see the only remaining Wonders of the Ancient World right from your room!
Best Cairo Hotels in Giza
Le Méridien Pyramids Hotel is a great choice for travellers visiting Giza, being less than a kilometer from the Pyramids. Some rooms have views over the Pyramids, and all rooms are equipped with flat-screen TVs, air conditioning refrigerators with drinks, Wi-Fi.
Guests also have access to the outdoor swimming pool and the spa, with spectacular Pyramid views. Every morning a large continental breakfast buffet is available. The Hotel is close to the Giza night life so you can try the best pubs, and restaurants – if you are looking for a hotel near the Pyramids, this is the best!
Dokki
Best to Meet Locals
If you're in Cairo for an extended stay, to study Arabic or simply get close to locals, Dokki is a great choice. The neighbourhood is west of Zamalek, so reaching the city centre will take a little longer – however, if you are looking at Dokki as a place to stay in Cairo, you've probably seen all the touristy stuff anyway!
The upside is that you won't have people hassling you for business or greeting you in English anywhere you go. It's a quiet, residential neighbourhood, on the upscale side but still quite affordable, especially for a longer stay.
Best Cairo Hotels in Dokki
Safir Hotel is only 10 minutes walk from the Nile riverbank, and a short walk from the Dokki metro station. The hotel offers large, airy rooms, with free Wi-Fi, refrigerators, satellite TV and sometimes a small living area.
There's also a pool in the inner courtyard, a spa with a range of treatments on offer, and a gym with state of the art equipment. In terms of value for money, this is one of the best hotels in Cairo!
Pyramisa is a modern hotel in the heart of Dokki, just steps away from the Nile. The rooms are very stylish, with marble bathrooms and decoration in neutral colours, and all have large windows with either Nile or city views.
The hotel offers a wide range of amenities – four restaurants, serving Egyptian, Indian, Chinese and Italian food, two pools on a terrace, a gym and spa complete with traditional hammam.
Heliopolis
Best for the Airport
Heliopolis was once a separate town, but it became part of Cairo as the city grew. You can still find evidence of Heliopolis 'past life' as its own place, like the beautiful Heliopolis Palace.
Nowadays, Heliopolis is one of the favourite neighbourhoods of Cairo's rich and famous, and it offers some great accommodation choices, plus good restaurants and bars.
It's one of the best places to stay in Cairo for the airport, being only about 10 km away – off peak, that can take as little as 10/15 minutes, and all Heliopolis hotels will be happy to arrange a transfer for you.
Best Cairo Hotels in Heliopolis
This Boutique Hotel is very fancy and gives you a very classic, yet informal feeling. Rooms are very comfortable and have, as its name suggest, a clear classical 1920s touch.
The Hotel has 4 restaurants (Chinese, Italian, American and Asian fusion) a bar, a garden and a spa & wellness centre, with a sauna. A 24-hour front desk and room service are also available, along with free Wi-Fi throughout the property.
Every morning a continental breakfast buffet is served for all guests. The Hotel offers paid bus service to Cairo International airport.
The 5-star Gabriel Hotel has a very elegant and charming atmosphere, with a luxury feel and top service. Every detail of this hotel, from its Baroque-inspired design to modern functionality, is meticulously curated.
The Hotel is also famous for its gourmet French restaurant Salt – make sure you dine there at least once!
New Cairo
Best for Business Travellers
As Cairo grew and grew, New Cairo was built about 30 km away from Downtown, to accommodate the wealthy segment of the ever-increasing population.
New Cairo is a place of weekend brunches, flashy malls, international schools and gated housing – not so interesting for tourists, but perfect for business travellers.
Best Hotels in New Cairo
The 5-star Westin Cairo Golf Resort is located on a 27-hole Golf course, in the residential community of Katameya Dunes. The resorts have up to 135 rooms and 19 suites that overlook the gardens, pool or golf course.
All the rooms are spacious and airy, and have air conditioning, Wi-Fi, a safe, and satellite flat-screen TV. The pool area is spacious and never crowded, and the breakfast is outstandingly delicious.
The resort has 2 amazing restaurants (Mediterranean cuisine and grill/bbq), a bar, a fitness centre and everything you need to enjoy your stay between one business meeting and another.
Best Time to Visit Cairo
Good news! Cairo is a great place to visit year round, since it's always hot, dry and sunny. It gets very, very hot in summer (May/September, with daytime temperatures often around 35/40°C (or higher), so it's best to visit between October and April, when temperatures are more bearable at around 25°C during the day, dropping to 15°C at night.
Peak season in Cairo is December/February, coinciding with Christmas and winter holidays in Europe and North America. To take advantage of ideal weather conditions but avoid the crowds (read: good deals on accommodation!) opt to visit in shoulder season – October/November and March/April are great times to visit Cairo!