Planning a South Africa road trip? Then, I'm sure Cape Town is on your list! The city is surrounded by incredible nature, and countless hiking trails. Yes, I'm sure you all know Table Mountain, but there's so much more to explore!
This guest post by Kyle Browning from Softback Travel is about the best hikes in Cape Town – Kyle is a Cape Town local and hiking enthusiast, and personally I can't wait to visit again after reading this!
For more info, have a look at our post about day trips from Cape Town!
Cape Town is famous for its golden beaches, illustrious wine, and adventure-filled hiking trails, which are rated as some of the best in the world. In fact, you will find over 80 hiking trails scattered throughout the Cape!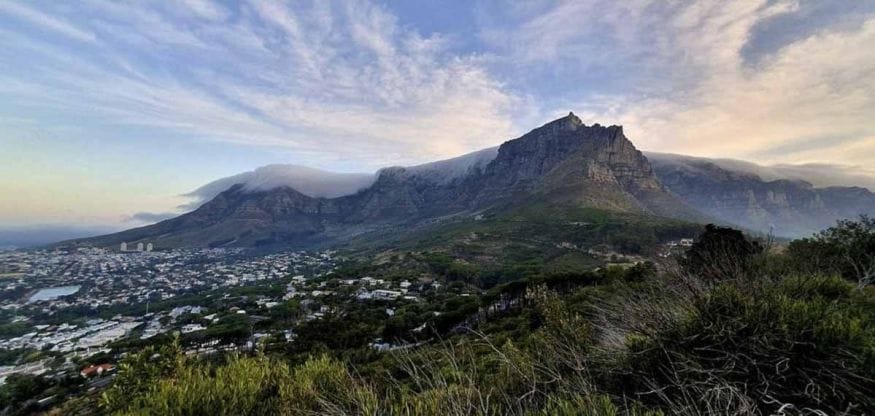 According to Cape Town Tourism, the majority of travellers spend between 4 – 7 nights in the Mother City. Nowhere near enough time to experience even a third of Table Mountain National Park, not to mention how busy you'll be with all the other things to do in Cape Town.
That's why I aim to make it easier for you. I'm going to list the 10 best hiking trails in Cape Town, from a local's perspective.
Please note: Those venturing into the Table Mountain National Park should have the following emergency numbers on hand: 086 110 6417/ 107 or 021 480 7700.
10 Best Hikes in Cape Town
1. Lion's Head Hike
Lion's Head is a super popular Cape Town hiking trail, especially in the summer months (October – March). The best thing about hiking Lion's Head is the 360° view. From the top you can see Camps Bay, Cape Town city, Bloubergstrand, and on a clear day even Robben Island.
The majority of the route can be easily trekked on foot. Nearing the summit there is a little bit of rock scrambling. The only part of the trail that could be considered somewhat intimidating is the metal ladders and climbing chains required to ascend a few of the rock faces.
No worries if this sounds scary to you, the summit can still be reached via a roundabout footpath.
Also very popular are the full moon hikes. Make sure to bring a head torch and be careful not to shine blinding light into your fellow hikers eyes (also be prepared for long queues, the mountain is very crowded on full moon).
Many people don't actually know this, but in 1887 gold was discovered on Lion's Head. Not long after, a mining shaft was sunk to a depth of 30m. Thankfully (for future hikers), the gold was of low grade, the shaft was consequently filled and the entire operation brought to a halt the following year.
Total Hiking Time: 1h 45m
Elevation Gain: 329 m
Trail Distance: 4.2 km
Terrain: Single rocky track, jeep track, stone steps, ladders (optional)
Difficulty:

Moderate
Lion's Head full moons in 2020
| | |
| --- | --- |
| 8 April | 2 September |
| 7 May | 1 October |
| 5 June | 31 October |
| 5 July | 30 November |
| 3 August | 30 December |
2. Platteklip Gorge Hike
You see the crack in the middle of Table Mountain? That's Platteklip Gorge!
Platteklip Gorge meaning "flat rock gorge" is no doubt the most popular route up Table Mountain and although it's the fastest route, it's definitely not the easiest.
The route is well-known for its large flat sandstone rocks scattered throughout the route. To make life that much merrier, you'll be greeted by the unique scent of fynbos and a bunch of other fauna and flora. It's important to remember than Table Mountain alone has more species of plants than the whole of the British Isles.
When hiking this route, you'll have a good view over the city, Table Bay and Devil's Peak. On clear days you can actually see out for miles upon miles!
The majority of travellers hike up Platteklip Gorge and then take the cable car down.
I must mention that on one occasion whilst hiking this route, I saw a blind man being assisted up the mountain. If you have any doubts, I'd wholly recommend at least giving this route a shot.
Total Hiking Time: 2 – 3h
Elevation Gain: 694 m
Trail Distance: 2.6 km
Terrain: Single rocky track, stone steps, some steep sections

Difficulty:

Moderate
3. Kasteel Spoort Hike
In my opinion, Kasteel Spoort is one of the best hikes in Cape Town. The views are just unbelievable. In fact, the Softback Travel team often hikes this route together. Another major plus in my book is that it's not as touristy as some of the other routes you'll find in Cape Town.
There are two options for a starting point: either you start with the Pipe Track (which adds an extra hour to your hike) or you park in Theresa Road and walk up the Jeep track to the Pipe Track (I personally prefer this option).
For the latter, you must make a left once you're on the Pipe Track to get to the Kasteel Spoort turn-off. You will see a dilapidated sign indicating the trail.
As I mentioned before, the views are magnificent. Stop for plenty of water breaks to take it all in. Along the route you'll be able to spot the Twelve Apostles, Lions Head, the Atlantic ocean, and on the clearest of days Robben Island.
On extremely hot days I'd recommend hiking this route in the morning. The mountain will shield you from the sun. Once at the summit, you'll spot the "diving board" section of the mountain. Many people pose for photos here, just be careful on windy days, the wind can get super strong up there.
Total Hiking Time: 2 – 3h
Elevation Gain: 600+ m
Trail Distance: 4 – 6 km
Terrain: Steep sections, single rocky track, stone steps.
Difficulty:

Moderate

–

Hard
4. Skeleton Gorge Hike
If you love forests, then Skeleton Gorge is by far one of the best hikes in Cape Town!
The reason this trail is encapsulated by forest is that the eastern slopes of Table Mountain receive the most rainfall throughout the Cape Peninsula.
The extra rainfall creates a diverse, jungle-like landscape. Envision running water, streams, boulders, shaded forest, and fresh green smells.
The hike starts in the Kirstenbosch National Botanical Gardens. To enter you'll need to pay an entrance fee of R40/ $2.50.
The hike is fairly tough, but once you reach the summit you'll be rewarded with magnificent views of the rooibos-tea shaded Hely-Hutchinson reservoir (please note: swimming here is not allowed and a fine of R500/$30 will be issued if you are caught).
Fun fact: The reddish color of the dam is due to tannins from the fynbos that leak into the water.
Total Hiking Time: 2 – 4h
Elevation Gain: 616 m
Trail Distance: 4.7 km
Terrain: Single rocky track, stone steps, steep sections, ladders, minor scrambles.
Difficulty:

Moderate

–

Hard
5. The Pipe Track Hike
The pipe track is perfect for joggers looking to get out of the bustling city center. The route has some hills here and there but in general is a level walking path.
The trail takes you along the Atlantic Coast and overlooks Camps Bay, Lion's Head and the Atlantic Ocean.
The majority of the trail is jam packed with Table Mountain's unique fynbos and South Africa's national plant, the protea.
I recommend hiking the Pipe Track route if you aren't keen on a strenuous hike but rather a gentle stroll. It's also the perfect trail if you'd like to scout various other hiking routes up Table Mountain.
Total Hiking Time: 1.5 – 3 h
Elevation Gain: 300 m
Trail Distance: 9.8 km
Terrain: Single rocky track and few stone stairs.
Difficulty:

Easy
6. Woodstock Caves Hike
One of the more easy going hikes in Cape Town. As the name suggests, this hike takes you up to a large cave with an epic view over the city. The perfect family-friendly hike!
If it's winter, you have a good chance of seeing a small waterfall while you're up there!
There are two start point options. The shorter route starts via Tafelberg Road, which involves driving past the famous Cableway station.
The second longer route starts by Rhodes Memorial. You'll have to hike to the King's Blockhouse. Once you are past the Blockhouse and the road forks, you'll take the left fork. At the next fork, take a right towards the Cableway.
Total Hiking Time: 1 – 1.5 hours one way starting from Tafelberg Road, 2 – 3 hours one way starting from Rhodes Memorial.
Terrain: Single rocky track.
Difficulty:

Easy

–

Moderate
7. India Venster Hike
I will start off by saying that if you are very much afraid of heights then perhaps this hiking trail is not for you.
The majority of the route is fairly steep and starts like this from the beginning of the hike. There is only one section that requires you to use the ladders and staples to ascend the rock face.
Overall, the scrambling is exciting and relatively easy, but can be challenging to hikers with a fear of heights. This hiking trail also runs right underneath the cable car, which can add quite a bit of perspective to your hike.
It's important to note that you can still enjoy a lot of this route without having to participate in the scrambling. Once you reach the section with the ladders and staples, you can check it out and decide then and there if you feel comfortable with continuing.
Total Hiking Time: 2.5 – 3 h
Elevation Gain: 670 m
Trail Distance: 3 km
Terrain: Single rocky track, stone steps, steep sections, staples, some scrambling.
Difficulty:

Difficult
8. Lighthouse Keeper's Hike
In my experience most travelers overlook this hiking trail, as they are more focused on reaching the iconic old lighthouse atop Cape Point.
I really recommend that you escape the crowds and check out the trail that runs below the well-known landmark.
You'll find the starting point of this trail just behind the upper funicular station. A narrow but well-built path will lead you along a sheer cliff face towards the lesser known, more modern lighthouse.
I love this hiking trail because it offers a unique perspective of the old Cape Point lighthouse, which you can see towering above you. Along the path you'll also pass countless bunkers and the indigenous fynbos unique to the Cape.
Total Hiking Time: 2 – 3 h
Elevation Gain: 187 m
Trail Distance: 3 km
Terrain: Single rocky track, Jeep track, stone steps.
Difficulty:

Easy
9. Devil's Peak Hike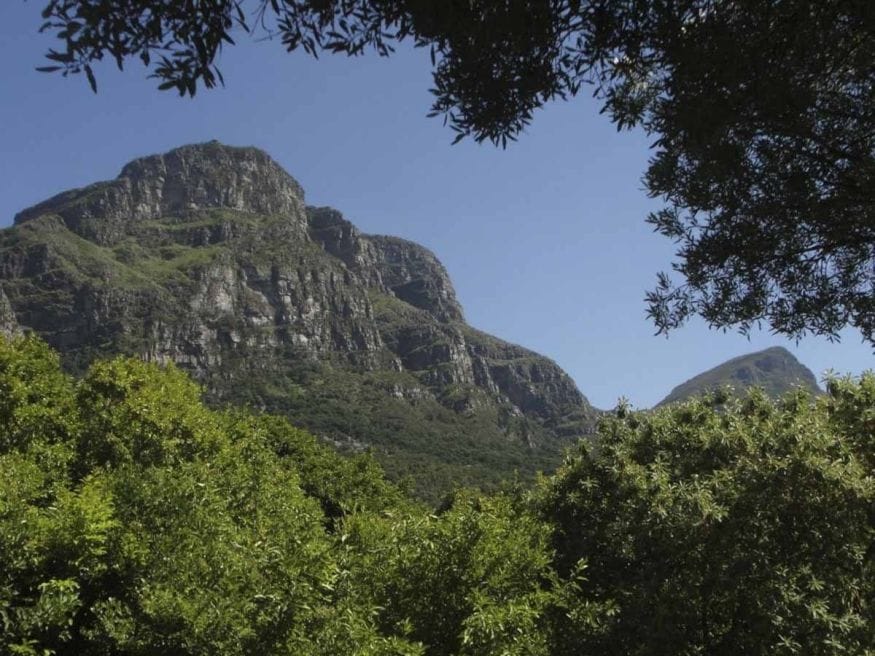 Devil's Peak is not climbed nearly as much compared to the more famous Table Mountain. Nevertheless, I highly recommend hiking up Devil's Peak!
Devil's Peak can be hiked via three different routes. You can start either from: Tafelberg Road, Newlands Forest, or Mowbray Ridge.
Although all three routes have different starting points, they are all forced to converge at the saddle that connects Devil's Peak with Table Mountain.
Devil's Peak is one of my favorite hikes starting along Tafelberg Road. This is the route I recommend you take. The panoramic view of the city is spectacular, and you get to see Table Mountain from a different angle.
Total Hiking Time: Tafelberg Road – 4 h | Mowbray Ridge – 2 – 4 h | Newlands Ravine – 4 h
Trail Distance: Depends on the trail you pick
Terrain: Single rocky track, stone steps, fairly steep (Depends on the trail you pick)
Difficulty:

Moderate

–

Difficult
10. Hiddingh-Ascension Hike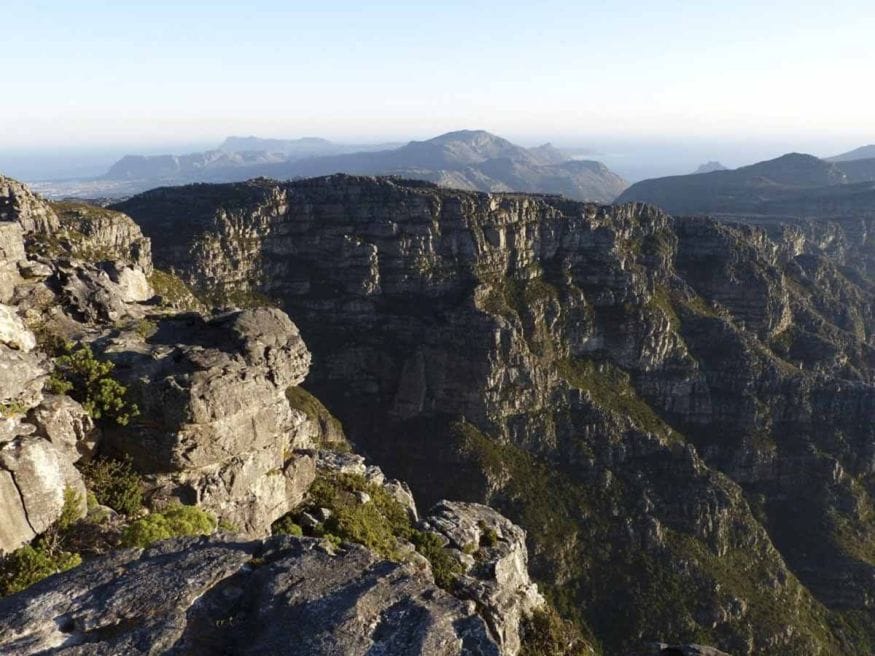 Hiddingh-Ascension is for the true adventurers and ranks as one of the most challenging routes up Table Mountain.
Like Skeleton Gorge, the route is set on the eastern slopes making for a lush jungle type hike along the lower sections.
The route does involve a fair bit of scrambling, exposure to heights and rough terrain. Therefore, a good level of fitness and a head for heights will ensure an epic adventure along this hiking route.
The middle third section of the route offers a variation known as Ferny Dell. The variation is quite a bit more challenging than the standard route, as the scrambling and exposure to heights are more severe.
I do not recommend attempting this variation without a guide as route-finding is complex and the scrambling can prove quite tricky.
Total Hiking Time: 5 – 6 h
Elevation Gain: 990 m
Terrain: Single rocky track, steep escalation, scrambling, height exposure
Difficulty:

Difficult