Oh Japan! One of our favourite travel destinations EVER! This guest post is brought to you by Martina from The Global Curious – if you're planning to spend 2 weeks in Japan but want to escape tourist traps, this alternative Japan itinerary should be just what you need!
Regardless of your travel expertise, deciding how to spend 2 weeks in Japan is tough! There's just SO much to do and discover. Of course, you could easily follow the classic itinerary. But mind you, when trying to figure out your own version of a perfect Japan trip, you'll likely end up suffering from Backpacker's Indecision.
One of the most common ways for touring Japan is to buy the JR Pass – Japan Rail Pass – and hop on a bullet train every morning to go on a day trip. Believe it or not, there are other ways to come face to face with the land of the rising sun.
In this article, you'll find a bit of an alternative 2 weeks itinerary to Japan. No JR Pass and Shinkansen bullet trains, just your classic public buses and local trains. You'll still visit some of Japan's main highlights but will also find off-the-beaten-path destinations – plus a dose of hiking and nature!
If you're planning to visit Fukuoka as well, make sure you bookmark our post about the best day trips from Fukuoka!
How to Get to Japan
With Japan's 2 main international airports located around Tokyo, this is where most visitors begin their trip. Narita Airport receives about 50% of the international flights. Haneda Airport also operates overseas flights from the US and neighbouring countries, and it's the main domestic airport in Japan.
It's also possible to reach Japan by ferry from South Korea, China, and Russia. There used to be a ferry connecting Taiwan and Japan, but it's not operating anymore.
How to Travel Around Japan
Japan Rail Pass
The JR Pass is an extensive travel pass covering both Shinkansen -bullet trains-, local trains, buses, and ferries all over Japan. It is, for most types of itineraries, the best way to get around, especially if you are planning to go on day trips, or cover long distances.
The JR Pass is valid for 7 days – 269 USD -, 14 days -428 USD – and 21 days -549 USD. The main drawback is that you must purchase your pass before your trip starts. It's not possible to pick up the pass once you are in Japan as it is sent to your address overseas, so it's essential to plan ahead!
You can also get it from an authorised re-seller outside Japan. The point is, you need to have the pass before arriving in the country.
Another thing to consider before purchasing the JR Pass is that it's valid only for consecutive days instead of travel days. This means that once you activate the pass, you can use it as much as you can for 7, 14, or 21 days in a row.
You won't need the JR Pass for this 2 weeks itinerary to Japan as some trips are not fully covered. Some visitors find it hard to get around without the pass, so simply avoid trips not included in it.
In a way, by going to spots 'beyond' the JR, you'll be beating the crowds a bit!
If you still wanted to get the JR Pass but just realised you are not able to get it on time, then let this article come to your travel-planning rescue!
Japan's Transport Network
A great tip for getting around Japan is simply to search for directions on Google Maps. All the travel network is loaded there: costs, options, frequency. You can absolutely trust the information.
What's more, public transport workers are extremely efficient. If you get lost, just ask them, they will even run next to you to get you into the right train -true story.
Apart from Shinkansen trains -bullet trains- there are also local trains, buses, and ferries. It's possible to rent a car, but the cost of road tolls on the main highways can be extremely expensive.
Best Time to Visit Japan
Long story short: Japan is astounding year-round!
You can go on a skiing adventure over winter, relish on the cherry blossoms during spring, or count autumn's intense shades of red.
The one season that's a bit neglected by travellers is summer! Fair enough. It gets boiling hot. Still, summer is a fantastic time of the year to visit. Especially over July as you get to enjoy the country's unique summer festivals.
Currency and Types of Payment
Japan's currency is the Japanese Yen. 1000 ¥ equal, roughly, 10 USD.
When it comes to paying with an international credit card, you'd be surprised to know that foreign cards are not so widely accepted. They are quite cash-based, so it's better to either exchange currency or withdraw cash from an ATM to get around easily.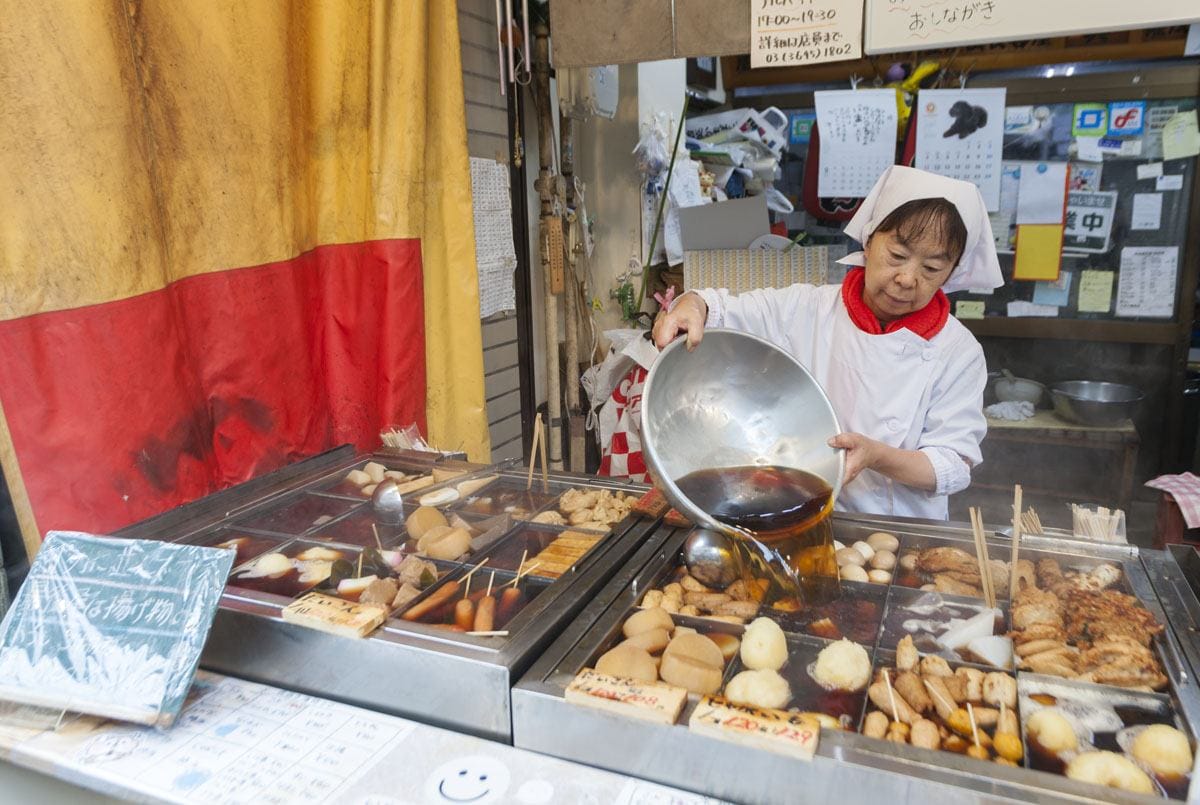 What Makes This Japan 2 Weeks Itinerary Special?
As mentioned before, this itinerary doesn't use the Japan Rail Pass.
Also, Hiroshima is not included in this trip. Many people visiting Japan use the JR Pass to visit Hiroshima for a few hours. This itinerary will, instead, focus on a balance between main sights, nature, and sacred places.
Japanese culture is extremely rich, and a visit to the southern regions -where Hiroshima is- deserves a trip on their own.
As you've read at the beginning, it's tough sometimes to decide and pick priorities when planning a trip! So forget everything you've read about how to travel in Japan and check this itinerary with an open mind -you won't regret it.
What to Pack for This 2 Week Itinerary in Japan?
We followed this itinerary over summer -it was part of a 6 weeks trip actually- but you can do it year-round.
Some of the hikes we did, like a section of Mt Fuji and the Nakasendo Trail from Nakatsugawa, are not included in this trip. If you were visiting between July to early September, you can do the Mt Fuji ascent and even spend the night there.
As there's going to be a bit of hiking in this itinerary, you'll need some outdoor gear staples like your hiking boots, and, obviously, your backpack.
2 Weeks Japan Itinerary
Day 1 – Arriving in Tokyo
After arriving at either Narita or Haneda airports, hop on any of the many trains and buses heading to Tokyo. The trip from Narita takes about one hour. From Haneda, it's about twenty minutes to one hour.
Of course, it will depend on your arrival time how much you get to enjoy the first day of your trip. But start big and go check out Shinjuku, Tokyo's nightlife hub.
A great option to kickstart your Japanese travels is to book a free walking tour of Shinjuku or take a walking tour with a local, where you'll learn about the history of this cool, quirky, and also shady neighbourhood.
The Shinjuku night tours usually end at Omoide Yokocho, a group of alleys crammed with Izakaya pubs -sort of tapas, Japanese style. You can also take Izakaya tours if you don't feel like exploring independently.
The magic happens when you sit at one of these informal eateries with only ten seats or so and order assorted grilled nibbles that are beyond delish. Finish it up with a sip of sake, yay! Welcome to Japan!
Day 2 – Shibuya, Meiji Shrine, Harajuku, and Takeshita Street
Kick-off day 2 at the Shibuya crossing. This intersection is the busiest in the world! All traffic stops every couple of minutes to allow over 2500 people to cross in all directions at the time.
The most shocking thins about this crossing is how silent it is despite the crowds -pay attention, you'll see!
You'll spend most of this day wandering the streets of Shibuya, leading to Takeshita Street, in the Harajuku district. Takeshita Street is packed with people, costumes, fun stores, bubble tea shops, and sushi-train restaurants. You could spend the whole day here just loving Japanese ingenuity and pop culture.
Devote 1 or 2 hours to wander the forests of the Meiji Shrine. This will probably be your first of many visits to a Shinto Shrine.
If you are in for something truly unique but lack the budget or time to go to the Tokyo Robot Restaurant, visit the Kawaii Monster Cafe. Think Andy Warhol, Alice in Wonderland, and Hello Kitty on steroids. Then multiply it by 10. There you go! Book a time-slot online as it will save you time on the line.
Day 3 – Akihabara, Ueno, and Asakusa
Anime and games aficionados will be in heaven in any of Akihabara's huge stores and exhibits. We highly recommend taking a tour of Akibahara to discover Otaku culture – or else you can just wander around these huge department stores independently!
However, the day must go on and Ueno's park is -just near Akihabara- a great stop. Both neighbourhoods can be toured with a free walking tour that will take you to the main highlights of both. History buffs will enjoy a stroll around Asakusa, one of Tokyo's historic districts.
Enjoy the last few hours left in Tokyo as it's time to head to Kyoto on the night bus.
If you don't have the Japan Rail Pass, you'll likely head to Kyoto by bus. Several companies offer the night service from Tokyo to Kyoto. We chose Kosokubus and purchased 2 tickets for a total of 55 USD. Plus, we also saved one night of accommodation.
As this itinerary focuses on nature sights, you won't be hanging out in cities too much. Still, if you have more time to spare or want to get to know Tokyo to the core, then be my guest!
Day 4 – Sightseeing Kyoto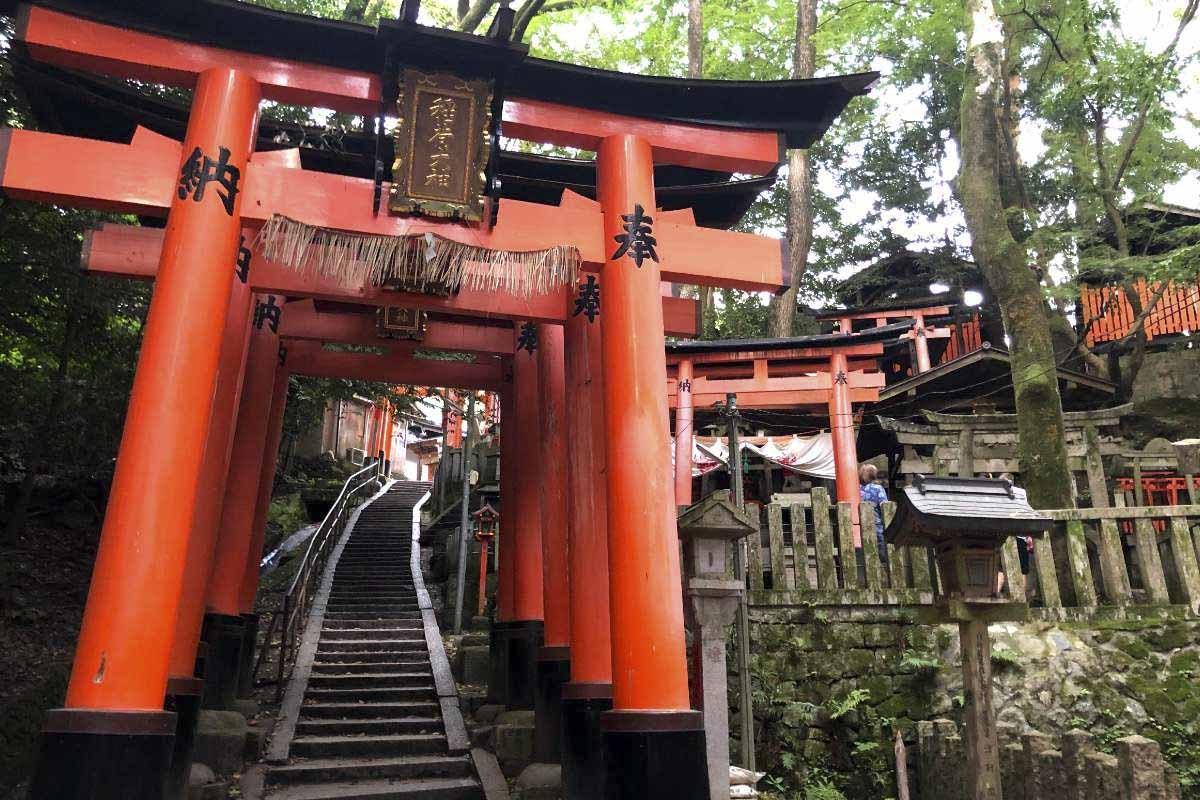 Let's have an easy day today. If you took the night bus, you'll arrive in Kyoto around 6/8 am. You can leave your backpack in the lockers at the station, or head to your accommodation and drop your luggage there.
Take the morning to stroll around town, and have brekkie at the Nishiki Market. You can also join Kyoto's free walking tour or visit one of the city's main highlights.
One of my personal spots was Kinkaku-Ji, The Golden Pavilion. In all honesty, it's quite touristy, but it's unique. It's not possible to go inside the temple, so follow the crowds circling around the temple's pond. Allow about 1 hour for your visit.
Head to Gion at nighttime. This area, known as the 'Geisha neighbourhood,' encompasses all the charm of ancient times. Traditional Japanese lanterns, red bridges crossing the Kamo river, and people buzzing around looking for a dining spot will draw you into the beauty of Japan.
Day 5 – Visiting Kyoto's Most Famous Temples
Choose 2 or 3 temples and shrines and devote your day to exploring these. There are 17 UNESCO World Heritage sites in Kyoto, so pick wisely!
After a hearty breakfast and a restful night, start exploring the Higashiyama Ward, one of Kyoto's historic districts. Many temples and shrines -like Kiyomizu-Dera- are within walking distance, so plan to spend quite a bit of your day here.
Once you are ready to keep going, make your way south and visit the Fushimi-Inari Shrine. This is my personal favorite spot in Kyoto. You can hike up to the summit of Mt. Inari-san walking under a gazillion Tori gates surrounded by sculptures, little shrines, trees, and just total forest-magic.
This shrine is very touristic, but you'll leave the crowds behind as you ascent. Doing the whole hike can take up to 3 hours, but you can come back at any stage, so just do as you please.
Consider this your first experience combining a bit of hiking with sacred sites. Both are very important in the Japanese ancient culture of pilgrims and spirituality.
Fushimi-Inari is always open and it's free of cost. Head there in the late hours of the afternoon and catch the beautiful sunset views from the hills.
If you want to know more about this fascinating city, check out our Kyoto off the beaten path post!
Day 5 – Heading to Osaka and Exploring the City
Time to wave Kyoto goodbye and head to Osaka!
You'll travel by train from Kyoto Station to Shin-Osaka station. Of course, this can vary according to where you've booked your accommodation.
For a quick, easy, and cheap Shinkansen experience, buy your tickets for about 30 USD and hop on a 12-minutes trip. If you rather stay on the cheap -hola!- get a 5 USD train ticket and enjoy a 23-minutes ride.
Osaka is very easy to navigate! I personally prefer it to Tokyo. It's really funky, and the food is glorious, regardless of your budget.
Most itineraries include the Osaka Castle but, you must know it's a replica. The people I talked to said the entrance fee is not worth it. So just head there if you are keen, walk around the castle's precinct, and learn about its history and relevance.
Spend the rest of your day enjoying Osaka's eclectic and quirky vibes! Explore the streets of Shinsekai. Snack your way across the town's covered markets. Take the mandatory pics at Doton-Bori. Have your ramen fix at famous Ichiran and just have fun!
If you visit in July, check out the dates for the Tenjin Matsuri, and try to plan around it. The Tenjin Matsuri is one of the 3 most important festivals in the country, and, simply put, a surreal experience. You'll see.
Day 6 – Day Trip From Osaka to Koyasan
In most travel guides, you'd find the option of a day trip from Osaka to Nara. However, even though Nara is lovely and famous for good reason -the town's sacred deers- it didn't blow my mind.
This is why if you want to get to know the heart of Japan, even if only on a 2 weeks trip, you should definitely head to Koyasan.
Koyasan is not as touristy, and it's still considered to be a bit off-the-beaten-path. This 2 hours trip is not fully covered by the Japan Rail Pass, so many people skip it as an option.
But not you!
In a few words, Koyasan -aka Mt Koya- is one of Japan's most sacred places, sitting on the mountains of the country's spiritual heart, the Wakayama Peninsula. Plan to spend the whole day here, visiting the area's sights at your own leisure.
The main highlight here is the Okunoin Cemetery, where Kobo Daishi, founder of the millenary Shingon Buddhism, rests in eternal meditation.
The cemetery is nestled amongst the mountains and the forest. It holds over 200,000 graveyards, and after your traverse its length, you'll encounter a series of stunning temples, shrines, and monks in meditation.
Koyasan sits 64 km south of Osaka. The best way to get there is to get the Nankai Railways' Pass that connects the city with Koyasan. The pass includes round-trip train rides, the cablecar, local buses to get around Koyasan, and ticket discounts. You can buy it at the station counter on the same day of your trip, cash only.
Day 7 – Going from Osaka to Tanabe
Time to get ready for hiking some sections of the Kumano Kodo! As promised, this Japan 2 week itinerary will take you to nature spots where you can get to know the Japanese culture and its ancient traditions.
On this day, you'll go from Osaka to Tanabe. Tanabe is a city within the Wakayama Prefecture, overlooking the Pacific Ocean. In all honesty, the city is quite dull and even a bit grim. Still, it's the perfect base for exploring one of Japan's most regarded natural and spiritual treasures: the Kumano Kodo.
The Kumano Kodo is the name of a pilgrimage route network that has been traversed by people from all walks of life for over 1000 years.
This is the only route, apart from the Camino de Santiago that's been recognised as UNESCO World Heritage. Many original tracks still remain, but the most popular one is the Nakahechi route. The trail starts in Tanabe and finishes in Nachi Taisha, just by the glorious Nachi Falls.
So on this day, you'll focus on arriving in Tanabe, resting a bit, and getting ready for day 8!
Organizing Your Kumano Kodo Experience
It can be confusing to organise this leg of the trip as buses stop on different parts of the trail. There are also many side trips, and people do it either as a day or a multi day trip. There are no campsites, but you can book accommodation along the way.
The walk is not just nature. You'll also go through small beautiful villages, Tori gates, little shrines, big shrines, hot springs, hills, forest, and all the magic of Japan.
For this itinerary, we won't focus on the overnight options of the trail, but on doing some of the hikes on the west side of the Nakahechi route, with base in Tanabe, and then heading to the east of the Kii Peninsula and do one of the sections closer to it.
To go from Osaka to Tanabe, you can take the train from Shin-Osaka and be there in about 2.5 or 4 hours. The faster options takes 2.5 hours and cost around 45 USD.
However, you could also take the Osaka Loop Line from Osaka Station -not Shin-Osaka- and then combine with the Kinokuni Line. The trip will take nearly 4 hours, and costs about 30 USD.
Try to arrive early-ish so you can go confirm all the details of your trip at the Kumano Travel Support Center.
In there, you can get the local bus schedule and ask any questions about logistics, hiking distances, and circuits.
The Nakahechi route remains as the most important as it links the trail's main 3 shrines: Hayatama Taisha, Nachi Taisha, and Hongu Taisha.
Day 8 – Hiking the Kumano Kodo – Day 1
Rise and shine fellow hikers! Again, with so many awesome places to visit in the Kumano Kodo, you can either walk for hours or take it easy and focus on some of the main sights.
I'll share what we did this day to give you an idea. We took the local bus from Tanabe to Hosshinmon Oji. Our bus driver crashed with a car, so we lost about 3 hours that day, hence couldn't do all we had planned. Life happens!
In any case, I'd suggest you take your time. There's a lot to learn across the trail about the history and myths of Japan. Once we got to Hosshinmon Oji, we walked 11 km to Yumomine Onsen and stopped by Hongu Taisha. About a 3 hours hike traversing forests and rolling hills.
By all means, whatever you do, don't skip Yumomine. This is one of the most important stops along the hike. Yumomine is a tiny onsen village, considered to be Japan's spiritual hot spring. These hot springs were discovered nearly 2000 years ago. Pilgrims have been using them since then to perform purification rituals.
To top it all up, you can take a bath in the tiny Tsuboyu Onsen. This is a little rock bath covered by a shed on the river bank. This specific tiny spot is also a UNESCO World Heritage site as it was the first discovered in the country.
Day 9 – Hiking the Kumano Kodo – Day 2
Hopefully, you've planned your days a little bit with the help of the staff at the Kumano Kodo Tourist Center.
For this day, choose another section of the trail. A great option is to go from Takijiri-Oji -the beginning of the Nakahechi route- and finish in Tsugizakura-Oji. This would be a long day, so pick wisely if you'll start from the very beginning, or rather skip a few km. Check out the bus schedules! Their stops at some times of the day seem to be a bit random.
Takijiri-Oji is only 15 km from Tanabe. The section you did yesterday was closer to the middle of the trail, and this one will take you through the start of the pilgrimage trail. Unfortunately, we missed this day because of an infected wisdom tooth – again, life happens!
Note that the local bus network is not covered by the Japan Rail Pass. The cost of the buses varies depending on where you hop on and off, ranging from a couple USD to about 25 USD, one way.
Day 10 – Heading to Nachi-Katsuura (aka Kii Katsuura)
Today, it's time to see a different face of Japan. The trip from Tanabe to Kii Katsura will take you through a rugged coastline, fishing villages, and beautiful beaches.
It's a 2.5 hr train ride, with a cost of about 15 USD. We were lucky to make friends at the guesthouse in Tanabe and got to do the trip by car, stopping along the way.
Once you get off the train, you'll discover a sleepy little fishing town with 2 best-kept secrets – this is onsen -hot spring- heaven! And it's also home to the most important Tuna fish market in Japan.
If you were hiking all day yesterday, then take this day to relax, unwind, and relish in some well-deserved thermal action. Some hotels and guesthouses have their own natural hot springs.
We stayed at a simple but cute guesthouse next to the train station, and they had a lovely onsen Japanese style bath -yay! Otherwise, head to Nanki Katsuura Onsen, just 2 km from the port and center.
Head to the cute fish market by the port -open till 4 pm every day except Tuesdays- and get your sashimi-fix for the day. If you are a sushi fan, then this is the place to try premier raw tuna fish, at a backpacker price.
Day 11 – Visiting Nachi Falls
I actually found about the Kumano Kodo thanks to a Lonely Planet cover featuring a big pagoda with a waterfall on the background. If you've been doing your research about Japan, for sure you've seen this marvel.
The Nachi Falls is part of the Nachi Taisha Grand Shrine. To get there, simply head to Diamon-Zaka -about 8 km out of town. You'll see a cobblestone staircase that climbs among 800-year old cedar trees.
After climbing the 267-steps staircase, you'll come across another staircase leading to the shrine's entrance. There's a lot to see here, and, as this is quite a popular site, you'll come across a fair share of people. I'd recommend spending about 3 hours soaking all this beauty in.
Once you are back into town, if it's still day time, devote 1 or 2 hours to walk along the coastline heading outside town.
Day 11 – Heading to Takayama
This is the day you'll travel the most as you'll traverse nearly 400 km going from Nachi Katsuura to Takayama.
There's no direct transport for this route, so you'll have to combine trains and buses. It takes from 7 to 8 hours and the trip costs between 80 USD to 120 USD.
Don't be discouraged by the long ride! The scenery along the road is really beautiful, especially once you start going uphill.
It was so hard for me to pick the next destination after Wakayama! I'm leaving out another of my favorite places, the trail between Nakatsugawa, Magome, and Tsumago. This is called the Nakansendo Trail. I recommend you check it out before making a final call on your 2 weeks itinerary to Japan.
In the end, I decided to include Takayama, as from there you'll visit the traditional villages of gasshō-zukuri houses, which are simply unique. Plus, I fell in love with Takayama.
Day 12 – Visiting Shirakawago and Gokayama
Get an early start today! To reach the traditional gasshō-zukuri villages, nestled deep in the mountains, you'll need to take the bus departing from the Takayama Nohi Bus Center station.
It's a 1-hour ride, not included in the Japan Rail Pass. It's possible to book in advance. However, if you can't book beforehand, make sure to be at the station about 1 hour before you intend to start your trip. Although quite remote, these World Heritage villages are very popular.
Make sure to check the whole bus schedule to plan your visit with ease. Otherwise, you could spend hours waiting for the next bus.
Both Shirakawa-go and Gokayama are regions within the Gifu and Toyama Prefectures. Each of them hosts small villages made up of thatched roofs. If you thought you'd nail your IG with this 2 weeks trip to Japan, wait till you get here. The views are otherwordly.
You'll likely spend the whole day exploring the area, nature, and jumping from village to village. If time and budget allow, you may want to book a stay and spend the night at a traditional guesthouse!
Day 14 – Exploring Takayama
After an intense day surrounded by nature and tradition, I'd strongly recommend you take time to explore Takayama.
Renting a bicycle is a great way to explore Takayama's parks, temples, and shrines, some of the loveliest we saw during our trip. Stop by a traditional tea house, and spend an afternoon eating your heart out in any of the historical district fabulous eateries.
Takayama's old town is a little bit like Kyoto, but we liked it much more!
Day 15 – Back to Tokyo
Oh well…you may not be too excited to leave Japan, but life goes on, and now you have a huge pile of amazing memories to bring home.
On this day you'll make your way back to Tokyo -assuming you'll leave the country flying out from there. The only direct and easy way to go from Takayama to Tokyo is to take the Keio or Nohi Bus. You can purchase your ticket online -costs about 60 USD to 70 USD. It's a 6 hours trip.
Another option is to travel by train via Nagoya. There are no direct services, and you wouldn't be saving any time. So I highly recommend going for the bus option.
Final Thoughts on This Japan 2 Weeks Itinerary
You could clearly shuffle things around, but I assure you this is a nature-packed itinerary where you will bond with this unique country, its culture, beliefs, and ways of living.
One of the main issues we had when planning our trip was to discern between so many amazing places -plus figuring out how to get around without the pass. Luckily, now you have an alternative Japan itinerary for your trip -yay!
Japan is a place to experience wholeheartedly. I hope I've contributed my grain of sand to make you fall in love with it, even before your arrival.