Back to South Africa after our Italian interlude! Today we'll tell you about our Stellenbosch visit. Stellenbosch is in the heart of South Africa's winelands, a short drive from Cape Town, and a visit is a great idea if you want a break from the city and fancy tasting some delicious food and wine. Follow us as we visit Stellenbosch!
If Cape Town is the Mother City, Stellenbosch is the cool auntie. The one that slips you sweets when your parents aren't watching and always has a fun story to tell at dinner parties. It's one of those cities where it's hard not to have fun. Stellenbosch seems to have fully embraced the art of the 'good life' – and trust me, as an Italian, I know a thing or two about Dolce Vita. 
Being only 50 km away, Stellenbosch is an ideal day trip from Cape Town – but we recommend spending a few nights to enjoy the atmosphere of the town, hitting that sweet spot between indulgence and light-heartedness. It's one of South Africa's main university towns, home to a lively student population that lives, loves and plays under the oak trees and the white gabled Cape Dutch buildings of the city centre – a town that breathes joie de vivre from every corner.
A Stellenbosch Hotel Unlike any Other
With a neighbour as breathtaking as Cape Town, Stellenbosch knows it's no match when it comes to natural beauty – so it has decided to specialise itself in the finest pleasures of life. Delicious food, quality wine, and top-notch accommodation. The five star boutique hotel Majeka House, where we spent the first of our three nights in the area, perfectly represents the spirit of Stellenbosch. It's decadent and playful. Quirky and luxurious.
The decor looks mismatched, yet it earned the property several design awards. Tucked away in a secluded residential area, away from the center, it feels like a secret garden, with canopies, roses and potted cacti. We got our first taste of Stellenbosch wines at the cocktail bar, looking like a cross between a New Orleans speakeasy and a Shinjuku space age mall.
To kick off our stay in the Winelands, we chose to sample Pinotage, made from the signature South African grape, obtained crossing Pinot Noir and Cinsault – a grape locally known as Hermitage. Pinot-Tage – get it? The result is a bold wine with sweet, almost caramelised notes, reminiscent of ripe red fruits and liquorice. 
Right next door, Makaron Restaurant translates the eclecticism of the hotel decor into its dishes, introducing the concept of small plate dining in a country known for its hearty food and large portions. The menu included dishes like beef poke tartare, sashimi with grapefruit and yuzu vinaigrette, and a delicious sirloin steak with onion rings and umami butter – we had 5 dishes each but could very well have ordered the entire menu. 
Blending our own Stellenbosch wine
Stellenbosch is South Africa's second oldest city after Cape Town. It was founded in 1679 by Simon van der Stel, who named the city after himself – Stellenbosch means Stel's Bush. The city grew quickly and only 10 years later it received its first influx of immigrants, French Huguenots escaping religious persecution in Europe, taking grapes and the French winemaking craft with them, and quickly grew into the capital of the South African wine industry.
The Middelvlei wine estate is one of the best places to get acquainted with Stellenbosch wines. The Momberg family have been making wine for nearly 100 years in their 160 hectare estate on the edge of Stellenbosch – barely 10 minutes from the city centre yet feeling like open countryside, surrounded by open fields and mountains. We tasted two iconic Stellenbosch varieties straight out of the barrel – peppery Shiraz and gentle Pinotage with its sweet undertones distinctly palpable despite the rough edges typical of young wines.
That's where a traditional wine tour would have ended with a tasting of the winery's flagship varieties, perhaps accompanied by a bite or two. But Stellenbosch is not your everyday's wine region. At Middelvlei, visitors had the chance to try a 'blending experience', making their very own version of Cape Blend by mixing three wine varieties.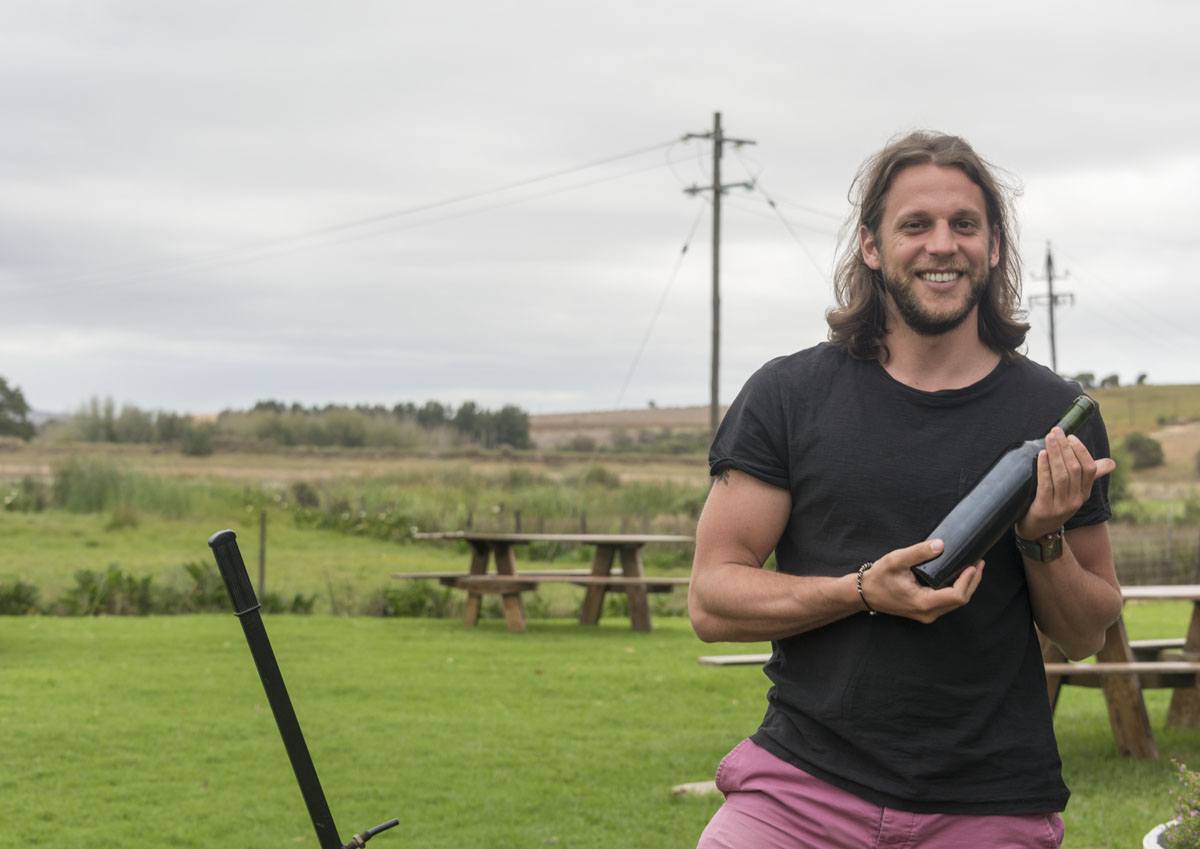 After experimenting with funnels and beakers and mixing Pinotage, Shiraz and Merlot in various percentages, we came up with the 'Two Nicks False Cape Blend', containing 40% Shiraz, 35% Pinotage and 25% Merlot. Two Nicks in honour of our travel companion Nick Montemaggi, and False Cape Blend because a true Cape blend must contain a minimum 40% Pinotage.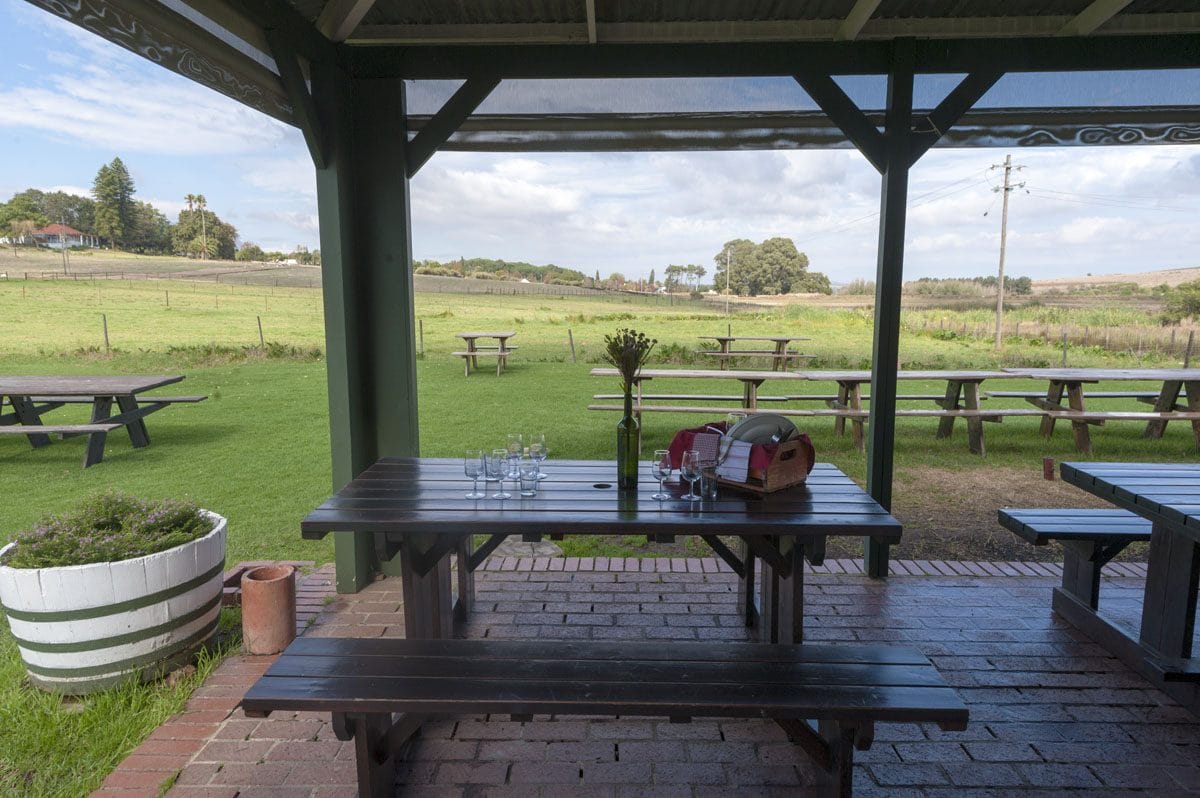 Visit Stellenbosch – It's not all about the wine!
Middelvlei isn't the only winery offering a 'creative' approach to wine tourism – later on that night at Delheim Wine Estate we ended a dinner of Cape Malay specialties with a 'wine and cupcake pairing', sampling Chenin Blanc with a rooibos cupcake and Gewurztraminer with a makataan (wild melon) flavoured one. The historic Lanzerac estate, famous for its exquisite Cape Dutch architecture and ugly portraits in the tasting room, pairs wines with chocolate, and Bergkelder recently started offering wine and salt pairings in its famous 'cellar in the mountain'. 
Vergenoged, another historic winery halfway between Stellenbosch and Cape Town, draws crowds every day – however, most people don't just come to taste wine or to take part in the unique coffee and tea blending experiences. The stars of the show at Vergenoegd are one thousand Indian running ducks, 'employed' by the winery to keep the vineyards free of slugs and insects. The ducks are allowed to roam free around the plantation, which is divided in three sectors – and three times a day, the feathered denizens of Vergenoegd are 'paraded' from one sector to the other, a cute waddling show but also an organic and eco-friendly way to keep the vineyards pest free.
Driving back from Vergenoged, Stellenbosch looked impossibly beautiful. Ok, there may not have been Table Mountain, but the Jonkershoek, Drakenstein, and Simonsberg mountains mountains surrounded the city like an amphitheater of giants. There may not have been the misty Atlantic, but the muted sunset light shone on the vineyards, turning the autumn hues of vine leaves russet, burnt ochre, terra-cotta red.
Exploring Stellenbosch by bike
It would be a shame to leave Stellenbosch without exploring its nature – yet we still felt like enjoying some wine. A wine tasting tour by bicycle sounded like the perfect compromise between indulgence and a workout – the Stellenbosch vineyards are ideal for two-wheeled exploration, with several vineyards within leisurely cycling distance. 
We began our tour with a quick jaunt around Stellenbosch's points of interest – Oom Samie Se Winkel, a trading store dating back to 1904 selling all kinds of goodies, from biltong to sweets and spittoons, the Paul Roos Gymnasium and Stellenbosch University, the historic buildings lining Dorp Street and more.
Then, we rode across the fancy Jonkershoek neighbourhood – Stellenbosch's Beverly Hills, as our guide described it – towards Lanzerac Wine Estate, where we followed the long oak-lined boulevard to a wine and chocolate tasting. Then we continued upwards, following the contour of vineyard-covered hills, to Stark-Condé Wines and its tasting room located on an islet in the middle of a pond, with surrounded by weeping willows and the silhouette of Jonkershoek mountains.
As far as tasting rooms go, I've never been to a more scenic one – it was a still but cloudy morning and the pond was a perfect mirror, reflecting a landscape where yellows and oranges had started to replace the verdant lusciousness of summer. A snapshot of autumn in the Cape. 
The tour continued in perfect Stellenbosch style – we drank, we laughed, we drank some more. After all, there was no need to worry about who was going to be the designated driver. As we zipped down the hills, heading back to the city, a thought crossed my mind. If I was a city, I'd probably be Stellenbosch – a place with good food, good wine, lovely landscapes and a relaxed lifestyle, the perfect marriage between European vibe and South African style.
After all, I've wanted to be a cool auntie all my life. 
Where to Stay in Stellenbosch
Besides Majeka House, we also recommend staying at L'Avenir Country Lodge and Wine Estate, a winery located north of Stellenbosch, about 15 minutes drive to the city, in the valley below the Simonsberg mountains. After crossing the entrance gate at L'Avenir you need to keep driving a little further to reach the lodge, meaning that nights at L'Avenir are wonderfully quiet, and you are surrounded by nature with the city just a short drive away.
There are only a few rooms at L'Avenir, and what we liked best about staying in the lodge was the truly exemplary service offered by all the staff. Guests are offered a complimentary wine tasting including the winery's flagship varieties, Pinotage and Chenin Blanc, and there's an infinity swimming pool with view over the vineyard, but sadly it was too chilly for us to enjoy a dip!
Our suite was spacious and comfortable, and included a private terrace with a splash pool and sun loungers to relax, as well as complimentary biscuits, tea and plunger coffee – a lovely change from the usual instant stuff!
Many thanks to Elmarie from Stellenbosch Wine Routes and Mariette from Destinate for inviting us to spend a few days in the Winelands. Check out the Stellenbosch Wine Routes website for more details & info!
Pin it for later?