After having shared with you what to do with one day or two days in Los Angeles, let's move on to its sun kissed, southern neighbour, also known as 'America's Finest City'. Here you are, a weekend itinerary for two days in San Diego!
I've already told you about how much we loved Los Angeles, but it's true – it's not a place for everyone. If you're looking for a relaxed California town, with a chilled beach vibe, wonderful urban nature, and much less traffic, San Diego is a great choice.
Whether you are planning a San Diego weekend getaway, or you'd like to visit the city during a California road trip, here we'll share the best way to spend 2 days in San Diego.
We've tried to include a little of everything San Diego is famous for – some beach time, Mexican food and vibe, and naturally Balboa Park, our favourite place to explore during our 2 days in San Diego.
This San Diego itinerary is meant for first-timers – if you are a local and have some 'insider tips' to share, feel free to let us know and we'll add them to the article!
No time to read? Here are some of the best San Diego tours!
San Diego Itinerary – Day 1
Morning – Explore the coast in Coronado or La Jolla
Let's start your first day in San Diego with some beach time. Here we have two options for you, depending on what kind of vibe you're after.
The first (and easiest) beach to reach from San Diego is Coronado, located on the other side of the bay from downtown. Geographically speaking, Coronado is an island, but it's connected to the mainland by a tombolo, a narrow strip of land, known as the Strand.
To get to Coronado, just hop on a $5 ferry from Embarcadero. You can spend some time walking along the beach, cycling up and down the Strand, having breakfast at historic Hotel del Coronado, or renting a paddle board.
Another option is exploring La Jolla, located about 20 minutes north of Downtown San Diego. La Jolla is one of the most desirable places to live in San Diego – even though technically it's a separate town. It has a scenic, rugged coastline, with bays and coves where you can spot seals and sea lions, a wide sandy beach and hiking opportunities in nearby Torrey Pines State Reserve.
With an extra day in your San Diego itinerary, I would recommend spending the whole day in La Jolla. If you only have 2 days in San Diego, it's time to head back to the city now!
Here are some of the best La Jolla tours if you're short on time!
Lunch – Las Cuatro Milpas
San Diego is very, very close to Mexico. So close, that you can actually jump on a streetcar in the city and be taken all the way to the international border in San Ysidro, from where you can reach Tijuana or travel further into Baja California.
If you want a taste of Mexico without leaving San Diego, we recommend heading for lunch at Las Cuatro Milpas, a restaurant open since 1933, looking (and tasting!) like one of those family run taco places south of the border.
Las Cuatro Milpas is in Barrio Logan, the heart of Mexican-American culture in San Diego. The neighbourhood will be your destination for the afternoon, so it makes sense to start with some Mexican food!
There's just a little catch – Las Cuatro Milpas is very popular, and closes at 3 pm every day. You'll often find a queue outside, but it generally moves fast – we got there at 1.30 pm and we were sitting with our food only 20 minutes later.
The crispy shell tacos are out of this world, as are the flautas topped with lashings of salsa, cream and queso fresco. Don't forget to bring cash, as cards are not accepted!
Afternoon – Barrio Logan
After a tasty lunch at Las Cuatro Milpas, it's time to explore Barrio Logan, starting with its best known point of interest – Chicano Park.
Barrio Logan has been home to San Diego's Mexican community for decades. In the 1960s, when Coronado Bridge was being built, houses were demolished and the neighbourhood was split in two. Residents were promised that a park would be built under the pillars of the bridge, something the community badly needed.
When the bridge was completed, and there was still no sign of the park, residents rallied to protest and occupied the construction area for twelve days. Eventually, Chicano Park was established in 1971, and the bridge pillars became massive canvases for murals portraying prominent Latinx people and imagery, from Pre-Colombian to modern times.
Chicano Park is worth visiting both for its art, and for its meaning in the context of civil rights movements. However, please remember it's still very much a community park, not a place for your Instagram photoshoots. If you can, time your visit to coincide with the bi-monthly Barrio Art Crawl, led by residents.
Away from the park, Barrio Logan also has some interesting art galleries and breweries to visit. Our favourite breweries were Iron Fist and Border X Brewing – you can't miss adding at least one of them to your San Diego itinerary!
Evening – Little Italy
For dinner, we recommend heading to Little Italy, located about 15 minutes away from Barrio Logan by Uber/Lyft.
In Little Italy, you won't just find cheesy Italian restaurants, but also some of San Diego's best places to eat like Ironside Fish & Oyster, home to $1 happy hour oysters and tasty lobster rolls, and Juniper & Ivy, serving cutting edge, molecular cuisine.
If you do want some Italian food, we recommend Filippi's Pizza Grotto, a pizza restaurant in the back of an Italian deli and grocery shop. If the lines are anything to go by, it must be good!
End the first of your 2 days in San Diego with a walk down India Street, the main drag in Little Italy. If you fancy another drink, there are plenty of stops for a nightcap – we recommend Bolt Brewery or Ballast Point for craft beer, Sogno di Vino for wine, and Kettner Exchange for cocktails.
San Diego Itinerary – Day 2
Brunch – Cafe 21
If you are following this San Diego itinerary during the weekend, Day 2 will be Sunday, and what better way is there to start any Sunday than brunch?
We loved Cafe 21 in the Gaslamp Quarter, a café with a creative Azerbaijan-inspired menu. You'll find breakfast classics like eggs and avocado toasts, and more unusual dishes like lamb kofta omelette and lavash burrito.
You can also order from the all-day menu, featuring borek and mezze spreads, but whatever you do don't miss ordering a serving of tiramisu pancakes for dessert! Thank me later!
Afternoon – Balboa Park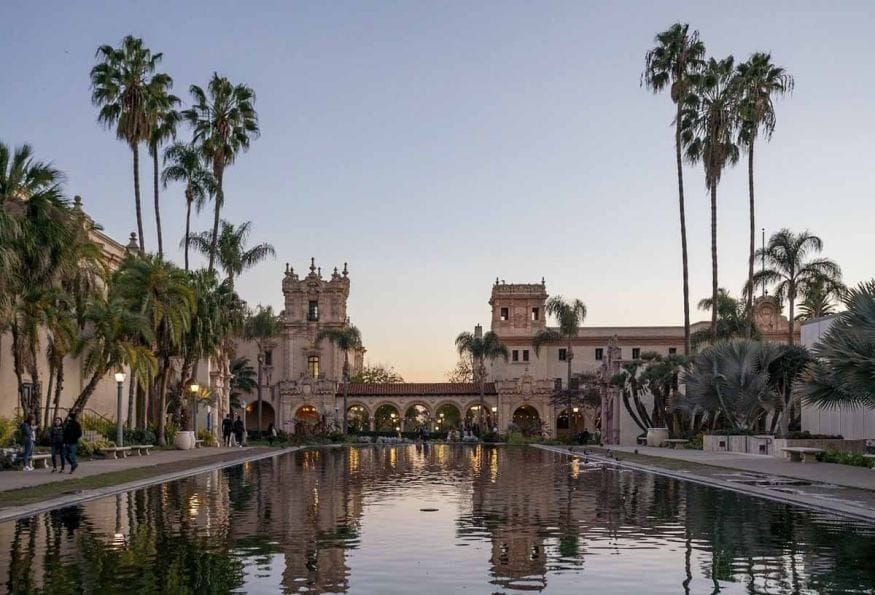 After brunch, I recommend making your way to Balboa Park, San Diego's marvellous urban park with 1200 acres of nature right in the heart of the city, plus museums, gardens, cafés, restaurants, entertainment venues and a world-famous zoo.
If you want to visit San Diego Zoo, I would go for an early brunch and then head to the museum as quickly as possible. San Diego Zoo is worth visiting, even if you're not a zoo person, for their conservation focus. The Zoo is a not-for-profit enterprise, and literally every dollar earned is reinvested in conservation programs and research.
However, if you are not interested in visiting San Diego Zoo, I totally understand. Fear not – Balboa Park offers so much more to see and do.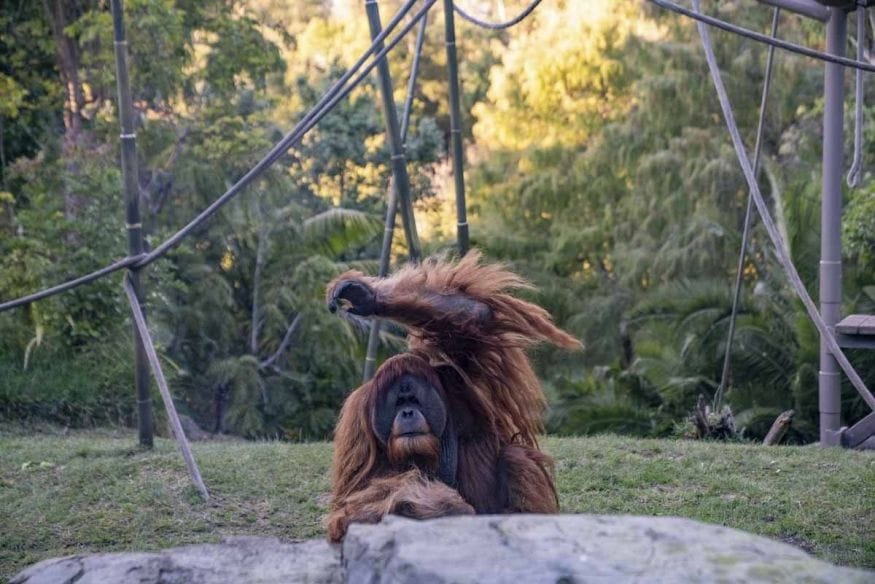 There are a whopping 17 museums – some of the most interesting include the San Diego Natural History Museum, Museum of Man, Timken Museum of Art, and Model Railroad Museum.
You can also explore gardens, like the Japanese Friendship Garden, visit the Botanical Building with the beautiful lily pond, or just go hiking/running in the park.
Whatever you do, remember to go walking up and down the Prado, the main pedestrian street running through the park. Admire the beautiful Baroque colonial architecture and the street performers, and don't miss sunset from Cabrillo Bridge, looking at planes landing over downtown!
Evening – Gaslamp Quarter
Together with Little Italy, Gaslamp Quarter is the other place to be in San Diego at night.
Compared to Little Italy, the Gaslamp is closer to Downtown, the vibe is more touristy and more 'quantity over quality'. Having said that, there are a lot of good restaurants – like Café 21, also serving a delicious dinner menu, Biga for artisanal pizza and pasta, and The Hopping Pig, famous for its pulled pork burger and craft beer selection.
Planning to visit San Diego? Have a look at our San Diego diary on Wowanders, with all these tips – and more!
Practical San Diego Tips
When to Visit San Diego
San Diego is truly a year-round destination. The weather is typically SoCal, warm and sunny year round, and never too hot, not even at the height of summer.
The best times to visit are Autumn and Spring, when temperatures hover around 20°C (70°F) during the day, descending to 55-60°C (12-15°C) at night. Spring is especially beautiful to see flowers in the various gardens around Balboa Park, and Autumn is a good time to escape the crowds and to get advantage of cheaper hotel rates.
Summer is a very nice time to be in San Diego as it rarely gets too hot, but it's also very busy, especially at the time of Comic-Con at the end of July. Winter is rarely considered as a good time to visit, but it can be surprisingly pleasant with temperatures between 5-15°C (40-60°F).
Winter is the best time to get amazing hotel deals, but it will probably be too cold to stay on the beach!
Where to Stay in San Diego
San Diego is not as big as Los Angeles or San Francisco, and getting around is much easier. Having said that, choosing the best place to stay will make it easier to enjoy your weekend in San Diego.
Here are a few neighbourhood options, with hotel recommendations in each!
-La Jolla/Ocean Beach – for beach lovers
-Gaslamp Quarter – close to the action
-North Park – close to Balboa Park
Other great neighbourhoods to stay at are Barrio Logan and nearby Sherman Heights, home to stunning Victorian homes. There are not many hotels, but you can try looking for people renting out rooms or apartments on Airbnb (click here to get €35 off your first booking!)
How to Get Around San Diego
Getting around San Diego is not hard, thanks to the efficient trolley system, and to lots of ride share options.
There are four trolley lines, connecting San Diego to the Mexican border, and covering all the points of interest covered in this article with the exception of La Jolla and Coronado. Tickets are $2.50 each, or you can get a 24 hour pass for $6.
The silver trolley line (with vintage streetcars!) covers a loop route around Downtown, the blue line travels to the Mexican border at San Ysidro/Tijuana, the green line is useful to reach Little Italy, and for Balboa Park you can catch the blue or orange line to City College and transfer to a bus or walk.
Uber/Lyft is also a very convenient way to get around San Diego. Remember to select the 'Pool' option to share you ride with others if you want to save cash!
Best Day Trips from San Diego
If you have an extra day to add to your 2 days in San Diego, you might want to consider a day trip! Here are some options!