Hiking is the #1 reason to visit Sedona! With so many trails to choose from, it's hard to find the perfect hike for you. Here we've selected the 12 best easy hikes in Sedona!
Would you like to know more about hiking destinations in the US? Here is our post about the best hikes in Joshua Tree National Park!
Have you ever considered visiting Sedona? If the answer is no, let me tell you – YOU SHOULD. Take note, and make sure you add it to your next Southwest road trip itinerary!
Sedona is in the Arizona desert, about 30 miles south of Flagstaff, in a truly spectacular location, surrounded by red rock canyons, buttes and spires. Over the decades, Sedona's scenery and magical feel have attracted a varied community of yogis, shamans, artists, healers, and hiking lovers, turning it into an alternative, hippie hangout for lovers of the outdoors.
Sedona is the kind of place where you can have a sound bath with a shaman, practice yoga at an energy vortex, have a chakra opening session, forage for medicinal herbs, learn to make salves, visit psychics, and so much more.
If you're into spiritual energy, Sedona is the place for you. If you couldn't care less, but you love hiking, nature and landscapes, Sedona is ALSO the place for you.
In fact, I can't imagine anyone NOT liking Sedona – and that is part of the issue, as the place is very popular with tourists and gets crowded in the high season.
Some of the hikes mentioned in this article also do get busy – to escape the crowds, visit off season, or head out hiking early in the morning!
With so many hiking options in the area, we decided to focus on the best easy/moderate hikes around Sedona. These trails are between 1 and 3 hours long, meaning you can easily hike two or more in one day. Let's have a close look!
If you are planning to visit Arizona, Utah and New Mexico, have a look at our American Southwest of a Lifetime Road Trip Itinerary!
The Best Easy Sedona Hikes
1) Teacup Trail
Distance 2.2 miles / Elevation 269 ft / Time 1 hour
Let's start with Teacup Trail, a nice, easy hike in West Sedona, a residential area away from the downtown shops and restaurants.
The Teacup Trail leads you to a group of rock formations with some self-descriptive names – there's Teacup of course, which is a bit hard to make out, Coffeepot Rock, and Sugarloaf Mountain.
The trail is fairly short, and there's relatively little elevation difference, making it ideal as a trail run or a summer hike, when anything longer would be too strenuous. If you want to keep hiking, you use Teacup as a gateway trail, and then follow with Little Sugarloaf or Soldier Pass.
In any case, this is truly one of Sedona's best easy hikes in all seasons!
No time to read through? Check out these cool tours around Sedona!
2) Airport Mesa
Distance 3.2 miles / Elevation 416 ft / Time 3 hours
This is probably the most popular hike in Sedona. Some reports describe it as moderate because of its length, but the path is fairly even and climbs are not excessive, so it could definitely be considered an easy hike.
Airport Mesa takes its name from the fact that the trail loops around Sedona Airport, passing a vortex along the way and then following a ridge with fantastic views over the iconic Sedona red rocks, before finally looping back and crossing the mesa (flat-topped mountain) atop which the airport is located.
There's very limited parking at the trailhead, and it's almost always full. There's a $3 parking lot near the airport, about a mile away from the trailhead via a trail, which gets very muddy after it rains.
The vortex is on the rocky hill you'll encounter about 10 minutes after the start. Feel free to take your time and connect to the flow of energy, and remember to be respectful and not bother anyone practising or meditating.
Airport Mesa is often mentioned as a hike to be avoided, but we thought it was definitely one of the best easy hikes in Sedona because it encompasses everything Sedona is famous for – views, red rocks, and the energy vortex!
Are you planning to head to Southern Arizona? Check out our weekend in Tucson itinerary!
3) Templeton Trail
Distance 7 miles (round trip) / Elevation 713 ft / Time 4 hours
Templeton Trail is a great hike in Sedona if you want to escape the crowds. It's quite long, and hiking all of it takes at least half a day, but being an out and back trail you can turn back and retrace your steps at any time.
This trail is the best option if you want to get views of Cathedral Rock. Naturally, it's also possible to hike up Cathedral Rock itself, where you'll also find a vortex, but by doing so you'll be missing out on the views.
Templeton Trail is unshaded and very hot in summer – opt for hiking in winter, or very early in the day during the hot season!
4) Doe Mountain
Distance 1.5 miles (round trip) / Elevation 492 ft / Time 1.5 hours
Doe Mountain is another wonderful short and easy hike in Sedona. The trailhead is located further west from West Sedona, in an area with little to no phone connectivity, so make sure the destination is well loaded on your car GPS before you set off.
When you leave your car at the Doe Mountain trailhead, remember you need to get a $5 Red Rocks Pass for parking – there's a vending machine right at the car park.
Then, you'll hike about 20/30 minutes to the top of Doe Mountain – which is in fact a mesa, meaning you can spend as long as you want hiking across the top, taking in views over the amazing Sedona red rocks.
5) Fay Canyon Trail
Distance 2.5 miles (round trip) / Elevation 383 ft / Time 1.5 hours
Sedona is in the desert, right? What if I told you that the Fay Canyon Trail includes a beautiful waterfall, and even a rock arch to make things better?
It's a short trail running through a canyon, which provides some shade and respite from the summer heat. Once you get to the end of the trail, you have the option of scrambling up some rocks to get a view over the canyon itself, something we really recommend doing!
6) Chimney Rock Pass
Distance 1.7 miles (round trip) / Elevation 375 ft / Time 1.5 hours
This was the first hike we did in Sedona, and it's a great introduction to the red rocks environment. The trailhead is in West Sedona, walking distance from the wonderful Airbnb where we stayed (BTW – click here to get €35 off your first booking!)
The trail circles around Chimney Rock, a spire towering over the surrounding red rocks. You'll directions for Lower Chimney Rock trail, but this is in fact a different one.
For the Chimney Rock Loop, take Thunder Mountain Trail until the junction with Lower Chimney Rock Trail. Don't take it – turn right instead, and keep going a short distance to the junction with the Chimney Rock Trail.
Follow the path as it circles around Chimney Rock, taking you back where you started. You also have the option of taking Andante Trail to reach Amitabh Stupa and Peace Park, location of a vortex, where you can walk around the stupa or and admire a Buddha statue.
7) Little Sugarloaf
Distance 0.3 miles / Elevation 125 ft / Time 30 minutes (round trip)
This trail is so short that many don't even consider a hike of its own, rather a variation of Chimney Rock Pass.
While on that itinerary, you'll see a side trail taking you to the top of Little Sugarloaf. The trail is short but steep, and not immediately obvious – but we recommend powering on to the top, as this is one of the best hikes in Sedona to enjoy the sunset!
8) Cathedral Rock
Distance 1.2 miles / Elevation 744 ft / Time 2 hours
Cathedral Rock is one of the most popular hikes in Sedona, and with reason – it climbs to the top of a stunning rock formation, offering views over the surrounding rocks, and there's also a vortex.
The hike is short but quite steep, and a bit of scrambling is needed to reach the top. For this reason, some may argue it doesn't belong to this list of easy hikes in Sedona – we decided to add it anyway, as it's really a great hike.
The trailhead is in the wonderfully named Back'O Beyond Road. Parking is very limited, and you need to have a $5 Red Rocks Pass – the same one needed for Doe Mountain. You can also do both hikes in the same day, using the same pass.
The way up Cathedral Rock follows a sandstone rock face, getting increasingly steep as you make your way up, and you'll definitely have to use your hands. Make sure you always keep your distance from the person in front of you.
At the top of Cathedral Rock you'll find one of Sedona's most powerful vortexes, so make sure you allow yourself time to meditate and connect, if you so wish.
9) Soldiers Pass
Distance 4.5 miles / Elevation 650 ft / Time 3 hours
Soldiers Pass is definitely one of the most varied hikes in Sedona! You get tons of stunning red rock views, but not only – you'll also be hiking through stretches of forest, past a sinkhole and water pools, and finally climb up to a cave, if you so wish.
Parking on the Soldiers Pass trailhead is very limited, and it's a popular itinerary for families it fills up very early. If you're staying in West Sedona, you can hike Teacup Trail first, and then connect onto Soldiers Pass, adding about two hours to the hike.
The first part of the trail is quite busy, since it's one of the most easily accessible by jeep tours. After about a mile you'll pass two of the main attractions on this trail – the Devil's Sinkhole, created by the collapse of an underground cave, and the Seven Sacred Pools, watering holes dating back to Native American times.
After passing these two sights, you'll be entering the Red Rock Mountain Secret Wilderness Area, where people are far fewer and you can take a detour to see some cliff caves.
Soldiers Pass is an out-and-back trail, to turn it into a loop you can connect with Brins Mesa, described below.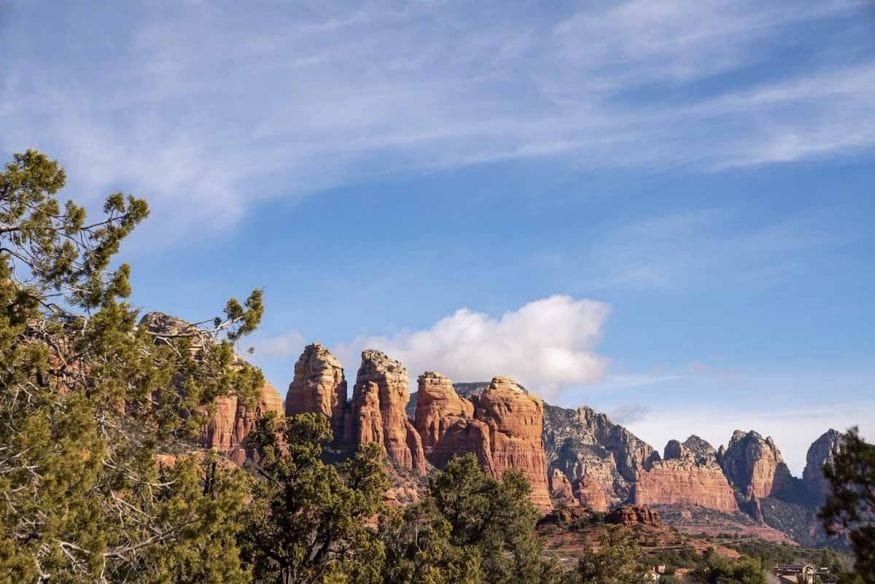 10) Brins Mesa
Distance 3 miles / Elevation 650 ft / Time 4 hours
For a full day hike, you can connect Brins Mesa with Soldiers Pass, and if you really, really want to hike a bit more, you can add Teacup Trail to the mix!
The entire trail is 3 miles, but you'll be connecting with Soldiers Pass trail after about 2 miles and a half. The first mile of Brins Mesa trail follows the floor of Mormon Canyon and doesn't present any technical difficulties.
Then, you'll start climbing to the top of Brins Mesa. This is the hardest part, but the silver lining is that you'll be climbing right in the open, surrounded by red rocks. Afterwards, you have a further half mile or so hiking across the top of the mesa until you reach Soldiers Pass trail.
Otherwise, just walk back the way you came!
11) Devil's Bridge
Distance 4.2 miles / Elevation 560 ft / Time 3 hours
Devil's Bridge is the largest sandstone arch located around in the area, making this one of the most beautiful hikes in Sedona.
The hike is fairly easy, and the views over the bridge at the end are a HUGE reward, making this a very popular hike. It's also easy to access for jeep tours, adding to the crowds in high season – if possible, try visiting early in the morning.
The first part of the hike runs along a dirt road, with high-clearance cars and jeep tours driving down. Then, you'll start climbing towards the arch, with the trail getting progressively steeper as you make your way up.
There are two viewpoints over the arch, one at the base of the arch and one from the top, both attracting many photographers. You can also walk on the bridge itself, but be very very careful of the steep drops!
12) Thunder Mountain
Distance 3 miles / Elevation 360 ft / Time 2 hours
Let's end this selection of the best easy hikes in Sedona with Thunder Mountain, another pleasant and rewarding hike easy to access from West Sedona.
Thunder Mountain trail connects Teacup and Chimney Rock trails, so once again you could connect all these trails to turn an easy hike into an all-day outing.
Depending on where you'll start, you'll encounter a few steep hills, but the trail is always very well maintained. Along the way you'll get a great view of Devil's Sinkhole from above, and once you get close to Chimney Rock don't miss visiting Amitabh Stupa and Peace Park!
Hiking Sedona FAQ
Where is Sedona?
Sedona is a desert town in Central Arizona, about 30 miles south of Flagstaff and 120 miles north of Phoenix.
The easiest way to get there is flying into Phoenix and then renting a car – it's about a 2-hour drive from Phoenix to Sedona, along I-17 North.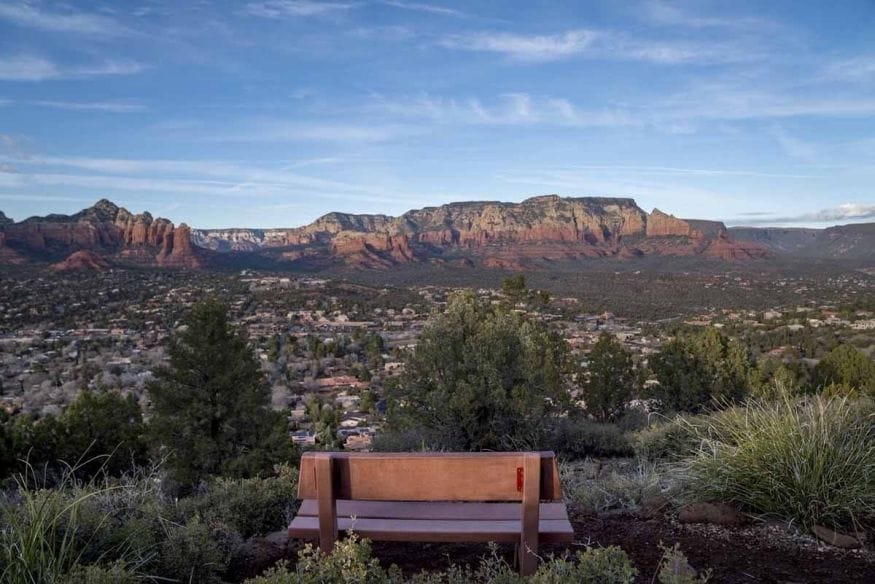 What is the best time to go hiking in Sedona?
You can hike in Sedona year round, but the best time to visit is Spring, between March and May, when the flowers are in bloom and the weather is warm and sunny. Daytime temperatures range between 18-25°C (65-80°F), dipping to 5-10°C at night (40-50°F). However, the flip side is that it's also the busiest time of the year.
Autumn is also a great time to visit, with temperatures similar to Spring, but fewer tourists. Winter does get cold, with daytime temperatures in the 50s°F (10-15°C) and dipping below freezing at night, but it's still possible to hike pretty much everywhere and you may be able to see the rocks dusted with snow.
Summer is probably the worst time of the year to hike in Sedona – not only is it very hot, it's also the time of the yearly Arizona monsoon. If you do decide to hike in summer, pay close attention to the weather forecast, as rainfall may trigger flash floods.
Also, please avoid hiking during the hottest part of the day.
What are the vortexes and how do you find them?
Sedona is a popular spiritual destination because of it vortexes, places with strong energy flow that aid healing, meditation and introspection.
The four best known Sedona vortexes are located at Airport Mesa, Cathedral Rock, Bell Rock and Boynton Canyon. Some of these are 'upward' vortexes, where the energy flows from the centre of the Earth to the surface, while others are 'downward', with energy flowing in the opposite direction.
You won't find exact location for the vortexes – i.e. there's no 'VORTEX HERE' sign. Some people experience strong feelings and transformative journeys, other people feel absolutely nothing.
We recommend approaching the Sedona vortexes with an open mind. There are many tours you can take, led by healers and shamans, or you can just take your time to relax and connect to the Earth.
What to should you bring for hikes in Sedona?
Trail shoes or hiking boots (depending on what you're comfortable with)
Loose, long-sleeved shirts to protect yourself from the sun (especially if you're hiking in summer)
Long hiking pants
Wide-brimmed hat
Sunglasses
Sunscreen
Plenty of water (especially in summer)
Trail map – buy one in town or take a picture of the one posted at each trailhead
GPS (if you have one)
Can you get water along the trails?
Don't forget that Sedona is in the desert. Don't expect to find streams or even water faucets along the trail or at the trailheads – you'll need to carry your own water.
The amount of water you need depends on various factors – outside temperature, whether the trail is steep or not, and on the amount of shade. One gallon per person/per day is recommended.
What else do you need to remember for your Sedona hike?
Don't forget that Sedona is 4,350 feet (1,330 m) above sea level, so you may experience a little bit of fatigue when hiking. Make sure you stay hydrated!
There are strict rules on drones in and around Sedona. Check this post for a description of the applicable rules and regulations
Please don't take rocks, sand, or anything else as a souvenir
Please take all your garbage with you
Be careful of rattlesnakes and scorpions when hiking around Sedona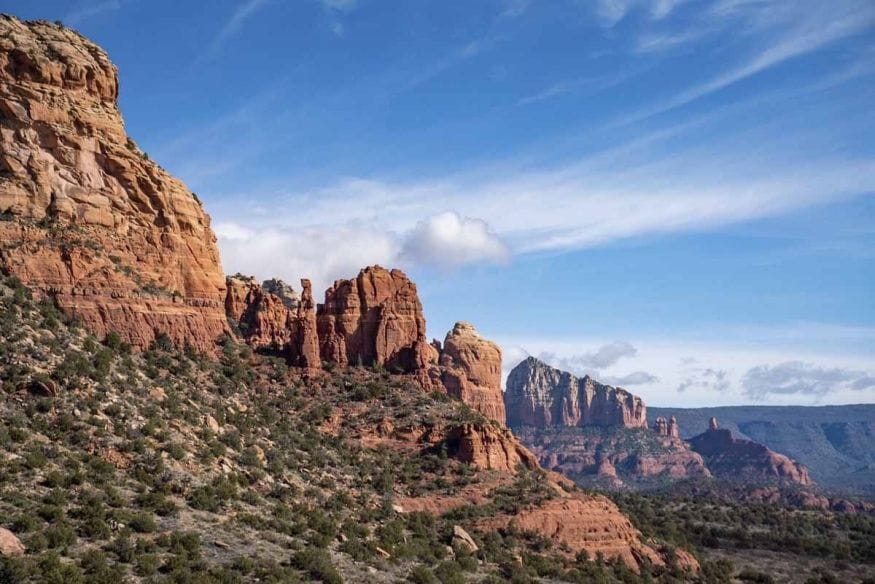 Where to Stay in Sedona
Here are some of the best hotels in Sedona! There are also many great options on Airbnb, including this wonderful studio in West Sedona, where we stayed!