Joshua Tree is a wonderful National Park to visit, only a couple of hours from Los Angeles. The best way to explore it is on foot – and here you can find out all about the best hikes in Joshua Tree National Park!
Joshua Tree will always have a special place in our hearts. It was the best national park we visited during our 7 week road trip around the American Southwest – the first place where we appreciated the stunning beauty of nature in this part of the world.
It's also a very popular national park to visit – blame Instagram for that, and its relative vicinity to Los Angeles. Joshua Tree is only 130 miles from Los Angeles, a distance that can be covered in a couple of hours, making this park a worthwhile addition to your trip, after spending one day or 2 days in Los Angeles.
Joshua Tree is worth visiting for its stark, stunning desert landscapes. Two desert ecosystems meet in the park – the Mojave desert in the western half, with boulder stacks, juniper bushes, prickly pear cacti and the eponymous Joshua trees, now threatened by climate change. In the east, you'll find the Colorado desert, with palo verde, creosote and Ocotillo bushes.
It's very easy to get around Joshua Tree, thanks to paved roads crossing the park from north to south and connecting the two main park entrances in Joshua Tree Village and Twentynine Palms.
As a result, the park can get busy. Very busy. We visited in January, on Martin Luther King's weekend, and the park was packed – yet, most people seemed to stick to the paved roads and just pull up to take pictures at the viewpoints, or at rocks and Joshua trees along the way.
Hiking is the best way to escape the crowds in Joshua Tree National Park, and to get close to the spectacular desert environment. After a 3-day stay in the park, we've come up with a selection of the 7 best hikes in Joshua Tree National Park.
Do you have any more to add? Let us know!
Are you also planning to visit San Diego? Here's our 2 days in San Diego itinerary!
7 Joshua Tree Hikes
1) Lost Horse Mine Trail
Distance 4 miles / Elevation 400 ft / Time 2 hours
This was my favourite hike in Joshua Tree! I liked the Lost Horse Mine Trail because it wasn't too long or too strenuous, yet it included wonderful viewpoints and you'll be able to see a 10-stamp mill and mine site at the end of the trail.
The trailhead is towards the end of Park Boulevard, before the end of the road at Keys View. The trail ascends very gradually, surrounded by yucca and Joshua trees, which would be amazing to see while in bloom.
After 1 and a half miles, the mine becomes visible in the distance – you just need to push on a little further to reach the chainlink fence all around it.
Lost Horse Mine operated between 1894 and 1931 and produced more than 10,000 ounces of gold and 16,000 ounces of silver. It was named 'Lost Horse' because it was discovered while looking for a lost horse during Wild West times – read here for the complete story!
As tempting as it may be, once you get to Lost Horse Mine please don't trespass for the sake of pictures, as some shafts are still open and you may fall in. For some more wonderful views, climb the hill just above the abandoned mine – trust me, it's worth it!
Would you like to discover another hiking destination? Here is our post about the best hikes in Sedona!
2) Ryan Mountain
Distance 3 miles / Elevation 1075 ft / Time 2 hours
Ryan Mountain also definitely deserves to be mentioned as one of the best hikes in Joshua Tree. The trailhead is 3 miles south of Hidden Valley, close to Ryan Campground.
This is probably not the best hike if you want to see cactus or Joshua Trees, but it's a great vantage point for views of the National Park. The 3-mile trail ascends over 1000 feet, so it's definitely more strenuous than Lost Horse, climbing to the 5458 ft summit of Ryan Mountain.
The trail is quite steep, but very well maintained. The higher you climb, the better the views get – the view expands from the desert landscapes of Lost Horse and Queen Valleys, all the way to the San Gorgonio and San Jacinto Mountains.
Given the steep incline and the fact there is next to no shade, please pay attention during the hot season and start this hike early – possible before 10 am.
3) Hidden Valley
Distance 1 miles / Elevation flat / Time 1 hour
This is probably the most popular hike in Joshua Tree, considering that it's short, flat and very scenic. The trailhead is right along Park Boulevard, 12 miles south from the park entrance.
Hiking Hidden Valley, you'll find that iconic 'Joshua Tree' landscape of boulders, cactus and Joshua trees. The trail weaves through a narrow passage between huge boulders to a real 'Hidden Valley', where cattle rustlers used to hide – or so the legend goes.
Once you get into the Valley, you can choose between following the mile-long loop clockwise or counterclockwise. You'll be surrounded by towering stacks of boulders – we saw people climbing them to get good views over the valley below, but please be careful!
Due to the popularity of the Hidden Valley, we recommend hiking as early as possible or after 4 pm to avoid crowds.
4) The Maze Loop
Distance 6.5 miles / Elevation 400 ft / Time 4 hours
If you want to get away from it all, the Maze Loop is a great Joshua Tree hike. It's located in a lesser-visited part of the park, and it's worth hiking in Spring when the wildflowers are in bloom.
It's quite hard to find the trailhead, since the sign is very small and at the car park there's only space for a handful of cars. Just follow the Google Maps pin and you should find it, just off Park Boulevard.
This hike is quite long, and even though there are no steep climbs, it gets strenuous because of the sandy terrain. As you make your way along the trail, for the first 1.5 miles you'll climb over boulder stacks, with great views over the surrounding desert environment.
Then, you'll be making your way down towards a 'classic' Joshua Tree scenery of spiny trees and cacti. The only challenge left is The Maze, a section where the trail weaves through boulders and a small slot canyon.
The Maze Loop is one of the most challenging hikes in Joshua Tree, mainly because it's not well signposted, besides some cairns placed along the trail. We recommend taking a GPS with you if possible, and alerting friends/family/your accommodation of your hiking plans.
5) Willow Hole
Distance 7 miles / Elevation 400 ft / Time 4 hours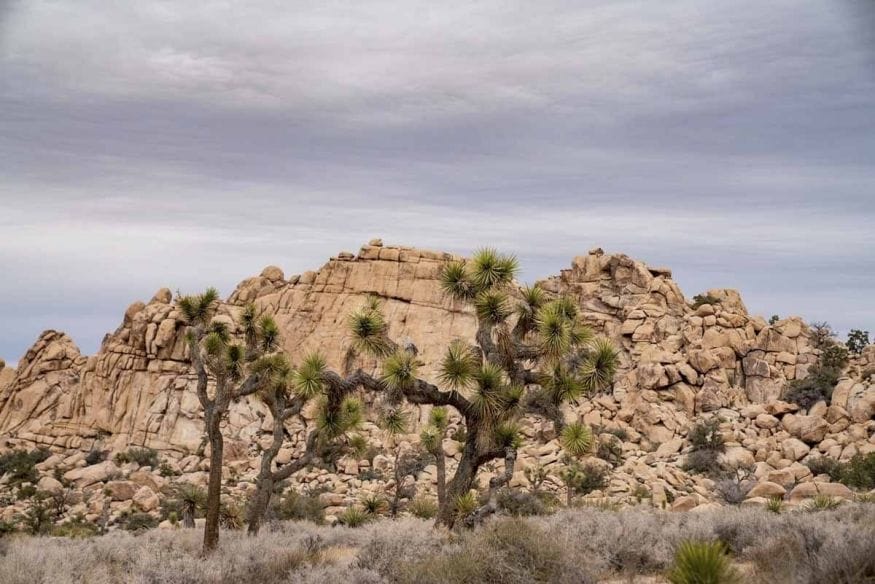 Willow Hole is a side trail of Boy Scout Trail, one of the longest and most offbeat hikes in Joshua Tree National Park. It's also one of the best hikes to explore the area of the park known as Wonderland of Rocks, the large stacks of boulders you can also see around Hidden Valley.
Start hiking along Boy Scout Trail. 1.2 km after the start you'll see a side trail, heading northwest. Follow it as it gets closer to the rocks. 2 miles later the trail slowly turns into a wash, which might make orientation hard. Now it's time to follow your GPS, if you have one.
As you follow the trail, you'll be climbing over rocks, getting larger as the wash turns smaller and more maze-like. Then, 3.3 miles from the start, the wash gets wider again until it leads you to a stunning amphitheatre surrounded by rocks – this is Willow Hole. To make your way back, just retrace your steps the way you came.
6) Warren Peak
Distance 5.5 miles / Elevation 1000 ft / Time 3 hours
The trailhead for the Warren Peak hike is located close to Black Rock Campground, on the western edge of the park. It's away from the main paved loop and usually visited by people staying at Black Rock Campground, making this a great offbeat hike in Joshua Tree National Park.
During the first part of the hike, you'll be surrounded by Joshua trees, and towards the end they'll get fewer and fewer, being gradually replaced by Pinyon pines. The trail is not well marked and there are a few forks where it's unclear where to go – once again, a GPS comes in handy.
If you don't have a GPS, remember to bear right until you hit a sign marked WV-WP – after this, you only have a short uphill push (about a quarter mile) to reach the top of Warren Peak.
7) Barker Dam
Distance 1.5 miles / Elevation flat / Time 1 hour
The trail to Barker Dam is another easy Joshua Tree hike, comparable to Hidden Valley in terms of length and difficulty level. It's a one-mile level loop, starting not far from Hidden Valley and leading to a small dam, originally built in 1900 for cattle and mining use.
Along the trail, you'll find the usual landscape of cacti, boulders and Joshua trees. The dam looks best during the rainy season (winter and spring), when it also attracts wildlife like bighorn sheep and birds. In summer, it may be dry. Also, don't forget to check out petroglyphs along the way!
If you want to extend your hike, you can hike the Water Street Mill loop, another 2.2 miles round trip.
Hiking Joshua Tree FAQ
Where is Joshua Tree National Park?
Joshua Tree National Park is in Southern California, 130 miles east of Los Angeles. The easiest way to get there is taking I-10 heading east, and then CA 62. The main entrance stations are located at Joshua Tree Village and Twentynine Palms.
Alternatively, you can enter the park directly from I-10 at Cottonwood Springs, but you'll be about 1 hour drive from the hikes described above.
How much is the entrance fee?
The entrance fee to Joshua Tree National Park is $30 per vehicle, valid for one week.
If you're planning to visit more than three national parks during your time in the US, we recommend buying the America the Beautiful annual pass, including entrance to all US National Parks for only $80 per vehicle.
What's the best way to get around?
There's no way around this – you need a car to get to Joshua Tree and to reach the various trailheads. You can also ride a bicycle around the park, but we didn't see any cyclists during our visit.
When's the best time to hike Joshua Tree National Park?
Spring is probably the best time to visit and hike Joshua Tree – between March and May the wildflowers are in bloom, the weather is dry and warm, around 15/20°C minimum (58-68°F) and up to 30°C (89°F) maximum.
Autumn is a close second, with similar temperatures and sunny skies. Summer is the best time to visit to avoid the crowds, but hiking in the middle of the day is not recommended due to the extreme heat (exceeding 40°C – 103°F).
We visited Joshua Tree in winter, when rain and even snow are not uncommon. The weather was cool during the day and close to freezing at night, but hiking was still pleasant. To avoid crowds, try not to visit during holiday weekends, when the park is full of day trippers from Los Angeles.
What to should you bring for hikes in Joshua Tree?
All hikes included in this article are between easy and moderate, and don't present technical difficulties if you're a confident hiker. We recommend bringing the following:
Trail shoes or hiking boots
Loose, long-sleeved shirts to protect yourself from the sun (especially if you're hiking in summer)
Long hiking pants
Wide-brimmed hat
Sunglasses
Sunscreen
Plenty of water (especially in summer)
Trail map – you can get a basic one from the visitor centres
GPS (if you have one)
Can you get food and water in the park?
Not really. There is nowhere to buy food, and water is only available at the visitor centre in Twentynine Palms, at Black Rock and Cottonwood campgrounds, at the entrance station south of Joshua Tree, and at the Indian Cove ranger station.
Make sure you bring enough water – one gallon per person/per day is recommended.
What else do you need to remember for your Joshua Tree hike?
Remember to respect park rules! Here they are!
Never feed wild animals
Don't get close to wildlife
Pets must be on a leash at all times
Drones are not allowed
Campfires are only allowed in designated areas
Don't collect rocks, sand, or plants
All vehicles must stay on roads
ATV and dirt bikes are not allowed
Where to Stay near Joshua Tree National Park
-In the Park
The only way to stay inside Joshua Tree National Park is to make use of one of the nine campgrounds run by the National Park Service.
These campsites are available on a first-come, first-served basis, and they do fill up quickly especially during weekends and public holidays. The only exception are the Black Rock and Indian Cove campgrounds between October and May, available by reservation only.
The only campsites with running water are Cottonwood, Black Rock and Indian Cove – if you are planning to stay at other campsites, don't forget to pack several gallons of water for your cooking/drinking/washing needs. You'll also need to bring your own firewood.
Visit the Joshua Tree National Park official camping page for more info about camping and overflow campsites.
-Outside the Park
There are plenty of options for places to stay outside the park, all around Joshua Tree Village and Twentynine Palms. In this case, don't forget you'll have to drive 20/30 minutes to the park entrance.
If you like quirky places to stay, you'll love the selection around Joshua Tree – from Airstream caravans to tiny homes, teepees and fancy desert retreats, the choice is endless. Here are some of the best options!
You'll find also many options on Airbnb (BTW – click here to get €35 off your first booking!)