Welcome to the second instalment of our foodie Via Dinarica adventure! After tasting our way around delicious Šipan Island in Croatia, we crossed the border to share with you the best things to do in Herzegovina – all around the southern part, including the territory of Neum, Ljubinje, Ravno and Trebinje. Naturally, we also included what to eat in Herzegovina!
In February 2008 I was asleep on a bus travelling down the southern Croatian coast, and I was woken up with a jolt.
'Passports!' 
When I opened my eyes I saw a border guard standing right next to me. We were on a bus from Split to Dubrovnik, but we were at a border crossing – how come, I kept thinking, if both cities are in Croatia?
Yet, there we were. The young uniformed official demanded my passport, and the flag flying outside the window was most definitely not the Croatian flag – it was blue, with a yellow triangle and a row of stars. We were going to enter Bosnia Herzegovina. Our foray into the country would be short-lived, and 20 km later we crossed back into Croatia.
Weird, right? Take a look at a map to know what I mean.
Bosnia Herzegovina looks like an upturned triangle.
Herzegovina is the southern tip of the triangle, while Bosnia is the larger section in the north.
If you observe closely, you'll notice a
tiny-teeny stretch of coastline – about 20 km – and there's only one coastal city, Neum
. Travelling to and from Dubrovnik along the coast you're bound to cross the
'Neum corridor'
, the slice of Bosnian territory sandwiched between two stretches of Croatian coast.
And so we did – after that February morning when we discovered the existence of Neum, we crossed the 'corridor' another three or four times. We never stopped, though. We just got off the bus, stretched our legs, bought a coke or an ice cream (for half the price as in Croatia), took pictures of Neum's weird Yugoslav skyline, and off we went.
We also never explored Bosnia Herzegovina deeper, besides a brief visit to battle-scarred Sarajevo and Mostar over a decade ago.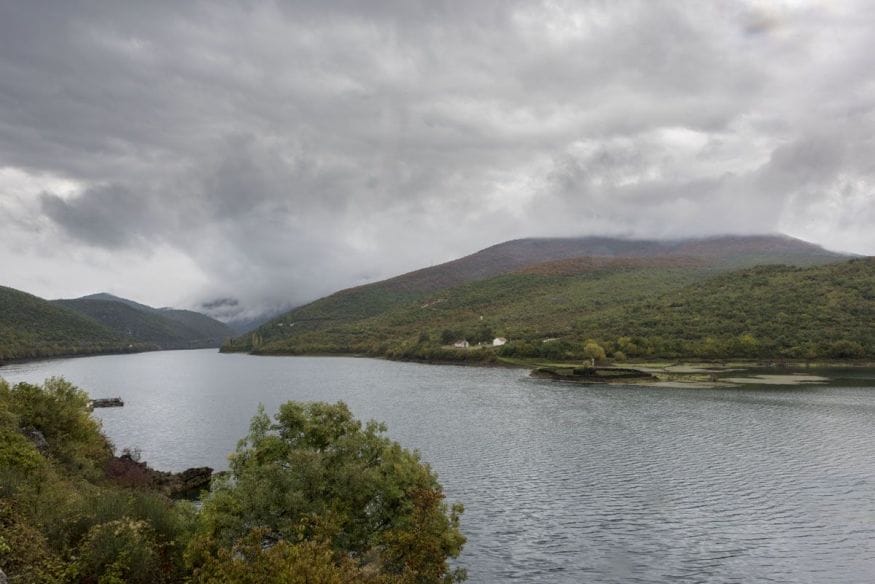 Southern Herzegovina & the Via Dinarica
That's why we were glad to get the chance to spend a week exploring the southern Herzegovinian section of the Via Dinarica, a trail established five years ago to link villages and rural communities in the Balkan region, and promote sustainable development.
The first couple of days we explored Dubrovnik and Šipan island, enjoying the gorgeous late summer sunshine. Then, it was time to move to Southern Herzegovina – first, we finally visited Neum, and then we headed inland to Ravno, Ljubinje and Trebinje. 
 Our time in Herzegovina was spent between nature, culture and generous helpings of food. We tasted wine, ate homemade cheese and pršut, picked wild herbs and had long conversations with our new local friends Marko and Siniša. I was showered with gifts on my birthday and played with too many cute cats to count. This region might not even be contemplated on your travel itinerary but believe me, you should visit. To try and convince you we've put this article together- here are 20 things to do in Herzegovina, and what to eat!
20 Things to do in Herzegovina
Things to do in Neum
1) Swim in the Adriatic
You notice I didn't say 'enjoy the beaches'? Well… there aren't many sandy beaches around here. Similarly to further up north in Istria, there are many concrete bathing platforms on the water's edge, as well as some pebble beaches. Neum may not be as picturesque as the Dalmatian coast, but who cares. The Adriatic is as glorious as ever, with transparent waters, that stay warm even in early October.
Most of the activities available on the Croatian coast, like cruising, sailing and kayaking, can also be enjoyed in Neum – at half the price. However, the summer season winds down earlier than in Croatia – in October, there was hardly a soul around and several bars, restaurants and attractions were closed.
2) Explore weird Yugoslav architecture
AKA what to do in Neum when it rains – and everything is closed. We got to Neum just in time for the glorious sunset above, but the following day we woke up to wind, rain and a temperature of 11°. The museum was closed, the seaside promenade was wet and freezing… so, what would we do?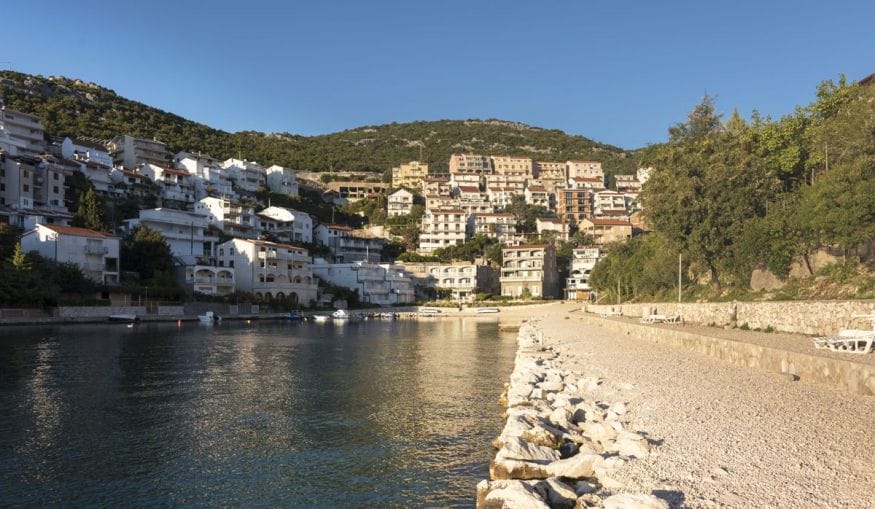 Remember when I mentioned Neum's 'Yugoslav skyline'? The Herzegovinian coastline is only 20 km long, space is in very short supply so everything is very densely built in weird 1960s Socialist style – think weird geometries and lots of concrete. It's interesting to walk around and explore some of this buildings up close – if you fancy to see one from the inside, have a coffee at hotel Sunce and say hello to Milenko for us! 
3) Seafood – half the price of Croatia and double the size!
Eat. Eat. And then eat some more. That's definitely the best thing to do in Neum. Prices are a bargain – can you believe that the massive fish platter below (containing sea bass, scampi, tuna steaks, mussels and 'goldfish') plus one litre of white wine and a side dish of 'mangold' (a garlicky potato and spinach mix) only cost 40 euro? The previous night in Croatia our bill was 70 euro, and we only had one normal-sized main course each (and no wine). So, when in Neum, head to Restaurant Laguna and stuff your face with seafood!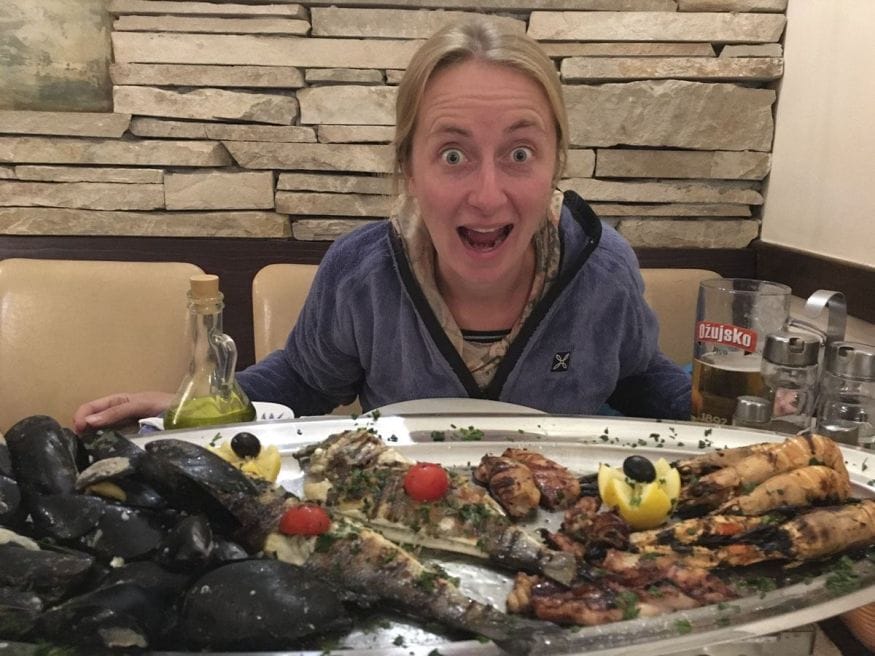 Things to do in Ravno
4) Visit the town
Ravno is sadly known for being the place where the Bosnian war began, having been attacked in October 1991 by Yugoslav forces on their way to Dubrovnik. The village was levelled, and now there's
not much left in terms of sights
, save for a statue dedicated to 
Ruđer Bošković
, a local scientist considered one of the precursors of atomic theory, who – incidentally – also lived in Milan.
Ravno and the rest of southern Herzegovina lie in the position where the continental and Mediterranean ecosystems meet – heather, lavender and helichrysum (locally known as 'immortelle') grow side by side, and it is estimated that there are over 100 wild herbs to be found in the area. 
5) Visit Doctor Burič
We got to Ravno on a very, very rainy day, so instead of hiking around we visited Doctor Jure Burič, a local doctor and herb enthusiast who produces a range of herb-based natural cosmetics.
Doctor Burič is in his seventies, but he looks at least 15 years younger. He's a volcano of energy – when he visited, he was taking care of his grandkids, cooking risotto, making smoothies and giving us a demonstration of his products all at the same time. He makes balms and oils with herbs he picks himself, in the mountains around the village. The tradition of making herb based products has been in his family for generations – when he was a little boy, his grandfather used to say 'if you want your face to be clean and fresh, wash it with sage water'. He claims herbs and a healthy lifestyle are the reasons for his admirable energy and youthful appearance. 'This is God's pharmacy' he said, pointing to the mountains outside hidden by the rain.
Doctor Burič's house is not open to the public, but if you want to meet him and buy some of his great products, you can get in touch with the Municipality of Ravno – info@ravno.ba
6) Visit Popovo Polje (and taste its products)
Popovo Polje is a large karstic field
, a valley stretching from Ravno all the way to Trebinje, until the Bijela Gora mountains that form the border with Montenegro. The ground of
Popovo Polje
is very fertile, along the way we encountered
vegetables, apple orchards, vineyards, fields of tobacco and herbs.
The field is crossed by the
Trebišnijca river
, the largest sinking river in the world, running part underground and part overground.
Travelling around the towns and villages of the region you'll definitely notice markets and stalls where local farmers sell their locally-produces fruit and veg, as well as other homemade products like ajvar, a condiment made with carrots, peppers, chilli, garlic and aubergine. If you have a kitchen, make sure you stock up with fresh veggies!
6) Visit Vjetrenica Cave
Another wonderful karstic oddity is
Vjetrenica cave
, located a short distance from Ravno. The name
Vjetrenica
means
'wind cave'
– it was discovered because locals noticed a strange wind current coming from a crack in the rock, the entrance to this strange underground world.
The cave is probably about 20 km long, stretching all the way to Croatia, but tourists are only allowed to walk down a 500 m long platform. The lighting helps you see some of the stalactites, stalagmites and water pools, where if you're lucky you may glimpse a 'human fish', a strange pale cave salamander. Vjetrenica is the richest cave in the world in terms of biological diversity, so much that it was nicknamed 'Underground Amazon'.
7) Eat Sač
As you head inland, seafood is replaced by meat on restaurant menus. One of the specialties of the area is sač, meat cooked on the fire under an iron bell until it stews into soft deliciousness. Potatoes are added to the bottom of the pan and cook in the meat juices. Sač takes a long time to cook, so it usually needs to be ordered a few hours in advance.
We sampled sač (and some wonderful wine) at Stanica Ravno, a boutique restaurant and hotel located in the former train station.
Things to do in Ljubinje
Ljubinje and Trebinje are part of the Republika Srpska, one of the two entities of Bosnia Herzegovina. In the area, Cyrillic characters are used more than Latin characters, and there are several beautiful Serbian Orthodox churches with icons and frescoed interiors.
9) The Herzegovinian Herb and Honey Road
Ljubinje is located further inland from Ravno, away from the Popovo Polje and deeper into the Dinaric Alps. During ur visit with Doctor Burič we learnt of the importance of wild herbs in local culture. The following day, as we drove to the Ljubinje, we noticed stack upon stack of colourful beehive boxes, and every other house had a sign saying 'MED', honey.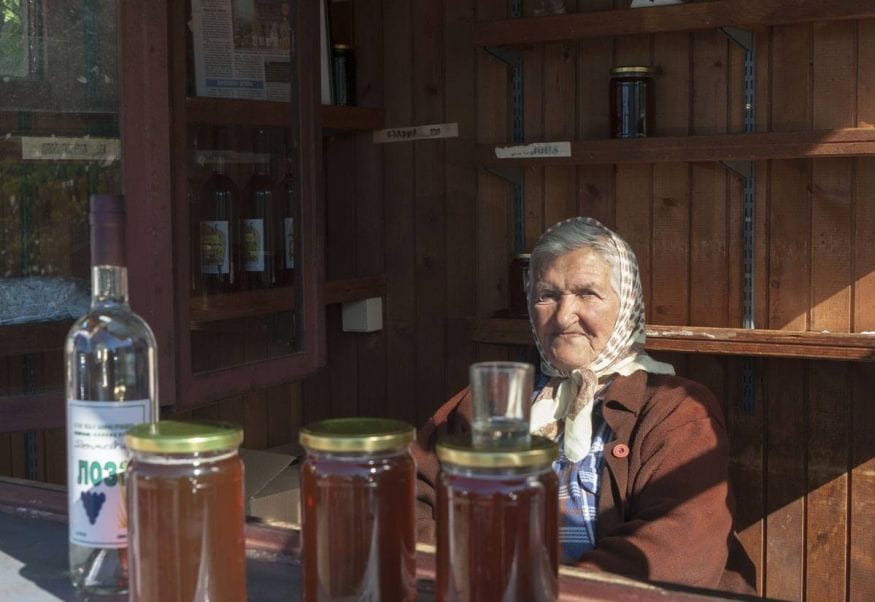 Ljubinje is on the
Herzegovinian Herb and Honey road
, a project to preserve the traditions of herb picking and honey making of the area that have been practices since time immemorial. Info stations have been set up in towns and villages with maps, information offices, free wifi, and small shops selling locally-made jars of honey and herb based products.
'Oh, we MUST stop at Baba Olga's' said guide Marko, just before we got into Ljubinje. We stopped at a tiny roadside stall, where a row of bottles filled with amber-coloured liquid were lined up next to jars of thick, dark honey. A cute grey and white cat was sleeping on the floor. Baba Olga is a 90 year old woman, famous in the area for her tasty honey and herb rakjia. She's so famous, she's even been on the national newspaper – and a framed copy of the page sits proudly on her counter.
I'm not a fan of strong liquor, but I loved the sweet and mellow taste of Baba Olga's honey rakija, and naturally I bought a bottle to take back home!
12) Learn about herbs
Southern Herzegovina lies in the position where the continental and Mediterranean ecosystems meet – heather, lavender and helichrysum (locally known as 'immortelle') grow side by side, and it is estimated that there are over 100 wild herbs to be found in the area.
Every family has their own herbal remedies and preparations, and people love to drink Hercegovačko tea, a blend made with dozens of wild herbs. In Ljubinje's Herb and Honey station you can purchase some herbal products, like lavender sachets, tea and perfumes. To learn more about herbs, you can visit
Ljekobilje
, a local company growing herbs and turning them into essential oils, beauty products and more. We took a walk in the midday sun, and the whole valley was filled with the scent of wild herbs. There was row upon row of lavender bushes – I bet the area must be as pretty as Provence comes lavender bloom time!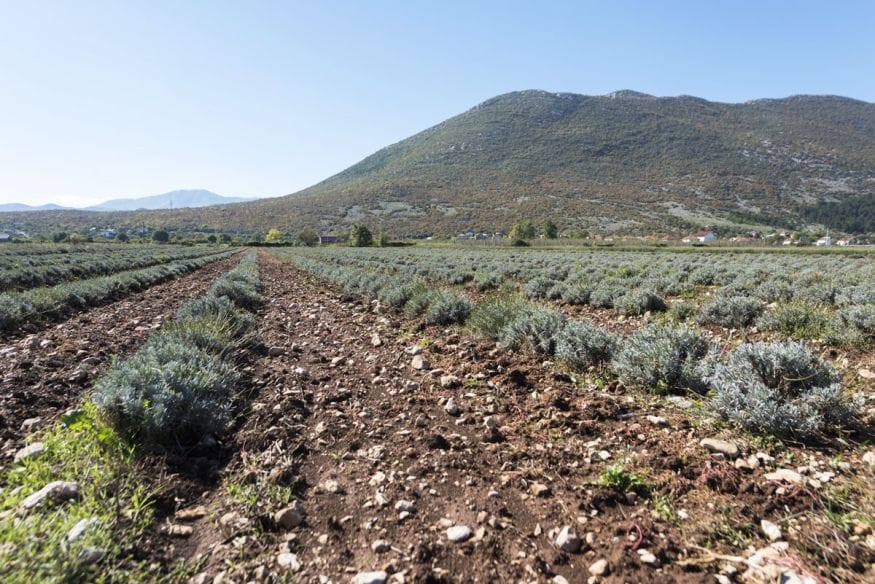 13) Eat boiled goat
The day we visited Ljubinje was my birthday, and our guide Marko suggested we headed to Varduša, a very good local restaurant. I asked what the specialty was, and he replied 'boiled goat'. It doesn't really sound that appealing, right? Marko immediately understood my feelings towards boiled goat, and said that naturally I was free to order whatever, but I really, really should at least try the boiled goat.
Marko explained that lambs and goats of Southern Herzegovina spend their life on the hills, grazing local wild herbs. This lends their meat a peculiar, aromatic taste, that is better appreciated by boiling the meat and eating it with a simple tomato and cucumber salad, and some boiled potatoes. I was convinced, and we ordered a plate of boiled goat and veal – it was delicious, and did indeed have a 'herby' taste. Not to mention, lunch for three (with beers) only cost us about 20 euro!
We spent two days with Marko, a wonderful local guide who took us around Ravno, Ljubinje and Trebinje, and knows all local secrets. If you want to get in touch, here's his website http://www.trebinjetravelguide.com/
Things to do in Trebinje
14) Visit Tvrdoš monastery
Just outside of Trebinje you'll find Tvrdoš Monastery, a place that will make history and wine lovers happy at the same time. The present church was built in the 15th century and still contains original frescos and two interesting relics, the finger of a saint cross made out of wood from the original Holy Cross. On the floor, you can also see traces of the foundations of the first church to be built in this location, dating back to Roman times.
Just below the church there's the wine cellar, with a vaulted ceiling and huge wooden barrels. Two main varieties of wine are produces – Vranac, a dry red typical of the Balkans, and Žilavka, a fruity white wine reminiscent of Riesling.
15) Crkvina Hill and Gracanica Church
The best view of Trebinje is from Crkvina Hill, one of the many hills that surround the city. Trebinje Locals are so proud of the view that not one, but TWO people took us to the top, once at sunset, and once in the morning after a massive shower.
On the top there's the Hercegovačka Gračanica monastery, a replica of the famous Gračanica monastery in Kosovo, one of the holiest Serbian orthodox places. The church was built in 2000 to house the remains of Jovan Dučić, Trebinje's most famous poet and local hero. Dučić died in the US abut wished to be buried back in Trebinje – his wish came true thanks to a wealthy local man, who is portrayed in a fresco inside the monastery 'delivering' the monastery to the Virgin Mary.
16) Tour the city – on foot or by kayak
Trebinje is a very pleasant town, surrounded by stunning nature, and with cool sights and a great atmosphere to while away a few days. The centre is quite small, and can be toured on foot in a couple of hours. You can start exploring Kastel, the walled historic centre built during Ottoman times, reminiscent of Baščaršija in Sarajevo. There are two mosques, Sultan Ahmed and Osman Pasa mosque – the latter was destroyed during the Yugoslav war of the 1990s and rebuilt in 2005.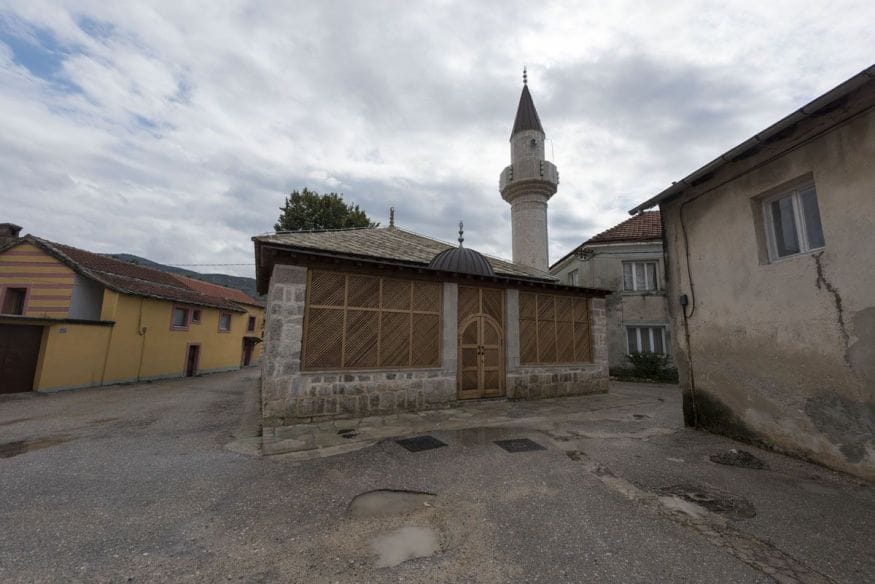 Trebinje is located on the banks of the Trebišnijca river, the sinking river we encountered in Popovo Polje. Another sight dating back to Ottoman times is Arslanagic bridge, that was in fact built several kilometres upstream in the 16th century, but was moved brick by brick in the 1970, after a hydroelectric dam created an artificial lake that submerged the area. Nowadays, you can kayak under the bridges and along the Trebišnijca river, and you can also swim, but the water is freezing!
Outside the Kastel there are a few more sights – the Korzo, a pedestrian street lined with beautiful plane trees, the Piazza where a farmer market takes place daily (except Sundays, and guess what day we visited…) and the Orthodox Church of St Transfiguration with beautiful frescos and icons inside.
17) Enjoy Bosnian coffee
The Kastel is a great place for a coffee stop – but instead of having the same old espresso, why not opt for Bosnian coffee, cooked on the stove in a metal pot? The coffee is Turkish style, with grounds in the bottom of the cup, so remember not to put sugar straight in and stir, or you'll be drinking mud. If you want sweet coffee, ask your waiter before! We had great coffee at Kafe Bar Azzaro, a local favourite.
18) Hike around Bijela Gora
With such beautiful mountains around Trebinje, we were really looking forward to hiking around Biela Gora, a mountain on the border between Herzegovina and Montenegro. We had planned to hike with Sinda Kunic, a local guide and nature lover, but sadly we woke up to incessant rain and cold wind. Instead of hiking, we just drove up to a mountain cabin where some of Sinda's friends were staying, and spent the morning with them.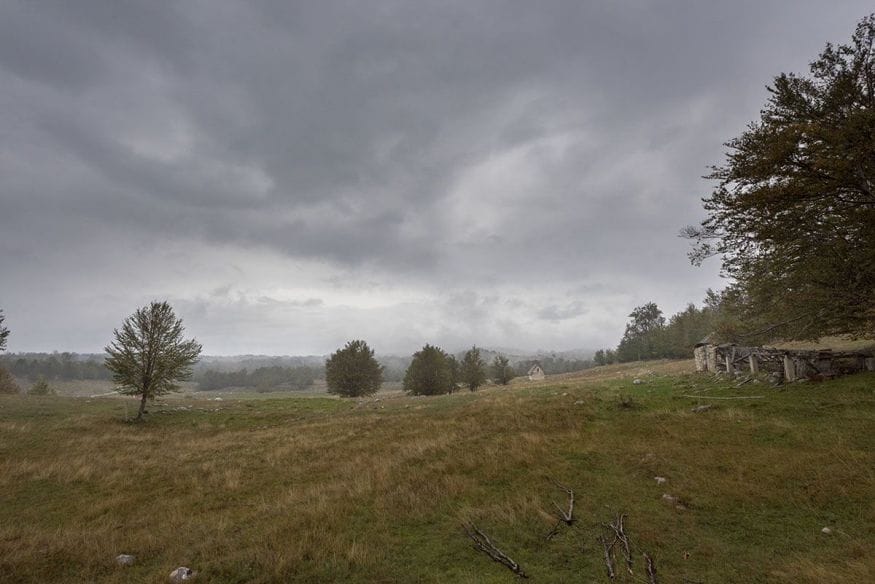 The mountains looked awesome, shrouded in clouds with blooming heather bushes and waterfalls, and Sinda is the perfect guy to go on a wild outing with – I think he would be a match for Bear Grylls in terms of survival skills! We are regretting our missed opportunity so much that we are already planning to return to Trebinje for a hike with Sinda. Let's just hope luck is on our side next time!
19) Visit Austro-Hungarian forts
One of the highlights of our hike with Sinda was supposed to be a
Austro-Hungarian fort with a view stretching all the way to the Montenegrin coast
. There are several forts on the hills around Trebinje, overlooking the coast for attacks and lighting beacons when invaders were sighted. If you aren't planning to go hiking with Sinda but still want to see a fort, it's possible to
hike up to Fort Strac from Trebinje
– it was too wet for us to do it but our friend Janet from
Journalist on the Run
did, and said it was one of the best things she did during her time in Trebinje!
We had a wonderful day with Sinda – if you want to do the same (and hopefully you'll be luckier than us with the weather) here's his website http://www.walkwithme.ba/
20) Taste local products
Discovering local food
was a big part of our trip to Herzegovina, and for this we must thank 
Udruzenje Selo u Srcu
, an association whose name means
'heart of the village'
, created by a local cheese maker named Miro. The aim of the association is to preserve and promote local food and traditions, and share it with visitors. Miro organises tastings of local products in the association's space in Tuli, just 10 minutes drive from Trebinje. We enjoyed a massive spread that included a cheese and egg pie made by Miro's mother, some of Miro's very own cheese and pršut from the village, as well as some tasty pickled peppers and some local red wine.
We also visited the house of a friendly man called Risto, maker of the best pršut this side of the Adriatic, and drank some fresh pomegranate juice. The association's plans include establishing trails that visitors can follow on foot or by bike, stopping at local homes to sample local products. We think it sounds like a brilliant idea and a great way to get in touch with the spirit of this wonderful, undiscovered region.
The project "Sustainable tourist development – From Herzegovina trails to Dubrovnik Elaphiti islands" is financed by the European Union under the IPA CBC Programme Croatia – Bosnia and Herzegovina 2007 – 2013.
Pin it for later?