After a short detour to discover anime in Tokyo we are back in Europe, Croatia to be exact.
This year we've spent a week discovering the section of the Via Dinarica between southern Croatia and Herzegovina, after touring Plitvice National Park last year. This first article is about where (and what) to eat on Šipan Island, one of the three Elaphiti islands just off the coast of Dubrovnik.
Introducing the Via Dinarica
It has been long since the Balkans were considered an 'off the beaten track' destination. Head to the Croatian coast in summer, and you may think there's nothing left to explore in this part of the world.
Places like Hvar, Dubrovnik, Zadar and many
Croatian national parks
are filled to capacity, and prices are pumped up accordingly. But guess what –
the Balkans still have many undiscovered corners
, ideal for lovers of local life and sustainable tourism.
The Via Dinarica trails were established in 2010 to link family-run establishments and create a network of places offering local experiences – think wine makers, konoba, farmhouses, olive-growers and so on – bringing sustainable tourism development to an area that still sees few visitors.
There are
three trails called 'Via Dinarica'
, taking their name from the
Dinaric Alps
, stretching parallel to the Adriatic coast across parts of Italy, Slovenia, Croatia, Serbia, Bosnia-Herzegovina, Montenegro, Kosovo and Albania.
The green trail is the one furthest inland, offering shady forest walks, the blue trail is the closest to the coast, also crossing some Dalmatian islands, and the white one is in between the two, touching the highest peaks of the Dinaric Alps.
All three trails will take you through regions that are (for the most part) blissfully tourist-free, where you can enjoy local hospitality, beautiful landscapes, outdoor activities and delicious traditional food. And if you can visit outside of peak season, all the better!
Last October we were invited to discover part of the blue Via Dinarica trail, with a focus on local food. Our program included destinations along the coast – Dubrovnik, the Elaphiti Islands and Neum – as well as on the mountains of Eastern Herzegovina (Trebinje, Ljubinje and Ravno).
Let's start with Šipan Island, where we had the best olive oil of our lives, and enjoyed the last rays of the summer sun.
The Olive Oil of the Elaphiti Islands
'There's no better snack than fresh bread dipped in olive oil'
once said the elderly Lebanese father of a friend.
The love for olive oil is something that all people of the Mediterranean have in common.
From
Italy
to Lebanon, from
Greece
to
Spain
and
Croatia
, every country claims to have the best olives and olive oil.
There are various explanations for the origin of the islands' name – some report it comes from the Greek for 'deer', as the three islands not only were once overrun with deer, but also had a deer-like shape. Another theory argues their name comes from elaia, Greek for 'olive' and fitos, meaning 'to grow' – testament to the fact that the olive-growing tradition of the Elaphiti Islands stretches back millennia.
Meeting Miho Bender, the olive master of Šipan Island
In Šipan, we spent the day with Miho Bender, a local farmer who grows nine varieties of olives in his island plantation. Miho is one of those endearing island characters that makes you feel part of his family. It's impossible not to like him, his bushy moustache and infectious smile. He's been living on Šipan full-time for 18 years, after spending 22 years shuttling back and forth from Germany, where he was working every winter to support his family. Nowadays, he grows olives and walnuts, and produces wine 'for his tourists' that he hosts in a guesthouse – that naturally, is called Olive Garden.
In a mixture of German, English, and Croatian, Miho took us on a tour of his 'plantage'. It was olive picking season, and his wife Mirjana was at work, picking olives by hand from the youngest trees, using a rake-like tool. Miho grows nine varieties of olives, but he produces his best olive oil solely from pizulja, a local variety and one of the best suites to Šipan's terroir and microclimate.
Miho led us to the guesthouse reception room, proudly displaying dozens of certificates for his award-winning olive oil. 'In Zagreb, a restaurant serves my olive oil, but you're charged an extra 20 kuna for it' he said, laughing, as he poured his liquid gold into a small plate. I wondered if he was joking, but then I dipped a chunk of bread in the oil, and took a bite.
It was magical, as if into that tiny drop of gold were concentrated all the elements that make this part of the world what it is. The sun, shining bright even on an October afternoon. The rich, ancient soil. The breeze, laden with the scent of salt and wild herbs.
It was one of the best olive oils I have ever tasted. It was delicate and punchy at the same time, with subtle lemon and herb aromas.
Under the warm October sun, Miho didn't stop feeding us – and offering us drinks. One after another, glasses of wine and rakija were poured, and thick slices of salty pršut (cured ham) were brought out. We sat under the grapevines, with a view of Šipan's hills all around us. We had Miho's homemade wine 'for his tourists', freshly-picked figs, walnut liqueur and a very special olive oil liqueur – made with stevia instead of sugar.
'I am so happy to be here' Miho said, and I could imagine the hardship of the years spent between Šipan and Germany, away from his family for months at a time.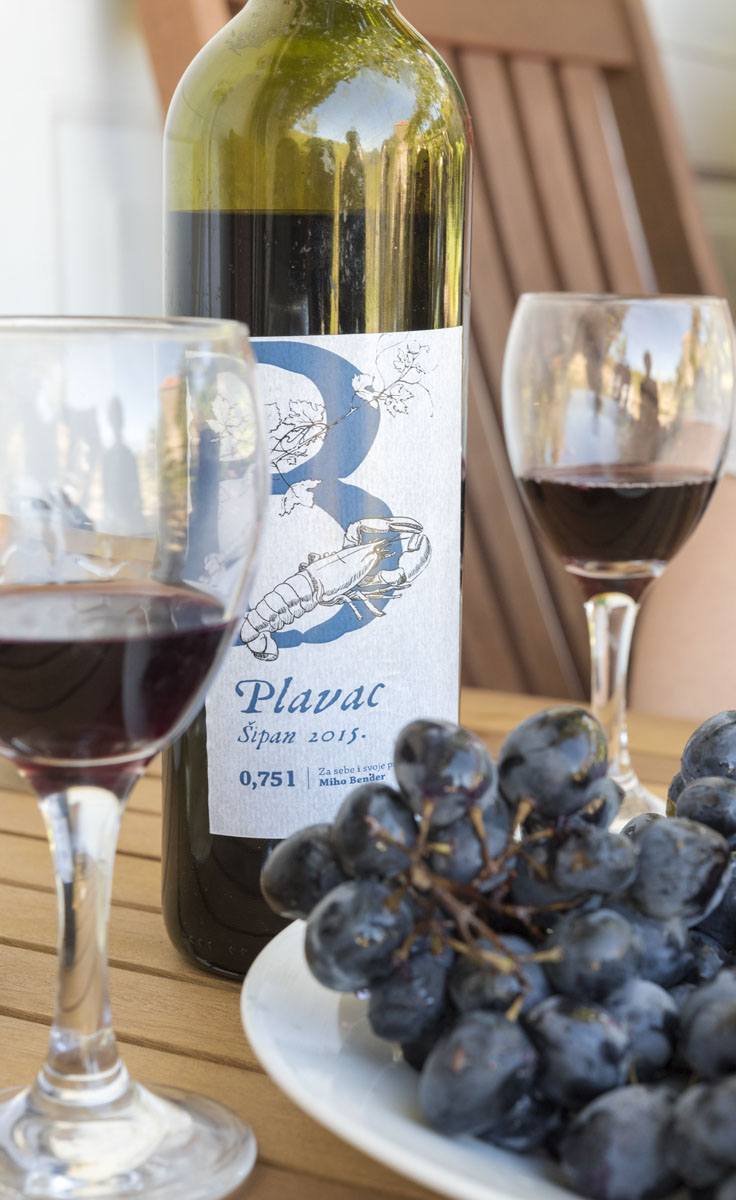 Just as we started to relax a little too much, Miho invited us for a walk. We climbed past the olive trees of his 'plantage' to a path leading downhill, and soon the Adriatic appeared before us, in a green, aquamarine and turquoise dress. On one side was Sveti Andrija, a tiny islet, home to a lighthouse and lots of birds. On the other side, elegant like a lady reclining in the sun, was Mljet Island, housing a national park.
Miho also took us to the oldest section of his olive plantation, including some trees over 400 years old. 400 years. I tried to ask Miho if the land had always been his family's, but my question was lost in translation. The trunks of many trees were split, with three or four smaller trees growing where one used to be. I know nothing about olive trees, and I have no idea why this happens – but it seems like a metaphor of life. From one, many will grow, and last through time.
Where to Eat on Šipan Island
Miho dropped us off in Šipanska Luka, one of the two villages on the island – the other one, Suđurađ, is where the ferry arrives and most accommodation is found. Our plan was staying in Šipanska Luka for the rest of the day and having dinner at Konoba Kod Marka, a small seaside restaurant that supposedly makes the best octopus fritters this side of the Adriatic.
That's where we realised that, after all, it was October. The village was deserted, and as soon as the sun dropped behind the hills, a chilly wind started to blow. The konoba was shut, and wouldn't open for another couple of hours. A seaside dinner on a warm summer night is fun indeed, on a dark, chilly night not so much. We boarded on a bus and travelled back to Suđurađ, getting there just in time for sunset.
We ended up having dinner at Konoba Trisestre, a short walk from Suđurađ's harbour. The menu was an interesting mix of seafood and meat specialties – we started with octopus and zucchini fritters, drizzled with balsamic glaze, and moved on to main dishes of grilled squid and wild boar stew with dumplings. Of course, I couldn't resist drizzling some olive oil on my potatoes and side salad – and again, magic happened.
It wasn't Miho's magic though.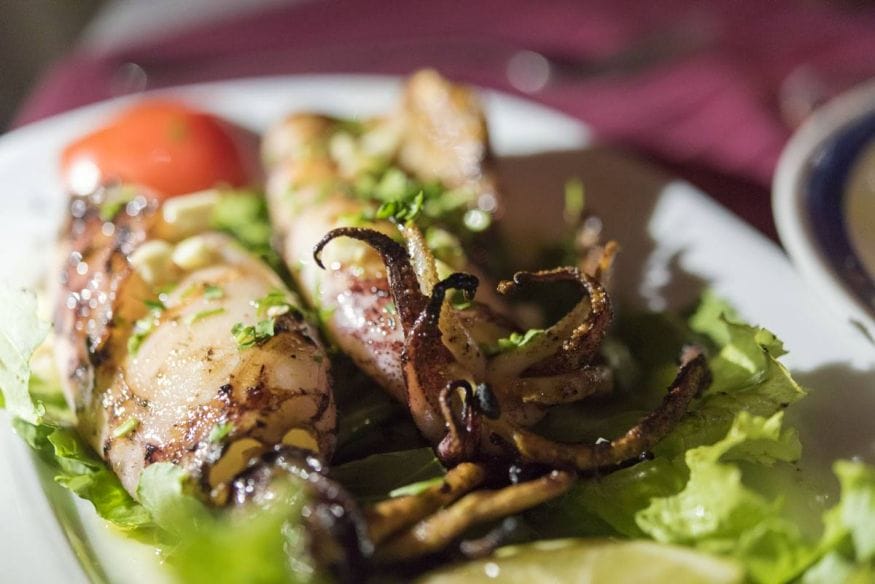 Dubrovnik, the Gateway to Šipan Island
If you're planning to travel to Sipan or another of the Elaphiti Islands, you're likely to stay in Dubrovnik, or pass through Dubrovnik at some stage. Now, don't get me wrong – Dubrovnik is a beautiful city, full of history and popular culture (GoT anyone?) – but it is crazy, crazy busy with tourists. Even in October, the streets of the Old City and the walls were packed with tourists. But, you can find everything you need, including lots of spacious hotel rooms at cheaper rates with discounted deals from Hotels.com at VoucherBin.
I'm not recommending not to visit Dubrovnik – quite the opposite in fact. However, I do recommend visiting in winter, if possible, because even months considered 'off season' like October and March are likely to be crowded.
If the crowds of the Old City get to be too much for you, we have two very good tips. The first one is heading to the top of Srđ mountain, to enjoy a wonderful view over the Old City, Lokrum Island (aka Dorne) and the coast. You can either hike to the top – I guess it would take between one and two hours, depending on your pace – or ride the cable car, at a cost of 120 kn/return. And if you do it at sunset, the view will be even better.
My second recommendation would be visiting DEŠA, an association that promotes the natural and cultural heritage of the Dubrovnik region. If you're staying in Dubrovnik for some time, the association organises cultural, language and crafts courses in their headquarters building, housed in a former sanatorium dating back to the 17th century. You can also find a gift shop with beautiful handmade souvenirs at a reasonable price (a rarity in Dubrovnik!) including lots of yummy goodies like sugared almonds, arancini (orange peel covered in sugar) and a very special bitter orange marmalade. Yum!
The project "Sustainable tourist development – From Herzegovina trails to Dubrovnik Elaphiti islands" is financed by the European Union under the IPA CBC Programme Croatia – Bosnia and Herzegovina 2007 – 2013.
Pin it for later?