Have you ever wondered what to do in Kyrgyzstan? We recently spent 2 weeks in the country and had an amazing time. Here is our selection of 40 amazing things to do in Kyrgyzstan, from where to hike and ride horses to things to do in Bishkek and Karakol, including Kyrgyzstan travel tips to make the best of your time in the country.
Kyrgyzstan is located in the heart of the Silk Road, historically the main trade route between East and West. The Silk Road wasn't just a caravan road, where wagons laden with spices and silks travelled between Europe and the Far East – it was also the place where traditions, religions and cuisine met, creating a cultural melting-pot unlike many others.
Kyrgyzstan is home to two great mountain ranges, the Tien Shan and the Pamir, making up more than 90 per cent of the country. As a result, Kyrgyzstan is a hiking paradise – there are countless trails to cover on foot or horseback, as well as extreme mountaineering opportunities. There are also 50 national parks and protected areas to explore, allowing visitors to enjoy pristine nature and adventure activities, including extreme sports.
Another reason to visit Kyrgyzstan is culture – nomadic culture is still alive and present, with families moving to the high pastures in summer with their livestock. The country is still an up and coming tourism destination – you're unlikely to run into crowds of tourists, and most of the time you'll be alone with nature.
A joint project between USAID and Discover Kyrgyzstan aims to introduce a community based tourism model across the country, using international tourism to further community development and allowing locals to benefit first-hand, while tourists can enjoy authentic cultural encounters.
We've recently had the chance to explore Kyrgyzstan in collaboration with Discover Kyrgyzstan and USAID, experiencing first-hand the positive effect of community-based tourism in the country. We were led across the mountains by local guides and porters, rode horses accompanied by local shepherds, took handicraft classes led by local ladies and stayed in yurts and homestays.
Here is a rundown of 40 of the best things to do in Kyrgyzstan, followed by our best Kyrgyzstan travel tips.
Other Adventurous Things to do in Kyrgyzstan
Kyrgyz Crafts & Cultural Activities
Watch our Kyrgyzstan Video!
What to do in Bishkek
1) Hunt Down Soviet Architecture
Well, it's not a secret that I'm a big fan of Soviet architecture! We spent a whole day hunting down the best Communist architecture in Bratislava, and my favourite place in Moscow is definitely the Monument to the Conquerors of Space. If you share this quirky passion with me, don't miss spending a day in Bishkek.
The capital of Kyrgyzstan, formerly known as Frunze, is a real treasure trove when it comes to Soviet monster buildings – some of the best examples (in my opinion) include the Rossiya Cinema, the Bishkek Circus looking like a post-modern UFO and the uber-Soviet Victory Square.
2) Find the last Lenin Statue in Central Asia
Behind Bishkek's History Museum (another fine example of Soviet architecture, BTW) you'll find a sight that was once common all across the former USSR – a huge statue of none other than Lenin himself, arm stretched as if he was 'pointing the way'. The Lenin statue in Bishkek is actually the only one left in the whole of Central Asia – and just around the corner, in Oak Park, you'll find a statue of two other icons of Communism, Marx and Engels.
3) Check out the Wedding Palace
As you would expect with a city that was largely built in Soviet times, there's no scarcity of weird buildings in Bishkek – but if I were to choose ONE weird building to rule them all, it would have to be the Wedding Palace.
This oddity was constructed in the 1980s to serve as a secular 'wedding temple'. During Soviet times all forms of religion were forbidden, so this temple was built as a kind of compromise between the non-religious state, and those who wanted marriage to be 'blessed' as a holy union.
4) Explore the City of Parks
We were very surprised to find out that Bishkek is a very green city. Our guide Dasha explained that during Soviet times, it was a kind of tradition to plant trees on the day of Lenin's birthday (April 22nd) and as a result, after over 80 years of Soviet rule, Bishkek has over 20 parks. Some of the coolest parks to visit include Panfilov Park in the shape of a five-pointed star, with an amusement park that will look 'retro' to Western eyes, and Oak Park, with an open-air sculpture museum.
5) Have a cold one at Save The Ales
What if I said you can find an all-female brewery in Bishkek? After two weeks in Kyrgyzstan we were kind of fed up with Arpa, Baltika and the other commercial beers found around the country, we headed straight for Save the Ales once we got back to the capital. The brewery is located in a secluded leafy courtyard in the city center and all the brews we sampled was great – highly recommended for beer lovers!
Bishkek Day Trips
6) Relax at Issyk Ata Sanatorium
Sanatoria are a very Soviet breed of hotel-cum-spa, usually meant for medicinal rather than leisure purposes. Many sanatoria make use of natural features like hot springs – an example is Issyk Ata Sanatorium, about 70 km from Bishkek and a popular day trip destination. You can use the hot thermal pools for about 100 som per person, or just wander around the fascinating, crumbing sanatorium. Definitely a not to be missed attraction while in Kyrgyzstan!
7) Visit Burana Tower
This is another popular day trip from Bishkek, or a great intermediate stop if you're travelling between Bishkek and Karakol. The tower is a large minaret, all that remains of the ancient city of Balasagun that was conquered by the Mongols in 1218. A local legend narrates that a king built the tower to protect his daughter, after a prophecy revealed she would die at the age of eighteen. Only the girl and a servant who brought her food were allowed to access the tower – one day, the servant hid a poisonous spider in the food, and the girl was bit and died. Guess how old she was?
After climbing the narrow staircase to the top of Burana Tower, you can check out the nearby open-air museum, with hundreds of balbals – ancient Turkish grave-markers with carved human figures.
8) Go Rafting in Boom Gorge
This stunning gorge is about 140 km from Bishkek, another great stop on the way to Karakol. The gorge is created by the Chuy river and it offers spectacular red rock formations – and it's also a great destination for a rafting adventure!
9) Hike Ala Archa National Park
Another wonderful thing to do in Kyrgyzstan is visiting Ala Archa, a great option for a day trip from Bishkek and one of the best destinations if you're planning to go somewhere for a day hike from the city. The national park is only about 40 minutes away from Bishkek and it includes several trekking options, including a spectacular trail to a waterfall
What to do in Karakol
10) Learn History on a Karakol Walking Tour
Karakol is the place in Kyrgyzstan that best encompasses the melting-pot of cultures and religions that is Central Asia, a product of centuries of trade and exchanges, shaped by the Silk Road. Destination Karakol has launched a walking tour around Karakol, introducing visitors to the multitudes of people that call this city home – the three-hour tour is a great introduction to the city and includes some of Karakol's main sights like the Dungan and Tatar Mosque, the Russian Orthodox Cathedral and one of the bazaars.
11) Find Soviet Souvenirs
Another cool place we visited during the walking tour was an antique shop run by a man called Alexander, full to the brim of Soviet memorabilia. If you're planning to buy unique souvenirs (something you should really do while in Kyrgyzstan), this is the place – otherwise the shop makes for a cool photo opportunity, but we recommend buying even just a fridge magnet to show gratitude to the owner.
12) Get Lost in the Markets & Bazaars of Karakol
The Karakol Walking Tour ended in the Big Bazaar, the largest open-air market in town, where you'll find anything from fruit and veg, spices, clothes and hair accessories! Walk around the market and you'll be surrounded by the cultures and communities that inhabit Karakol – Kyrgyz, Russian, Dungan, Kalmyk, Tatar, Kazakh, Uzbek, you name it.
If you're a Soviet car aficionado, or you want to pick up a new set of wheels to travel Kyrgyzstan or traverse the Pamir Highway, your best bet will be heading to the Second Hand Car Market, not far from the Animal Market held on Sunday mornings. Whether you're after a Lada or a Niva, you're likely to find what you're looking for – and prices are surprisingly affordable.
Another cool place to visit in Karakol is the Slavic Market, a throwback to the time when economy was liberalized and locals took to the streets with the contents of their attic. You'll find Soviet relics, car parts, cogs of all shapes and sizes, electronics that probably won't work, old books, and even horse hooves.
13) Visit the Animal Market on Sunday Morning
If you find yourself in Karakol on a weekend, make sure to pay a visit to the Animal Market, one of the largest in Asia after Kashgar's stunning market on the Karakoram Highway. The market is open between midnight and 10 am – locals with herds of sheep, cattle and horses gather in a location on the outskirts of town, where you'll see hundreds of animals and elderly locals often in traditional attire, making for great photo ops. Visit early in the morning to see the wheeling and dealing at its best!
14) Discover Dungan Culture in Yrdyk
Another great experience organised by Discover Karakol was the Dungan culture and cuisine experience in Yrdyk, a Dungan village located just outside of Karakol. Dungan people are traditionally from China, but their religion is Islam, and most have settled in Kyrgyzstan at the end of the 19th century. The Dungan experience ends with a home-cooked Dungan dinner, which will definitely be one of the highlights of your visit – just have a look at the picture to see why!
What to do in Issyk-Kul Lake
15) Swim in the lake
Meet Issyk-Kul, the world's second largest Alpine lake – you can't visit Kyrgyzstan and not see Issyk-Kul lake! The country is landlocked, like most of Central Asia, so locals and visitors from neighbouring countries spend their summer holidays swimming, sunbathing and enjoying the beaches around Issyk-Kul – which have really nothing to envy to many locations in the Mediterranean!
The northern and southern shore of Issyk-Kul couldn't be more different. The northern shore is rather built up, with lots of hotels and lakeside resorts, catering to Russian, Kazakh and other Central Asian tourists, whereas the southern shore is still wild and unspoiled – we stayed around Bokonbaevo and loved it!
16) Go on a Sunset Cruise
Is there anything more magical than a sunset cruise on a lake? This summer, Destination Karakol started offering sunset cruises – another magical thing to do in Kyrgyzstan that I didn't know you could do! The cruise includes sunset drinks and a panoramic tour of the lake, allowing you to see the sunset over the mountains. You can also ask the captain to stop and jump into the lake from your boat – the best way to end your day at the lake!
17) Stay in a lakeside yurt camp
Staying in a yurt camp is a Kyrgyzstan activity you really can't miss. Historically, Kyrgyz people travelled the land with their yurts, stopping with their herds for a few months then moving on again – to 'greener pastures', so to speak.
The nomadic lifestyle still survives in Kyrgyzstan, with local families spending the summer months with their herds in the mountains, and move to the valleys again when winter comes. It's possible to stay in yurt camps during hikes in the Tien Shan mountains, or by the lake – Feel Nomad Yurt Camp is a wonderful option owned and run by locals, also offering a selection of outdoor activities.
Don't expect luxury when staying in a Kyrgyz yurt camp – one tent usually sleeps 4-6 people, with shared showers and toilets.
18) Hike to Barskoon Waterfall
A short distance away from the southern shore of Issyk-Kul you'll find the Barskoon valley, famous for its waterfalls. The trailhead to the waterfalls is located right next to a bust of Yuri Gagarin, the first cosmonaut who spent his holidays on Issyk-Kul after this first space mission. There are two sets of cascading waterfalls you can visit – the first is only about 20 minutes away from Gagarin's bust, whereas the second is about an hour and a half away. There are horses available for rent if you are unable to walk.
19) Find Fairytales in Skakza Canyon
This canyon is famous for its bizarre red rock formations – some people see dragons, other castles, others even the Great Wall of China. It's also known as the Fairytale Canyon, because every visitor can read the rock at his or her will, and make up their very own fairytale. It's another popular outing from Issyk-Kul, and only takes a few hours to visit – it's great combined with Barskoon Waterfall and Manzhil Ata (the following sight) in a day trip.
20) Check out the Magical Springs of Manzhili-Ata
I'm still puzzled about Manzhili-Ata. On the surface, it's an ancient complex of natural springs with a mausoleum dedicated to a Sunni saint. Part shamanic, part Muslim, locals believe it to be a magical place, and the different springs are believed to cure different kinds of illnesses – for instance, the first spring is beneficial to the stomach, the second can cure your liver, and so on.
The spring complex is very hard to visit without a local guide, not only because you may end up getting lost, but also because you'd be missing the interpretation to the symbolism of the place and the set of behaviours – half prayer, half ritual – to be undertaken at each spring. The spring themselves are nothing to write home about – however, in my opinion, Manzhili-Ata is truly a unique sight and it deserves a visit.
21) Find the Camels Around Orto-Tokoi Reservoir
Just west of Issyk-Kul you'll find a sparkling aquamarine expanse, on the way to Kochkor. Orto Tokoi is not a natural lake, but a reservoir, built in 1956 by diverting the Chuy river to provide water in times of scarcity. Wild camels are often seen in this area – we spotted some grazing along the shore, but by the time we stopped to take a picture of them, they were gone!
What to do in Jyrgalan
22) Spend Time in the Village
Jyrgalan was our favourite place in Kyrgyzstan by far. Not only is it surrounded by wonderful nature, with great mountain views anywhere you look, it's also a hub for adventure activity and a successful example of community-based tourism. Locals will benefit first-hand from your stay and activities in Jyrgalan – if promises of pristine mountains, hair-rising horse rides and wild multi-day hikes are not enough, this should convince you!
Jyrgalan's tourism hub is Alakol Guesthouse, run by friendly Emil and Gulmira, the first and largest guesthouse in town also organizing a variety of hikes, horse-riding trips and other experiences in the region – including a 'Kumis Treatment'!
23) Experience Kyrgyz Hospitality in a Homestay
There are no hotels or restaurants in Jyrgalan, only homestays and guesthouses run by locals. Staying in Jyrgalan, you'll experience local the way of life, sharing meals and swapping tales with your hosts and fellow travellers. Ah, did I mention you can also stay in a yurt?
24) Hike to Kyle Pass & Emil's Peak
Jyrgalan is a real hiking hub, with countless of day-long and multi-day hikes in the vicinities of the village. A fun way to spend a day is hiking to Kyle Pass and Emil's Peak, a day hike along the Jyrgalan valley and up the nearby mountains. We loved how many of the nearby mountains and passes are still unnamed – who knows, you may end up having a landmark named after yourself!
25) Ride a Horse to Turnali Waterfall & Lake
A popular alternative to hiking around Jyrgalan is horse riding, with lots of options for everyone from beginner to proficient horse riders. Riding to Turnali waterfall and lake is a great option for a day trip – the ride is easy at first, with a nice, wide path over gentle hills, while the second part of the day will get your adrenaline pumping as you guide your horse over the steep mountainsides all the way to tiny Turnali Lake, surrounded by emerald pastures.
26) Party with the Locals at J-Fest Summer Festival
This year also marked the first edition of the J-Fest summer festival, a day-long event showcasing Kyrgyz crafts and culture. The programme includes a horse riding parade, an fashion show of traditional Kyrgyz attire and a game of Kok-Boru, the central Asian version of polo using a goat carcass (which is then eaten) in place of a ball.
Other Adventurous Things to do in Kyrgyzstan
27) 3 or 4 Day Turgen-Ak Suu Hike
You can't visit Kyrgyzstan and not hike! Karakol is the ideal base to plan epic hikes in the surrounding Tien Shan mountains, one of Kyrgyzstan's mountain ranges with peaks touching 5000 meters. The three or four day Turgen-Ak Suu hike is a newly opened trail connecting two stunning valleys, crossing three wildflower-covered mountain passes, with views on mountain lakes and yet-unnamed glaciers throughout. It's a strenuous 47 km hike, but you'll be rewarded by the wonderful views and the feeling of sleeping under the stars.
28) Horse Trek to Son Kol
This 2 day horse riding adventure was one of the best things we did in Kyrgyzstan, encompassing at once what we liked best about the country – stunning landscapes, horse riding and great hospitality. The ride begins at Kyzart Pass in Naryn Region, climbing through snow-dusted passes (even in August!) and crossing jailoo (high pastures) and mountain rivers before reaching the sparkling Son Kol lake two days later.
Accommodation and lunches are in shepherd's yurts along the way, once again giving you an insight into life in the mountains of Kyrgyzstan. Son Kol lake is one of the most scenic places in the entire country, surrounded by mountains at an altitude of 3000 meters – forget swimming like in Issyk-Kul, this lake is freezing even in high summer!
29) Climb Pik Lenin
Kyrgyzstan is 95% mountains, and the country's average elevation is 2750 meters – as you might expect, there are some pretty serious peaks, including some exceeding 7000 meters. If wandering into thin air is something you want to do while in Kyrgyzstan, you should consider climbing Pik Lenin, one of the easiest 7000-metre peaks in the world.
And when I say 'one of the easiest', that doesn't mean you can simply walk up in your Converse – Pik Lenin is still a very serious high altitude adventure, taking between two weeks from transfer to base camp to descent. Something I'd love to experience one day, if I can muster the courage!
30) Road Trip the Pamir Highway
This is another of Central Asia's great adventures, one of the world's highest (and most beautiful) roads, traversing the mountains of Afghanistan and Tajikistan before ending in Osh, Kyrgyzstan. The Pamir Highway was once part of the Silk Road, and it takes about a week to cover the distance from Osh to Khorog in Tajikistan – and then a couple of extra days to cross into Afghanistan and cover the distance until Mazar-e-Sharif, where the highway officially ends. The Afghan border is very often closed because of security reasons – needless to say, we advise to exercise the utmost caution and ask locally before crossing into the country.
What to Eat in Kyrgyzstan
31) Ashlan Fu
To be honest, my expectations of Kyrgyz cuisine were not high at all. We spent 5 weeks in Mongolia a few year, the only place ever where we really hated the food, and we expected Kyrgyz food to be similar – boiled meat, overcooked noodles, stodgy stews and more boring stuff. Imagine our surprise when we found out that Kyrgyz cuisine is influenced by the Chinese and Russian traditions, and it includes lots of vegetable-based dishes!
My favourite Kyrgyz dish was Ashlan-Fu, a cold Dungan specialty made with lo-mein wheat noodles, shaved strands of cornflour starch and lashings of garlic and chilli in a vinegar and soy sauce. Ashlan-Fu is available in both meat and vegetarian options, great for vegetarians and for everyone getting tired of meat-heavy central Asian cuisine.
32) Lagman
Another dish you'll often find on Kyrgyz menus is Lagman, thick handmade noodles topped with meat and vegetables (or just meat, or just vegetables). Lagman usually comes in three different versions – boso lagman (stir-fried), traditional lagman (in soup) and guyru lagman, a Uyghur specialty which is kind of a hybrid of the previous two
33) Soups
Soups are also very popular in Kyrgyzstan – most menu will offer borsch, the uber-famous Russian soup with vegetables, beef and beetroot, as well as solyanka, a sweet and sour beef soup. If, like me, you like having a break from meat, opt for chichivitsa, a light and delicately-spiced lentil soup delicious with some squeezed lemon.
34) Dried Fish
Driving along Issyk-Kul you'll definitely notice locals selling dried fish on the roadside – it's a popular snack, especially delicious with a cold beer.
35) Kumis
Trying kumis (fermented horse milk) in a yurt is another not-to-be-missed Kyrgyzstan experience. It's an ancient beverage, with its roots in nomadic culture, and it is still very much appreciated today.
Kumis is made by fermenting unpasteurised horse milk until it becomes a little sparkling and mildly alcoholic – and the more you leave it, the stronger it gets. It's definitely a love it or hate it kind of drink! Some of the local people we met swore it has medicinal properties, whereas fellow travellers deem kumis to be the culprit for their bout of Kyrgyz belly – who knows?
Kyrgyz Crafts & Cultural Activities
36) Making Shrdak
One of the coolest activities organised by Destination Karakol is a shrdak workshop with a lady called Damira. Shrdak is one of the two techniques of felt carpet making – felt 'sheets' are cut into shapes and sawn onto one another with decorative stitching. Damira learned shrdak making from her grandmother and her skills helped her support her family as a single mother. At Damira's shrdak workshop you'll learn to make your own souvenir, or you can buy amazing shrdak carpets and wall hangings from the gift shop!
37) Making Alakhi
There are two techniques of felt carpet making in Kyrgyzstan – shrdak and alakhi, a kind of felt 'mosaic'. Felt is basically pressed wool – in alakhi making, colorful wool is combined into shapes then pressed together into a felt carpet. We joined an Alakhi workshop in Bokonbaevo, on the southern shore of Issyk Kul lake, and got to witness the entire felt making process from start to finish. We event lent a hand, or shall I say a foot – the most effective way to press the felt carpet it rolling it and kicking it around!
38) Building a Yurt
Felt is also one of the main components of yurts, the traditional Central Asian nomad dwellings where many Kyrgyz people still live. There are still many Kyrgyz herders leading a nomadic or semi-nomadic existence, and spending part of the year living in yurts.
In the village of Kyzyl-Tu, not far from Bokonbaevo, you can assist (and even join in!) to a yurt-making demonstration – locals will show you how to put a yurt together in just one hour!
39) World Nomad Games
Every two years Kyrgyzstan hosts the World Nomad Games, an event that aims to preserve and showcase the richness of nomad cultural heritage from all across Central Asia. Teams from the region challenge each other in a series of traditional, spectacular sports – including Kok Boru, probably the best known, Er Enish (wrestling on horseback) definitely a tough challenge, Cirit (javelin on horseback), wrestling, archery and more.
The World Nomad Games are a relatively-recent introduction, having started in 2014. The first two edition were held in Cholpon Ata, not far from Issyk Kul, and it is not yet known where the 2018 edition of the games will take place – probably in the same place, or maybe elsewhere in the country.
40) Eagle Hunting
Hunting with eagles is another quintessential Central Asian tradition. If you're visiting Kyrgyzstan in summer you'll no doubt come across locals showing off their magnificent birds and even holding 'eagle hunting demonstrations', but if you want to see real hunting in action you'll need to visit in winter, as eagles need snow to track their prey. The tourism offices in Bokonbaevo and Karakol are good places to enquire if you want to know more about eagle hunting.
Kyrgyzstan Travel Tips
Visa Info
Well, let's start with good news – Kyrgyzstan is currently the only one of the few Central Asian countries offering visa-free access for up to 60 days for EU, US, Canadian and Australian/NZ citizens!
Getting there
-By Plane
If you're coming to Kyrgyzstan by plane, you'll probably be flying into Bishkek/Manas airport (FRU), about 45 minutes drive from Bishkek.
British Airways, Turkish Airlines, Emirates, Aeroflot, China Southern and Pegasus all fly regularly to Bishkek/Manas.
-By Land
From Russia: there are direct trains two or three times a week from Moscow Kazanskaya station. The train takes three days and crosses Kazakhstan. Several nationalities (including EU, US, Australia, Canada and NZ) can enter Kazakhstan visa-free for 30 days, whereas pretty much everyone will need to arrange Russian visas in advance.
From Kazakhstan: Almaty and Bishkek are only 200 km away and there are several daily minibuses between the two cities, but it can take several hours to cross the border due to intense traffic.
From Tajikistan: the most popular option to travel overland into Tajikistan is definitely the Pamir Highway from Osh – unless you're a very confident off road driver we highly recommend arranging your trip with a local agency, as the road is very dangerous. Check your country's visa requirements for Tajikinstan – several nationalities can get an eVisa.
From Uzbekistan: there are three border crossings between Uzbekistan and Kyrgyzstan. The Dostyk border crossing is the most commonly used by tourists, and it is located on the road between Osh and Andijon. The second border crossing is Khanabad, on the road between Osh and Jalal-Abad.
The third, which is the probably the most easily accessible, is the Uch Kurgan border post between Karakol and Namangan. Please ask locally before attempting to cross into Uzbekistan, and don't forget to check if you need to apply for your Uzbek visa in advance.
From China: here are two passes over the Tien Shan mountains to China – the easiest is option is crossing the Irkeshtam pass, whereas the Torugart pass is for real adventurers.
Getting Around Kyrgyzstan
The easiest option is renting a private car with driver, which will also allow you maximum flexibility. Roads are generally in good condition in Kyrgyzstan, unless you head into the mountains – in that case, be prepared to proceed at snail's pace.
Other options to get around Kyrgyzstan are marshrutkas (Soviet minibuses) and shared taxis, far cheaper than a private car but also taking much longer. Real adventurers can also hitch rides on cargo trucks for long distances. Always ask locally for info on marshrutkas, cars and taxis – tourism offices, hostels and guesthouses can help with up to date info
Kyrgyzstan Travel Costs
Kyrgyzstan is a very affordable destination – it's probably more expensive than places like the Philippines, but much cheaper than Europe. A double room in a luxury hotel in Karakol is only about €60, whereas if you opt for homestay or hostel it will be even cheaper.
If you want to travel Kyrgyzstan independently and on a budget, hiking by yourself and using public transport, plan to spend about €25 per person, per day – otherwise your daily expenditure will rise accordingly depending on how many activities you'd like to join.
-Sleeping (on average 20 euros per night)
There are three main options for accommodation in Kyrgyzstan – homestays/yurt camps, usually organized by the local tourism offices (about €10 per person, per night), hotels (found in the main cities, about €30-60 per room depending on hotel level) and hostels (in Bishkek, Osh and Karakol, costs similar to homestays/yurt camps in shared accommodation).
-Eating (from 2 to 10 euro)
Eating out in Kyrgyzstan is very affordable – we rarely spent more than €5 on a meal, and beer is about €1! Some of the best places we ate at in Karakol include Cafe Zarina (120 Lenin Street), Ethnic Cafe Dastorkon (107 Przhevalskogo Street) and Lagman Khama, a tiny place near the bazaar making the best Ashlan-Fu in town. In Bishkek, we liked Imperia Pizzy (114 Chuy Avenue) and Ohota na Ovec (Tynystanov Street).
-Tips
Tips are not mandatory in Kyrgyzstan, but they are appreciated. We were told to leave an average of 500 som per guide/porter per day when hiking, and about the same to our guide and driver who led us across the country.
When to Go
The climate of Kyrgyzstan is much like the rest of Central Asia – hot in summer and very cold in winter, with temperatures often reaching -40°. If you want to hike or drive the Pamir Highway, you'll need to visit in July or August – it may start snowing again from September onwards, making it hard to cross passes.
Winter is a great time to visit for backcountry skiing or to witness eagle hunting, however please be prepared for the extreme cold and pack accordingly.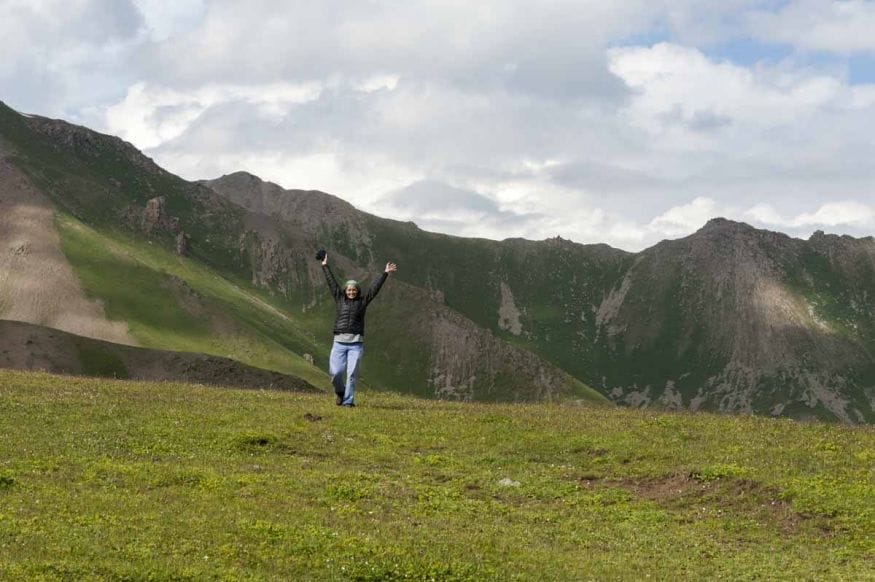 What to Pack for Kyrgyzstan
Not having visited in winter, my tips on what to pack for Kyrgyzstan should be intended for summer only. Please refer to our packing list for long distance hiking for a breakdown of what to take – much of what we listed there can also be applicable to Kyrgyzstan summer hikes.
Also, don't forget to pack the following items for Kyrgyzstan:
A Steripen/Lifestraw bottle for when you're hiking
Goretex rainproof jacket, as it's often rainy and windy in the mountains
Fleece/down jacket, for when it gets cold at night
Waterproof boots/shoes for the same reason
Biodegradable soaps and toiletries if you're hiking for several days and you're planning to wash in streams
Is Kyrgyzstan Safe?
We didn't have any issues with safety in Kyrgyzstan, and the country felt safe at all times during the day and at night. However, we met a group of young Swiss people who were allegedly drugged and robbed in Bishkek – so please do exercise caution, especially in the vicinities of the bus station.
There are many unofficial taxis in Bishkek often overcharging tourists – the solution to this is always using a reputable taxi company and making sure the meter is turned on. Ask your hotel or restaurant to call a legit taxi company, and refrain from hailing taxis in the street.
There have also been reports of corrupt police, both on the Kazakh border and in cities, asking tourists to present their passport then asking for a bribe. Keep a passport copy on you and present that if asked.
The two main dangers that visitors may face in Kyrgyzstan are traveller's diarrhea (often caused by kumis) and traffic accidents. If you have a sensitive tummy, ask your doctor for specific medication to take with you – to avoid accidents, the best way is refraining from travelling at night.
Our trip was organised by Discover Kyrgyzstan, and made possible by the support of the American people through the United States Agency for International Development (USAID). The contents are the sole responsibility of the author and do not necessarily reflect the views of USAID or the United States Government.
Pin it for later?