Forbidden City? Check. Temple of Heaven? Check. Tienanmen Square? Check. To bide farewell to China, we'd like to show you unusual Beijing. From public bathhouses to artsy pubs, from a hutong with a resident rabbit to an abandoned amusement park. Ready?
1) Shuang Xing Tang Public Baths
Did you know that you can go to public bath houses in Beijing?
That's because traditionally, houses were built without running water or sanitation. Nowadays, wandering around the few surviving hutong (historical Beijing neighbourhoods) you're never more than 100 meters away from public toilets, most of the time nothing more than a row of squat toilets without partitions (yes, it IS weird).
Sadly, more and more hutong are being torn down to make way for new residential developments. If you want to know more, read Luca Vasconi's post The Last Hutong. Consequently, public bath houses are meeting the same fate. In 1935, there were more than 100 traditional bath houses in the city. Nowadays, there are just a handful.
Shuang Xing Tang is one of the last traditional baths still in service in the Chinese capital. It was built in 1916 and it is still a popular choice, especially for elderly Beijingers who visit not only to have a bath, but also to socialise, play mah jong and drink tea.
Address: No.7, Dong Erdao Street, Nanyuan, Fengtai District (丰台区南苑东二道街7号).
2) Zajia Lab
It is not all about quick money and development in the Chinese capital. The booming economy has attracted Western expats and young Chinese from around all over the country, creating an interesting cultural scene, with alternative bars and art centres.
One of such places is Zajia Lab, not far from the Drum and Bell Tower. It is the brainchild of an Italian sinologist and a Chinese artist; an independent space, situated in the front hall of an old Taoist temple. It is financed through the adjacent café and private donations, and it offers series focused mostly on live performance, indie documentary/feature films and audio/visual projects.
3) Fangjia Hutong
A handful of streets between Andingmen and Yonghegong Street, Fangjia hutong is a great example of a hutong that has been redeveloped into a trendy hipster neighbourhood. Imagine a maze of streets and courtyards hiding a pub with artisan beers, a shop selling objects made from paper, art galleries and Studio X Beijing, a space organising architecture-themed exhibitions and workshops.
Meanwhile, a friendly white rabbit hops freely across the courtyards.
4) 77 Theatre
An abandoned printing factory that was turned into a theatre, this is sure to leave architecture-lovers with their mouth agape. Until not long ago, the area was no more than a collection of derelict warehouses in a condemned hutong neighbourhood.
Then, Chinese studio Origin Architects were commissioned with the creation of a new culture centre, with a multipurpose indoor-outdoor theatre as its centrepiece.
A former warehouse has been fitted with folding weathered-steel door opens to reveal an auditorium. When shows are on, the whole area becomes a theatre; bridges and pathways link the auditorium to the surrounding courtyards, bridging the gap between performers and audience.
Address: 77 Meishuguan Hou Jie, Dongcheng district. (美术馆后街77号77文创园8号楼)
5) Try Cupping Therapy
Around China, you'll notice some people with giant purple polka-dots on their skin. It's not an exotic disease; it's evidence of cupping therapy, an ancient form of traditional medicine where heated cups are applied to the skin creating local suction.
Cupping therapy is believed to treat a wide range of medical conditions, from rheumatic diseases to blood disorders and skin problems, even though no evidence exists to support these claims.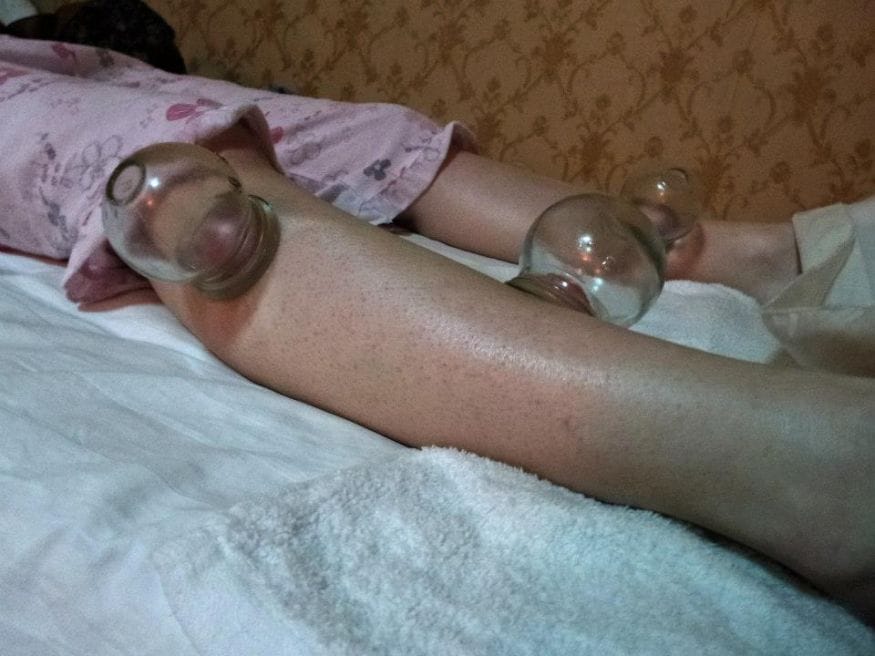 Is it relaxing? Well, not quite. When they're applied to the skin, the cups work as suction pumps, attracting blood to the area. The feeling can best be described as weird (at best) and painful (at worst). But it is a quintessential Chinese experience! Plus, your friends are sure to be stunned after seeing pics of purple polka-dot skin! There are plenty of places in Beijing where it's possible to try cupping therapy, including street practitioners.
A good place is Wu Zhi Sheng Foot Massage (Wu Zhi Sheng Zu Liao Bao Jian/五指生足疗保健), on the second floor of Zhonghang Mansion, in Dongzhimen South Street.
BONUS – Wonderland
When compiling this list, I wasn't sure of whether to include this or not. Why? Because this place no longer exists. Wonderland was, or rather never was, an amusement park. It was supposed to be the largest in Asia, with medieval-themed rides and a castle as centrepiece.
Following economical issues, construction was halted in 1998. It briefly started again in 2008, before being halted again shortly afterwards. For years, it stood abandoned as an eerie ghost park, dominated by the half-unfinished silhouette of the Disney-like castle. Farmers evicted before construction moved in again, tending their crops among the skeleton buildings.
Unfortunately (or fortunately), the site was completely demolished in 2013.
I would like to thanks my Beijinger friends who helped me write this post.
Anna Laura Urbani is a graphic designer, one of the creative minds behind MOTIF Design, a collective of event and wedding planners. She is the author of The Crowded Planet banner image.
Giulia Cattaruzza is an Italian designer who loves travelling to undiscovered destinations. She now lives in Paris.
After leaving Beijing, Linda Pinardi Feletti returned to her native Milan and opened Masada, an independent arts and cultural centre.
Sara Fontana is the only one that still lives in Beijing!
This post contains affiliate links, which means that if you book your accommodation through these links I'll receive a small commission at no extra cost to you, which will help me maintain the site!