If you've been following us for a while, you'll know that we love to discover urban oddities. One of Budapest's main offbeat attractions are ruin pubs. Do you know what they are?
What are ruin pubs?
Imagine a dilapidated building, walls covered in graffiti, mismatched furniture and an artsy vibe. At first glance, you could be in Berlin, not in the elegant, genteel Queen of the Danube. Ruin pubs are all the rage in Budapest; known in Hungarian as romkocsma, they are a fairly-recent phenomenon, the first one having opened in 2001.
Budapest ruin pubs are concentrated in the VII district, just behind the beautiful Great Synagogue. This area used to be the Jewish centre of the city, and it fell into abandon and disrepair after its jewish residents were deported to concentration camps during WW2. The district languished for a few decades, until renaissance was prompted by the opening of the first ruin pub in 2001, Szimpla Kert.
The recipe is simple; abandoned buildings are occupied or rented, some flea-market furniture brought in, drinks served and sometimes music played. There it is, a ruin pub. Sometimes they close and move elsewhere – maybe the building had been occupied without permission, police found out after residents complained.
Nowadays, most Budapest ruin pubs can be found in the streets around Kazinczy Utca. Each of them is different, with quirky decor, a special vibe or location. For example, one of the ruin pubs we visited is on the roof of a supermarket, another in a secret urban garden. Some have exposed pipes, others have psychedelically painted corridors or cosmonaut suits hanging off the ceiling.
Here we share with you the six Budapest ruin pubs we visited during our weekend in the city, each with its very own unique features.
1) Szimpla Kert
Pretty much every ruin pub chart or article begins with a mention to Szimpla Kert. It's the grandaddy (or maybe I should say older brother?) of all ruin pubs, the one that started it all, back in 2001. Szimpla Kert translates as 'simple garden'; it's located in a rundown building that opens up into a large courtyard decorated with weird paraphernalia, from a Trabant car to birdcages, prams and even a rocking horse hanging from the top.
Some ruin pubs aficionados have lamented the fact that Szimpla Kert has turned into a brand, selling its own merchandise and overrun with tourists. It's certainly not a local secret, but the scene is great, especially on a summer night, sitting outside on tall, rickety stools, with an atmosphere between a Munich beer garden and a Berlin squat.
Szimpla Kert – Kazinczy u. 14
2) Instant
When I first heard about Instant, I was really excited. This ruin pub was opened in an two abandoned tenement buildings, joined by an open courtyard. Some of the rooms were kept as they were found, others have furniture hanging upside-down; it's a higgledy-piggledy ensemble of tiny rooms, joined together by psychedelic corridors and staircases with crazy paint work.
Instant is perhaps the most 'clubby' of all the ruin pubs we visited, and for this reason it was probably my least favourite. We loved the look of the place, but the scene was not what we're after. Think heavy-set bouncers, loud music and crazy lights, not really the place to sit down for a quiet drink. However, if you're after a club night out, I'm sure it would be great fun!
Instant – Nagymező u. 38
3) Grandio Bar
Located a couple of streets from Szimpla Kert, you could be forgiven for mistaking Grandio Bar with a secret urban garden. Actually, it may be a bit of both. You enter an unassuming building and find yourself into a courtyard full of plane trees. It makes Grandio the ideal place to take shelter on a sweltering Budapest summer afternoon; in the early evening, the vibe is great too, with a mix of tourists and locals star.
Grandio doubles as a self-styled 'party hostel', usually not my choice of accommodation, but I'm sure it would please party types. The rooms are on two levels, surrounding the ruin pub courtyard, which could be fun, but rather noisy once the night gets going.
Grandio Bar and Party Hostel – Nagy Diófa u. 8.
4) Corvin Tető
This was our favourite, hands down. It's on the roof of the former Socialist Corvin supermarket, and it can be reached by a graffiti-covered staircase, reminiscent of an Eighties B-movie. I had heard there is also a lift to go to the top, with a lift boy serving alcohol, but no matter how hard we looked, we didn't find it.
The rooftop bar offers an amazing view over the city and Buda hills at night, and it's surrounded by socialist-style neon signs. When we visited early in the night it was not too crowded, and watching the city from above was great fun, especially knowing we weren't paying top dollar for the privilege. We heard that once the party starts, Corvin Tető is famous for having great electronic music.
Corvin Tető – Blaha Lujza tér 1-2
5) Púder
I'm not sure this counts as a ruin pub, but we did find it on a ruin pub site, so we thought we'd pay a visit. It's the only one we went to that's not near district VII, it's located instead near Kalvin Ter, about 20 mins walk away. It has a lovely outside terrace, and the decor is indeed reminiscent of a ruin pub, with painted walls, hanging canvases and mismatched tables and chairs.
However, you get table service, drinks are more on the expensive side and the crowd is totally different from usual ruin pubs; more upmarket, I'd say. Still a lovely place to go for a drink and check out the crazy inside decor, but not a ruin pub. It's the vibe of the thing, your Honour. (Australians will get what I mean!)
Puder – Ráday u. 8
6) Fogasház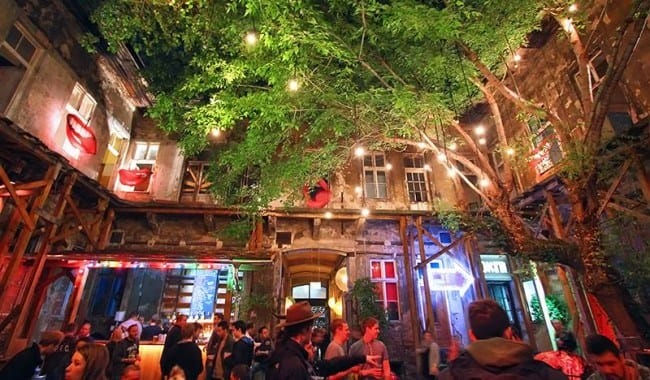 When we got in front of where Fogasház was supposed to be, we thought we'd got the wrong address. It's in a dark backstreet a few blocks from Szimpla, and on Sunday night hardly anybody was around. Then we saw a gigantic toothy grin above a doorway, and we realised we had found the right place.
At first glance, it looks like a smaller and less touristy version of Szimpla Kert. It's located in a kert (garden) too, but it's not as wild as Grandio. Bikes hanging from the ceiling and another giant grin behind the bar complete the oddball decor. It also has a ping pong table and a table football, and pizza is served besides the usual burger offering.
Fogasház – Akácfa u. 51
This list is by no means exhaustive. If you are going to Budapest and would like to know more about ruin pubs, check out Ruinpubs.com, a really amazing site. Don't forget to let me know afterwards, so I can add them to the list!
And if you're heading to Budapest and want to know more about underground culture, the ruin pubs scene and the city in general, take a Budapest Flow tour with Atilla, the creator of Ruinpubs.com. We'll be doing just that during our next Budapest visit!