Our recent visit to Prague was actually two trips in one. We spent half of our time staying near Wenceslas Square, exploring the mammoth square and its passages, and battling with tourist crowds in the narrow streets of the historic centre.
The rest of our time in Prague we stayed in Vinohrady, an artsy neighbourhood south-east from the city centre. Our base was the cleverly-named Czech Inn, a great example of 'luxury hostel', a kind of accommodation that took off in recent years, offering hostel atmosphere but hotel-style comfort and facilities. Actually, better than many hotels!
But more on this later.
During our time at Czech Inn, we avoided the touristy areas in the centre as much as possible. We did our favorite thing when we visit cities – follow insiders tips and tried to visit a variety of places, from offbeat neighborhoods to quirky sights, urban nature and secret places.
Thanks to all Prague insiders who helped compiling this list. Once again, it's far from being complete – we probably had 20 more places to check out, but not wanting to run around like crazy, we had to make a selection. I'm sure we'll return to Prague for part two!
Wanna avoid tourists in Prague? Read this post to find out why you should visit Prague in January!
The best alternative Prague insider tips – for now
Recommended by Kamila from Prague Tourist Office
When I first heard about this one, I couldn't believe it. A nuclear fallout shelter, right under a 5 star hotel in Wenceslas Square? Sounds too weird to be true. Hotel Jalta is part of that breed of hotels built in socialist times to accommodate international visitors, like Hotel Rossiya in Moscow and Hotel Kyiev in Bratislava. My maternal grandfather actually stayed there, during his visit to Prague in the 1960s.
These hotels were full of secrets. Some say that Rossiya was most heavily bugged building of all times, with microphones and cameras guarding every single room. But Jalta concealed an even bigger secret; a nuclear fallout shelter on three levels, large enough for 160 people to stay in for up to two weeks. The shelter was also connected to the outskirts of Prague via tunnels, to allow people to escape in case of nuclear attacks.
After the end of socialist times, Hotel Jalta was bought by an investor with a passion for history, who preserved the shelter and turned the hotel into a five-star property.
These days, you can join guided tours of the shelter carried out by hotel employees for 150 CZK. The meeting point is in the lobby, all plush sofas and crystals. Descend a couple of levels, and you'll find yourself in the dark, damp bunker.
The tour takes visitors through the history of post-war Prague. The shelter rooms that can be visited are set up with Socialist paraphernalia, including documents and surveillance equipment.
You don't get to visit the whole shelter, and the tour focuses more on socialist history than the actual shelter. Yet, I believe it's worth it – the simple idea of being a shelter under Wenceslas square makes you wonder what else lies beneath Prague.
Pop into Hotel Jalta to get info on tour times – the site only lists a few weekly tours, but when we visited they were running several times a day.
2) Letna Hill
Recommended by Ivana from Nomad is Beautiful
When we visited, Prague was hot. Sun baked, asphalt steaming hot. Usually, when that happens, we head to the parks – our first choice was Petrin Hill, but it was also full of tourists.
So, I asked Ivana for some advice, knowing that she had lived in Prague and that she is also a nature lover. She gave us several suggestions, and out of them we chose to visit Letna, the big hill right next to Prague Castle.
Ivana recommended visiting the hill at sunrise, but we're way too lazy for that and just headed there one afternoon. Walking upwards, you get the best view in the whole of Prague; the Vltava with its islands and bridges, the old town on one side and Mala Strana on the other.
Right at the top of the hill you'll find a giant metronome, placed there to replace a statue of Stalin that was nicknamed 'queue for meat' in socialist times.
There are several other hills I'd like to visit in Prague, from Vitkov Hill topped with a socialist monument, and Vysehrad south of the centre. We need to go back soon!
3) Holesovice
Recommended by Mac, who left America for Prague 6 years ago.
Walking north from the top of Letna you'll soon find yourself in Holesovice, that is to Prague what Kreuzberg is to Berlin and the VII district is to Budapest.
Yes, you're right, the whole hipster neighborhood thing is getting a bit old these days – but we still love wandering around, sitting in a cafe for a cup of nice espresso and checking out design shops. Plus, when the alternative is the tourist-packed old town, I'll take hipster districts any day.
In Holesovice, we loved the stunning art nouveau trade fair, about 10 minutes walk west from the train station. We didn't get to go in, but even from the outside it is spectacular. A reminder that in Prague, amazing Art Deco and Art Nouveau buildings hide behind every other corner.
If you're visiting at the weekend, every Sunday in July and August there is a small street food market in the courtyard of Cross Club, a weird labyrinth-like steampunk club. When we visited there were about half a dozen food trucks, selling a variety of specialties from bahn mi to Cuban sandwiches. A good break from the heart Central European fare of the city centre.
For an in-depth account of the distric, read Kami's guide to Holesovice Prague.
4) David Cerny sculpture walk
Recommended by Kami from Kami and the Rest of the World
Something that we love doing when escaping the crowds in tourist cities is looking for street art. Our friend Kamila has an uncanny sixth sense to find the best street art worldwide, and her blog is one of my go-to places when researching street art locations.
However, it doesn't look like Prague is much of a street art destination, so following her advice we opted for a David Cerny sculpture walk around the city centre.
David Cerny is the enfant terrible of Czech sculpture, and half a dozen of his provocative pieces can be found around central Prague. Cerny doesn't like to comment on the meaning of his works, leaving them open to interpretation.
Cerny's most famous work is probably Wenceslas on a horse, situated in the Lucerna Passage just off Wenceslas square. The sculpture portrays king Wenceslas riding a dead, upside down horse, mockingly referencing Wenceslas's equestrian monument on the far end of the square of the same name.
It was originally intended to be placed in the post office, but it proved to be too controversial, and the Havel family agreed to place it in their Lucerna passage for the time being. The sculpture has been interpreted as having a political meaning, showing disagreement for the 1998 'opposition agreement', seen as a betrayal of democratic principles.
In Charvatova, just a short walk from Lucerna, there's Cerny's newest work, a moving sculpture of Franz Kafka's face, made of steel disks that rotate continuously.
From Wenceslas square, a quick walk into the backstreets of the old town will take you to Hanging Out, a statue of Sigmund Freud seemingly hanging from a building. A few minutes away there's a foetus squeezing out of a pipe on the facade of the Divadlo na Zabradli theatre. It has been interpreted as the artist's struggle to produce art.
On the opposite side of the river there are two other interesting works by David Cerny: giant babies with barcode faces just outside Kampa Museum, and another in the courtyard of the Kafka museum, showing two men pissing on the shape of the Czech Republic.
The story goes that Cerny was commissioned the sculpture just after Czech joined the EU in 2004 – Cerny was asked to express his feelings on this historical event. The sculpture is pretty self-explanatory.
5) Zizkov & the TV tower
Yet, my favorite work by Cerny, and probably one of my favorite places in Prague is none of those I mentioned above – in fact, it's the TV Tower in Zizkov. The neighbourhood itself is a cool place to walk around, similar to Holesovice in terms of feel, but probably a bit more down to earth and with much nicer buildings around.
The TV Tower rises apparently out of nowhere, looking like a rocket ready to be launched into orbit. It was built in the Eighties, one of the last big socialist pieces of architecture in town. Since 2000, giant creepy babies by David Cerny crawl on the side of the tower, making it look even more like a bizarre, dystopian dream.
The Zizkov TV tower not a simple antenna, or a tower-like structure like the one on Alexanderplatz; it has little 'modules' attached to the side tubes of the structure. I thought they looked like houses for astronauts or space dogs – but in fact, they're rooms of a luxury hotel. I already know where I want to stay next time I go to Prague.
6) Jidelna Svetozor- socialist canteen
Another of my favorite things to do when we visit cities (I say 'my' this time, because Nick doesn't share the sentiment) is looking for retro places to eat. Trattoria in Italy, milk bars in Poland, GDR restaurants in Germany – I love them all, even though the food sometimes is not the best.
In socialist Czech Republic existed a breed of 'cafeterias', usually only open at lunchtime, selling cheap but filling food for pennies. Sadly, from the Nineties onwards they started to close off and were replaced by faux touristy restaurants and fast food joints.
Jidelna Svetozor is a rare survivor, hidden beneath the maze of passages around Wenceslas square. It feels like you've been transported to pre-1989 times – there's a self service counter (complete with grumpy waitress), and a dim-lit room with Formica tables where people sit down and eat.
We ordered a 'menu' and for 89 CZK we got a potato soup, goulash with bread dumplings and a mug of fruity tea – that we quickly ditched in favor of a beer. It may not win any Michelin stars but the food is cheap, tasty and filling, and absolutely unpretentious.
I wonder if any more socialist cafeterias exist in central Prague – we'd love to find some more.
7) Jeleni Prikop – the Deer Moat
In August, Prague Castle was absolute hell. One minute you're trampled by a troop of Chinese tourist, another you're pushed over by a Segway, not before being poked in the eye by an umbrella-toting tour guide.
Yet, there's a beautiful, tranquil place a stone's throw from the madness of Prague Castle – the castle moat, now a secluded park. The Czech name of the moat is Jeleni Prikop, that translates as 'Deer Moat', as deers were kept there for hunting.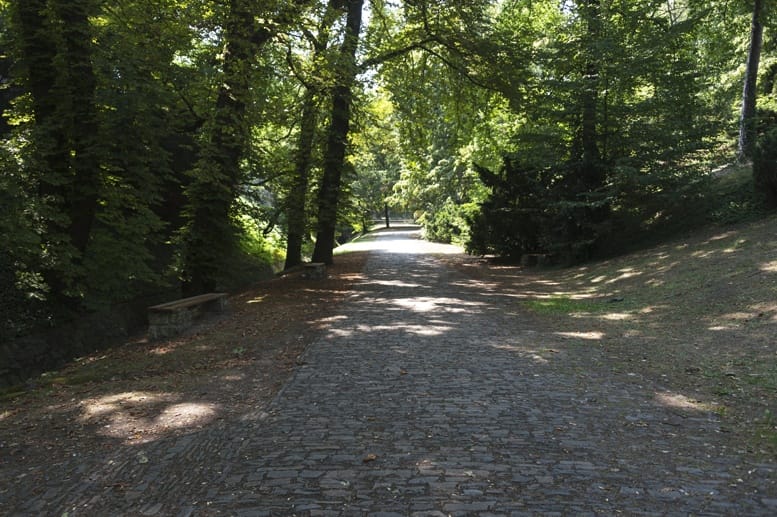 The emperor Rudolph II also kept a rather more exotic kind of wildlife in the moat – LIONS, because they were one of the symbols of the Bohemian kingdom. Rudolph loved animals, and had two wolves as well as lions. A man called Jan took care of his animals – he was mute, but the legend says he was able to howl and communicate with wolves. One day, he disappeared. Some say he became a werewolf, and he still roams the moat on full moon nights.
During Socialist times, a secret underground shelter was built under the hillside for communist cadres. Nowadays, the moat is a great place to walk around in almost total solitude – we maybe saw another half a dozen people the whole time we were there.
Czech Inn – champion of luxury hostels
At the beginning of the post, I mentioned luxury hostels. I first came across the definition a few years ago, after reading Kash's Budget Traveller blog. Luxury hostels are the natural evolution of stinky fleabag hostels – basically, skanky hostels are fine when you're in your teens and early twenties, but as you grow older, a little more comfort is definitely appreciated.
That's what luxury hostels are, places offering the communal spaces and fun atmosphere typical of hostels, with a bit more privacy, quieter sleeping spaces and a general attention to looks and design. Yes, they are usually a bit more expensive than stinky hostels, but usually cheaper than hotels – and way, way better in terms of atmosphere and service.
We try to stay in design hostels as often as possible, because we like the hostel atmosphere but we also treasure our sleeping time. Not to mention that luxury hostels also offer services that hotels don't always have – like laundry by the load (not where you pay for each item), free wifi and printing and free walking tours.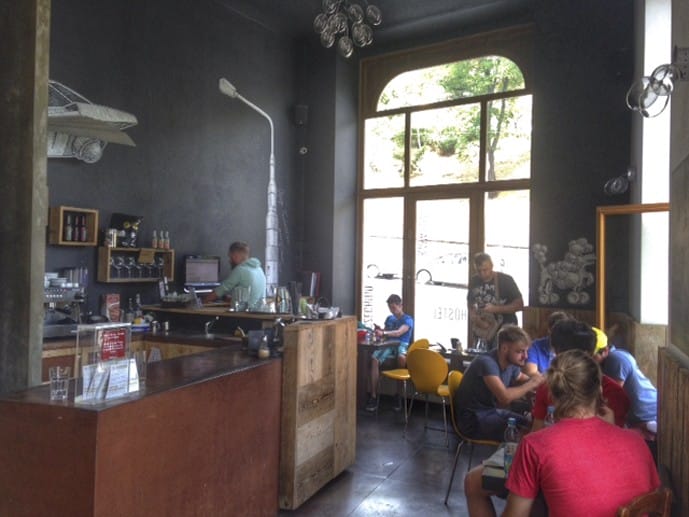 In Prague, we stayed at Czech Inn, probably the best hostel we've visited this year. The reception also houses an espresso bar and free jugs of icy water, a really nice touch in the sweltering weather. The basement has a bar – a reasonably quiet affair, with beer and cocktails on offer, where the 'youngsters' were kick starting their night out while we had a post-dinner beer.
The same bar doubles as breakfast room in the morning – and what a breakfast. Several varieties of muesli and yogurt, fresh fruit, cheese and cured meats… even a pancake machine, to make your very own freshly cooked pancakes. I have stayed in 4 star hotels whose breakfast wasn't half as good as this.
Our room was incredible. We got upgraded to a mini-apartment, with high ceilings and brushed concrete walls, giving it a stylish, kind of 'unfinished' feel. We even had our own kitchen complete with utensils and fridge, and a bathroom with rain shower and quality toiletries.
It felt like being in a 4 star hotel – but a cool one. And if we wanted to have some fun, the basement bar was just four floors below. We cannot recommend Czech Inn highly enough. Having our own apartment would also have been really practical for self-catering – but we are way too lazy for that!
If you're planning to visit Prague, definitely get in touch with Czech Inn – it's a great place to stay! Mention crowdedplanet to have an exclusive 10% discount when booking through their website!
Pin it for later?