Welcome to my first love… no, that's not Nick, it's mountains! A couple of weeks ago my friend Claudia and I got to visit a place I thought I'd never go to – Cortina d'Ampezzo, the Pearl of the Dolomites. Come and discover the 7 best things to do in Cortina in winter with us!
The Dolomites are one of my happy places. Well, I could say that of the Italian Alps as a whole, but the Dolomites have a certain something that sets them apart from the rest.
It may be the hybrid Italian/Germanic feel, the delicious food, the Insta-perfect lakes, or just the mountains themselves, with their beautiful pale grey stone turning multicoloured at sunset time. The Dolomites are also UNESCO-listed – need I say more?
I've toured the Dolomites far and wide – two years ago I went on a wonderful tour of South Tyrol in summer, and just a few weeks ago we headed to Pillerseetal, on the Austrian side – but one place always eluded me – Cortina d'Ampezzo, one of the most exclusive mountain resorts in the Italian Dolomites.
Quick History of Cortina d'Ampezzo
Cortina d'Ampezzo has been a popular holiday destination ever since the late 19th century, when it was still part of the Austro-Hungarian Empire.
After the end of World War I, the town became part of Italy, and in 1956, just over ten years after the end of the war, it hosted the Winter Olympics – the first ones ever to be hosted in Italy, and one of only two editions of the Games to be held in the country.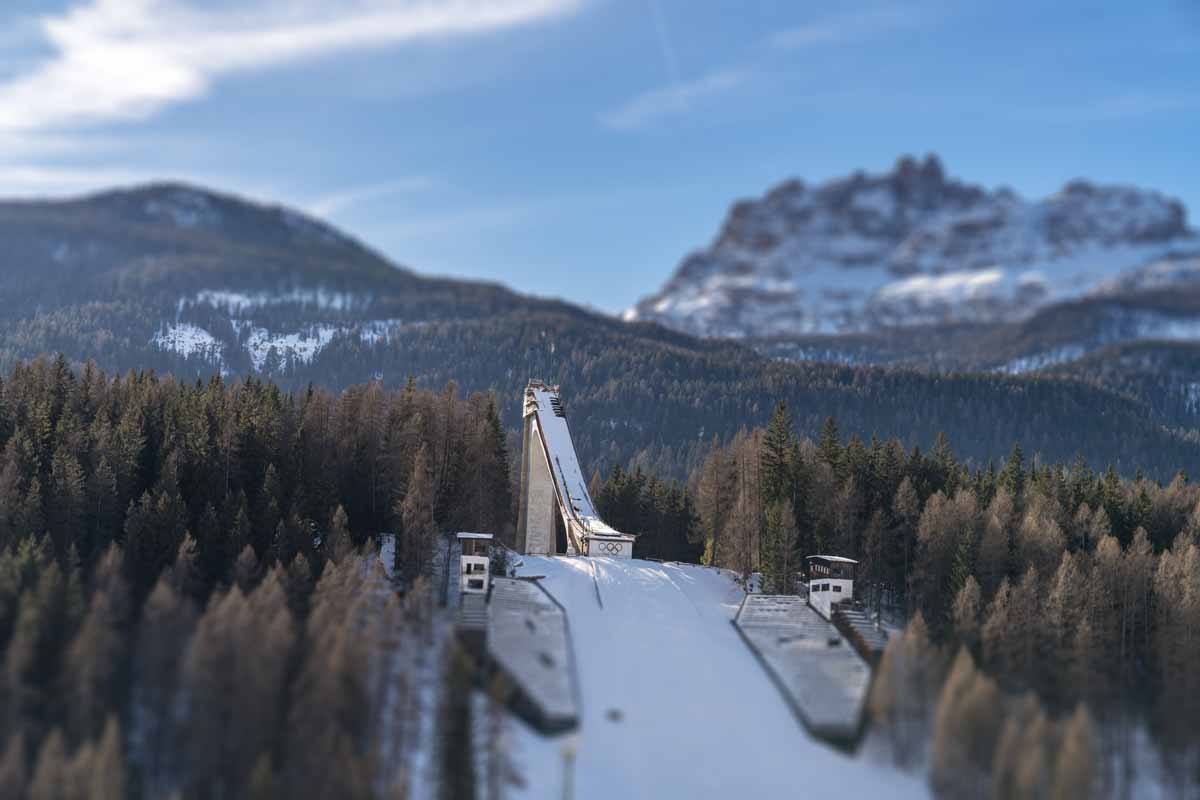 Ever since, Cortina has been known as 'la Perla delle Dolomiti' (the Pearl of the Dolomites), because of its beauty, and because of it became one of the favourite winter destinations for actors, celebrities and the European jet-set in general.
The natural beauty of the area surrounding the town made it a popular filming location – movies like Cliffhanger, The Pink Panther and 007 – For Your Eyes Only were all filmed in the Cortina surrounds.
One of the reasons why I never visited Cortina, and never even thought about visiting, was quite simply that I thought it would be too expensive. In fact, I was very much mistaken – prices are totally in line with other destinations in the Dolomites.
Yes, there are luxury hotels and Michelin-starred restaurants, but there are also places where you can stay and enjoy quality meals without breaking the bank.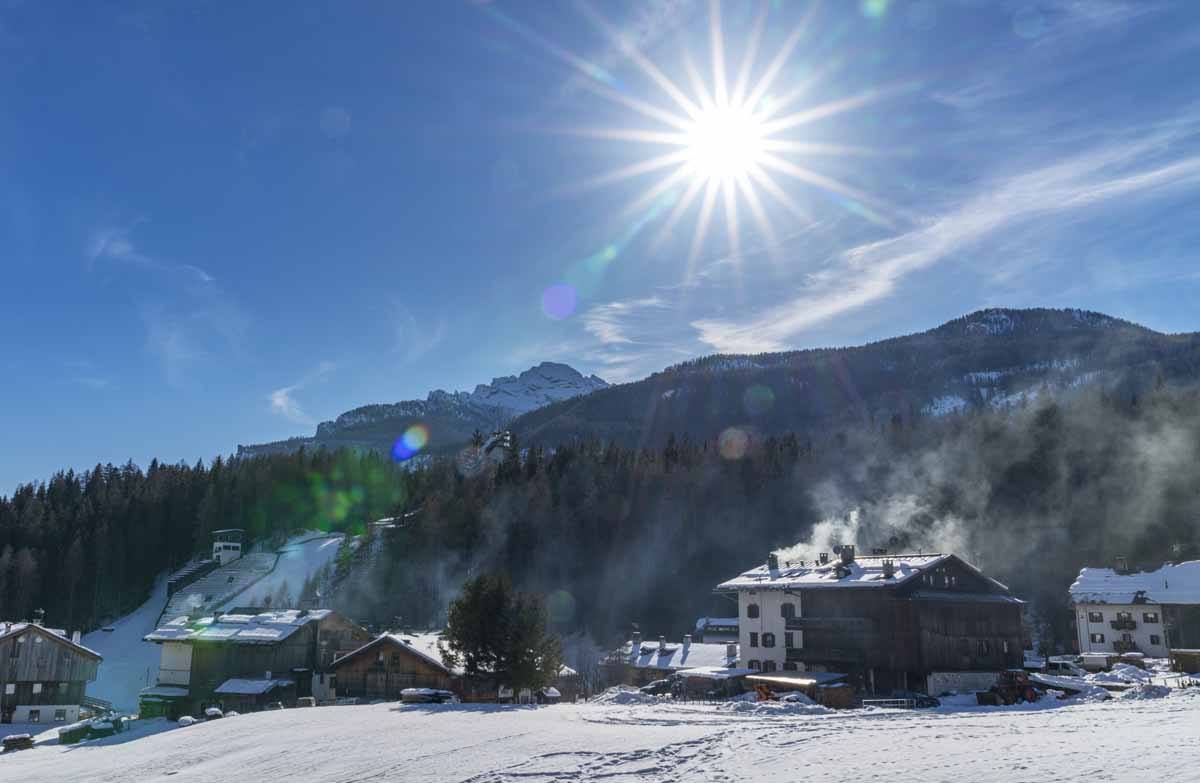 After having spent a great weekend in Cortina with my good friend Claudia, here's our selection of the 7 best things to do in Cortina in winter, including wonderful Hotel Ambra, our base in town!
1) Skiing in Cortina
The #1 reason to visit Cortina in winter is definitely skiing – the skiing opportunities around Cortina d'Ampezzo are out of this world! The slopes are some of the best we've ever seen and there are loads and loads of choices for novice and professional skiers.
Cortina d'Ampezzo is part of the Dolomiti Superski complex, the largest ski area in the world with a whopping 1200 km of pistes – and if you add together all the pistes located in the immediate vicinity of Cortina, you'll get to a total of 107 km divided between over 90 different pistes, ranging from baby bunny hills to hair-rising World Cup slopes. That's a lot of skiing, definitely enough to fill a week or two!
If you're a novice, the easiest slopes can be found in the Tofana area – the Socrepes piste is where lots of children, both locals and tourists, have learned to ski for the first time.
If you're already familiar with the basics of skiing, we recommend catching the Freccia del Cielo cable car and heading to Col Drusciè (the first stop) – #40 is a lovely long blue piste with panoramic views, which you can follow all the way down to Cortina if you so wish.
Alternatively, ride the cable car all the way up to Ra Valles, one of the best panoramic spots, with more stunning slopes to ski!
If you have more than one day skiing in Cortina and you're already confident on your skis, why not head to Faloria – pistes are mainly red and black, but we were told that the views can't be beat!
As an added benefit, the cable car to Faloria departs only a few hundred meters from the centre of Cortina.
Another option for a day skiing in Cortina is the Falzarego/Cinque Torri area – it's located a little further from the centre of Cortina compared to Faloria and Tofana, but Cinque Torri peaks are worth the detour!
You can't visit Italy in winter without going skiing, so make sure you include Cortina in your plans!
2) Winter Hiking
If you can't or don't feel like skiing, fear not – there are still plenty of things to do in Cortina! Hiking around Cortina is wonderful, even in summer! Claudia and I were very tempted to take a snowshoe hike to the legendary Tre Cime di Lavaredo, but after a few prosecco too many we decided to opt for something easier.
Our choice was the 'Passeggiata Ex Ferrovia', an easy hour-long walk from Cortina to the nearby village of San Vito di Cadore, following the old railway. The path is flat and very well signposted – you'll enjoy great views over the Cortina as you leave the town behind you, and about three kilometres after leaving the village you'll see the ski jump trampoline from the 1956 Olympics!
Other things to do in Cortina in winter include fat biking, snowshoeing (the local term for snowshoes is ciaspe), snowmobiling, snowkiting… and more!
3) Take the Cortina Cable Car to Enjoy the Views
Guess what – you don't need to be a skier to ride the Cortina cable cars! You can just jump on for a quick afternoon getaway, or for a lunch or drink 'with a view'.
The Freccia del Cielo cable car is perfect for this. If you get off at the first stop there's a kiosk and a small restaurant serving drinks, sandwiches and hot dishes, but we recommend riding all the way to the top – Capanna Ra Valles doesn't just have one of the best 'terraces with a view' I've ever seen in the Alps, it's also home to the highest pizzeria in the Dolomites!
If you make it to Capanna Ra Valles, make sure you try Bombardino, the iconic drink of the Italian ski pistes – a mixture of rum and egg liqueur topped with a whirl of whipped cream. If you need a little extra kick you can opt for Calimero, the same thing but with a shot of espresso!
4) Eat Delicious Food at Cortina d'Ampezzo's Restaurants
Eating is also reason enough to visit Cortina! Whether you just enjoy a barley soup or pasta from one of the mountain huts located along the slopes, or choose one of the fancy eateries in the town centre, you won't be disappointed!
We ate at three different restaurants in Cortina, and loved them all. The first was Prosciutteria Dok dall'Ava, the Cortina outpost of a cured ham producer from nearby Friuli. Naturally, ham featured a lot on the menu, but there were also some lovely salads on the menu, and even pizza. However, if it's pizza you're after, Pizzeria al Passetto is a better bet and you'll have the added benefit of meeting the friendly owner Giorgio, uncle of local ski champion Kristian Ghedina.
Make sure you also head to Al Camin, especially if you want to have a romantic night out! This restaurant resembles an Alpine chalet, with wooden walls and chairs, and the cuisine showcases the best of Cortina food. The menu changes regularly – but rest assured, you're in good hands! After all, chef Fabio Pompanin (known locally as Fabietto) was chosen to cook for the Italian team at the Pyeongchang Olympics!
Two dishes that we recommend trying are casunzei, half moon shaped ravioli filled with beetroot and smothered in butter, and patate all'ampezzana, pan-fried potatoes mixed with onions and speck.
5) Go Shopping in Cortina
Fashion lovers, look no further! Shopping is definitely one of the top things to do in Cortina – Corso Italia, the main drag in Cortina's historic centre, is lined with swanky boutiques and shops selling handicrafts or ski gear.
La Cooperativa is a good place to start your Cortina shopping trip – it's a vaguely retro department store, selling all sorts of things from stationery to souvenirs and ski equipment, and even paint (why not). If you're a die-hard fashion lover, head to Franz Kraler, Cortina's best boutique – this is the place to find clothes and accessories by famous designers like Prada, Fendi, Dolce e Gabbana and the like.
I asked Betty, the wonderful locandiera from the hotel where we stayed, to recommend her favourite boutiques, and besides Franz Kraler, her picks were Bredo and Guerresco. Betty is one of the most glamorous women I've ever met, so when it comes to shopping… I definitely trust her advice!
6) Discover World War 1 History
Cortina was located right on the frontline between Austria and Italy in WW1, and it was one of the locations where the fighting was at its most fierce, especially during the first part of the conflict.
There are still several places in and around Cortina where it's possible to learn more about war history – the most interesting is the Museo all'Aperto delle 5 Torri, an open-air museum located in the proximity of the famous Cinque Torri peaks, in the former location of the Italian Army headquarters during the war. Visitors are able to follow a series of trails leading them to trenches, walkways and observation points – the entire experience takes about two hours, with wonderful views all around.
However, the Museo all'Aperto delle 5 Torri cannot be visited in winter, as snow covers all the trenches and walkways. An alternative, if you're visiting in winter, is heading to the Museo della Grande Guerra, located in a reconverted military fort not far from Cortina. The museum is run by a local family and it presents war stories from the point of view of 'common' people – both soldiers and civilians.
7) Stay at Hotel Ambra
Staying at Hotel Ambra is definitely one of the main reasons to visit Cortina! The main reason is meeting Betty, the lovely locandiera (innkeeper), a super-elegant lady who grew up in and around hotels – hospitality runs deep in her blood, and she makes it her personal mission to ensure that each and every one of her guests has a wonderful stay.
From the outside, the hotel looks like a cute mountain house, with wooden balconies and a painted façade. The hotel has been welcoming guests since the 1960s, as a pensione first, and then as a luxury boutique hotel since Betty bought it about a decade ago.
Running her very own hotel in Cortina was one of Betty's dreams since she was a child. In her words, 'true luxury consists in satisfying your heart's desires' – as a result, rooms are all individually designed, to allow visitors to feel at home in the room that best reflects their desires and personality.
Each of the hotel's 5 floors follows a different theme – theatre, cinema, nature, fashion and luxury, including some spectacular wood-panelled suites with top views over the mountains. Claudia and I were both on the 'nature' floor, Claudia in the flagship Boite room with a four-poster bed, named after the mountain stream that runs through Cortina, and I in the Superior room, beautifully decorated in green and gold – 'green like the forests around Cortina, and gold like the sun shining over the Dolomites', like Betty said.
Breakfast was also delicious, including a wide choice of cereals, pastries, fruit, savoury dishes and eggs cooked by order. We warmly recommend choosing Hotel Ambra for your stay in Cortina – and don't forget to get shopping tips from Betty and advice of what to do in Cortina from Laura, the energetic reception manager.
Getting to Cortina d'Ampezzo
By Car – Cortina is located about 4 and a half hours drive from Milan via the A4, A27 and SS51, and about 2 hours from Venice via the A27 and SS51. Hotel Ambra can arrange pickups from Treviso or Venice station or airports, if you don't have your own car.
By Train – Treviso is the closest train station, but from there it's still about an hour and a half to Cortina. You can arrange taxi transfer from there or you can take advantage of Trenitalia's Freccialink service, a train and bus combo via Venice from several Italian cities, available all weekends in winter.
By Bus – Flixbus has inexpensive connections to Cortina from Milan, Bergamo, Verona, Venice and Bologna.
Disclaimer – Claudia and I were guests of Hotel Ambra for the duration of our stay. Thanks again for the kind hospitality!
Pin it for later?