Winter is coming! After our popular Italy in Autumn post we'd love to tell you about Italy in Winter – here are 15 reasons why visiting Italy in winter time is actually a great idea!
Most people associate the idea of visiting Italy with spring and summer, imagining to live a dream of endless lunches overlooking rolling hills, sunsets over the cliffs in the Amalfi Coast or in the canals of Venice, lazying around on pristine beaches and hiking in unspoiled nature… you see what I mean.
The reality of Italy during the high season is very different. All the places that are likely to belong on a first-timer itinerary – like Venice, Rome, Florence, the Amalfi Coast, Cinque Terre and so on – are B-U-S-Y.
And by busy, I don't mean you'll see a few people here and there – expect the whole over tourism shebang, complete with rowdy tourists, huge crowds, queues everywhere. Stressful, if you ask me.
The solution? Visit Italy in the low season, which coincides with winter. True, Italy in winter comes with a series of disadvantages, like short days and cold temperatures, but these are FAR, FAR outweighed by a series of benefits – like unique festivals, tasty comfort food, and great deals on hotels, transportation, and even shopping!
Here are 15 reasons to visit Italy in winter – coming from a local, naturalmente. But first, let us tell you about winter weather in Italy!
Winter Weather in Italy
First things first – Italy is 1200 km long from the Alps to Sicily, so expect weather and temperatures to change dramatically from north to south, and from the mountains to the coast.
As a rough guideline, expect to find snow in the Alps and Apennines, but not necessarily in the valleys, even in Northern Italy. In the rest of the country weather is very changeable – grey, overcast days are common, but so are bright winter days, with clear skies and clean air.
Generally speaking, the further south you head, the warmer and sunnier it will be. In Sicily, the temperatures rarely dip below 10°C, and it it is usually possible to swim until November.
I've included a close look at month-by-month winter weather in Italy – when talking about 'northern Italy' I refer to the area north of Rome, and by 'southern Italy' I mean the rest of the peninsula, plus Sicily and Sardinia.
Italy in December
December marks the beginning of the ski season in the Alps, with resorts traditionally opening on Dec 8th.
This doesn't mean the snow has already reached the slopes – more often than not, there's only artificial snow, with 'proper snow' arriving a few weeks later in late Dec/Jan.
Christmas market towns and the ski resorts in the Alps and Apennines will be busy in December, but the rest of Italy will be fairly quiet.
In terms of weather, expect an abundance of grey, overcast days and lots of rain in northern Italy, with temperatures around 10°C max, dipping close to freezing at night.
In southern Italy, temperatures will be about 5°C warmer compared to the north, especially if you're close to the sea. Snow is very rare in southern Italy, but you may encounter strong winds and rough seas.
However, you're also just as likely to have warm, sunny days, with temperatures around 20°C!
Italy in January
January is the coldest month all over Italy, and the month when you're most likely to see snow away from the mountains. In northern Italy, it snows most years, but the snow doesn't often 'stick' – sleety rain is more common.
On the other hand, snow in places like Rome or Naples is extremely rare, only happening about once a decade – in Sicily and Sardinia, it's even rarer.
Weather wise, expect daytime temperatures to be around 5°C in the north and below freezing at night, and a bit warmer in the south – 10-12°C is the average max. You'll probably encounter a mix of cloudy and sunny days, hopefully more of the latter!
Italy in February
The weather in February is very similar to January, only a touch warmer. February is also Carnival month – many people opt for a skiing holiday in this month, since it is also when the snow is at its best. If you're planning to go skiing, it will be busy!
Otherwise, the weather remains cold all over northern Italy, with daytime temperatures reaching between 5 and 10°C, and up to 15°C in the south.
The sun also starts making a comeback, and by the end of the month sunny days usually outnumber cloudy ones – and when it's sunny, you can definitely feel the warmth, unlike those crisp, freezing midwinter days!
Italy in March
By March, temperatures will have risen considerably all over Italy, but this is probably the most unpredictable month of the year!
During the first half of March, Italy sometimes experiences 'Arctic blasts' bringing the temperatures close to freezing again, and by the end of the month, sunny days with temperatures exceeding 20°C are not uncommon.
Also, be ready for more rain, but also much longer days, as the sun sets around 8 PM by the end of the month. In terms of temperatures, daytime highs very between 7 and 17°C in northern Italy between the start and the end of the month, and you'll find between 15-20°C in the south.
Reasons to Visit Italy in Winter
1) Fewer Tourists
Let's start with the most obvious points – visiting Italy in winter means not having to share places like Rome, Venice, and the Cinque Terre with thousands other tourists.
Now, don't expect to be alone – people visit Italy year round, including winter, but generally speaking winter visitors are only a fraction of those coming in summer.
Crowds do increase over the Christmas/New Years school holidays, but even then visitors are still far from reaching summer numbers. If you really want to avoid crowds, visit in mid-December, or mid to late January – these are the quietest times in most major cities.
The ski resorts of the Alps and Apennines are a completely different story – ski season opens in early December and runs all the way past Easter, with Christmas/New Year and February as the busiest times.
If you want to visit the Alps but don't want to jostle with the skiing crowds, either visit in early December or consider staying in the valleys, and taking cable cars up to the mountains, rather than staying on the slopes.
2) More Affordable Prices
Well, that goes without saying! Fewer people also means more affordable prices, and that is the case for everything – accommodation, tours, transport, flights, you name is. So, if you want a budget-friendly holiday, definitely visit Italy in winter!
Winter is the perfect time to stay at that perfect luxury villa or 5-star hotel, since in low season many upscale properties slash their rates to attract visitors.
However, if you have a specific property in mind, make sure it stays open throughout the winter – hotels in coastal locations like the Amalfi Coast, Capri or Cinque Terre often close in winter for maintenance.
3) Easier to Get Around
Fewer crowds and affordable prices make everything so much easier! You don't need to book trains and hotels ages in advance, allowing you to change plans on a whim, and decide to travel from Milan to Venice with no advance planning for example!
Personally, I am not a fan of planning everything to the last detail – I love keeping my options open, and visiting Italy in winter allows you to do just that!
The same goes for attractions – in summer, you definitely have to book tickets to points of interest like the Vatican Museums or the Last Supper in Milan months in advance, but in winter queues are much smaller and you may even find tickets on the day.
Having said that, if you've got your heart set on specific sights or museums, definitely book ahead! You can do so below!
4) Perfect Time to Slow Down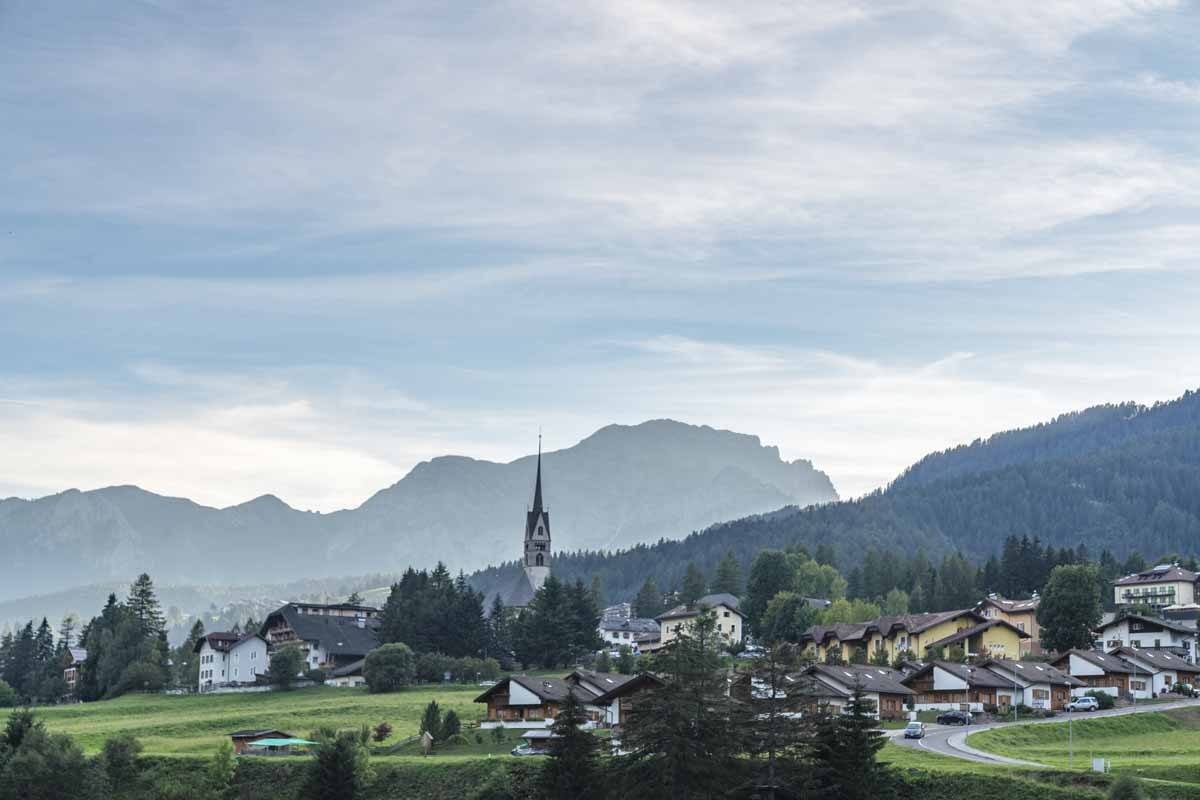 Winter in Italy is the ideal time for a relaxing holiday. As I said, few people means you can leave your options open, leaving each day at a time, enjoying those long lunches, and 'relaxed' lifestyle that has been drawing visitors to Italy for centuries.
Treat yourself to a hot chocolate, spend the day wandering around a lesser-known museum, take a day trip to a village or go on a hike – but don't forget it gets dark early! Never mind, you can while your evening away with a good book and a glass of wine.
Crowds in summer might make you want to cram more into your schedule, while winter is the best time to slow down, and dedicate some time to your wellbeing.
5) Go Skiing in Italy
On a different note, winter in Italy is also skiing season. The slopes traditionally open on the day of the Immaculate Conception, December 8th, and stay open all the way to Easter, and even up to May in some cases.
For the first few weeks, expect the snow to be artificial – climate change means the snow comes later each year, and it's hard to predict how much snow will fall.
The best snow conditions are usually found in February, but this is also the time when the ski resorts are at their busiest. If it's powder you're after, consider going ski touring with a good Alpine guide instead!
Two places I really love for skiing are Madonna di Campiglio and Cortina d'Ampezzo, both in the heart of the Dolomites.
6) Winter Sun in the South
You can't quite swim year round in Italy, but if you are looking for sunshine and warm temperatures, you can definitely find them in Southern Italy.
To make matters even better, Southern Italy is very busy in summertime, so visiting in winter will give you the opportunity to have many places to yourself, and enjoy the sunshine!
Places in Southern Italy we recommend visiting in winter include the whole of Sicily, especially Mount Etna (where you can go skiing with a sea view!) and places like Noto or Taormina, filled to the brim in summer.
There's also Puglia, with the stunning Salento region, Alberobello and its trulli, and charming Gargano, the picturesque city of Matera in nearby Basilicata, and naturally Naples, Sorrento and the Amalfi Coast.
Top tip – if you're making it all the way to Sicily, don't miss Syracuse in winter! The town is quite far south, so it never really gets cold, and winter is the ideal time to explore its unique blend of Greek ruins and Baroque architecture, and enjoy some tasty Sicilian sweets overlooking the Mediterranean Sea.
7) Perfect Time for a SPA Break
Did my recommendation of a wellness-focused visit to Italy in winter tickle your fancy? You may be happy to know that winter is a great time for a SPA holiday in Italy!
Most spas and wellness centres are open year round, and feature hot water pools outside. There's nothing more pleasant than bathing in thermal water with the snow all around you!
Once again, visiting spas in winter is the best way to avoid the crowds, especially if you do so during the week, as weekends are busy year round. Two places I really love for a spa break are Salsomaggiore Terme and QC Terme Dolomiti in Pozza di Fassa – but for the ultimate treat, opt for a spa hotel like one of these!
8) Perfect Time to visit Italy's Best Cities
Winter is the perfect time to visit Italy's best cities – personally, as a local, I refuse to visit tourist hotspots like Rome, Venice and Florence in any other season, because I can't deal with the crowds and rude tourists treating these ancient cities as their own playground.
Rome in winter is a really great place to visit. The weather is often warm and sunny, and it's not overrun with tourists – during my last visit last year, there was no queue whatsoever at the Vatican Museums and Colosseum, and we were able to enjoy our visit without having to constantly dodge selfie sticks.
My hometown Milan in winter is not blessed by the lovely weather of Rome, but we have lots of events – Christmas markets, ice rinks, Carnival parades, and great shows and exhibitions to enjoy.
On top of that, winter is also the ideal time to eat our hearty traditional food (more on this later…), Christmas and Carnival sweets, not to mention it's the best time to snag shopping bargains!
Another city worth visiting in the winter is Turin. It's one of the closest major cities to the Alps, and it is home to great museums and palaces, from the time when it was Italy's capital.
It has a noble, genteel feel, which truly at its best in winter – and make sure you sit at one of Turin's historic cafés and order a bicerin, a coffee and chocolate concoction that is probably the best winter drink ever.
9) Christmas Markets
Did you think Christmas markets were just a German thing? Well, guess what – you'll find them in Italy as well, all through December.
Most major cities in Italy have Christmas markets – Florence has the famous Santa Croce Market, in Milan there's a nice market near the Darsena, and even though the historic Piazza Navona market in Rome has closed a couple of years ago, there's another one not far from Piazza di Spagna.
However, Italian Christmas markets tend to be tackier and not quite as cute as German ones – if it's that vibe you're after, your best bet would be heading to Trentino or South Tyrol, close to the Austrian border, where you can find some really adorable Christmas markets.
The best known Christmas markets in Italy are the ones in Trento, Bolzano, and Merano – but they're often crowded with visiting day-trippers.
Smaller Trentino towns also have great Christmas market with a more 'local' atmosphere – two great examples of this are the market at Canale di Tenno near Lake Garda, and the one in Rango, not far from Madonna di Campiglio.
10) Christmas Traditions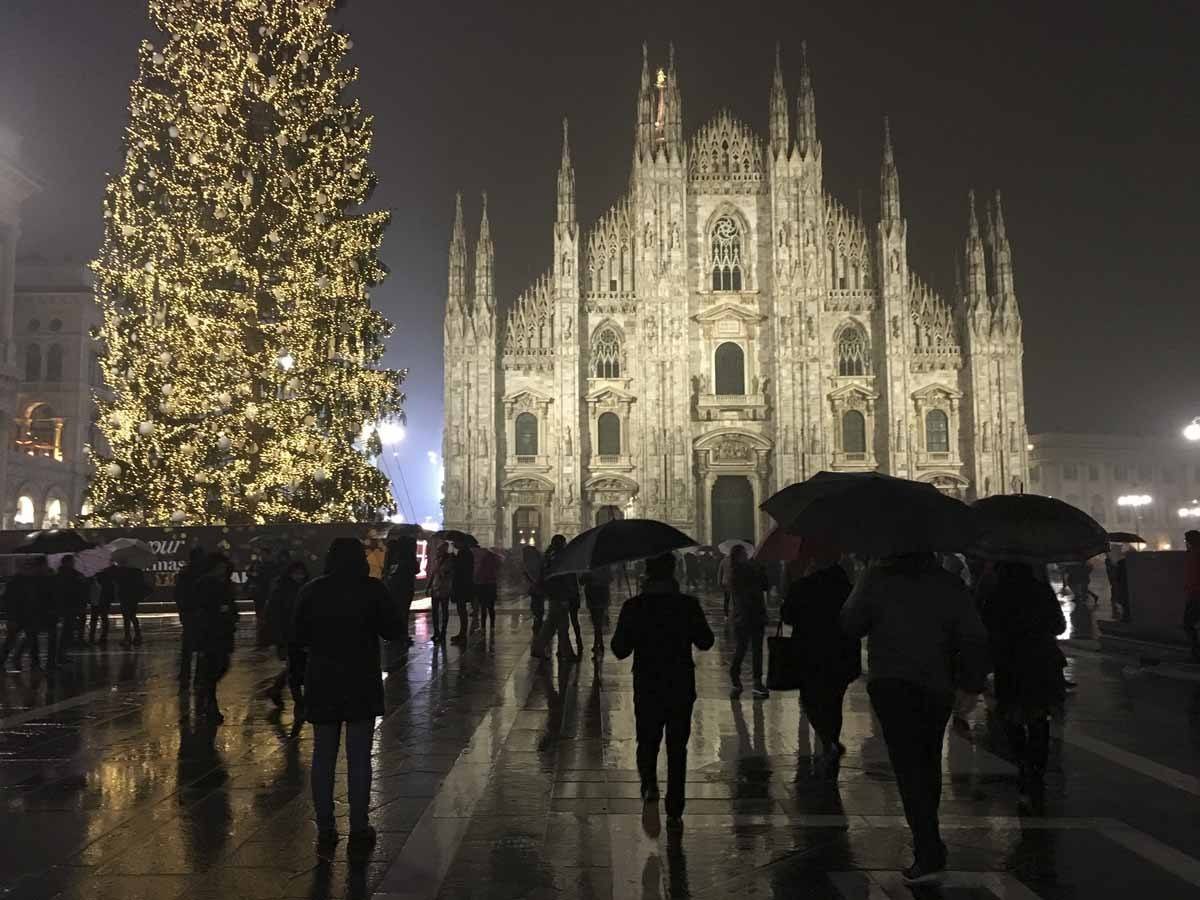 Christmas in Italy is not all about the markets! It's also the perfect time to see Italian cities and villages all decorated with sparkling baubles and lights, and marvel at the huge Christmas trees placed in major squares – yes, indeed, sometimes they could be better looking, as in the case of Rome's famous Spelacchio!
Christmas trees and lights are found all over the world, but there's another typically Italian Christmas tradition – presepi, meaning Nativity scenes.
Most families display a Nativity scene in their own home, which could be as simple as a tiny wooden house with Mary, Joseph and baby Jesus, or an elaborate set-up complete with mountains, streams and moving parts.
If you like Nativity scenes, you can't miss visiting Naples. Not only will you find many intricate Nativity sets on display in churches and squares, but there's also an entire street in the historic centre dedicated to Nativity sets and statuettes – it's Via San Gregorio Armeno, sometimes called 'Christmas Alley' in blogs and guidebooks.
Epiphany is also celebrated in Italy on January 6th, and marks the official end of the Christmas festivities. Families also exchange gifts on this day – all Italian children will tell you that their homes are visited by the Befana, a benevolent witch-like figure riding a broom.
The Befana brings a stocking filled with sweets to good children, and charcoal to naughty ones – if you're not sure, or simply want to play a prank, you can also purchase charcoal-shaped sweets!
11) Winter Sales and Discounts
Fashion lovers, rejoice! If you happen to be in Italy in winter, after the Christmas craziness is over, you can snap up some awesome deals on fashion and accessories, even from the most exclusive designer boutiques.
The Italy winter sales traditionally start on the first Saturday in January, even though some stores start offering discounts even earlier. The first day of winter sales in Italy is a big deal, especially on high-end shopping streets, and famous designer shops hire extra security and often have queues snaking around the block.
Winter sales in Italy last approximately 6 weeks, ending in mid-Feb when spring/summer collections start making their appearance. Sales start at around 20 or 30% on the first week or so, and then increase to 50% or more by the end of the sales period.
12) Enjoy Italian Winter Food
Winter in Italy is also the ideal time to indulge in cold-weather comfort food, as well as a tasty array of Christmas sweets!
Pizza and pasta can be enjoyed year round – in winter, make sure you also try some heartier dishes like polenta, boiled cornmeal served with stewed meat and/or mushrooms, and pizzoccheri, a Lombardia winter dish made with buckweat pasta and oodles of cheese.
If you're visiting Milan in winter, some old-school restaurants may offer cassoeula, a stew including cabbage, sausages, and various pork pieces – every bit as delicious as it sounds. All through Northern Italy, winter is also the time to enjoy bollito, a selection of meats cooked in broth with sauces and mustard-candied fruit served alongside.
As far as winter sweets go, every Italian region seems to have their own – but the two found on most family tables on Christmas day are definitely panettone and pandoro.
Panettone is a Milanese raised cake with raisins and orange peel, while Pandoro is originally from Verona, and it's a star-shaped raised cake with lots and lots of butter.
Next time you visit Italy in winter you'll have to decide if you're team Panettone or team Pandoro. My heart goes to Panettone!
13) New Year's Eve Parties
After Christmas is done and dusted, the whole of Italy will be thinking about what to do for New Year's Eve. Most cities organise outdoor concerts and parties in the main squares.
In Milan, there's always a New Year's party in Piazza del Duomo, in Florence you can head to Piazza Michelangelo, in Rome the best party is at Circo Massimo, and in Venice there's always something going on in Piazza San Marco.
Are you not a fan of crowds and loud music? If that's the case, your best bet is spending New Year's in a restaurant, usually offering a special menu (for a price ranging between €50-100) or in your own hotel.
Another very Italian thing to do on New Year's Eve is heading to a club until the next morning – however, be aware that entry tickets may be pricey and you'll have to book a few days in advance.
14) Venice Carnival
After some quiet winter time in January, Carnival season kicks off in early February! Venice Carnival is probably the best known in Italy, and definitely worth a visit, despite the crowds.
In 2020, Carnival celebrations in Venice will start with a floating parade down the Grand Canal on February 9th, and then will continue on the following Saturday with the traditional Festa delle Marie, a kind of pageant where 12 beautiful young ladies are dressed in period costume and parade around the city, before one of them is elected Maria dell'Anno (Maria of the Year).
However, the official event to open Carnival will take place on the day after – I'm talking about il Volo dell'Angelo, when the previous year's Maria 'flies' on a zip line from the San Marco belfry all the way to Doge's palace.
This marks the beginning of a nine-day extravaganza of parades, balls, and private parties in the city's most exclusive palazzos, taking Venice back to the decadence of Casanova's time.
If you don't have an invitation, fear not – it's still a magical time to visit Venice, with locals and tourists alike in 18th century attire wandering around the city, making you feel as if you were dream.
15) …And Many Other Carnivals
Yes, Venice Carnival is beautiful, but it's really crowded. Luckily, if you happen to be in Italy in February, you can enjoy Carnival celebrations in pretty much all cities and villages!
Carnival refers to the time of fun and revelry just before Lent, and so exact dates change every year depending on when Easter will be. The highlight of the celebrations usually takes place between the Saturday and Tuesday before Ash Wednesday, and usually involves floats, street parties and dancing.
One of the coolest places to be is Ivrea, a town in Piedmont home to the crazy Battle of the Oranges, where teams on foot or on the back of horse carts belt oranges at one another. Ouch!
Other unique Carnivals can be enjoyed in Viareggio, where you can see some very elaborate floats inspired by politics and current affairs, and in Mamoiada, a Sardinian town famous for its masked characters, mamuthones and issohadores.