Art in Berlin from the point of view of two generations – my mother and myself. From museums to street art.
Lodovica's Berlin Museums (60 years old)
The first feeling of Berlin is of familiarity. There's a small airport, like Milan Linate, and so many places that I have often seen in pictures.
Then I notice the open construction yards everywhere – a new subway line is being built, that will cross the Museums Island.
Yes, because in the Spree there is an island, right in the center of the city, and in its northern part, there are museums that alone are worth the trip to Berlin. Even one of them would be enough to justify coming to the city, but there are five, all here.
It's difficult to choose the best. It's only a matter of taste, I suppose.
I would probably choose the Altes Museum, I have never seen Greek, Etruscan and Roman art exhibited with such wisdom, but you know, I have a soft spot for Roman busts.  Outside, the neoclassical building is just beautiful, with the Lustgarten in front and the dome of the cathedral as a backdrop to the square. Inside, there is one of the many sons of the Pantheon, the elegant Rotunda.
The rooms of the museum are the best part. Both from the exhibition and technical point of view, as well as because of the harmony of objects and display cases.
The folds of the Greek tunics seem to have stood still since the girls who wore them last moved. The faces of matrons with complicated hairdos and busts of Roman patricians have been watching us quietly for 18 centuries.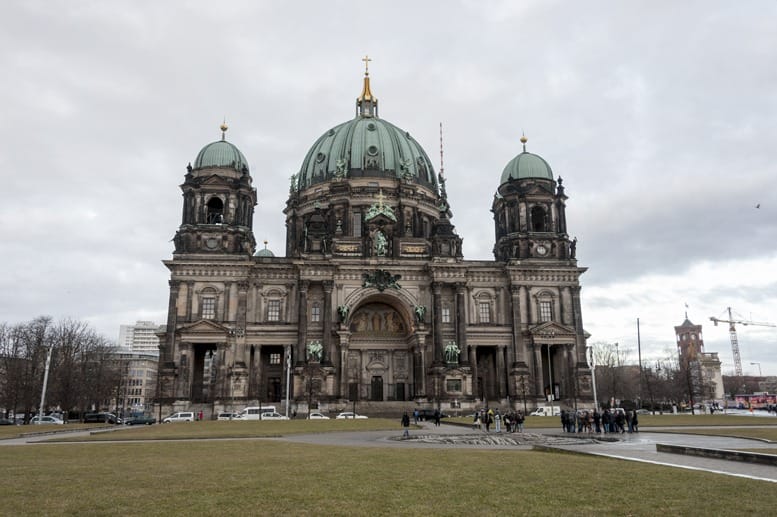 The jewelry could be worn even today by all of us, does the time doesn't seem to have passed for the etched carnelian necklaces and pendants adorned by Etruscan granulation, of which here there
are extraordinary examples.
The collection of Attic vases is one of the best I've ever seen, it catapulted me into a world of workshops of great artists and artisans, who created objects for memorable banquets. But by far my favorites are theRoman glass and silver, which I find of a beauty that was never reached anymore in other places and times.
Some glass jars decorated with deep blue spirals and the big silver plates with the edge engraved in bas-relief with marine motifs are moving for me, I think of the craftsmen who created them so perfect to be preserved for centuries, sometimes in places where the Roman Empire never arrived, such as right of the Rhine.
Speaking of Rome, I couldn't believe my eyes when I saw the Market Gate of Miletus reconstructed in the Pergamon Museum, full of Roman mosaics, and I thought of those who needed to cross it in 120 AD in Asia Minor, to go to the market, Roman citizens who lived south of Smyrna.
Those people lived in a city with a long Greek history, full of culture, that had seen Thales and Anaximander walk its streets, when the caravan route from Mesopotamia reached it. That route, then, was long and probably dangerous, but now it is forbidden for us.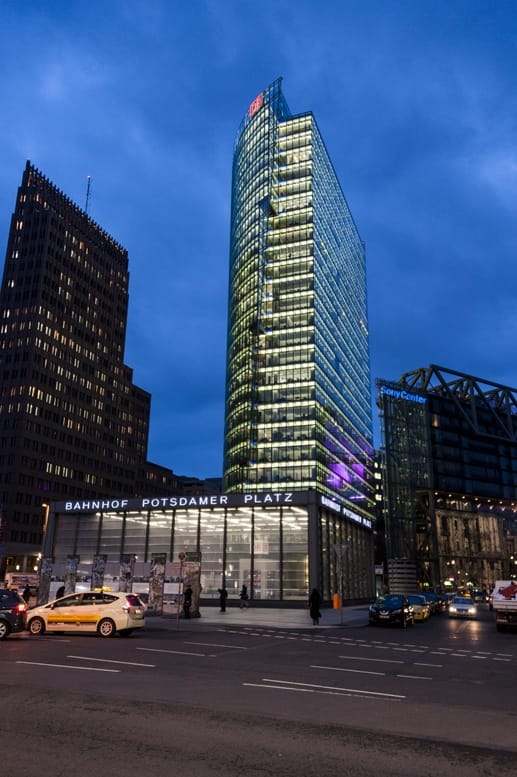 Lodovica's Foodie Berlin
I would like to conclude with a delicious place, the sixth floor of the Ka De We, with long counters displaying sausages and cheeses, divided depending on the origin and restaurants for every taste. It's an amazing place, a very elegant Food Hall, crowded, that reminded me of Harrods, Fortnum and Mason and a Food Court in Singapore. Such a fascinating place that we went back two nights in a row, to smell the scent of smoked charcuterie, pickled herring, fish and shellfish soup for every taste and, of course, to buy sausages.
Surely, I will not forget the elegant lady with white hair, sitting at the counter at the same place both nights, alone, but with two cups of white wine in front of her, who was chatting with the waiter with the familiarity of habit.
This wasn't my first time in Berlin. I had already visited the German capital in occasion of my 24th birthday, in 2007. But even then, it felt as if I had already been there. I remember my mother telling me tales about the city, when I was a child. I remember her explaining me about East and West Germany, and about the divided city, defined by the Wall, until that fateful day in 1989.
I fell in love with Berlin, in 2007. I was living in London during the economic boom then, a grey, buttoned-up city. Berlin was a splash of colour and energy on my horizon, then dominated by university exams and boring part-time jobs. I remember thinking that the city was indeed unique. It was hard to say why. It was just the vibe of the place, the feeling that something that elsewhere may not be alright, was alright in Berlin.
We stayed in a squat in Kreuzberg, run by a middle-aged American who moved to the city when the dust of the fallen wall was still in the air, and hadn't yet learnt a single word of German.
'Zwei cupofcoffee and donut' he ordered every morning, when we went for breakfast together at the bar across the road from his graffiti-covered building.
However, during that first Berlin trip, we just ticked off the main Berlin sights. A walk down the East Side Gallery. Our passport stamped at Checkpoint Charlie. A wander around the Jewish memorial near Potsdamer Platz. A stroll down the Ku'damm and Unter den Linden.
Fast-forward eight years, we returned. This time we wanted to ditch the tourist stuff and explore the edgy, alternative side that defines the city. So, while my mum explored the museums, Nick and I looked for another kind of art, the one that uses the whole city as its canvas.
Street Art in Berlin
You know us, we love street art. As European capital of everything cool, Berlin has its share of amazing street art pieces. No, I'm not talking about the East Side Gallery – I'm talking about some masterpieces by veritable artists, some you might know like Blu and ROA, others you might not know like Josef Foos, AKA the Street Yogi.
We like walking around, snapping shots of random street art on the walls, but what we like even more is discovering the stories behind those pieces. For this reason, we like taking street art tours, and in Berlin we were lucky to join perhaps the best street art tour we've ever been on, run by the good folks at Alternative Berlin.
The tour started in the uber-hipster Kreuzberg area, with a quick introduction to 'tags', those scribbles (seen by most as ugly) that represent artists' signatures. Saying that you're a street art lover is hardly controversial these days – but if you say that you like tags, people might think you're either crazy or a vandal. I can't say I found them attractive, but I've learnt to respect them, as they're street art in raw format, they're where it all began.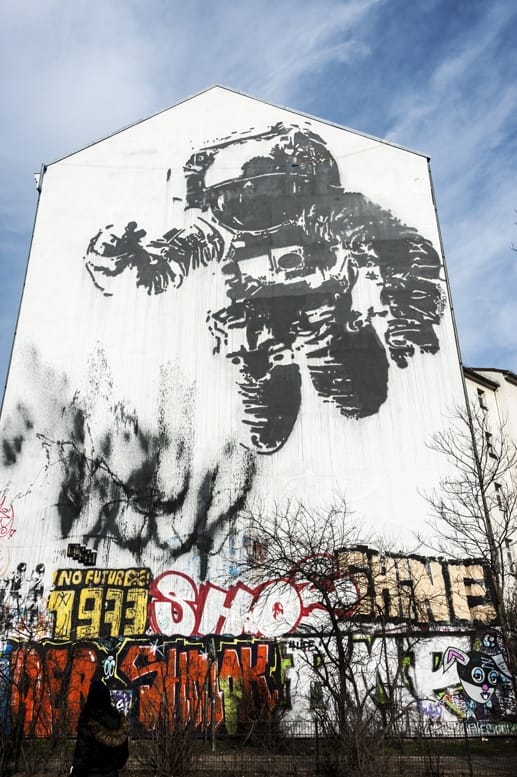 We stood in front of a high-rise covered in cryptic symbols, near a Kreuzberg crossroads. This was one of Europe's few examples of Pixação, a street art technique that was born in Sao Paulo during the high-rise boom of the nineties, consisting of tagging done with unique, twisted snake-like symbols, usually on the sides of buildings or in other difficult to access places. Part artists, part daredevils, Pixação artists use climbing and abseiling techniques to get to their 'canvases' – the result may not turn heads for its artistic prowess, but it does indeed for audacity.
We hopped around southwestern Berlin for a couple of hours, looking at street art of all kinds. Some huge pieces, like one by Belgian genius ROA, featuring his signature black and white graphic images of dead animals. A lot has been written about ROA and his obsession with animals, especially rodents. Sometimes he includes the skeleton and the animal's organs, to make the pieces more realistic. Others say that the animals he paints are those that once lived in the area – a deer, heron, rabbit and sheep in Berlin.
One of the perks of joining a street art tour is spotting works that are hard to find. One example were Josef Foos's tiny cork figurines demonstrating yoga position, hence deserving him the moniker 'Street Yogi'. A yoga instructor in real life, Josef began placing his yogi figurines around Berlin in the hope of bringing peace and balance to the city. Josef's work is not head-turning, neck-craning stuff – rather, his art taps you discreetly on the shoulder, whispers to you for a moment.
We saw several other stunning pieces – one by Os Gemeos, Brazilian twins famous for their yellow-faced characters. The legend goes that one night, perhaps after a few drinks too many, they told each other they dreamt of yellow people. Since then that's all they've been painting. They were even commissioned to paint the plane of the Brazilian football team, during the last World Cup.
Our tour included the visit to a street art workshop in Lichtenberg, where we tried our hand at painting with stencils. I must say, usually we're both totally awful when it comes to anything art-related, but our finished works were actually quite nice. Most importantly, it was awesome fun. It transported me back to my teenage years, when I was in awe of any boy with a spray can. The smell of paint, that fine dust that stays in the air, the satisfaction of making something appear where a blank used to be.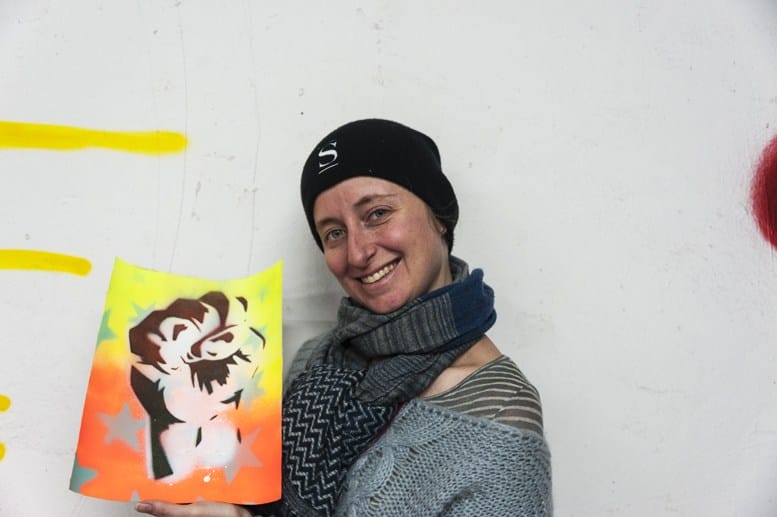 I'm sure many people caught the street art bug after this – if they didn't already have it.
On our way back from the workshop, walking across the Spree, we saw the most talked about pieces of late 2014. Or rather, we saw where the pieces used to be. They were the work of Blu, an Italian street artist I deeply admire for his anticapitalist beliefs. One of the pieces showed two hooded characters making gang signs – a metaphore for the area, once a borderland between East and West Berlin – and the other was of a businessman chained by his gold watches.
The pieces were 'black-washed' on orders of the artist himself in late November, following the sale of the surrounding land to an estate developer. Luxury apartments were going to be built, and after their construction the privileged residents would be the only ones able to see Blu's works, as they would be hidden from the street by the buildings themselves.
Blu felt that his pieces contributed to gentrify the area – as street art becomes more and more mainstream, large-scale works of famous street artists actually contribute to raise real estate value. So, one night, the works were erased with black paint.
Looking at the blacked out walls, faint traces of the pieces still visible underneath, I couldn't help but agree with Blu. Street art isn't for the rich and famous. It's the voice of the people, for the people. Around us, as we walked westwards, cranes towered – cranes building steel and glass luxury buildings, some looming against the East Side Gallery, some filling up the vacant lots between Kreuzberg buildings, welcoming moneyed professionals in, and pushing long-time residents out.
The story of this century.
During our time in Berlin, we used a Berlin Welcome Card to travel around the city. The card was incredibly good value, for €34.50 we got unlimited access to public transport for 5 days, as well as discounts in several museums, sights and restaurants. Considering that Berlin is a very large city, and that a single subway ride costs €2.70, it's definitely worth it!
Pin it for later!