Are you looking for a secluded, scenic hotel in the heart of Central Bali, close to one of the best Bali waterfalls, and away from all the tourists? We highly recommend Bagus Agro Pelaga, Bali's first agro tourism property. Curious to know why? We'll give you 6 reasons to visit!
If you've been following us for a while, you'll know we very rarely write hotel reviews. First of all, because we find them boring to read and write, and second, because we all have different preferences when it comes to hotels – and sometimes, loving or hating a hotel is more a matter of 'vibe' than something tangible.
We loved staying at Cinnamon Hotels in Sri Lanka, because each of them was unique – and some of them, like the Cinnamon Lodge Habarana for example, were not just a place to stay, but destinations in their own right.
As soon as we set foot in Bagus Agro Pelaga, a luxury hotel set in an 18-acre organic farm in the highlands of Central Bali, we thought we didn't want to leave.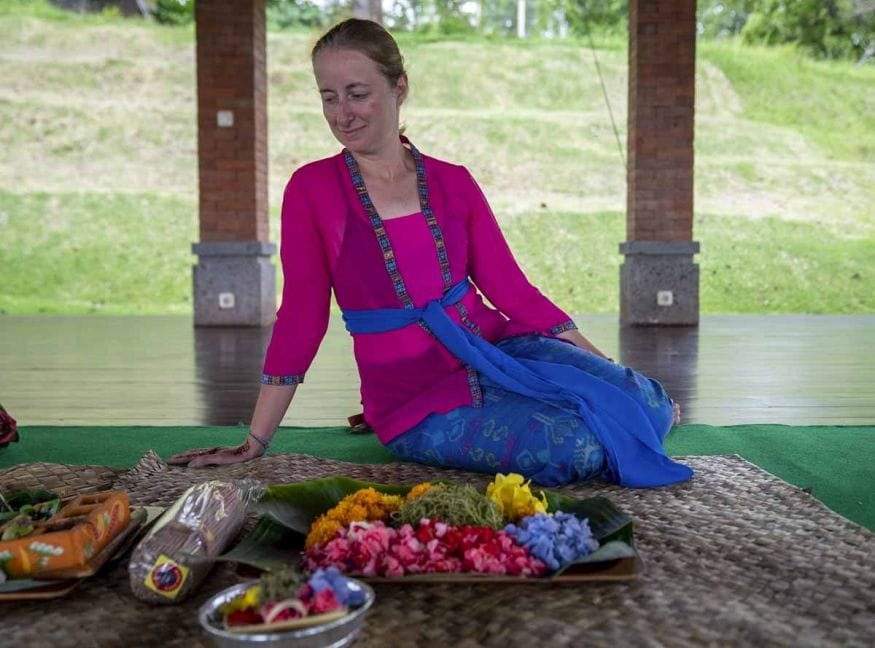 The hotel was one of the stops of an eco tour of Central Bali organised by Evaneos, a company specialising in connecting travellers and local agents. When Evaneos put us in touch with their Bali agent, we only had one request – we wanted to go somewhere peaceful, away from the crowds.
When we reached the property, we stopped and looked at the view. The highlands were cool and misty. A thin rain was falling, and fog was slowly rising from the coastal plains. The roofs of bungalows were barely visible, surrounded, wrapped in nature. 'That's it – this is the place we were looking for', we both immediately thought.
We ended up spending two magical days at Bagus Agro Pelaga, exploring the grounds and trying some of the many activities on offer. If you, like us, are looking for a break from the touristy southern coast, this place is for you.
Take our word for it, or keep reading to find out 6 reasons to stay at Bagus Agro Pelaga!
Get the Best Prices For Bagus Agro Pelaga Here!
1) Scenic Location
First things first – location. Bagus Agro Pelaga is in a secluded location in the mountains of Central Bali, at 950 meters above sea level. Guests either stay in the main hotel building, or in individual villas, set on a sloping hillside with sweeping views over the surrounding valley.
On clear days, the view is dominated by Mount Agung, towering over the peaks all around. If it's cloudy and misty, as it was when we visited, you'll miss out on views of the mighty volcano, but the low clouds and wispy mist will lend the panorama a mysterious vibe.
2) Staying on an Organic Farm
Bagus Agro Pelaga was first established to grow organic vegetables for other hotels in the Puri Bagus group. The grounds of Bagus Agro Pelaga span 18 hectares, and walking around takes a good few hours.
You can roam around the grounds by yourself, but we highly recommend joining one of the 'farm tours' offered daily by the hotel, where a staff member will introduce you to organic farming, and the kind of crops grown on site – not just fruit and vegetables, but also flowers, to be used for temple offerings.
I was very impressed to find out that Bagus Agro Pelaga's agronomist sourced a specific orange variety from Japan that would grown in Bali's hot and humid climate. Oranges are rarely found in Bali, and I really appreciated being able to enjoy one of my favourite fruits.
3) Activities on Offer
If your stay is only a couple of nights long, you can quite easily spend it in the hotel grounds, enjoying peace and quiet.
After the farm tour, we were taken to a small open-air kitchen with coffee plants all around. We drank freshly-roasted coffee and ate Balinese rice flour sweets, flavoured with pandan leaves, topped with grated coconut and palm syrup.
Right next to us, in another open-air kitchen, a Balinese cooking class was being set up. Guests dug turmeric roots and picked leaves from the organic spice garden, and as we were leaving, we could smell roasted spices mixed with the heady scent of rain.
Another activity we absolutely loved was making canang sari, Balinese traditional offerings. We changed in traditional Balinese outfits and sat on bamboo mats under a canopy, following the lead of our skilled guide.
We watched in awe as she cut and twisted palm leaves turning them into baskets, fastening them with tiny pieces of bamboo sticks. After a few attempts, we managed to create half-decent offerings, and we were invited to place them on the altar in the hotel temple.
We loved having the chance to be able to understand this typical Balinese custom, and make our very own offerings, giving thanks for so many beautiful memories.
4) Day Trip Opportunities
Bagus Agro Pelaga is truly a magical place, and if you're only staying for a night or two like we did, we highly recommend enjoying the grounds and activities on offer.
However, the hotel is also perfectly located to visit some of the main sights in Central Bali. For instance, Nung Nung Waterfall is only 10 minutes drive away, and in less than half an hour you can reach Ulun Danu Beratan, the famous lake temple found on the back of the 50,000 IDR note.
Ubud is about an hour drive away – however, rather than visiting on a day trip, we recommend spending at least 3 days in Ubud as there's a lot to see and do. Two more places worth visiting as a day trip from Bagus Agro Pelaga are Mount Batur, for sunrise trekking, and Jatiluwih rice terraces, much larger and far less crowded than well-known Tegalalang near Ubud!
5) Environmental Commitment
I was also very happy to stay at Bagus Agro Pelaga because of their dedication to embrace sustainable tourism. In a place like Bali, where greenwashing seemed to be all too common, we were truly impressed with Bagus Agro Pelaga's sustainable policies.
I already mentioned that the resort was conceived as an organic farm. Nowadays, only 10% of their 18 hectares are used for building purposes, 6 hectares are reserved to be kept as rainforest, and the rest is used for organic farming. On top of that, 7000 trees were planted to protect the land and prevent soil erosion.
Bagus Agro Pelaga embraces the philosophy of "Tri Hita Karana" – meaning harmony with people, harmony with God and harmony with nature. When talking about sustainable tourism, we often focus on nature and the environment, so I was very happy to find out that management looks out for the local community. 80% of staff comes from nearby villages, and they are offered to attend free English classes and other training opportunities.
Bagus Agro Pelaga also regularly organises clean ups with local schools, and the entire resort is aiming to be plastic free over the next couple of years.
6) Dining Experiences
With so many organic veggies grown just around the corner, we had no doubt that all food at Bagus Agro Pelaga was going to be delicious!
For our first dinner we enjoyed 'Nasi Raja', meaning 'rice for kings', a dish including vegetable curries, satay, garlic prawns and fiery sambal, served with julienned vegetables and white rice. Everything was served on a platter, decorated with ribbons of palm leaves – it was almost too beautiful to eat!
On our second day we had a steamboat with farm-grown vegetables, tofu, fish balls, and glass noodles. The broth was clear and very delicate, and perfect to enjoy the freshness and the crunch of the vegetables. Also, I think this was the only place in Bali where I saw asparagus on the menu!
7) Value for Money
Ok, if you made it this far, I will ask you to guess how much a night of Bagus Agro Pelaga costs. I am pretty sure you will say hundreds of euros/dollars – after all, natural beauty and sustainable tourism usually come with a hefty price tag in Bali.
Guess what? Rooms can be had for as little as €80 for farm rooms, and €400 for villas sleeping four, with private pool and view over the valley. Discounts are sometimes offered for last minute or advance bookings – I have seen rooms for as little as €57 on Booking.com. Not bad, right?
Get the Best Prices For Bagus Agro Pelaga Here!
Our trip and stay at Bagus Agro Pelaga was sponsored by Evaneos, but we were under no obligation to write this article. We did because we sincerely loved our stay.