Welcome to Bali! If you're planning to visit the Island of Gods, chances are Ubud will be on your list of places to see. What are the best things to do in Ubud, and how long should you be spending there? We've aimed to answer these questions (and more) in this 3 days in Ubud article!
Oh, Ubud! Home to temples, rice terraces, monkeys, about a million scooters and about as many 'enlightened' Westerners looking for their very own version of THAT BOOK. Where yoga studios outnumber Bali bowls, and there's always some kind of 'circle' or 'retreat' going on.
I guess that from this intro, you'll have figured out we are ambivalent when it comes to Ubud. We didn't quite feel the 'Ubud magic', but we didn't hate the place either.
On one hand, we loved the beautiful nature surrounding the town, and the many cool things do in Ubud – on the other, the traffic, chaos, and overtourism really got to our nerves.
Having said that, the place is totally worth seeing, and you may find you love it. Maybe all those 'circles', 'retreats', and 'ecstatic dances' are indeed your jam. If they aren't, fear not – there are plenty of places to see and things to do in and around Ubud, and a good variety of day trips and activities, including some of the most beautiful natural places in Bali!
How Many Days in Ubud?
There's really a lot to do in Ubud – you could spend a week, or even a month, and not get bored, but if you're like us you'll be overwhelmed by the traffic and crowds. If you're a first timer, 3 days in Ubud are ideal to get a feel for the place – and if you can extend it to 5, you'll have time for some day trips out of town!
Let's have a look at what to do if you're in Ubud for 3 days!
Things to do in Ubud – Day 1
1) Sunrise at Tegalalang Rice Terraces
Start your 3-day Ubud itinerary with sunrise wandering Tegalalang rice terraces, one of the most famous things to do in Ubud! Tegalalang rice terraces are best visited at sunrise to escape the crowds, since this is truly one of the busiest places around Ubud, not to mention one of the most Insta-loved.
It takes about 45 minutes to visit Tegalalang rice terraces, and the entrance costs IDR 10,000 per person. As you walk around the site, you'll find locals asking for 'tips' to enter their rice fields, so keep some small change at hand if you wish to do so.
Looking for a day trip to Tegalalang Rice Terraces? Here you are!
2) Sound Healing at Pyramids of Chi
After breakfast, it's time to check out another iconic thing to do in Ubud, part of that whole array of 'spiritual experiences' that make Ubud unique – Pyramids of Chi.
These are two replicas of the famous Pyramids in Egypt, found just outside Ubud. A number of events and experiences takes place daily in the Pyramids – from cacao ceremonies to sound healing, gong pujas, full moon gatherings and more.
I am always curious and willing to try out new experiences, so I joined the 'Ancient Sound Healing' experience. Guests are welcomed to lie down on mats and relax, while gongs and musical instruments like flutes and didgeridoos are played, welcoming a state of deep, meditative relaxation.
I didn't quite get there – but enjoyed the experience nonetheless. Definitely one of those really #blessed things to do in Ubud!
4) Rice Fields Walk
One of the things I liked best in Ubud was the opportunity to go for walks. If you've been to Bali, you'll know that walking is not a thing – between the heat, scooters, and absence of footpaths even in towns, it ranges from unpleasant to downright dangerous.
If you love exploring on foot like we do, you'll be happy to know that there are some cool nature walks to do in Ubud! One of them actually starts just around the corner from Pyramids of Chi, and weaves its way through rice paddies for about an hour until it reaches the centre of Ubud, in the vicinity of the palace.
The first half of the walk is very peaceful and scenic, with very few tourists in sight. It's not as scenic as Tegalalang, but you're likely to have the place to yourself. One of the most pleasant things to do in Ubud if you ask me!
5) Lunch at Sari Organik
Halfway through your rice fields walk from Pyramids of Chi back to Ubud, you'll come across a café called Sari Organik. It's a great place to enjoy lunch with a view – food is organic and vegetarian, and if you're hot, there's a also a wide range of fresh fruits and smoothies, not to mention coconuts!
6) Campuhan Ridge Walk at Sunset
After spending the hottest part of the day relaxing somewhere, it's time to head out around sunset for another short trek – the Campuhan Ridge Walk, an easy path following the ridge of a hill in the outskirts of Ubud, surrounded by forest and rice fields.
The Campuhan Ridge Walk starts a few hundred meters from the Ubud Market. As the crow flies, it's not far from the rice fields walk described at #4, but the views are completely different – the Campuhan Ridge Walk follows a ridge running over the hilltops, with scenic views over the surrounds, while the other is largely flat.
Avoid doing the Campuhan Ridge Walk in the heat of the day as there's very little shade, and even if the walk can be considered easy there's a fair amount of ups and downs. Opt for the late afternoon, when it's one of the most pleasant things to do in Ubud!
7) Dinner at Fair Bale Warung
Let's end the first of your 3 days in Ubud with a dinner at Fair Bale Warung, a restaurant run by the local NGO Fair Future Foundation. All profits are used to to support free medical treatments for people in need – one meal will pay for two treatments!
The restaurant is in the centre of Ubud, on the first floor of a building, with views onto the street below. The menu features a range of Thai and Indonesian favourites, including meat, fish, and vegetarian dishes. We tried the red curry and tempe cashew nut stir fry, and they were both good. In terms of things to do in Ubud, this is a truly great dining experience!
Things to do in Ubud – Day 2
8) Start your Day at a Waterfall
Together with rice terraces, waterfalls are the other not-to-be missed thing to do in Ubud. There are plenty of waterfalls to choose from not far from Ubud, and you can even spend an entire day hopping from one waterfall to another.
The best known waterfalls are Tegenungan and Kanto Lampo, both located about half an hour from Ubud. They're likely to be quite crowded during the day, so visit as early as possible if you want to enjoy them in peace.
A little further from Ubud you'll find Tibumana and Tukad Cepung, which could easily be combined in a half-day trip. However, my favourite waterfall is Nung Nung, about an hour north of Ubud. It takes most of the day to get there and back, so why not extend your Ubud stay to 5 days and spend one exploring Nung Nung and surrounds?
You can also opt for a waterfall tour to make things easy – here are some options!
9) Tirta Empul Water Temple
You can't miss adding a temple or three to your list of things to do in Ubud! The most unique temple in the immediate vicinities is Tirta Empul, also known as 'the water temple', famous for its spring waters and purification pools.
Tourists are welcome to join locals for purification rituals in the two pools, lined with about a dozen jets of running water. You'll need to wear a special green or blue sarong to enter the pools, and you're supposed to follow a specific order – starting on the left hand side, and continuing all the way to the right.
There are no explanations on how to behave at the temple, so follow locals or hire a local guide to be sure to act respectfully. Two water jets are meant to be skipped, as they are only used for funerary rites – the last two on the right in the first water pool. The label is in Balinese only, so ask if you are not sure!
Here are some tours including Tirta Empul!
10) Shopping at Ubud Market
Ubud is also a great place for shopping. Shops selling yoga gear, harem pants and flowy shirts/dresses are all over the town, including some lovely boutiques where you'll probably pay similar prices to Europe or the US.
If you want to snag some deals and grab some Bali souvenirs, your best bet would be heading to Ubud Market, across the road from the Palace right in the heart of town. The two-storey building is filled to the brim with batik shirts, Balinese puppets, silk scarves, silverware, tye-dye fabrics and more.
Many items are mass produced, but you can still find some artisanal pieces. Don't forget to haggle, and remember that sellers further from the entrance usually offer better prices.
11) Coconut Ice Cream at Tukies
After shopping you'll probably need something refreshing! Head to Tukies, a café with three outlets in town, for a bowl of their coconut ice cream. The ice cream is delicious on its own, but it comes topped with young coconut, coconut brittle and caramelised coconut. Can I have one please?
12) Have a Manis Klepon Massage at DaLa Spa
Ubud is hectic! If you're feeling overwhelmed, take some time out from sightseeing and treat yourself with a nice massage.
We stayed at Alaya Resort in Ubud, so we headed to their in-house spa for a two-hour Manis Klepon signature treatment. The treatment started with a foot scrub, followed by a full body massage using Jasmine oil, which was so relaxing I almost fell asleep.
The Manis Klepon treatment is inspired from the ingredients of Balinese rice cakes, which (spoiler alert) you'll also get to taste! After the massage, I got a body scrub with a mixture of freshly grated coconut mixed with palm sugar, followed by a body wrap scented with pandanus leaves – all ingredients of Klepon rice cakes.
Finally, you can't say you've been to Bali until you've had a flower bath, right? The treatment ends with a scented bath, infused with 7 types of fresh flowers. It was true bliss, and by far and away the best thing I did during my 3 days in Ubud!
14) Crispy Duck for Dinner at Bebek Bengil
Did you know eating duck is very common around Ubud? This is because ducks were commonly used by rice farmers to keep pests away in the paddies, so it comes as no surprise that duck features heavily on menus all over Ubud.
Two of the most popular duck-based dishes are bebek betutu (steamed or roasted duck) and bebek goreng (fried crispy duck), usually served with rice and vegetables as a side. Bebek Bengil is one of the 'original' crispy duck restaurants in Ubud, open since 1990 and still going strong. It's busy and pricey, but the duck is really good.
An alternative to Bebek Bengil is Petani Restaurant at Alaya Resort, just next door, which also serves a mean crispy duck!
Things to do in Ubud – Day 3
15) Water Purification at Mengening Temple
I decided to dedicate the last of our 3 days in Ubud to a truly unforgettable experience – a ceremony led by Luh, a Balinese priestess, followed by meditation and a personal consultation with a shaman.
I booked this experience via Airbnb, after it came recommended by my dear friend Veera Bianca. It started with a visit to Mengening Temple at sunrise, where we meditated and engaged in a water purification ceremony – similar to the one you can do at Tirta Empul, except that there was no other tourist in sight.
Mengening means 'stillness' – the simple act of being there gave me a sense of pure, unadulterated peace. Being able to engage in a timeless ritual under the guidance of a local is what made my experience truly special – I am truly at a loss for words when it comes to describing what I felt.
I warmly recommend booking Luh's 'Meditate With a Shaman' Airbnb Experience, but if she's fully booked or dates don't work out you can always visit Mengening Temple independently – it's about half an hour away from Ubud. However, please remember that this is very much a locals-only temple, so please be respectful and don't use it simply as your personal Insta backdrop. Please.
16) Visit a Shaman
Our experience continued with a visit to a local village, where we all had a personal consultation with a shaman. It was an experience that I had wanted to have for a long time, ever since our trip to India in 2010 – but I was always afraid of what I may have found out.
It turns out that you just need to meet with an open mind and open heart, and you may be rewarded with guidance, and maybe a new outlook on life. The shaman was a warm-hearted woman and I loved meeting her. Will her predictions come true? I'll let you know in 15 years!
Ubud is full of shamans and healers, most of which charge reasonable rates, and probably a fair share of charlatans, too. If visiting a shaman is on your list of things to do in Ubud, I definitely recommend booking the tour with Luh – or else, just ask around and follow your feelings.
17) Sunrise Trek on Mount Batur
If shamans and purifications are not your thing, we can recommend another (very) early morning activity for your third day in Ubud – a sunrise trek to the summit of Mount Batur, an active volcano.
Mount Batur is in central Bali, about an hour drive from Ubud. Pick-ups are available from all over the island, and Ubud is usually the last stop before reaching the car park where the hike begins – meaning that you'll get to sleep in a bit longer, and you'll be back in no time after your hike.
This trek was one of the highlights of our time in Bali – read our Mount Batur guide to know more, or just book this tour of Mount Batur with TripGuru!
Alternatively, here are other tours featuring Mount Batur!
18) Eat Babi Guling
You can't leave Ubud without trying babi guling, a Balinese delicacy of roasted suckling pig with herbs and chillies, usually served with rice and crispy skin. You're unlikely to find babi guling elsewhere in Indonesia, since the country is mainly Muslim and this is a pork-based dish, so don't miss the opportunity to have it in Bali!
Most people will recommend to have babi guling at Warung Ibu Oka, beloved by many including the late Anthony Bourdain. We don't recommend supporting this restaurant because they have set up a small animal menagerie for tourist entertainment out the back, with caged monkeys and chained cockatoos.
Nearby Babi Guling Nung Cung is a better option – and really, trying babi guling really deserves to be in your list of things to do in Ubud!
Where to Stay in Ubud
There's no way around it – Ubud is busy, and traffic can seriously do your head in. For this reason, we decided not to stay at the stunning 'jungle villas' around the town, but opted for a beautiful hotel closer to the centre – the fantastic Alaya Resort.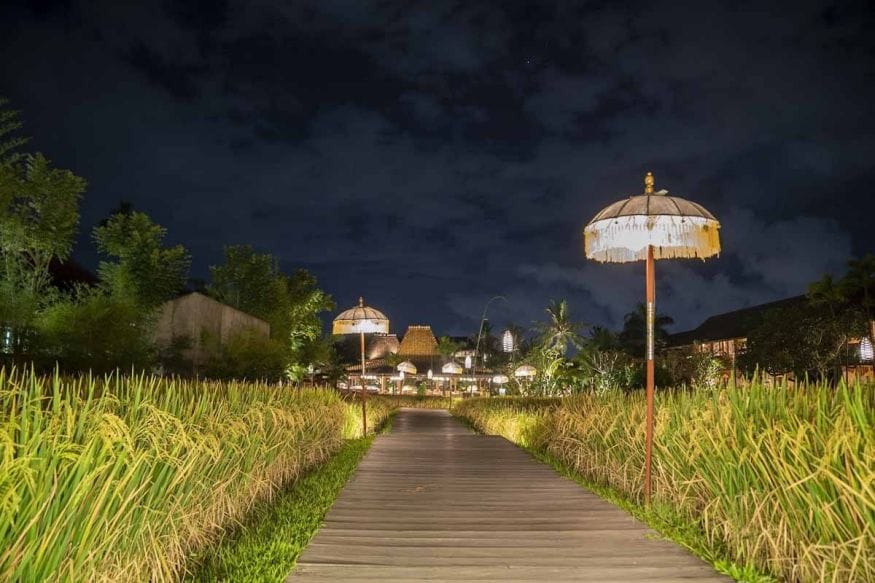 Alaya is truly an oasis of peace, right around the corner from the centre of Ubud. Step through the Balinese-style lobby, and walk towards the rice terraces located in the hotel grounds, and the town will feel miles away.
We thought Alaya was a great place to unwind during our 3 days sightseeing around Ubud. Besides the Manis Klepon spa experience, we loved hanging out by the pool, enjoying the complimentary afternoon tea with Balinese sweets, or just sitting by our terrace, looking at the rice fields and small temple located within the hotel grounds, where staff placed offerings several times a day.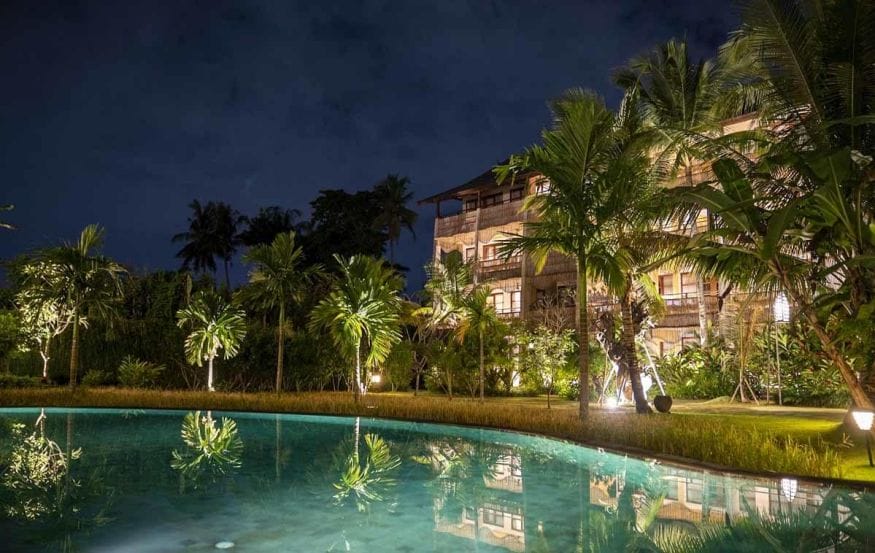 Our room was perfect to relax – the huge king bed was the comfiest we slept in Bali, and we even had a large bath tub in addition to a rain shower, all fully stocked with top-level toiletries. We loved staying at Alaya Resort, and would return in a heartbeat!
Get the Best Prices for Alaya Resort!
How to Get Around Ubud
-Scooter – this is by far and away the most popular way to get around Ubud, as well as the rest of Bali. Scooter rental is inexpensive at about 60K IDR per day, and between 600 and 700K IDR for an entire month.
It's a very convenient way to get around, but PLEASE exercise extreme caution if you're not a confident rider, and make sure you're covered by travel insurance.
-Grab/Go-Jek – ride sharing apps are a great alternative to renting your own scooter in Bali, while preventing the danger of being ripped off by dodgy taxi or motorbike drivers.
If you need a car, opt for Grab, while Go-Jek allows you to hitch a ride on the back of a motorbike – much cheaper and more convenient to escape Ubud's terrible traffic.
You might find it hard to get a ride on Go-Jek and Grab in and around Ubud, since local drivers promote boycotting ride-sharing apps – because they make it harder to overcharge tourists! Keep trying, and if you really can't get a ride through the apps and need to resort to regular motorbike or taxi drivers, don't forget to haggle.
-Private Driver – hiring a private driver for a day is a great, hassle free way to check out things to see around Ubud, or to travel to and from the city if you have luggage.
Rates are convenient at about 600K IDR for a day, and transfers from one city to the other usually follow set fares – for instance, Ubud to Canggu is 300K.
If you are looking for a reliable private driver, get in touch with Yung – her phone number is +62 811 5997 995
Otherwise, you can book your transfer to Ubud from Bali Airport here
If you're in Kuta, there's a tourist bus heading to Ubud every day – book here!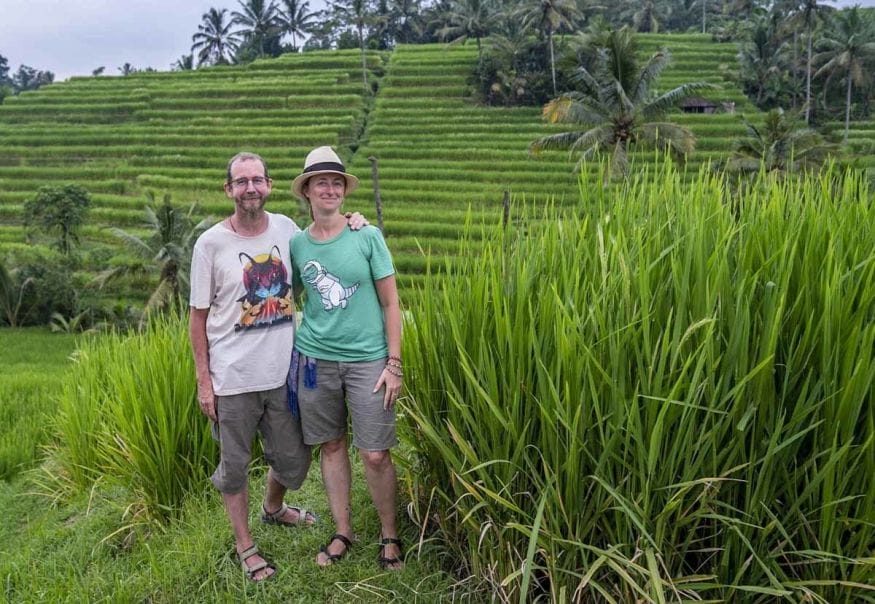 Ubud Travel Tips
-Don't forget to pack a reusable water bottle, most hotels will have water dispensers or provide filtered water upon request.
–Wear long light pants or skirts, and long sleeves if possible. Not only is this respectful, it's also better to for the heat.
-You'll have to wear a sarong and sometimes a sash to visit temples. These are usually provided free of charge, or you can bring your own.
-Traffic is horrendous in Ubud, so don't trust Google Maps when it comes to travel times, always allow a bit extra!
Have we forgotten any of your favourite things to do in Ubud in 3 days? Let us know in the comments!