Is there a better way to explore Bangkok street food than on the back of a tuk tuk? Brace ourselves and follow us on a whirlwind tour of night time Bangkok with Buffalo Tours!
Bangkok is a city with many layers – and as tourists, travellers or visitors, the best we can do is peel them off one at a time. First Bangkok visit? Cross off all the essentials, visit Jim Thompson's house, Wat Arun and the Golden Palace. Then go deeper, a little at a time. Get out of the centre and Khao San madness, venture down alleyways and backstreets, dare sit down at that wonderful street food stall that smells so good.
If you ask me what my iconic images of Bangkok are, I would give you two answers. Street food and tuk tuks. In my opinion, the best food in Bangkok is street food – whether it's a freshly-cooked pad Thai, topped with crunchy peanuts and a squeeze of lemon juice, or noodle soup, or grilled chicken – because its everywhere. I've never eaten at a restaurant during any of my visits, even though there are many amazing restaurants in Bangkok.
And tuk tuks, because it was in the Thai capital that I saw (and rode) brightly painted, pimped-up tuk tuks for the first time – and I still think they're the best way to travel around the city (yes, I know taxis are actually cheaper but tuk tuks are more fun!)
Buffalo Tours run a wonderful Bangkok street eats tour that puts street food and tuk tuks together. It's a night time trip through the underbelly of the city, zipping across dimly-lit streets on the back of a tuk tuk clad with flashing lights, sampling one delicacy after the other. Guides are always Bangkok locals – we were led by wonderful Arty, who instantly conquered us with his bright, wide smile.
Planning to visit more of Thailand? Don't miss Sukhothai, Thailand's ancient capital!
Phetchburi Soi 10 – a night food market
After a brief ride on our very own green tuk tuk, we arrived at our first stop – Phetchburi Soi 10. In Bangkok, 'soi' are alleyways on the side of major roads, often concealing markets, street food stalls and/or hole-in-the-wall shops. This particular Soi was in an area of Bangkok I didn't know at all – I was trying to get my bearing when Arty popped into my mouth the crispest morsel of Thai fish cake, tangy with lime and coriander.
We stopped at a food stall decked with yellow and red flags, a common sight in Bangkok in those mid-October days. The flags meant that the stall only serves vegetarian food to celebrate Tesagan Gin Je, the Chinese Vegetarian festival dedicated to the nine emperor gods. Fish cakes and grilled Isaan sausages are replaced by fried tofu and spicy veggie fritters – and even Nick, a hardcore meat eater, agreed that Bangkok's veggie food is to die for.
The following stall had baskets laden with whole deep-fried mini crabs – Teacake Travels, who was on the tour with us, described them as 'fish and chips combined into one'. I love crabs but hate cracking them open, so the idea of eating one whole didn't bother me at all – quite the opposite, In fact!
We wandered around the stalls of Soi 10 for twenty minutes or so. Arty fed us one tasty tidbit after another, so many that I lost count. But if you were to ask me which one was my favourite, I'll tell you in a heartbeat – the coconut custards. These are delectable mixtures of coconut milk, egg and who knows what else, cooked in dainty trays bite-sized holes.
I had seen ladies in the streets of Bangkok before, pouring white, creamy looking mixture into those trays before and never wondered what it was. Now I know. I ate two, but that could quite easily have been twenty. Maybe it was good for my waistline we left Thailand the following day!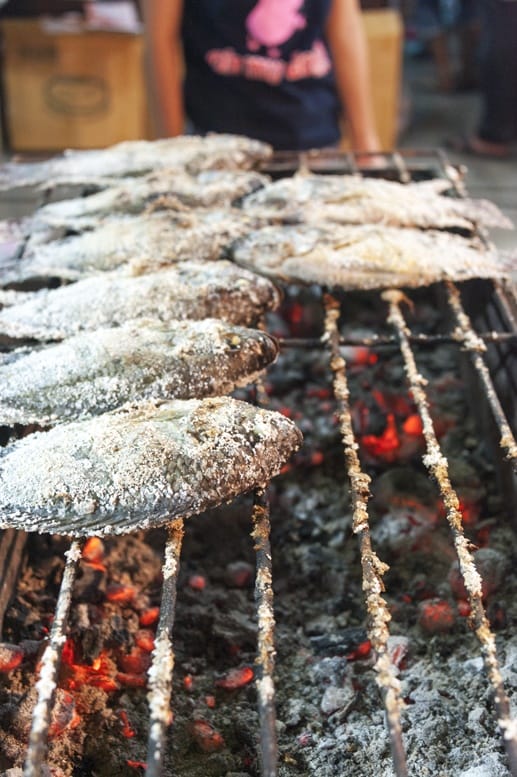 Saphan Khao – street butchers & fruit and veg
Back onto the tuk tuk, those salty, sweet, tangy morsels had made me thirsty indeed. What was waiting for us on the back of our super-vehicle? A bottle of water. I think Arty read our minds. After another spin in the crazy Bangkok traffic, we hit the following stop – Saphan Khao market.
What comes next is not for the faint-hearted. So, if you're vegetarian, vegan or even just squeamish, skip to the paragraph below the pineapple picture.
Some of you may know Nick was a butcher in a previous life. I remember him boning out chicken and chunks of beef and pork, using an array of knives that he kept in a holster around his waist. His movements were slow and precise, and the results of his and his colleagues' work was neatly displayed in a glass cabinet, decorated with tomatoes and bunches of fresh parsley.
The pork butchers of Saphan Khao couldn't have been more different. They moved at lightning speed, breaking down pork carcasses with the aid of a cleaver and nothing else, going from whole pork to chunks of meat in less than a minute. Younger boys hurried back and forth from the back of a truck where dead pigs were piled up on top of one another. Not for the faint hearted indeed – but you've got to applaud their skill.
Ok, now it's safe to read. There was more than just meat at the market – bunches of pineapples as tall as a person, piles of watermelon and so many weird and colourful vegetables you'll get hungry no matter what. There was no eating for us at Saphan Khao, just wandering around and checking out local life in a little-known corner of town.
Thipsamai – Pad Thai extraordinaire
The next stop was the 'main course' of our food tour. The other participants couldn't believe I had never heard of Thipsamai – the Bangkok pad Thai institution, makers of the finest stir-fried noodles you'll ever have in your life.
The place was absolutely packed, with a queue snaking around the block. I'm a big fan of queues when it comes to food – locals in a queue are a sure-fire guarantee that the final result is going to be delicious.
Nobody even came to get our orders at Thipsamai – because pad Thai is what pretty much everyone came for. We had two portions of egg pad Thai – and that doesn't mean pad Thai WITH egg, it means pad Thai wrapped in a super thin egg omelette! The flavors were perfectly combined – sweet and savory just in the right way, not too oily but moist, with huge, chunky prawns for some added taste.
Make sure you don't miss Thipsamai next time you're in Bangkok – and don't be frightened by the queue, it moves really fast. We waited no more than ten minutes, and the wait made the pad Thai even more delicious.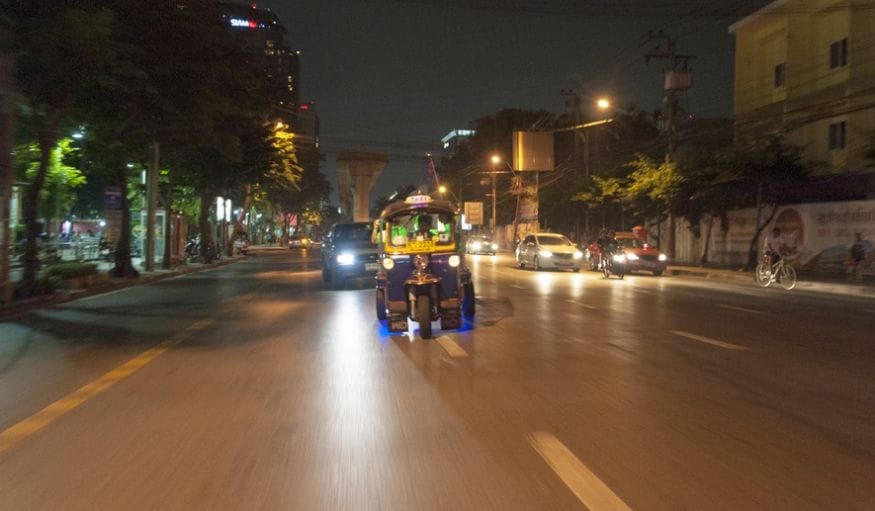 Roti Mataba – just delicious!
I was getting rather full by then but Arty had more treats in store for us. First, we stopped at a tiny shop right next to the river. It was one of those shops with cracked tiles and a dusty sign out front. It looked kind of retro – I probably would've walked straight past it. Arty motioned us to sit down out front, and in a little while he appeared with some plastic trays full of roti mataba, which is basically Indian bread filled with curry,
I am not even sure which kind of curry was in my bread – perhaps chicken? Or potatoes? It was another lovely dish, something to be had on the way or savoured slowly, perhaps with a cup of thick, dark coffee flavoured with condensed milk. I didn't have time to catch the name of this great roti mataba joint, but I know it's near the river and it's been open for 60 years.
As we got back on the tuk tuks, bound to the next destination, Arty handed us some mango and sticky rice, my favourite Thai dessert of all times. This was a no-nonsense version, delicious in its simplicity. I poured the small packet of coconut milk on the juice as the tuk tuk sped on the riverside, and ate it all with my fingers, savouring the slices of soft, ripe mango, each morsel a bite of an endless, happy summer.
Wat Pho at night
Our next stop was not food related. It was Wat Pho, one of those must-see temples – the one with the huge reclining Buddha and the massage school attached. The temple grounds are open at night, and you're allowed to roam the grounds, walking among lofty stupas decorated with ceramic flowers and golden Buddha of all shapes and sizes, all with elongated hands and serene expressions.
We all enjoyed some time out from the traffic and the bustle of the city center, wandering in silence in this sacred place. The hall with the big Buddha is closed – but this is a small worry, because at night you'll have the whole place to yourself.
By then, it was nearly midnight and the tour had been going for over four hours. The pace of the tour was rather fast – normally, I would advise taking it slowly, but somehow it worked.
Zipping on the back of our tuk tuk, from huge boulevards to dark back-alleys, we felt as if we had entered the flow, the bloodstream of the city. Do you know that sense of bewilderment you get in a foreign country? When you stand thinking 'where do I go' while the world move all around you like a kaleidoscope of smell, shapes and colors? This time, we were moving – we were in the kaleidoscope.
The Flower Market at night
There was one last stop, one of Bangkok's most magical corners. It was the Flower Market – which is actually open 24 hours a day, but it's at its most lively at night. In the West, flowers are usually presents, or they're associated with occasions like weddings and funerals. In Thailand, the vast majority of flowers are bought as temple offers.
The market stalls were laden with flowers of all shapes and colors – bunches of roses wrapped in newspaper, strings of jasmine, colorful chrysanthemums and pretty lilies. Some smallholders were making 'flower garlands' (these here below, I don't know how else to call them), beautiful compositions to be given as offers.
The market was in full swing but somehow the atmosphere was relaxing. It was a great opportunity to see a slice of local life – after having spent a night in that melting pot of smells, colors and flavors that is Bangkok.
We would like to thank Buffalo Tours for having welcomed us on this trip. All opinions remain our own – but trust us, the tour was amazing!
Practical Bangkok Info – Where to Stay
Bangkok's street food is indeed amazing, but there are days when a sit-down meal in a classy, airconditioned room is what you need after sightseeing all say in the heat. Medinii is located on the 35th floor of The Continent Hotel, and it is considered the best Italian restaurant in the Sukhumvit area. You can enjoy excellent pasta, pizza and a variety of desserts, or just enjoy a little bit of everything during the popular Italian Sunday brunch.
One of our favourite places to stay in Bangkok is Galleria 10 Hotel, a modern boutique property in the Sukhumvit area, convenient for public transport, awesome street food locations and nightlife hotspots. Rooms are comfortable and offer great views – and a dip in the rooftop pool is an awesome spot to watch the sunset!
And here's a great Thailand in 2 weeks itinerary – we all know how hard it is to decide where to go, especially when your time is limited!
Pin it for later?