Time for a little #ThrowbackThailand! As we wait to be able to travel again, let us reminisce about our first visit to Thailand with this post about 12 reasons to visit Sukhothai!
We visited Thailand for the first time in 2010, during a 10-month trip across Southeast Asia and India. Even over a decade ago, Thailand was already a vary popular tourist destination – and after a week exploring the southern islands, plus a week in Bangkok, we were both yearning for some peace and quiet.
To be honest, I don't quite remember why we decided to visit Sukhothai. I remember Nick was crazy about ruins at the time, and Sukhothai was in the direction we were planning to head to – that may have been enough for us to decide.
A few hours on a bus, and we swapped the hectic atmospheres of Bangkok's Chinatown for a quiet guesthouse surrounded by rice paddies on the outskirts of Sukhothai, where we spent five unforgettable days.
Sukhothai ended up being our favourite Thai destination, and one of the best memories of our whole trip. Strangely, even though we have been to Thailand several times since then, we never made it back to Sukhothai – for now.
As we wait for the world's borders to open again, let us share with you 12 reasons to visit Sukhothai, and why it should definitely be included in your Thai itinerary!
Reasons to Visit Sukhothai, Thailand's Ancient Capital
1) It's the Perfect Intermediate Stop Between Bangkok and Chiang Mai
Let's start with the first, most straightforward reason. If you are planning to head to Thailand, more than likely you'll be travelling through Bangkok at some stage. It's also quite possible you'll head north at some stage, to visit places like Chiang Mai and Chiang Rai.
If that is the case, Sukhothai is the ideal halfway point between Bangkok and Northern Thailand for those travelling overland, being located approximately 5 hours drive the Thai capital, and 4 hours from Chiang Mai.
During our 2010 trip, we decided we would fly as little as possible, so Sukhothai was perfect for us to break the long bus journey between Bangkok and Chiang Mai. Thailand is very well set up with low-cost airlines, but nothing beats the magic of travelling overland – not to mention it's much better for the environment, but you already knew that, right?
2) It Was Thailand's First Capital
History lovers should definitely plan to visit Sukhothai – it was Thailand's first capital, and the cradle of Thai culture.
Back in the 13th century, Sukhothai was the capital of the Kingdom of Siam, after it gained independence from the Khmer empire (of Angkor Wat fame).
The kingdom started out quite small, only including Sukhothai and its surroundings, but it grew during the time of its third ruler, King Ramkhamhaeng. At the time, the city of Sukhothai was home to 80,000 people, and the kingdom extended as far as present day's Laos and Malaysia.
It was a time of great development in terms of art, literature and architecture, and during the second half of King Ramkhamhaeng's rule, over 200 temples were built. Stone inscriptions within the temples are regarded as being the earliest example of Thai writing.
Sukhothai's heyday only lasted a couple of centuries. In 1438, the Kingdom of Siam was conquered by the nearby Kingdom of Ayutthaya, and by the end of the following century Sukhothai had been abandoned.
Most of the houses were built with wood and bamboo and quickly disappeared, but religious monuments survive to this day.
3) See Stupas and Temples at Sukhothai Historical Park
The main attraction in Sukhothai is the Historical Park, the archaeological site located just west of Sukhothai city, including temples and remains of the ancient capital.
Over 200 between wats (temples) and and chedi (stupas) were excavated and partly reconstructed. Most are located in a central complex, surrounded by a moat and earth walls, but some temples can be seen scattered all over the Historical Park.
You'll find maps and signs with information in English, but we highly recommend visiting with a guide, the best way to appreciate the historic and cultural importance of Sukhothai in modern day Thailand.
4) Visit Wat Mahathat
One of the most unforgettable sights at Sukhothai is Wat Mahathat, built to house relics from the Buddha himself.
It's the largest temple, and one of the most visited – try to visit first thing in the morning, or last thing before you leave, as it tends to get crowded. You'll find a magnificent Buddha statue in front of a lotus-shaped stupa, flanked by columns, with four towers surrounding the complex.
Wat Mahathat was once the largest temple at Sukhothai, standing right next to the Royal Palace. Sadly, the Palace was built in wood so nothing is left nowadays.
5) Learn About Khmer Architecture at Wat Si Sawai
Check out this picture – I'm sure you may be thinking 'are you sure that is not Angkor Wat?'
Wat Si Sawai is one of the oldest temples in Sukhothai, dating back to when the area was still part of the Khmer Empire. This explains the architectural similarity with the stunning Cambodian temple complex, with the same carved prang, tower-like spires.
The temple was originally Hindu, but was converted to Buddhism in the 14th century, when the Kingdom of Siam achieved independence.
6) Count all the Elephants at Wat Sorasak
There are many interesting things to see in Sukhothai – Wat Si Chum, with its striking seated Buddha, Wat Traphang Ngoen at the centre of a lake, and Wat Saphan Hin, with a 12.5 meter high standing Buddha on top of a hill, offering wonderful views over the entire complex.
Yet, the temple we both remember most fondly is Wat Sorasak, with a bell-shaped chedi surrounded by carved elephants.
Elephants were a symbol of power and protection for Thai kings, explaining their use as a decorative feature of this temple. At the time of our visit, the temple had been recently restored, and it looked wonderful. I remember it being a little removed from the central Sukhothai complex, and there were very few people there!
7) Sukhothai is UNESCO-Listed
Are you the kind of person that enjoys 'collecting' UNESCO sites all over the world? You'll be pleased to know that Sukhothai is one of Thailand's 7 UNESCO-listed sites. Isn't that reason enough to visit Sukhothai?
8) It's One of Thailand's Best Kept Secrets
Now, I won't lie to you and let you believe you'll be all alone with no tourists in sight at Sukhothai. Given its historical and cultural importance, Sukhothai is popular, but you'll find far fewer visitors compared to Ayutthaya and other tourist hotspots.
The general atmosphere is nice and relaxed, especially if you avoid weekends and Thai holidays. In any case, even if you visit on a busy day, the Historical Park is large enough to find secluded places. The surroundings of Wat Saphan Hin and Wat Sorasak are great for that.
9) You Can Cycle Around the Historical Park
Sukhothai Historical Park is wonderful to explore by bicycle – it's quite spread out, so it would take quite long to cover it all on foot, but not so big that you need a car to get around.
You can rent bicycles right at the entrance for a reasonable price – cycling around is a fun way to get some breeze to beat the Thai heat, but try not to visit in the middle of the day if it's very hot!
10) Amazing Place to Experience Loi Krathong Festival
If you are visiting at the right time, Sukhothai is a wonderful place to experience Loi Krathong, a festival taking place on the full moon night of the 12th lunar month on the Thai calendar – usually in late October/November.
Loi Krathong festivities are actually believed to originate in Sukhothai. The main feature of the festival are krathong, small vessels made with banana leaves and filled with flowers or desserts, which are floated on lakes or rivers as an offering to the gods.
In Sukhothai, the festival also includes fireworks, music and performances about the royal city's heyday.
11) Try Sukhothai's Own Noodles
All this exploring made you hungry, I'm sure! You can't leave Sukhothai without trying its 'official noodles' Kuaitiao Sukhothai, made with a pork broth, rice noodles (kuaitiao in Thai), and pork slices, topped with pork crackling, green beans, salted turnip and ground peanuts. A squeeze of lime and dash of fish sauce can be added when serving.
The 'iconic' restaurant to try Kuaitiao Sukhothai is Jayhae, popular with both locals and tourists, but any café or restaurant in town will have it on the menu, not to mention plenty of street food carts.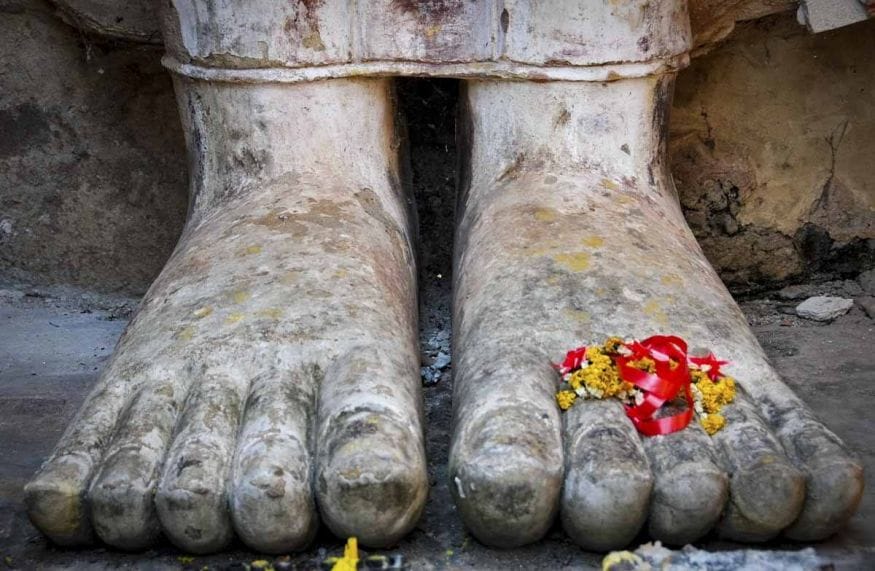 12) Can't Travel? You can Visit Sukhothai Virtually!
Ok, I know what you are thinking. This is all well and good, but it's kind of difficult to travel right now, right? Well, until we all the get out of this pickle and travel becomes easier, you can visit Sukhothai from your home thanks to this virtual tour created by the Tourism Authority of Thailand.
Thanks to a series of hi-res 3D pictures, you'll be able to 'walk around' the Historical Park and get close to temples with a click of your mouse. This is a wonderful way to plan your Sukhothai itinerary for when we'll be able to visit in real life!
If you enjoy travelling through food, you can also order a Pad Thai meal kit to enjoy after this virtual visit, coming complete with instructions and a freshly made, perfectly sweet-and-sour Pad Thai sauce!
This blog post was written in collaboration with the Tourism Authority of Thailand (TAT). All opinions remain our own – you can get more Thailand information on their official website!