Have you ever considered staying in an Airbnb in Milan? If you're planning to travel on a budget, staying in a Milan Airbnb is a great option! You can also read our guide of 10 free things to do in Milan to help you save further! If you want a truly special stay, there are plenty of luxury and unique rentals to have a wonderful Milan experience. Here we've collected our favourite Airbnb in Milan, to make you feel like a local in our home city!
Authenticity, experiences and 'travelling like a local' seems to be what everyone is after these days. An Airbnb stay is a great way to accomplish that – you can stay in an apartment or share a home with locals, get their travel tips and enjoy the city beyond the tourist sights. Airbnb in Milan tend to be a fair bit cheaper than traditional hotels in the same category – meaning you'll get to have a unique experience, AND save money at the same time!
Airbnb – What it is and How it Works
If you are not familiar with Airbnb and how it works, let me explain it for you. Airbnb is a platform that allows people from all over the world to rent out their homes, spare rooms, tree houses, Airstream caravans… you name it! During a blizzard in New York a few years ago, some locals even tried to add a 'Boutique Igloo for two' to Airbnb!
Unique rentals are one of the reasons to choose Airbnb – instead of dingy hostels and stuffy hotel rooms you can stay in artists apartments, lighthouses, igloos (for real this time) and tipis.
Safety is often mentioned as a concern by first-time Airbnb users. Payment is safely processed via the Airbnb platform – if the homeowner asks you to pay via bank transfer or any other method, refuse as it's likely to be a scam. The Airbnb site also has a review system, which works both for guests and hosts.
I've had over 40 excellent Airbnb experiences all over the world and recommend it highly. If you've never used Airbnb, sign up here to get €30 off your first Airbnb experience!
How to use your Airbnb Discount
Remember your €30 coupon code only works if you've never used Airbnb before. If that's the case, follow these instructions and get ready to live like a local!
Click here to get your Airbnb coupon code
Follow the instructions on the pop-up window or click on the 'sign up to claim your credit' button, and create your Airbnb account using Facebook, Google Plus or your email
Head to your email account and confirm your email address. Don't forget to check the spam if you don't see anything.
Complete your Airbnb profile, trying to be as detailed as possible.
On the top right of your screen, you should be able to see a notification (gift box icon) of your €30 discount.
You'll be able to redeem your discount at the time of your first booking, provided it's over $75 (excluding taxes and fees). The discount should load immediately when you get to checkout – if it doesn't, it means your reservation doesn't apply.
Best Airbnb in Milan – What You'll Find
There are thousands of Airbnb rentals in Milan – from luxury penthouses with Duomo view, to rooms in family homes and designer lofts. If insider's knowledge is what you're after, perhaps you'll be better off choosing a private room rather than renting the whole flat – in that case, you'll have closer contact with your hosts.
When browsing the site, you may notice a tiny medal next to the price of listings – that means you're looking at the home of a Superhost. According to the Airbnb site, 'Superhosts are experienced hosts who provide a shining example for other hosts, and extraordinary experiences for their guests.' 
We've stayed with superhosts in the past and had amazing experiences. Then again, we've had great experiences with hosts that were just starting out.
Here are our favourite Airbnb in Milan, divided in three categories – budget, luxury/unique, best for families and large groups. Remember that prices may vary from what listed – especially during busy periods such as holiday seasons and Design Week in April, when prices more than triple sometimes.
If you've had a positive Airbnb experience in Milan, do get in touch and let us know!
Best Budget Airbnb in Milan
This cute room with separate access and private bathroom is not far from Chinatown, one of Milan's coolest areas! It's also walking distance from the city centre and very close to Brera, the 'artists district', pretty to walk around during the day and at night.
This room is conveniently located for Centrale station, only a couple stops away on the Metro. The price is a true steal – cheaper than two dorm beds in a hostel!
This host is a good friend of mine, so I can personally guarantee this apartment is going to be amazing! Her name is Simon and she's a great blogger and wonderful photographer – her blog is called Wild About Travel! This cute flat used to be her father's, who was an artist and music lover. It's located in one of Milan's coolest areas, 2 minutes from Colonne di San Lorenzo and about 10 minutes walk from Duomo and Navigli. Top choice!
This is a large flat in the Sant'Ambrogio area, right next door to the Navigli and Colonne di San Lorenzo. The house is bright and spacious, and perfectly located to enjoy Milan's nightlife!
This place is really cool! A bright and airy studio that will make you feel 'suspended in the air', with views over Milan's newest district, Porta Nuova. The studio is well located for Centrale station and hipster Isola neighbourhood. The Duomo and boutiques if the city centre are only a short walk away!
The Best Luxury & Unique Airbnb in Milan
Have you ever heard of Bosco Verticale, the award-winning eco-friendly residential high rise that is quickly becoming one of the new Milan landmarks?
Thanks to Airbnb, you can stay in Bosco Verticale in a truly stunning luxury apartment with a view over Porta Nuova, and a balcony with the signature trees and plants that shield the apartment from light in summer, and filter the air. Staying at the Bosco Verticale Airbnb will definitely make your time in Milan very special – and at €25o per night, it's an excellent deal!
If you're after a romantic escapade, this is the perfect place for you. This split-level apartment is located along the Navigli, one of Milan's most picturesque corners. Whether you're after long sunset walks along the canals, or an alfresco dinner with your significant other, this flat will be the perfect base for your Milan stay.
Perfectly located, only a few minutes walk from the Duomo. Yet, this apartment is very quiet, as it overlooks an internal courtyard. It's tastefully decorated with period furniture, crystal chandeliers and carpets.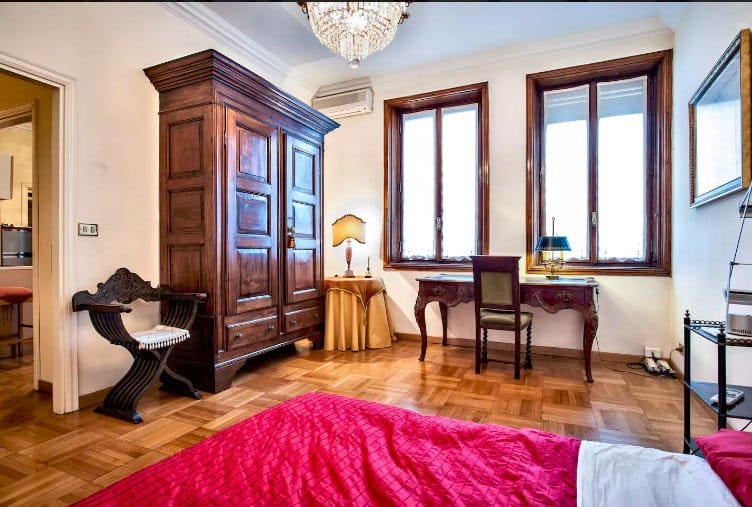 This stunning apartment sleeps up to nine guests in four spacious bedrooms. The real drawcard of this listing is the stunning terrace with views over San Lorenzo, Parco delle Basiliche and the Porta Ticinese area. I can't think of a better place for a summer barbecue!
This Airbnb was opened by two travellers who want to offer their guests the hospitality they've received during their travels. One of them is an architect, and the tasteful decor and interior design definitely sets this place apart.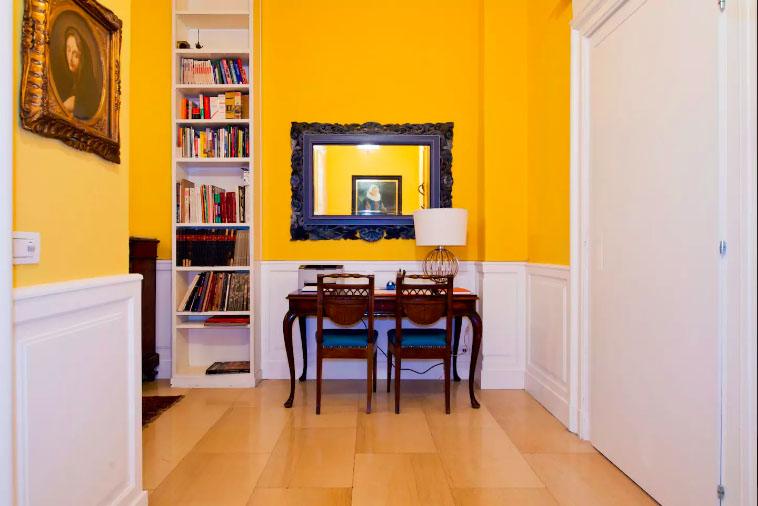 This kind of place is exactly why Airbnb is so amazing. This rental is located in a convent dating back to the 16th century, recently refurbished but retaining some of the original features like coffered ceilings and frescos. It's located in a private park right in the heart of Milan's city centre.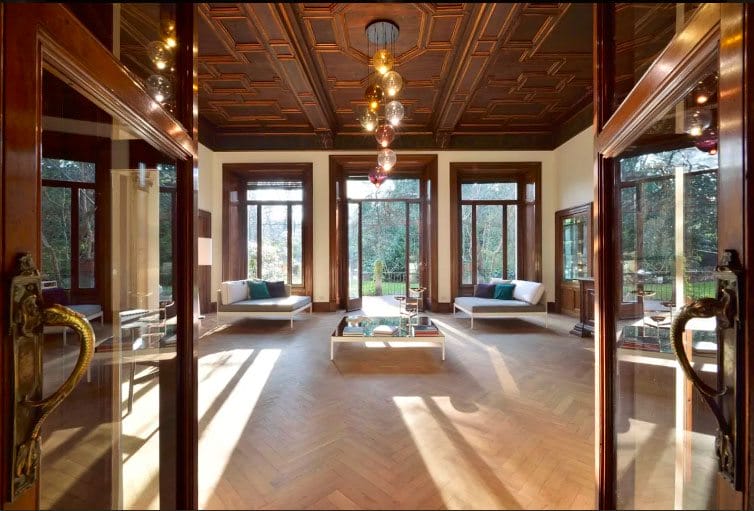 The Best Airbnb in Milan for families and groups
This rental is a steal for two couples travelling together – it's only 30 euro per person per night! The host is a dear friend who really goes out of her way to make her guests feel welcome. Highly recommended, in a quiet location near Piazza Firenze and the Fiera.
This super cool split-level apartment is just 5 minutes from the Duomo and it's a real steal starting at just €185 euro for a family of four! Not to mention, it's one of very few Milan Airbnb that comes with a drier as well as a washing machine – perfect for those travelling with little ones.
This listing is set in a reconverted farmhouse a short metro ride away from the city centre, surrounded by nature. Perfect if you want to get away from it all, without leaving the city!
This place is a brilliant choice for families and a real deal! It's a modern apartment in the Moscova area, not far from the Sforza Castle, in a period building with stunning interior design – however, please note that the super cheap price is because it's on the fourth floor with no lift. The apartment is located close to Parco Sempione and Chinatown, an area that is pleasant both during the day and at night!
I received no payment from Airbnb nor any of the hosts to recommend their listings in this article. I just love Airbnb and think it's a great solution for Milan!
Pin it for later?