Sorrento is charming on so many levels. It's home to amazing views – you have the shimmering sea, with Mount Vesuvius across the bay. The legendary cliffs, home of the Sirens, the original mermaids that bewitched Ulysses's sailors off their ships. The cobbled streets, twisting lanes, and the mystical Valley of Mills, a wonderland of ferns and mosses surrounding the shell of an old windmill.
Make sure you check out some of the beautiful hotels in the area such as the Grand Hotel La Pace. There are also options if you're traveling on a budget. Plenty of Sorrento hotels are wallet friendly without sacrificing quality.
However, Sorrento is not only beautiful. The food alone is reason enough to visit. From Italian favorites like pasta and pizza to local specialties. Make sure you follow your nose when you're hungry and you won't be disappointed!
Sfogliatelle
Start your day with a coffee and a sfogliatella, a traditional Neapolitan shell-shaped pastry filled with custard, ricotta or chocolate. Super flaky and crumbly, they're always delicious. For something truly local, try sfogliatelle Santa Rosa, with a glazed cherry on top.
Pall'e riso
Sorrento is certainly not the only place in Italy to offer rice balls as a street snack. They can be had everywhere, from Rome to Sicily, home of the famous 'arancini' with a variety of fillings. In Sorrento they are known as pall' e riso, the Neapolitan version, smaller than arancini but just as tasty, with melted mozzarella and a tomato and basil sauce.
Saltinbocca
You can find pizza anywhere in Sorrento, and being near Naples, it's always delicious. If you fancy something different, try saltimbocca, an oven-baked sandwich made with pizza dough, stuffed with cured ham and mozzarella. The wood-fired oven lends a deep herby flavor to the bread which is complemented perfectly by the delicate flavor of the ham and the sweet mozzarella.
Lemons and Limoncello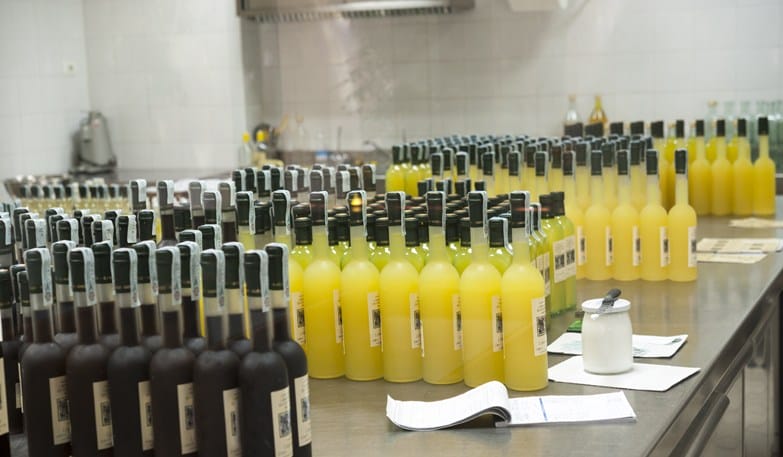 Sorrento is famous for its delicious lemons, a local variety that is juicier and sweeter than regular lemons. Their exquisite flavor comes from a combination of the volcanic soil, warm climate and sea breeze. You can have lemons in so many ways that it would take ten posts to list them all. Lemon ice cream, lemon granita, lemon marmalades, lemon curd, lemon-flavored baba (a local pastry) just to name a few. But, my favorite is 'al naturale', simply sliced and drizzled with sugar. Alternatively, you can have limoncello, a popular lemon liqueur that is usually homemade – ask your restaurant or pizzeria for a shot as 'digestivo'!
Buffalo Mozzarella
Forget that rubbish you get at supermarkets, limp and floppy and fridge-cold. Try the real thing straight from where it's made. Sorrento is buffalo mozzarella territory, and the Sorrentine know the secret to real delicious mozzarella – it should never be refrigerated. Have it on its own, without drowning it in olive oil or submerging it with salad leaves. Silky outside and creamy inside it's nothing like you've ever tasted before. The only trouble is that you'll never be able to go back to supermarket mozzarella ever again!
These are only of the few delicious foods you can get in Sorrento. When you visit, make sure you give all of them a try and see which ones you like best.