Spring is finally here in full bloom, and it's once again time to enjoy Milan's parks. #MondaysinMilan today brings you the best parks in Milan – which one is your favourite?
Milan is not a very 'green' city – grey is the colour that usually comes to mind when thinking about it. Grey streets, grey buildings, grey, smoggy sky. You'll be forgiven to think there are no parks and gardens, at first glance. But you'd be mistaken – in fact, Milan is home to some wonderful parks – both in the centre and outside.
Parks and Gardens in the city centre
Parks in the centre are a lot more than places to relax and breath in some nature. Some of them contain real works of art, museums and period buildings – while parks outside the centre are more for locals than for tourists, places to go for a bike ride or a picnic on Sunday.
I have created this list our favourite parks and gardens in Milan, including how to get there and what to do. If I forgot some, let me know in the comments!
1) Parco Sempione
Located just behind Castello Sforzesco, it's Milan's very own version of Central Park. There is so much to see and do, you could easily spend a full day in Parco Sempione!
Wander around looking for De Chirico's mysterious fountain, or take a DIY architecture-themed walk: visit the Triennale (Design Museum) and learn about Fascist Architecture, then check out Milan's diminutive Aquarium in a beautiful Art Nouveau building. Or just sit under a tree and relax!
On the far side of the park you'll find Arco della Pace, one of Milan's prime nightlife areas and one of the best places to go to for aperitivo!
How to get there: M1 Cairoli and M2 Lanza
2) Giardini Pubblici Indro Montanelli
As the name suggests, these are public gardens – so don't expect large expanses of grass, but manicured lawns, streams with swans and lots of pretty plants.
It's a great place for children, who will love taking rides on the backs of ponies and drive around on mini vintage cars. The gardens contains the Museum of Natural History, with dinosaur reproductions, and the Planetarium.
How to get there: M1 Palestro
3) Giardini di Villa Reale-Galleria d'Arte Moderna
Just opposite the Giardini Pubblici Indro Montanelli, these quiet English-style gardens are unique in being a children-only area – entrance is reserved to children under 12 and their parents or guardians. These entry requirements are rarely enforced (I wandered in sans kids several times) but rest assured you'll find no dogs and no unsavoury characters.
How to get there: M1 Palestro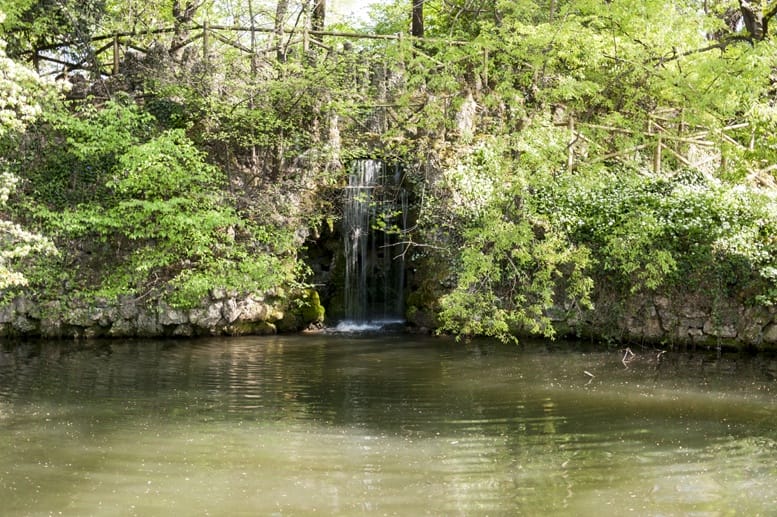 4) Giardino della Guastalla
This pretty garden is located just behind Palazzo di Giustizia, and is a favourite with lawyers and judges on their lunch breaks. They also make a good pit stop if you're tired of traffic and noise.
How to get there: Tram 12, 23 and 27 and a short walk
5) Parco delle Basiliche
This park stretches from the back of San Lorenzo Church to the back of Sant'Eustorgio. It's probably my favourite for a picnic – a stone's throw from Corso di Porta Ticinese, you can grab some take away food at one of its many eateries and relax in the park – and then visit the two churches or explore the Porta Ticinese street art scene.
How to get there: Bus 94 or M2 Sant'Ambrogio and a short walk
Parks outside the city centre
Parks outside the center – these, generally speaking, are larger and 'wilder' than parks in the center. What they lack in sights they gain in opportunities for activities – they're always full of people running, cycling or playing sports.
6) Parco Lambro
Stretching from Udine to Crescenzago M2, this is one of Milan's largest parks, all around the river Lambro. It's dominated by two hills, which are in fact mounds of WW2 debris that have been grassed over. Being very large, it's a great place to play sports or organise a barbecue with friends.
How to get there: M2 Udine, Cimiano or Crescenzago, buses 55 or 75
7) Parco Nord
Located in the northern part of the city, this is Milan's largest park and a great place to spend a sunny day out, having a barbecue or picnic, playing frisbee, football or whatever takes your fancy.
How to get there: S2/S4 Bruzzano Parco Nord, M5 Bignami, Tram 4 and 31, Buses 40, 42, 52, 70, 83.
8) Parco Agricolo Sud Milano
This is a mega-park that includes an area stretching from the southern border of Milan's urban area to the southernmost reaches of its province, including the territory of 61 municipalities. The name 'Parco Agricolo' ('Agricultural Park') refers to the fact that much of the land is cultivated with crops like corn, rice, soy and sunflower, some of which were first painted in the Middle Ages. Three beautiful abbeys are located in the Parco Agricolo – Chiaravalle is the easiest one to visit from Milan, with bus number 77.
The Milan area of Parco Agricolo is in fact made up of four separate parks: Parco del Ticinello, famous for its still working farms, Parco di Trenno, where you'll find a beautiful American cemetery, Boscoincittà that as the name reveals, is a dominated by a reforested area, and Parco delle Cave with former quarries turned into lakes.
How to get there: Parco del Ticinello M2 Abbiategrasso, Parco di Trenno buses 64, 72, 78, 80, Boscoincittà bus 72, Parco delle Cave bus 67.
9) Parco Forlanini
A short distance from Linate airport, this is a firm favourite with early morning runners, and even people on ski roll sometimes! In this park you can also find Magnolia, one of the best clubs in Milan with music spacing from swing to techno and folk.
How to get there: Buses 73 or 38
10) Idroscalo
This is not even actually in Milan, but I've decided to include it because it's the closest that Milan will ever get to a beach. Idroscalo is an artificial lake, and on a sunny day, when the sun shines over its blue surface and pedal boats full of people zip back and forth, it makes you feel like you're on the coast.
You used to be able to swim, but sadly its forbidden now.
How to get there: Buses 73 or X73 to Linate airport then free shuttle bus in summer.
11) Monte Stella
Near San Siro stadium, Monte Stella is another grassed-over hill made of war debris. The Monte Stella park is smaller, but better looked after than Parco Lambro and many other parks away from the centre.
There's a beautiful view from the city from the top of Monte Stella, and nearby Giardino dei Giusti di Tutto il Mondo, dedicated to defenders of genocide victims, is also worth a visit.
How to get there: M1 QT8
Don't forget to ditch your car to visit Milan's parks and gardens – use public transport or bike sharing instead!
Pin it for later?

Snap the Photo to add us!