Our love for Lake Garda knows no end! After hiking GardaTrek so many times, we usually get hungry – here are the best restaurants in Riva del Garda and surrounds, including amazing restaurants in Nago/Torbole and Arco!
Are you looking for things to do in Lake Garda? Most articles you'll read will go on and on about the spectacular landscapes, adventure activities, and unique 'Mediterranean meets the Alps' atmosphere.
However, let's not forget that, even though you might heard more German than Italian being spoken on the streets, this is Italy, and food is amazing pretty much anywhere you go!
The majority of our Lake Garda visits has been in the Garda Trentino area, the northernmost section of the lake.
The main town of Garda Trentino is Riva del Garda, located right on the lake shore, close to several trailheads and offering excellent opportunities for water sports and mountain biking.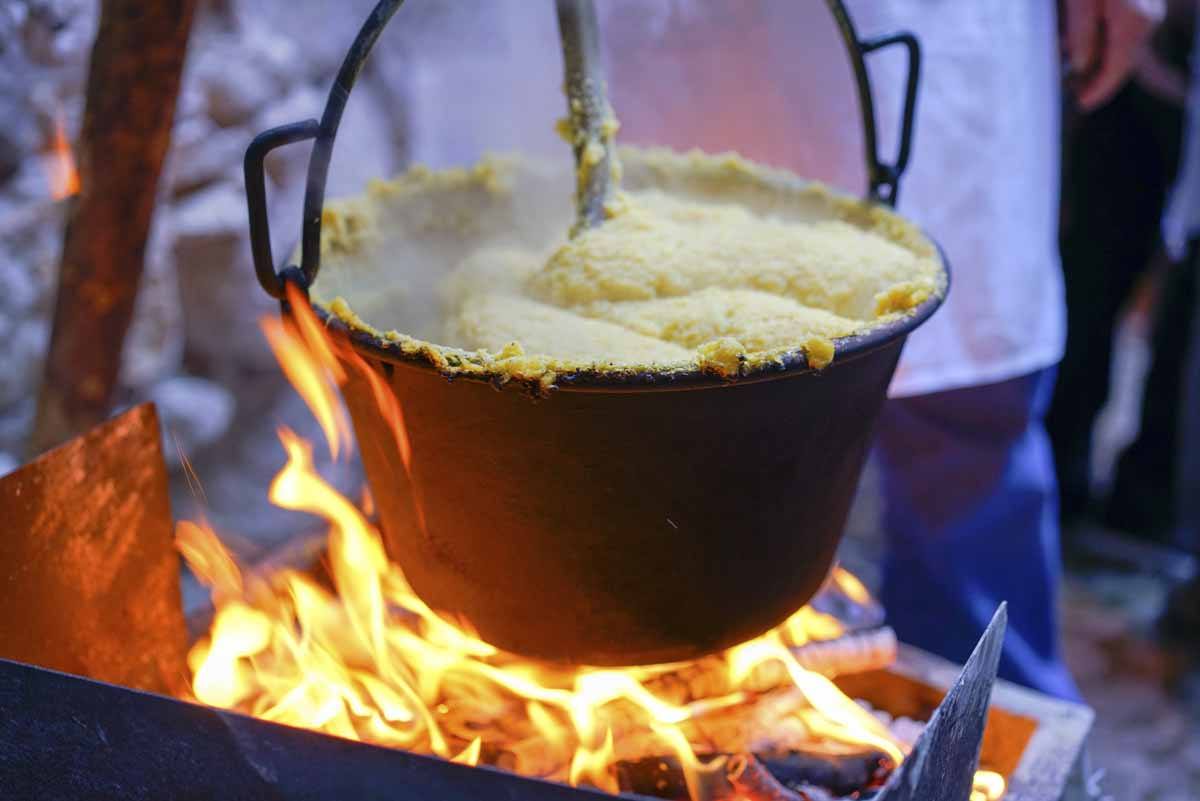 We normally choose Riva del Garda as a base before or after our hikes, and the variety of sports and adventure activities available in the surrounds mean that there are lots of hungry travellers, and lots of excellent restaurants to choose from!
Here we've listed our favourite restaurants in Riva del Garda and around – the lakeside town of Nago/Torbole is so close to Riva you can even walk following the lakeshore promenade, and Arco (aka Italy's climbing capital) is also very close, easy to reach with a bike ride along the Sarca River!
We have more hiking expeditions planned over the next few months, so no doubt we'll add to this list of Riva del Garda restaurants!
Restaurants in Riva del Garda
Bar Gelateria Ristorante Pizzeria L'Ora
This striking glass-walled restaurant is located right on the Riva del Garda lake shore. The name of the establishment, L'Ora, refers to the famous Garda wind, reason why the place is so famous with windsurfers, sailors and kite surfers alike.
This restaurant is ideal for large groups, or if people in your party all want to eat different things. It's also a great option if you're looking for a restaurant in Riva del Garda with a view, since it's just steps away from the lake!
The restaurant offers excellent pizza, as well as an extensive list with dishes including Mediterranean and Alpine flavours – making it one of the best places to sample traditional Lake Garda specialties like trota salmonata (rainbow trout) and carne salada (cured beef, generally served with beans).
All Garda dishes are clearly marked on the menu, and waiters speak multiple languages so they'll be happy to advise.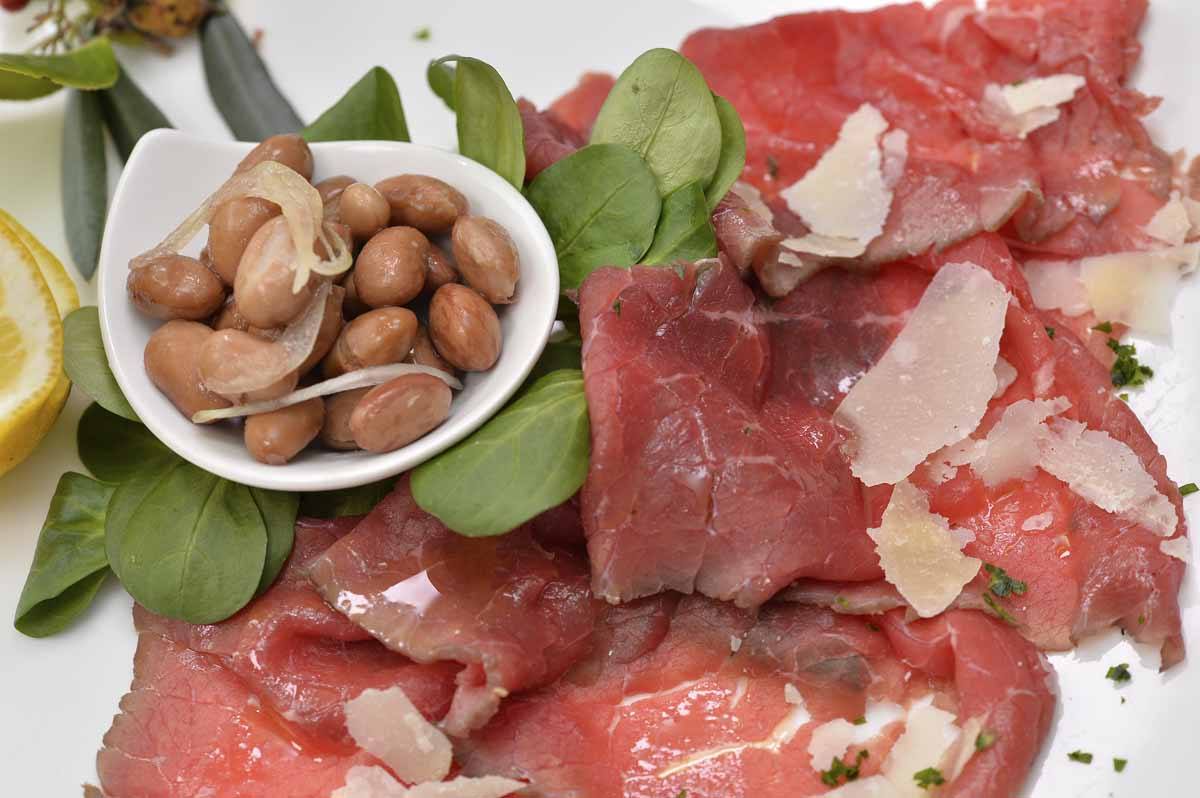 The homemade ice cream is also great and there are plenty of vegetarian and vegan specialties!
Contact Details: Viale Rovereto, 101 – 38066 Riva del Garda (TN) | Tel: +39 0464 556100
Opening Hours: 8 am-11 pm (restaurant opens at midday), closed on Mondays
How Much: about €30 per person if ordering a la carte, €20 for pizza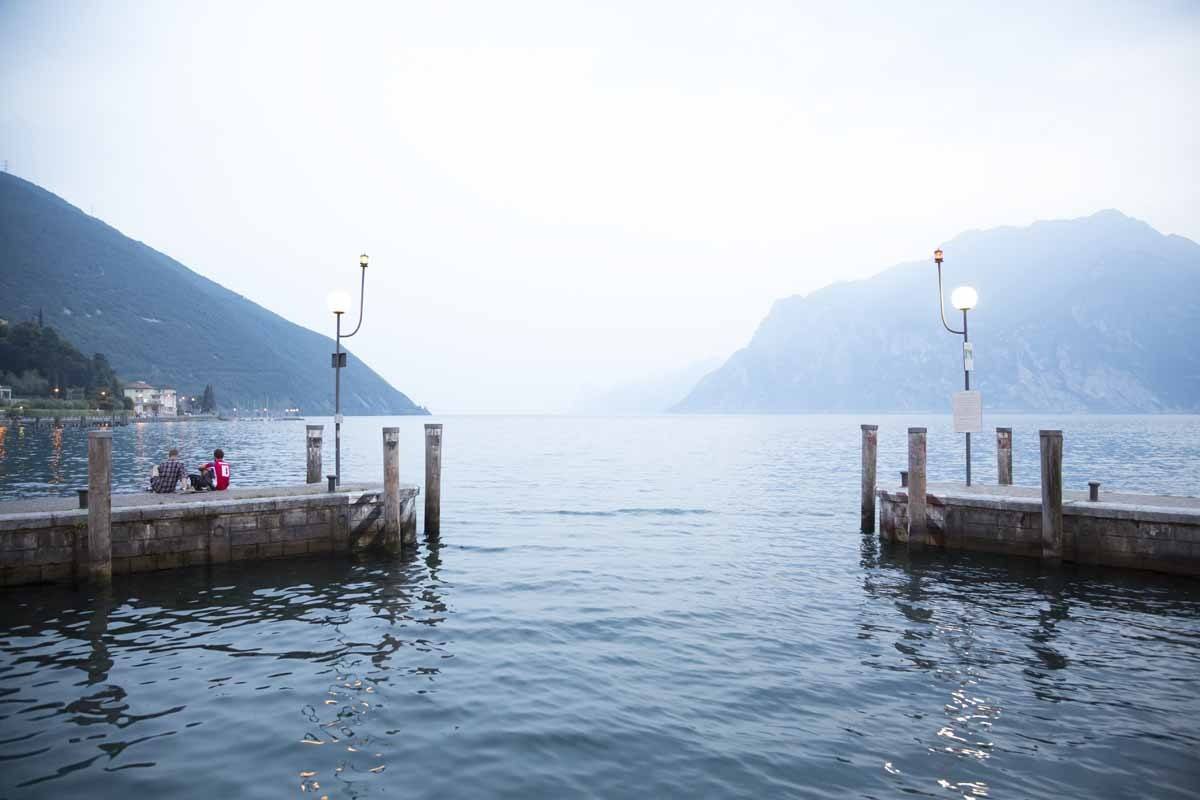 Kapuziner am See
Riva del Garda and 'Gardasee' are very popular with German-speaking visitors who also fancy their very own comfort food from time to time – that is why Kapuziner is so popular!
This restaurant is located along Viale Dante Alighieri, one of Lake Garda's pedestrian drags, adjacent to a hotel. In summer, it's also possible to sit outside, making it great for people-watching!
Waiters in lederhosen and waitresses in dirndl serve up a tasty range of Bavarian favourites, ranging from schnitzel to pork knuckle, dumplings and – naturally – a wide selection of sausages. To drink? A maß or a weizen beer, of course!
Contact Details: Viale Dante Alighieri, 39 – 38066 Riva del Garda (TN) | Tel: +39 0464 559231
Opening Hours: 11.30 am-12 am (kitchen closed between 2.30 and 5.30)
How Much: about €20-25 per person
Ristorante Pizzeria RivaMia
This restaurant is on the ground floor of the hotel with the same name. Guests can choose to sit indoors, in a room brightened up by large half moon-shaped windows, or outdoors.
The eclectic menu includes different kinds of pizza, as well as seafood or meat-based dishes, with a focus on local produce.
An interesting addition to the menu is groestl, a Tyrolean meat and potato hash often served in mountain huts, that can be enjoyed with a variety of toppings like steak or a fried egg.
The pasta dishes are also very good – we had the homemade gnocchi, and liked them a lot!
Contact Details: Via Montanara, 2 – 38066 Riva del Garda (TN) | Tel: +39 0464 567099
Opening Hours: 11.30 am-11 pm
How Much: about €20-25 per person
Officina Verde
Vegan friends visiting Riva del Garda, rejoice! Officina Verde is Riva del Garda's best vegan restaurant, with specialties so creative and delicious your meat-eating friends will love them too.
Officina Verde is located in San Giacomo, about 20 minutes walk from the lakeside. So, it's probably not the best choice if you're looking for a Riva del Garda with a view, but a wonderful option if you're vegetarian, vegan or want to escape the touristy historic centre and try something different.
The restaurant is run by a friendly young couple, and everything you'll see on the menu is organic and either sourced from small local producers, or homemade from scratch – like the wonderful seitan!
We loved the mixed starter platter with spreads and vegan cold cuts, the seitan in curry sauce, and the selection of raw vegan cakes. But really, everything we had tasted amazing!
Contact Details: Località San Giacomo, 6 – 38066 Riva del Garda (TN) | Tel: +39 0464 791012
Opening Hours: 7 pm -10 pm, closed on Tuesdays.
How Much: about €25 per person if ordering a la carte
Best Restaurants near Riva del Garda (Nago/Torbole, Arco, Tenno)
Al Forte Alto (Nago)
One of the reasons to visit Riva del Garda and surrounds is to explore WW1 history. The region used to be right on the frontline, and it is still possible to see trenches and forts – some of which were restored and given a new life.
Al Forte Alto is a great example – the restaurant is located in a former Austrian fort in Nago, less than 10 minutes drive from Riva del Garda.
The chef and owner is a local guy named Marcello Franceschi, committed to offering his diners the very best of Garda gastronomy, including creative dishes that include traditional ingredients like freshwater fish, malga cheeses and wild herbs.
The menu changes daily according to seasons and availability – we recommend opting for the tasting menu, an excellent deal at only €40 for three courses.
Contact Details: Via Castel Penede, 26, 38066 Nago (TN) | Tel: +39 0464 505566
Opening Hours: 7 pm-12 am Mon-Fri, 12 pm-12 am Sat-Sun
How Much: 5 course tasting menu €40
Al Fortino (Nago)
If your budget can't quite stretch far enough to afford a dinner at Al Forte Alto, this restaurant is a good alternative – it is also housed in a former WW1 fort, albeit a little lower than the former, and the views over Lake Garda are just as spectacular.
The menu is also one of the most original I've ever come across, serving up a range of WW1-inspired dishes like bread gnocchi and fried potato peels served in a metal canteen. The menu was developed with the help of Ta Pum, a local association dedicated to keeping WW1 history alive – you can order a la carte or choose from two set menus, one focusing on meat and one on fish.
Contact Details: Via Europa, 3, 38066 Nago (TN) | Tel: +39 0464 505508
Opening Hours: 12 pm-12 am
How Much: about €25-30 per person
Aqua (Torbole)
This is THE place to go for a romantic dinner, and probably my favourite restaurant near Riva del Garda. Aqua has a stunning lakeside location, perfect to sample one of their 5 course tasting menus showcasing the best of Garda gastronomy – you can choose between a meat-based menu and one focusing on freshwater fish. We had one of each, and they were both excellent.
The highlight on the fish menu was definitely the 'carpione', a salmon-like fish endemic of Lake Garda and only found at depths of around 200 meters – I didn't even know the lake was that deep!
The fish had a unique delicate flavour, emphasised by the use of Garda olive oil. Another awesome dish was the fish carbonara, with kamut linguine and mixed Garda fish.
On the meat-based menu, we enjoyed venison cooked at low temperature, and braised veal cheeks – however the menu changes regularly in accordance with season and product availability, but pretty much everything we had was truly outstanding. One piece of advice – as the waiters if they have truffles available, and if so… enjoy!
Contact Details: Via Lungolago Conca d'Oro, 11, 38069 Torbole (TN) | Tel: +39 0464 505142
Opening Hours: 12 pm-2.30 pm/6 pm-10 pm
How Much: 5 course tasting menu €40-43 per person
La Terrazza (Torbole)
Together with Aqua, this is probably the best restaurant with a view near Riva del Garda. Everything about La Terrazza is just so romantic – starting from the location, only steps away from the Torbole lakeside, the long, flowing white tablecloths, and discreet yet efficient service.
La Terrazza specialises in fish from Lake Garda, and if this is what you want to eat, we recommend opting for the tasting menu, with 6 different appetisers and two main courses, plus dessert.
Dishes rotate regularly depending on the day's catch, but you'll usually find both 'traditional' freshwater fish dishes like 'Bigoi alla torbolana' with bleak, and creative offers like Perch salad with Monte Baldo truffles, or Saltarello with polenta and vegetables.
If fish is not your thing, fear not – you can also sample other traditional Garda products like Monte Baldo truffle, served with homemade fettuccine, risotto with wild asparagus or a unique sorbet made with erba luigia, a wild mountain herb.
Contact Details: Via Benaco, 24, 38069 Torbole (TN) | Tel: +39 0464 506083
Opening Hours: 12 pm-3 pm/6 pm-10.30 pm
How Much: between €40/50 per person
Agritur Madonna delle Vittorie (Arco)
A short drive from the Riva del Garda waterfront, on the way to Arco, you'll find this 'agritur' – a restaurant located in a farm, where you'll be able to taste products grown onsite. Madonna delle Vittorie is surrounded by vineyards and olive trees, two of the best-known products of the Garda region.
You can ask to be shown around, and see their frantoio (olive press), enjoy a wine tasting or just head straight to the restaurant!
We had dinner at Madonna delle Vittorie after our scenic Spring hike along GardaTrek, and we were so famished after spending the whole day in the mountains that we devoured our food in record time!
The menu includes a lovely selection of Garda and Trentino specialties like strangolapreti (cheese and spinach dumplings drowned in melted butter), carne salada (cured beef carpaccio, served raw or cooked), a selection of cured meats and cheeses to be enjoyed as a starter, and many more.
We also tried a couple of their red wines, asking the waiter for something that would complement our meal, and sampled some of their olive oil drizzled over bread. All in all, it was a wonderful dinner – highly recommended, but make sure to arrive early to check out the wonderful views of the farmhouse surrounded by mountains and olive trees!
Contact Details: Via Linfano, 81, 38062 Arco TN | Tel: +39 0464 505542
Opening Hours: 12 pm-2 pm/7 pm-10 pm (closed Tuesdays)
How Much: about €25-30 per person
Ai Conti (Tenno)
Arco is well known for its climbing tradition, and most people just make a beeline for the falesie (crags) surrounding the town – but its historic centre is also worth a visit. One of the most spectacular buildings is Palazzo Marchetti, the historic residence of the most notable local families.
Ai Conti is located on the ground floor of the building, and it's worth visiting for the setting alone – you'll either be dining in the inner courtyard or indoors, under a vaulted ceiling covered by frescoes dating back to the 16th century.
The menu is varied, featuring pizzas and local specialties like freshwater fish carbonara. The restaurant specialises in homemade pasta like strangolapreti (spinach and cheese dumplings), and grilled meat and fish.
I will never forget my meal at Ai Conti because we had lunch with Adam Ondra, the world's best climber, before he attempted a 9B pitch in one of the crags nearby. Do you know what was his meal of choice before such a demanding climb? Homemade tagliatelle with vegetables!
Contact Details: Piazza Marchetti, 2, 38062 Arco (TN) | Tel: +39 0464 517151
Opening Hours: 6.30 pm-10.30 pm Mon-Thu, also open for lunch between 12.30 pm and 3.30 pm Fri-Sun
How Much: about €25-30 per person
Osteria Le Servite (Arco)
If you are visiting Riva del Garda in spring or summer, make sure you book a table at Osteria Le Servite, where you can eat under the trees in an orchard and vegetable garden, surrounded by shimmering fairy lights.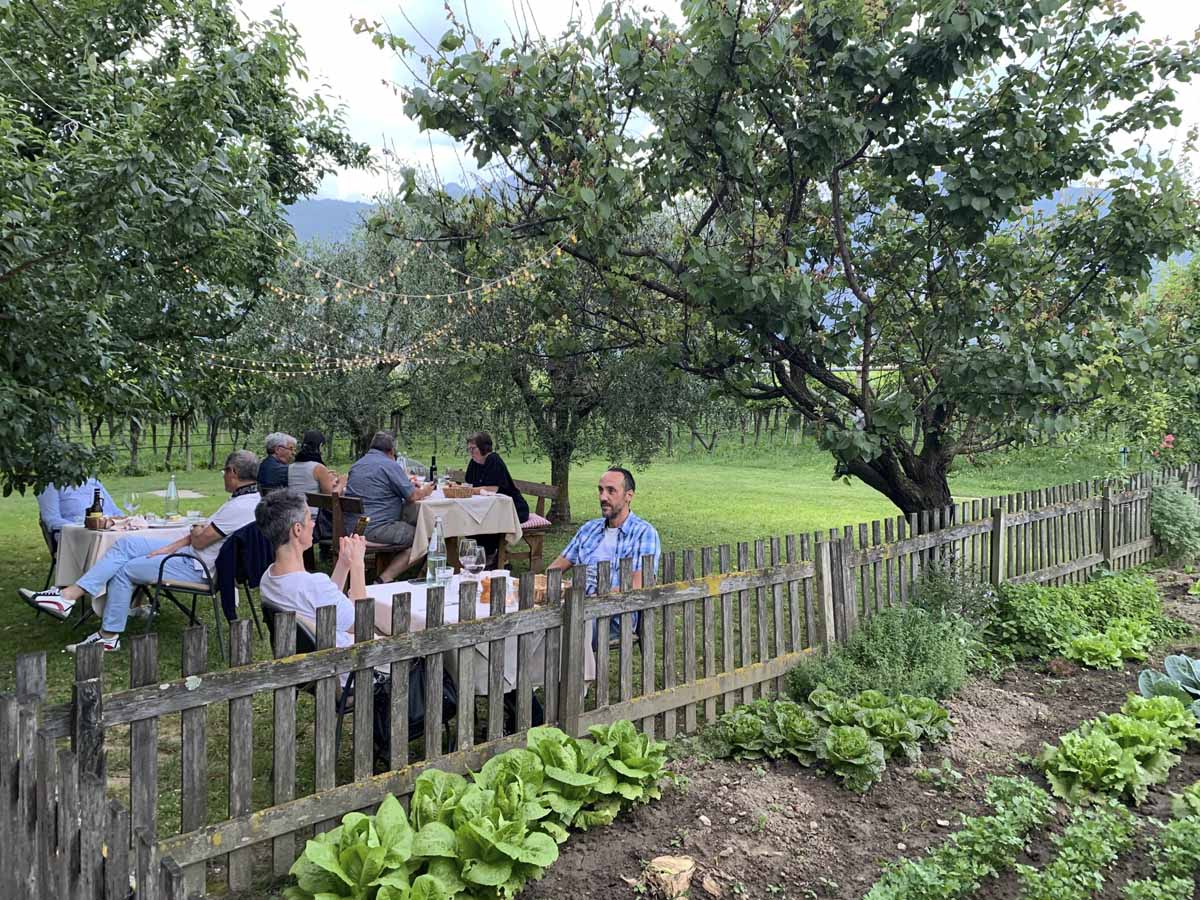 The scenery is truly dreamy, perfect for an unusual romantic date night. With such a stunning setting, you may be thinking that it doesn't even matter if the food is any good – but trust me, it is good!
The menu is quite varied, even though the selection of vegetarian and vegan dishes could be more va. You'll find fish from Lake Garda, cold cuts, homemade pasta, grilled meat and more.
Contact Details: Via Passirone, 68 38062 Arco (TN) | Tel: +39 0464 557411
Opening Hours: 6 pm-11.30 pm, closed Tuesday
How Much: about €25-30 per person
We would like to thank Vale Bellotti from Garda Trentino for making this experience possible. Garda Trentino is not just beautiful, it's also delicious!
Featured Image photo credits Garda Trentino/R. Vuilleumier
Pin it for later?