So, summer is around the corner! Are you planning to visit Italy in July? If the answer is yes, then keep reading – here you'll find weather info, where to go, and July events and festivals!
There's no way around it – July is a great time to be in Italy. It's the hottest month of the year, with warm, sunny weather anywhere you go. The summer holidays are in full swing, and there's a great fun-loving vibe all around.
It's a wonderful month to spend time by the beach, with long, sunny days, but also to visit the Alps – July is usually the month with the warmest, most stable weather, perfect to attempt ascents, via ferrata like the Bocchette Centrali, or hut-to-hut hikes.
Sounds almost too good to be true, right? The flip side is that Italy in July is busy. Not August busy, but still pretty crowded. Schools end in mid-June, and by the start of July, most of Italy's coast is full of holidaying families – and prices rise accordingly.
Having said that, you can find some good deals – if you know where to go. That's why we've selected 7 wonderful places to make the most of your time in Italy in July, and some weather-related info!
Weather in July in Italy
Do you like sunny, warm and dry weather? Well, July in Italy is the best month for that! It's the warmest time of the year, and summer rainstorms are less common than in late summer – but not unheard of.
In July, the mercury rises everywhere in Italy, from the peaks of the Alps to the beaches of Southern Italy. Large cities get hot and humid, but it's a great time to be on the coast or up the mountains!
To give you an idea of temperatures, daytime highs often exceed 30°C, with frequent heatwaves pushing the mercury even further up to 35 or even 40°C. At night, the temperature drops around 25°C, but during the worst heatwaves, it may exceed 30°C even in the middle of the night. Make sure your accommodation has air conditioning!
The heat is usually less bearable the further you are from the coast – unlike other months, it's not a matter of 'north and south' anymore. Bolzano (located inland in Northern Italy) may be much warmer than Palermo (on the Sicilian coast).
The best way to escape the heat is going to the mountains. July is also prime season for high-altitude trekking, with mountain huts opening from June 20th onwards. Above 2000 meters temperatures may drop close to freezing at night – so if you are looking for a way to escape the heat, you've got it!
Where to Go in July in Italy
1) South Tyrol
Let's start with Italy's northernmost region, home to the mighty Dolomites and to stunning mountainscapes.
South Tyrol in July is wonderful, but it can be really packed. To avoid crowds, look for alternative destinations – for instance, visit the lakes near Tovel or Dobbiaco instead of uber-famous Lake Braies, and hike to the Vajolet Towers (and spend the night!) instead of Drei Zinnen.
Another place I really, really love is Alpe di Siusi/Seiser Alm, a high-altitude plateau home to Alpina Dolomiti (AKA the best hotel I've ever been to) and some fantastic Dolomites views.
It's a great destination for families and for those who don't like hiking so much – you don't need to walk uphill for ages, the mountains are all around you!
Book your South Tyrol tours here!
2) Romagna
Ok, I admit I was conflicted about whether or not to add Romagna as one of the best places to visit during July in Italy. I decided to include it, because there's more in Romagna than just the beaches!
The name 'Riviera Romagnola' indicates the stretch of coast from Ravenna to the Marche border, home to well-known beachside towns like Rimini, Riccione, Cesenatico and many others. It was one of the first areas in Italy to offer affordable beach holiday packages and became a popular destination as early as the 1950s.
It's a great place for fun, reasonably priced beach holidays. Beaches are wide and sandy and the Adriatic Sea is shallow, making it perfect for families and all those who are not comfortable swimmers. There are plenty of great restaurants, beach bars, and nightlife spots – July on the Romagna coast is fun indeed!
However, there's a lot more to see besides the coast. Inland Romagna is a hiker's paradise – you can read up more about it in our Vie di Dante article!
One of my favourite places in the region is a little town called Modigliana, close to the Tuscan border, at the heart of a newly-developed network of paths. We can't wait to visit soon to tell you more!
3) Marche
I've already told you about Tuscany and Umbria, so let me introduce you to another stunning Central Italian region – Marche (also known as 'Le Marche').
Marche are a really great place to choose for your holiday as the region is really diverse. Are you looking for hilltop towns? From Corinaldo to Loreto and Offida, there are plenty to choose from. Beaches? Mount Conero is home to some of the most spectacular Adriatic beaches. Mountains? Head to the Sibillini Mountains and hike away!
However, be warned – Marche are very well known by Italian holidaymakers, especially those pretty beaches near Mount Conero. August is really busy, so why not visit in July instead?
4) Elba Island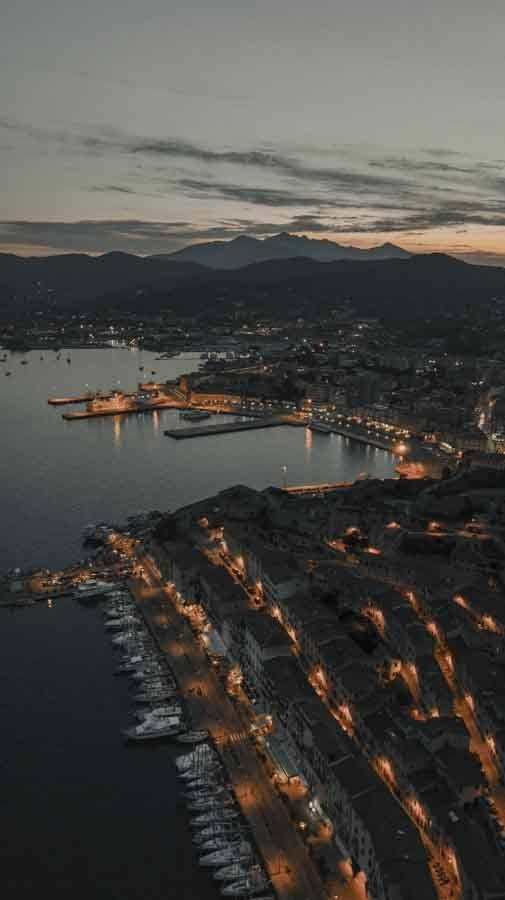 Have you ever heard of Elba? It's Italy's third-largest island after Sicily and Sardinia, sitting right opposite Livorno on the Tuscan coast.
Elba is well-known by Italian, German and other Central European holidaymakers, and virtually unknown by many other nationalities – I've always wondered why!
It's a stunning place to visit in July, home to some fantastic beaches like Fetovaia and Laconella, but also to some wonderful nature – Monte Capanne is a great place for a hike, or you can attempt the 3-day Grande Traversata Elbana and cross the island from side to side.
My parents have been visiting Elba Island yearly since 1987 – take their word for it, and consider adding it to your July in Italy itinerary!
Book your Elba tours here!
5) Abruzzo
I looooove going to the beach, but Nick is not really into it. So, what to do? Opt for a destination that offers both mountains and beaches, like Abruzzo!
This underrated Central Italian region is home to the two tallest mountains in the Apennines, Gran Sasso and Maiella, both offering a variety of hiking opportunities. Nearby you'll also find the Abruzzo National Park, a stretch of protected forest home to the last surviving wolves and bears in Central Italy.
A short drive away you'll find the Costa dei Trabocchi stretching 70 km from Ortona to Vasto, a part of the Adriatic coast that is not yet overrun with tourists. The 'Trabocchi' are fishing machines on stilts, only found along the Adriatic. And guess what – seafood is delicious around here!
Book your Abruzzo tours here!
6) Sardinia
Welcome to my favourite place to be! I truly think there is no better place in Italy for a beach holiday. The sea in Sardinia is truly breathtaking – think Caribbean, but better. July is the best month to visit – days are still long and sunshine is (pretty much) guaranteed, and crowds are not too crazy.
It's hard to fit all there is to see and do in wonderful Sardinia in just one paragraph, so I'll direct you to Strictly Sardinia, a blog all dedicated to this wonderful island. Behind the blog there's Claudia, one of my dearest friends, who also offers bespoke trip planning services.
Some of my favourite places in Sardinia include Asinara Island, Carloforte, La Maddalena archipelago, and the southern coast – especially Chia and Teulada. I'll be back soon to explore more – in July, of course!
Book your Sardinia tours here!
7) Lampedusa
From the very top of Italy, to the very bottom. Lampedusa is Italy's southernmost point, a tiny island 12 hours by ferry from the coast of Sicily, but only 100 km from the coast of Tunisia.
Lampedusa is home to spectacular beaches, like the 'Spiaggia dei Conigli', often named as one of the most beautiful beaches in Italy. Another stunning beach is nearby Tabaccara, a cove with water so clear that the boats appear to be floating.
The island is also home to a turtle rescue centre, which is also worth visiting. Lampedusa is hard to reach, being in a really remote location, and for this reason it never really gets super crowded – which is why we added it to this Italy in July list!
July Events and Festivals in Italy
Palio di Siena
Welcome to one of the craziest, most fun festivals in Italy, taking place in beautiful Siena ever since the Middle Ages, happening on two different dates – July 2nd, and August 16th.
'Il Palio' is a horse race around Piazza del Campo, in the heart of Siena. There are 10 horses, chosen to represent 10 of Siena's 17 contrade (neighbourhoods). The sense of belongingness to a contrada is very strong in Siena, so you can expect a lot of singing, jokes and even the occasional insult!
The race is preceded by a historic pageant featuring sbandieratori (flag wavers), dancers, and other people in period costumes. It's a very fun time to be in the city, even though you may expect crowds and expensive accommodation prices.
Madonna della Bruna
Let's move south to Matera, a town already featured in our Italy in May article.
In July, it's time for the festival dedicated to Madonna della Bruna, the protector of the city. The day starts with a religious parade, during which the image of the saint is taken through the city on a cart decorated with papier mache.
The festival reaches its apex in the evening, when onlookers are allowed to destroy the cart, pulling all the paper mache off. Have a look at online videos – this moment is known as the 'strazzo' of the cart, and it looks as if every Matera inhabitant is trying to score a piece of the cart, said to bring good luck for the forthcoming year!
Festa di Santa Rosalia
Are you planning to visit Sicily in July? Make sure you plan to be in Palermo between July 10th and 15th for 'u fistinu', the festival dedicated to Santa Rosalia!
You may or may not have figured out by now that pretty much every Italian city/village/town hosts a festival dedicated to their patron saint. Santa Rosalia is the protector of Palermo, and the festival in her honour is a 5-day affair featuring music, outdoor performances, religious parades and fireworks.
Festa del Redentore
Venice is suuuuper busy in July, but if you can be in town on the third Sunday of July, you're in for a treat!
The Festa del Redentore is held to commemorate the end of the 1576 pestilence that took the lives of 50,000 Venetians. The architect Palladio was asked to build a church on the island of Giudecca, and a boat bridge was also erected to allow pilgrims to pray and give thanks in the newly-built church.
The same boat bridge is built each year, allowing you to cross from the Zattere to Giudecca on foot, something which can only be done this time of year! There are also Venetian style regattas and massive fireworks shows around St Mark's Basin, turning Venice into a real-life fairytale.
Looking for more month-by-month Italy guides? There you are!