Welcome to our ULTIMATE guide of things to do in Lake Garda! After having visited Lake Garda countless times over the last few years, we've decided to gather all we know in this massive post, including info on towns near Lake Garda, other Lake Garda must-sees and the most unusual (and fun) things to do in Lake Garda! ***UPDATED 2023
Would you like to know more about another big Italian lake? Here's our guide to Lake Como and here you can find our guide to Lake Maggiore!
Introducing Lake Garda Must-Sees
Lake Garda is a world apart. It's right in the middle of Northern Italy, shaped like a ladle reaching upwards into the mountains. Towns and villages on the lake shore enjoy a milder climate compared to the rest of the region – you'll see lemon trees and olive groves, palm-fringed lakeside walks with a stunning backdrop of snowcapped mountains.
I love Lake Garda. It's the most diverse of Italy's big lakes. It lacks the manicured beauty of Lake Como, the secretive feel of Lake Orta and the decadent atmosphere of Lake Maggiore.
However, there are so many things to see on Lake Garda, that you'll never find yourself wondering what to do. From windswept shores to wine-tasting and Roman ruins, from adventure activities to unique things to do like visiting poet D'Annunzio's grandiose villa, the shores of Lake Garda will keep everyone happy.
The lake is only one hour away from Milan – by train you can easily get to Desenzano and Peschiera, on the southern shore. From there, it's easy to hop from one village to another by bus or ferry.
Best Towns to Stay in Lake Garda
After having decided to visit Lake Garda, you'll have to pick the best town for your stay, depending on your needs.
Keep reading the article, and you'll see that we provide a detailed description of all Lake Garda towns, from Trentino in the north, to the Veneto and Lombardy shores to the east and west, with info on best things to do in and around Lake Garda.
To summarise, the best towns in Lake Garda for adventure lovers are definitely Riva del Garda and Nago-Torbole, located along the northern shore of the lake. Both towns are recommended for sailing and cycling lovers – if you're into rock climbing, your best bet would be travelling a couple extra miles inland to Arco, the best rock climbing location in Italy.
Another great place for adventure lovers is Tremosine, a unique 'scattered town' made of different hamlets scattered between the lake and surrounding mountains. Lots of adventure activities are available, including paragliding.
Couples or those in search of romantic atmospheres should stay in either Limone, on the Lombardy shore, or Malcesine, just across the lake in Veneto. Both towns are really charming, with cobbled streets and cute lakeside restaurants.
Foodies and wine lovers should choose to stay in Bardolino, close to a popular wine-growing region. The best places for those in search of a relaxing holiday are Lazise and Sirmione, in the southern part of Lake Garda, where you'll find two excellent thermal baths.
Last but not least, families! Generally speaking, all Lake Garda towns offer something to do for families – however, your best bet is probably Peschiera del Garda, close to two amazing amusement parks.
Let's move on looking at things to do in Lake Garda, for nature, adventure and culture lovers, starting from the northern shore of the lake (because it's my favourite!) all the way to the south.
Meanwhile, here is a selection of the BEST Lake Garda tours!
Northern Lake Garda – Trentino
1) Riva del Garda
Lake Garda is so large, it changes dramatically from north to south. The southern shores are pretty and genteel, beloved by poets and writers throughout history, with beautiful villas and a quiet atmosphere. The northern shores become wilder as you move further into the Alps.
This area has been famous among adventurers and adrenaline-lovers for decades and the opportunities for adventure activities are endless, with parasailing, rock-climbing and windsurfing on offer amongst others.
Riva del Garda is the largest and most famous town in the northern part of the lake, and it is also the ideal base for GardaTrek, three loop trails of various length between lake and mountains. It is also close to some wonderful mountain bike trails of various length and difficulty, and it is also possible to do some pretty cool lake dives.
The historic centre of Riva del Garda is full of sights and attractions to enjoy on a rainy day like the MAG – Museo Alto Garda and Torre Apponale. Here is our complete guide to Riva del Garda if you want to know more!
Food lovers will also find plenty to keep themselves entertained. There's Birra Artigianale Impavida, an American-inspired craft brewery in nearby Arco, or else you can go wine tasting at Madonna delle Vittorie or Agritur Comai, or enjoy a delicious meal – here is our Riva del Garda restaurant guide!
Where to stay in Riva del Garda – Hotel Luise, a stunning four-star lakefront property with travel-themed rooms. Don't miss the 'Psychological Aperitivo' every Thursday, with a mixologist creating a unique drink on the basis of your personality.
2) Torbole sul Garda
Torbole sul Garda is right next toor to Riva, and it is a common alternative for those wanting to stay on the northern shores of the lake for an adventure-filled holiday.
It's in a wonderful location for scenic hikes like that to Valletta Santa Lucia, a scenic valley with a cool past – the Venetians fleet crossed it to carry their ships by hand from the Adige River in 1439 to the northern shores of the lake, surprising the Milanese fleet and eventually defeating them in battle.
Another beautiful hike near Torbole is the Sentiero Busatte-Tempesta, definitely one of the best things to do in Lake Garda! This 5 km path connecting the two hamlets of the same name is suspended between mountain and lake, crossing rocky sections with metal stairs and walkways bolted to the rock.
Torbole is also a great place for sailing and windsurfing, and it's connected to Riva del Garda by a lakeside promenade/cycle path.
Where to stay in Torbole sul Garda – Aktivhotel Santalucia, the ideal hotel for adventure travellers, offering advice on walking and biking paths, and a spa to relax after a day outdoors.
3) Arco
The town of Arco is not actually on the shore of Lake Garda, being located a little further inland along the Sarca River. However, Arco is so close to Riva and Torbole that it is also considered a Lake Garda town, and visiting it is definitely a good idea for adventurers looking for things to do in Lake Garda.
Arco is worth a visit for its pretty historic centre and famous castle, overlooking the whole of the Alto Garda valley. Those staying in Riva or Torbole can easily reach Arco following the Sarca cycle path, which also continues further inland up to the village of Dro and Sarche, surrounded by beautiful mountain scenery.
Yet, Arco's main claim to fame is that of being Italy's best rock climbing destination. Near Arco there are hundreds of climbing routes spread between various falesie (crags) including multi-pitch routes of varying difficulty levels. It's also possible to visit the famous Rockmaster stadium, one of the locations of the rock climbing world championships – and you can even climb there!
Check out our Arco climbing post if you want to know more!
Where to stay in Arco – ALEA Garda Lake Suite, a suites-only hotel surrounded by vineyards in San Giorgio, just a short hop from Arco. The hotel is ideal to relax after a busy day hiking or climbing, and the swimming pool in the garden is a true gem!
4) Tenno
Tenno is one of the best kept secrets of the Lake Garda region! Although not directly on Lake Garda itself, Tenno is close enough, only 15 minutes drive from the lake shore.
By choosing to stay in Tenno, you can visit Lake Garda whenever you wish, or opt to relax at charming Lake Tenno, a smaller mountain lake with clear turquoise waters and far fewer tourists compared to its larger neighbour.
You can also visit Canale di Tenno, a hamlet dating back to the Middle Ages where time feels as if it had stopped. Canale was brought back from neglect by a group of local artists in the 1960s, and one by one, ancient homes were renovated, and turned into workshops or holiday apartments.
It's a really fun and unique place to visit, especially during Christmas time, when it hosts one of Italy's best Christmas Markets. Here is our full Tenno guide for more info!
Where to stay in Tenno – Antica Croce, a hotel with a fantastic restaurant and focus on 'slow holidays', with a special package for painters including an easel, canvas and paints!
Eastern Lake Garda – Veneto
5) Malcesine
Malcesine is probably the most beautiful of all Lake Garda towns, but it's also worth a visit for another reason – taking the cable car all the way to the top of Monte Altissimo, the tallest peak overlooking Lake Garda, where it's possible to hike, enjoy a wonderful meal at the Rifugio Altissimo/Damiano Chiesa, or just take in the stunning views.
The cable car climbs over 1500 meters so the weather can be dramatically different – when we visited, it was sunny and warm in Malcesine on the lake shore, but it was chilly and windy at the cable car's top station.
Near Malcesine you'll also find the picturesque village of Cassone, home to the Aril River, the 'world's shortest river' at only 175 meters long, and the spectacular Val di Sogno, a clear, secluded bay a short distance away from the city, where you'll also find a pretty island and a wreck that divers can explore.
The best known sight in Malcesine is the Castello Scaligero, definitely one of the best things to do in Lake Garda for families. The castle is very well preserved and it includes the recently-renewed Museo di Storia Naturale (Natural History Museum), with lots of hands-on activities for little ones. It is also possible to explore the castle's rooms, passageways and tunnels, and climb up to the tower.
If you're looking for a great vantage point to take pictures of the Castello Scaligero, you'll need to get out on the lake – there are sailing tours available, or you can just hop on the Malcesine-Riva del Garda ferry!
Where to stay in Malcesine – Bellevue San Lorenzo, a Belle Epoque villa turned boutique hotel, with beautiful lake views (hence the name!) and top amenities, including a spa and outdoor pool.
Ambienthotel Primaluna – combining a great location and great facilities with a striking look, born from the collaboration between a creative owner and a visionary architect.
6) Garda (The Town)
Yes, I know, this is confusing – there's a town called Garda on the shores of Lake Garda. This town is actually what lent the lake its current name – before the 8th century AD, when the lake started being referred to as Garda, it was known as Benaco. The name Garda comes from the ancient German word warda, meaning 'watch', referring to the town's castle which in the High Middle Ages was one of the strongest in the region.
Garda town is about 30 km south of Malcesine via the super-scenic Gardesana Orientale, a road connecting all the towns and villages on the lake shore.
Between Malcesine and Garda, the scenery changes from mountains to hills, and the atmosphere from Alpine becomes Mediterranean, while the weather remains warm year round. In Garda, it's fun to explore the pretty medieval historic centre, which is also one of the best places for shopping – things to buy in Lake Garda include olive oil, wine, products made with Lake Garda lemons, and lots more delicious food at the weekly markets surrounding the lake.
Other Garda points of interest include the Madonna della Corona church, built almost right into the mountainside, and Punta San Vigilio, one of the most scenic and tranquil spots of all Lake Garda, with a nice beach and a park.
Where to stay in Garda – Sky Pool Hotel Sole Garda, which is worth a visit just for its amazing panoramic terrace with infinity pool!
7) Bardolino
Wine lovers will definitely have the chance to taste Bardolino, the signature wine of the Garda region. The best wine tasting region is between the towns of Lazise and Bardolino on the Eastern shore – a wine-tasting day is a great idea, spent visiting cellar doors and tasting delicious Bardolino and Chiaretto, a local rosé variety.
Bardolino was already famous for its wine in Roman times, so it is no surprise that many activities in and around Bardolino are actually wine-related – there are dozens of wineries offering wine tastings at the cellar door, you can go on a wine tour by bicycle, join a combo wine tasting and village tour, or even visit a 'wine museum'!
If you're a die hard wine lover, try to visit Bardolino for the yearly 'Festa dell'Uva' harvest festival in late September/early October, or the 'Palio del Chiaretto', dedicated to rosé wine. Both festivals feature concerts, street food, firework displays and naturally lots and lots of wine!
Where to stay in Bardolino – Parc Hotel Gritti, a classic luxury hotel offering great value for money with rooms to be had for as little as €80!
8) Lazise
Lazise is a good alternative to Bardolino for those interested in wine, and it also has the added benefit of being close to thermal lakes and springs, making it ideal for a relaxing break.
Just like Malcesine and Sirmione, Lazise is also home to a Castello Scaligero, with the same trademark swallow-tailed battlements and high towers. It is also worth visiting the former Customs House, built right on the lake – it was through this customs post that the Republic of Venice controlled trade over the lake for centuries.
Lazise is also a great place for shopping, with a colourful weekly market and lots of shops selling Garda wine, olive oil and leather goods.
Where to stay in Lazise – Villa dei Cedri, one of Italy's best known historical spa hotels, with access to indoor and outdoor thermal pools and accommodation in charming 19th century surrounds.
Best Tours from Lazise
9) Peschiera del Garda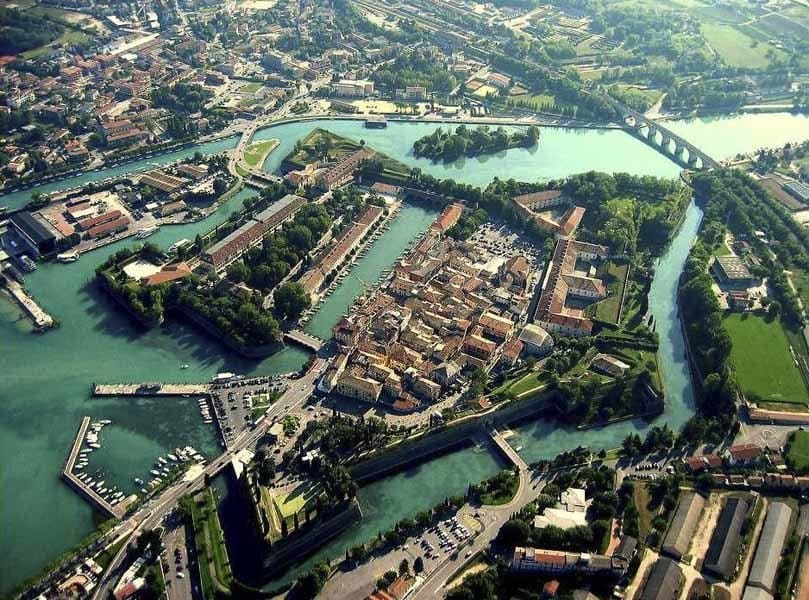 Peschiera is the largest town on the Veneto side of the lake, and a transport hub due to the presence of the railway station and of the motorway. For this reason, it may feel less 'quaint' than other places like Garda, Malcesine or even Riva del Garda to the north. However, there's plenty to see and do – here's our guide to things to do in Peschiera del Garda!
The town extends between the shore of Lake Garda and the river Mincio, connecting the lake to the Po river further south. The historic centre of Peschiera del Garda is surrounded by the pentagonal walls of the Fortress, one of the four fortresses protecting the Habsburg Empire, connected to the rest of the city by a pedestrian bridge.
Peschiera offers many more sights besides the famous Fortress, and visiting is is definitely one of the best things to do in Lake Garda. There are wonderful beaches including Braccobaldo Bau, one of the few Lake Garda beaches to accept dogs, the opportunity to go on boat tours to other Lake Garda towns like Riva, Desenzano, Salò, Sirmione and Lazise.
And naturally… Gardaland is just next door, just make sure you book your ticket ahead of time!
Where to stay in Peschiera – Enjoy Garda, a sleek, modern 4-star hotel with a large garden and outdoor pool
Best Tours from Peschiera del Garda
10) Gardaland
I was in two minds on whether or not to include this. Gardaland is an amusement park, with some hair-rising rides, cartoon parades and the like. Not my cup of tea at 35 – but I did love it as a child, and visited for about 5 years in a row.
If you are visiting Lake Garda or Milan with children and you want to treat them to a day out that is just about them, Gardaland is a great choice, with rides and attraction for all ages. Remember to book your ticket in advance – here you can get an open 1-day ticket or a 2-day ticket!
Try to avoid visiting during school holidays (June-September), as it's overrun with teenagers and queues can be hours at a time. They'll certainly remember it as their favourite thing to do in Lake Garda!
Where to stay near Gardaland – Gardaland Hotel is Gardaland's very own hotel, with themed rooms, characters running around, and lots of magic for children and grown ups alike. This is your traditional amusement park hotel, like those found in Disney parks.
Gardaland Magic Hotel is a little more upmarket and secluded, with only 128 themed rooms and a 'magical' theme throughout.
Southern and Western Lake Garda – Lombardia
11) Sirmione
If you fancy something a little more relaxing than climbing mountains, opt for Sirmione, one of the prettiest Lake Garda destinations. Set on a peninsula jutting into the lake, and beloved by writers and poets from Catullus to Tennyson and Joyce, Sirmione has that kind of Mediterranean atmosphere that will make you want to stay longer and longer.
History buffs will love Catullus family villa, so engulfed by the wilderness that it was once believed to be a complex of caves. Another sight that shouldn't be missed is the Scaliger Castle, right on the lakeside, looking like a fairytale manor with its turrets and battlements.
The centre of Sirmione village can be overrun with tourists in summer, but visit in the off-season or head out to the beach for a swim in the turquoise lake waters, and you're likely to have the place to yourself.
If you're after some old-fashioned relaxing, head to Aquaria Thermal SPA for hot springs and massage treatments!
Where to stay in Sirmione – Grand Hotel Terme, for a luxurious stay with access to the Spa! Truly the best way to relax on Lake Garda!
Best Tours from Sirmione
12) Desenzano
Desenzano is the largest Lake Garda town. Similarly to Peschiera, it may lack that 'charming Italian village' feel, but it's actually a great choice for a base if you want to explore places like Verona and Mantua, besides enjoying all the many things to do in Lake Garda.
There's a railway stop in Desenzano, lots of buses connecting the town to Sirmione and beyond, and ferries heading to the four corners of the lake. However, Desenzano is also worth spending a day or two – there's an archaeological museum, housing a Bronze Age plough, a Castle also nicknamed 'la Terrazza sul Garda' for its scenic views from the tower, a picturesque port and even a Roman Villa.
Where to stay in Desenzano – Castello Belvedere, a charming hotel in a 17th century castle a short distance from the centre of Desenzano, offering great value with rooms starting at €67!
13) Manerba del Garda
The Trentino shore of Lake Garda is usually chosen by people looking for nature and adventure, but if you want to stay on the southern part of Lake Garda while enjoying some outdoor activities, Manerba is the place for you!
The main point of interest to explore is the Rocca di Manerba, the ruins of a medieval castle overlooking the lake. You can hike up to the Rocca via a scenic path, but don't forget to also check out the Parco della Rocca, with different species of native flora including over 20 orchid species.
Near Manerba there are also several more options for hikes or bike rides – a scenic trail joins Pisenze to Dusano, with a stop at Punta Sasso, another scenic viewpoint over the lake. If you prefer relaxing, Manerba offers 11 km of beaches, with opportunities to rent stand-up paddleboards and kayaks.
Manerba is also the ideal place to reach two Lake Garda islands – Isola del Garda, with a stunning 19th century mansion, and Isola dei Conigli/Isola San Biagio, so close to the shore it's possible to walk there.
Where to stay in Manerba del Garda – The Swan B&B, run by friendly host Adriano who offers accommodation in his villa just a short walk from Lake Garda. There's also a lovely garden with a swimming pool, perfect to escape if the lake beaches get crowded!
14) Padenghe sul Garda
Just a stone's throw from Manerba, Padenghe is another cute lakeside village, perfect to combine relaxation and outdoor activities on Lake Garda.
You can visit Padenghe Castle, dating back to the 12th century with well-preserved drawbridge and stone towers, check out Sant'Emiliano Church, or just take a relaxing lakeside walk to Manerba, from where you can hike up to the Rocca.
The beaches are stunning and ideal for families – at Desenzanino Beach you can also rent a sunlounger and umbrella for €8 per day.
Final tip – if you are a nightlife lover, in the vicinity of Padenghe there are several discos and nightclubs. Two recommended ones are Red Clubbing and Coco Beach Club!
Where to Stay in Padenghe sul Garda – Splendido Bay Luxury Spa Resort, one of the best 5 star hotels near Lake Garda, featuring a private beach, wellness facilities, 3 restaurants and a sprawling outdoor pool!
15) Salò
After Desenzano, Salò is the second-largest town on the Lombardia shore of Lake Garda, famous for having been the headquarters of the Repubblica Sociale, the seat of the Fascist government at the end of World War II.
It's worth a visit for its lakeside promenade, the longest in the entire Garda area, and for its 15th century Duomo di Sant'Annunziata, whose architecture is a hybrid between Gothic and Renaissance styles.
Near Salò, there are also many hiking opportunities along the paths of the Alto Garda Bresciano park, while those wanting to relax can head to Rimbalzello beach, where you can choose between chilling in sun loungers, swimming or playing a variety of sports.
Where to stay in Salò – Hotel Spiaggia d'Oro Charme & Boutique, relaxed lakeside hotel with outdoor pools and landscaped gardens, away from the centre of the city and perfect for a relaxing stay.
16) Gardone Riviera/Vittoriale degli Italiani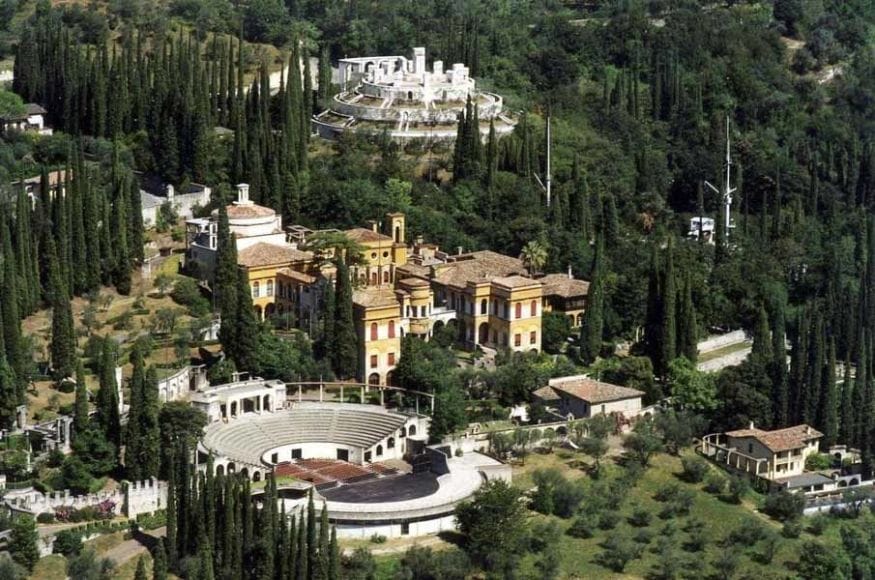 Literati and lovers of quirky sights will enjoy visiting the Vittoriale, poet D'Annunzio's whimsical villa on the shores of Lake Garda, near Gardone Riviera on the western shore of the lake, just north of Salò.
I visited the villa years ago, during a school trip, but I remember being amazed by the eclectic furniture and crazy exhibits on show. One room is decorated like a Bedouin tent, an Art Deco dining room comes complete with a gilded turtle on the table, and another room had a plane propellor hanging from the ceiling.
The craziest thing to do on Lake Garda, though, has to be visiting military ship Puglia, lying on top of a hill among the trees in the gardens of the Vittoriale. It was donated to D'Annunzio, who had it taken apart and carried to his residence where it was reassembled on a hill, pointed symbolically towards the Adriatic sea.
Where to stay in Gardone Riviera – Grand Hotel Gardone, an elegant 19th century hotel to make you feel as if you travelled back to the time of the 'Grand Tour', when Lake Garda was already a popular tourist destination.
17) Gargnano
Gargnano is probably the prettiest town on the Lombardia shore of Lake Garda, with a photogenic curved promenade and lots more sights and activities – don't miss it, visiting Gargnano should be included in your things to do in Lake Garda list!
Whether you reach it from the north or the south, if you're driving you'll probably reach Gargnano via the Gardesana Occidentale, a scenic lakeside road connecting towns and villages on the shore. It is indeed a stunning drive, but be very, very careful of the traffic lights around Gargnano – many have cameras!
There's a lot to see and do around Gargnano – you can stay at Villa Feltrinelli, Mussolini's lakeside home now turned into a luxury hotel, hike the surrounding mountains, and enjoy sailing and other water sports. You can also visit Limonaia La Malora, one of the oldest Lake Garda lemon groves, run by a father-and-son team.
Where to stay in Gargnano – Lefay Resort & SPA, an eco-sustainable property with a focus on wellbeing, a spa, and scenic lake views. This is probably my favourite Lake Garda hotel, so don't miss it!
18) Tremosine
Tremosine is also known as 'the town that doesn't exist' – it's not one town, but a collection of nineteen hamlets on the north-western side of Lake Garda, developed on a small plateau.
The largest of the hamlets is Pieve di Tremosine, with a spectacular hanging piazza overlooking the lake. Another popular thing to see near Tremosine is the Strada della Forra, a scenic road crossing a canyon and connecting Pieve to the lake shore – the road was featured in a 007 movie, and in many car commercials.
Tremosine an outdoor mecca, with opportunities for horse-riding, canyoning and kitesurfing in addition to hiking and cycling, two of the most popular things to do in Lake Garda. From Tremosine, it is also possible to reach Passo Nota, starting point for hikes on the surrounding mountains, especially interesting for history lovers as it's possible to visit WW1 trenches and battlefields.
Where to stay in Tremosine – Hotel Le Balze Aktiv, a family friendly property in a scenic location, with a focus on outdoor activities and wellbeing.
19) Limone sul Garda
The secret of why Limone is so special is in its name – its mild climate made it the ideal location to grow lemon trees, and all throughout the 19th century the town was surrounded by lemon groves. Nowadays, tourism is a much more important revenue source than lemon products, but you can still see lemon trees growing on terraces on the steep hillside just behind the town.
Limone also has a scenic historic centre and lakeside promenade – but at this stage, I'm sure you'll have realised that pretty much every Lake Garda town has them! What makes Limone unique, though, is the new cycle path, built in a scenic position hanging over the lake. If you like cycling and views, you can't miss adding the Limone cycle path to your list of things to do in Lake Garda!
Where to stay in Limone sul Garda – Park Hotel Imperial, the best luxury property in town!
Things to Buy in Lake Garda
First things first – make sure you have an empty bag to take home with you all the cool things to buy in Lake Garda!
Let's start with food products. As we've seen, Lake Garda is a wine area, with lots of cellars and wineries around Lazise and Bardolino. The most iconic varieties are Chiaretto, Bardolino and Garda Classico, so make sure you try them all!
The northern shore of Lake Garda is also an olive-growing region – near Riva del Garda you'll find 46° Parallelo, the northernmost olive oil producer in the world! Omkafe near Arco is a wonderful local coffee roastery, and another great place to get presents for wine-loving friends.
If you have a car, you could also buy some freshwater fish from the lake, or some meat products such as carne salada, cured beef typical of the Garda area which is delicious both fresh or cooked.
Best Lake Garda Street Markets
Besides food, the weekly street markets in all Lake Garda towns are a great place to buy leather products, shoes, clothes and other souvenirs.
Every day, there's a market being held in one or more towns around the lake. You'll find all sorts of products, from fresh fruit and vegetables to artisan cheeses and cured meats, entire stalls just selling olives and pickled goods, mobile trucks offering rotisserie chicken, and more.
Just remember street markets in Italy generally take place in the morning. They open as early as 7 am, and by lunchtime, they start unpacking. Some vendors may linger around until early afternoon, but by 2 or 3 pm generally they're all gone. Don't forget to visit in the morning to do your Lake Garda shopping at street markets!
Here is a list of the best Lake Garda street markets for each day of the week!
Monday: Peschiera del Garda, Colombare di Sirmione
Tuesday: Desenzano, Torbole (March/Sept, every 2nd and 4th Tuesday of the month), Limone (April/Dec), Arco (May/Oct)
Wednesday: Riva del Garda (every 2nd and 4th Wednesday of the month), Arco (every 1st and 3rd Wednesday of the month), Gargnano, Lazise
Thursday: Bardolino, Toscolano, Dro (not far from Arco)
Friday: Riva del Garda, Garda, Lugana di Sirmione
Saturday: Malcesine, Salò
Sunday: Rivoltella di Desenzano
How to Get to Lake Garda
By Plane – the closest airport to Lake Garda is Verona (VRN), followed by Milan Bergamo (BGY). Travel time depends on where exactly in Lake Garda you need to go.
By Train – the Milan/Venice railway line travels along the southern side of Lake Garda, with stops in Desenzano and Peschiera del Garda. From there, it's easy to hop on local buses to reach most Lake Garda towns. If you're planning to visit Riva del Garda, Torbole or Malcesine, it's probably better to take the train to Rovereto on the railway line heading to Austria and Germany via Trento, and continue by bus.
By Car – the A4 railway runs along the south of the lake, following a similar route to the railway. You can exit at Brescia Est, Desenzano, Sirmione and Peschiera if you're planning to visit the southern half of the lake and then continue on secondary roads, or connect with the A22 and exit at Rovereto Sud for northern towns like Riva and Torbole.
Best time to Visit Lake Garda
Now you know everything about Lake Garda, you'll just have to decide when to visit! Let's start with good news – Lake Garda is truly a year-round destination.
Its Mediterranean microclimate ensures warm summers and mild winters, and the constant Lake Garda winds, especially in the northern part of the lake, mean that summer is rarely stifling hot.
Just one clarification before we move onto discussing the best times to visit Lake Garda. Don't forget that the lake is the largest in Italy, with over 70 km from its northern tip in Riva del Garda to Peschiera, the southernmost point.
This means that weather and temperatures may vary from one location to another, and it's generally a few degrees warmer in the south compared to the north.
The best times to visit Lake Garda are probably spring and summer. In spring, temperatures are between 15 and 25°C in the daytime, dropping to 5/15°C at night. You'll find wildflowers, sunny skies and few tourists up till Easter, then they increase steadily.
If you are planning to visit in spring but want to save on accommodation, avoid visiting during Italian and German/Austrian public holidays, when the lake gets busy with visitors.
Autumn is comparable to spring in terms of temperatures, probably just a touch colder, especially from mid-October onwards. November is probably the quietest month around the lake, but it can be quite rainy.
December and January are the coldest months, with daytime temperatures around 5-6°C and freezing nights. December is quite busy, with visitors to the Christmas Markets taking place in most towns around the lake.
The rest of winter after the Christmas/New Year's holidays is very quiet, and daytime temperatures are ideal to go hiking, cycling or enjoy other outdoor activities.
Summer is by far the busiest time to visit the lake – but admittedly, it's a great time to visit. Average highs often touch 30°C, dropping around 20°C at night – on top of that, the long days and late sunsets are perfect to enjoy spritz or an alfresco dinner overlooking the lake.
Last but not least, yes you can go swimming on Lake Garda! Water temperature generally reaches 20°C in late June/early July, and stays warm all through to September. On very warm summers, the temperature may rise even further.