Who else loves cycling trips? In this post we'll tell you all about Ciclovia del Sole, a cycling path between Mirandola and Bologna in Emilia-Romagna!
Borrowing the words of writer Edmondo Berselli, Emilia is 'a land of nihilists and empiricists, of wild and creative, friendly and angry people. Of sublime shopkeepers, Bolognese aesthetes passionate about beautiful games and delicious food. This region is a sort of Italy in miniature, a "super-Italy".
However, for some reason, when people think of 'Italy', images of sun-soaked Tuscany, of the Amalfi Coast, or of Venice come to mind. Away from the main cities, rural Emilia is as beautiful as it is overlooked by most tourists, visiting the area just briefly to check out sights like the Lamborghini Museum.
Hopefully this is set to change soon, with the opening of the Mirandola/Bologna stretch of Ciclovia del Sole, a new cycle path that will eventually cross Italy from north to south.
Cycle paths and long-distance hiking trails have the potential to attract sustainable tourism to areas away from the beaten path, breathing new life into sleepy villages. We've seen that happen time and time again – along Via degli Abati, the Via Francigena, and the GR1 in Catalunya.
This is especially relevant thinking that Mirandola was one of the hardest-hit towns by the two earthquakes that hit Emilia in May 2012, nine days apart from one another. The scars of the quake are still present – some sights and attractions remain closed and scaffolded.
The 50 km Mirandola/Bologna stretch of the Ciclovia del Sole is the ideal way to discover this territory slowly, visiting offbeat towns and villages, checking out unusual sights and immersing yourself in the nature of the Po Valley.
We've recently spent 3 days cycling along the Ciclovia del Sole, and loved every minute of it. Here we've tried to provide all the info you might need to plan your visit – including practical info and what to see between Mirandola and Bologna.
Where is the Ciclovia del Sole?
The Ciclovia del Sole is a 5o km cycle path connecting Mirandola to Bologna. It's part of the Eurovelo 7, a 7400-km route from the North Cape in Norway to Malta, via Finland, Switzerland, Denmark, Germany, Czech Republic, Austria and Italy.
The entire Eurovelo 7 path includes a mixture of dedicated cycle paths, repurposed railways, and roads – mostly minor, but also some high-traffic roads. Work is currently ongoing to open up dedicated stretches, to protect cyclists and prevent accidents.
The Italian section of the Eurovelo is also known as Ciclopista del Sole, just to make things confusing!
The Ciclovia del Sole is the latest dedicated path to be opened along the Eurovelo 7, inaugurated in May 2021 along a repurposed stretch of the old Verona-Bologna railway.
You can already ride safely from the Brennerpass (Italy/Austria border) to Verona, and the section from Bologna to Florence across the Apennines is due to be opened next.
The Ciclovia del Sole is surrounded by several more cycle paths, making the region wonderful to discover on two wheels – two examples are the Ciclovia Destra Po and the Via Romea.
If you don't like hills, stick to routes in the lowlands surrounding the Po River – otherwise, the Apennines can be your playground!
Ciclovia del Sole – Practical Information
-When to Ride Ciclovia del Sole
The Ciclovia del Sole can easily be covered year-round. I would just keep an eye on the weather, and avoid riding on very cold (below zero), very rainy or foggy days, which would make your experience not very enjoyable.
The best seasons for Ciclovia del Sole are late spring and early Autumn. Summer can be brutally hot and humid – if you have no alternative, try to avoid riding in the hottest hours of the day, and stick to early morning or late afternoon (but don't forget to pack some mosquito repellent in this case!)
-Fitness
The cycle path between Mirandola and Bologna is 50 km long and there's very little altitude difference, making it perfect for novice cyclists.
It can easily be covered in just one day, but this wouldn't leave you much time to check out all the sights and attractions along the Ciclovia del Sole and around. We recommend two days as a bare minimum, three if possible!
-Orientation
Between Mirandola and Osteria Nuova, the Ciclovia del Sole follows a dedicated path running along a former stretch of railway. The symbol of the route is a sun – you'll find it painted on the actual path, and on signs along the way.
Just follow the sun, and you'll be on your way!
Between Osteria Nuova and Bologna, you'll find no dedicated cycle path but just signs along roads you'll have to share with cars.
This gets especially tricky once you reach the outskirts of Bologna – we recommend downloading the GPS track to your bike computer to avoid getting lost, or else hop on a train between Osteria Nuova and Bologna!
-Bike Info
The Ciclovia del Sole is 85% paved, with a couple dirt/unpaved sections – with a road bike, it would be tricky. We would recommend a gravel or mountain bike, either regular or electric.
If you don't have your own bike, you can easily rent one locally – TR Service has a range of bikes available, and can arrange pick up and drop off in any location. Just make sure to ask in advance if you require bike bags or any other accessory.
All along the Ciclovia del Sole, the old railway stations have been repurposed as 'bike stations', where you'll find a bike stand and a selection of tools including a pump. Don't forget to bring some spare tubes and to learn how to change them in case you get a flat.
Otherwise, fear not – train stations are never too far away!
-Water
All bike repair stations also have water fountains, and you'll also find fountains in most towns you pass along the way. Tap water is drinkable, so make sure you carry some refillable water bottles!
-Accommodation
There are plenty of places to stay along the Ciclovia del Sole. The route crosses the towns of Mirandola, Camposanto, Crevalcore, San Giovanni in Persiceto, and Sala Bolognese – all of which have accommodation options.
We took 3 days to ride the Ciclovia del Sole. On day 1, we stayed at Hotel San Giovanni in San Giovanni in Persiceto, and on day 2 we stayed at Locanda del Toro in Calderara di Reno, just a quick ride off the route.
Both places were good, but we especially loved Locanda del Toro. The owner's father used to be one of the chief designers for Lamborghini – hence the name 'Toro', meaning bull. You'll find plenty of Lamborghini memorabilia, including some of the original designs for the Miura!
-Food
Food is one of the great joys of cycling the Ciclovia del Sole! In case you didn't know, food in Emilia is delicious – expect lots of cured meats, excellent cheeses like Parmigiano (but not only) and delectable homemade pasta dishes.
This is where lasagne comes from, and you can't miss tagliatelle al ragù – just don't ask for spaghetti, please!
A great place for local specialties is Trattoria Piazzetta in the stunning Piazzetta Betlemme in San Giovanni in Persiceto, which is really pretty at night.
For lunch, we recommend getting in touch with Azienda Agricola Caretti and asking them to organize a barbecue with a tasting of their products. If you like them, you can buy them in the shop next door!
Planning to visit this area? Here are 18 amazing things to do in Modena!
What to See Along the Ciclovia del Sole / Mirandola to Bologna
Mirandola
The Ciclovia del Sole starts in Mirandola, a small town about 30 km north of Modena. More than likely, you'll be getting off at the train station, where the Ciclovia del Sole begins.
Before setting off on the Ciclovia, ride a couple of km north into town. The town's most famous citizen is probably Pico della Mirandola, a Renaissance philosopher who was said to have a prodigious memory.
The Pico Fortress still watches over the city, and it's worth stopping for a picture. It is currently closed following damage from the 2012 earthquake.
Camposanto
From Mirandola, ride southeast for approximately 18 kilometers along an excellent cycle path, straight as an arrow except for the section crossing San Felice sul Panaro.
After about an hour (or more, or less, depending on your pace) you'll reach Camposanto. The main draw here are 20 large-scale murals, completed by local artists as part of the Quadricromie street art festival.
If you don't have time to wander into town, there are some right next to the train station – don't miss the one dedicated to 'Santo Pedaleone', the patron saint of cyclists!
In Camposanto, you can also join a beautiful cycle path along the banks of the river Panaro, perfect if you want to cycle a little longer. The path is 14 km long and ends in Bastiglia, just north of Modena.
Crevalcore
Ride a further 7.5 km from Camposanto to reach Crevalcore, a sleepy town in the heart of the bassa, the Po Valley lowlands.
You may be tempted to ride on, but we recommend stopping to check out a couple of sights. The first is the statue of Marcello Malpighi, Crevalcore's most famous citizen, a 17-century doctor who was the first one to discover the difference between arteries and veins.
A few steps away you'll find the world's smallest museum! The Leo Preti puppet museum houses a collection of puppets and backdrops made by a local puppet maker, and it only comprises of one room.
Is it in fact the world's smallest? I'm pretty sure the Mmuseumm in NYC is smaller, so let's say the smallest museum in Italy!
If you are visiting Crevalcore around lunchtime, stop at Azienda Agricola Valle Torretta. Not only do they offer an amazing lunch, made with locally-grown vegetables and other products, they are also the headquarters of Sementerie Artistiche, an association organizing theatre plays, workshops, and artistic residencies.
San Giovanni in Persiceto
San Giovanni in Persiceto was probably my favourite stop along the Ciclovia del Sole! We reached it after a long day on the saddle, and its colourful buildings and porticoes immediately made me feel as if I was already in Bologna.
In the heart of the city, you'll find San Giovanni Battista Church, surrounded by elegant porticoes. It's the perfect place to stop for a coffee or a spritz, depending on what time of the day it is – but don't relax too much, as there is plenty to see and do!
If possible, pay a visit to the Teatro Comunale, located inside Palazzo Comunale, just opposite the church. Marvel at its interiors, all red velvet and golden stucco – or catch a performance if you have enough time!
Once you're done, make your way to Piazzetta Betlemme, probably the coolest attraction in San Giovanni in Persiceto. It's a small square a few minutes walk from the city centre, completely covered in cinema-inspired wall paintings. The author is Gino Pellegrini, a local who ended up in Hollywood working as a set designer, with Stanley Kubrick and many others!
For more street art, head to the train station, where you'll find a bicycle-inspired wall by Alice Pasquini.
Another unmissable stop, a short ride from San Giovanni in Persiceto, is La Bora, a nature reserve rescuing native swamp turtles, pushed out of their habitat after the introduction of the more aggressive American turtles, normally pets who have been released.
At La Bora, you'll find a hide overlooking a small lake, where you can sit and observe birdlife, and some smaller ponds and tanks where baby turtles are being rehabilitated before being introduced back into the wild.
Sant'Agata Bolognese
Sant'Agata is not right on the Ciclovia del Sole, but it's worth a mention as it's only a quick 6 km ride from San Giovanni in Persiceto.
Sant'Agata is well-known by motor lovers worldwide for being home to the Lamborghini headquarters. If you have time, you can sign up for a Lamborghini factory visit, to learn how these stunning cars are being made.
Otherwise, just pay a visit to the MUDETEC, the Lamborghini Museum of Technology, with a rotating exhibition of iconic Lamborghini cars, plus a driving simulator to test your skills! Find out more about the Lamborghini factory tour and museum visit here!
Sala Bolognese
One of the reasons why we love travelling by bicycle is that we always discover some offbeat but stunning gems, like the Santa Maria and San Biagio Pieve in Sala Bolognese.
The name Pieve refers to a countryside church, and looking at the simple Romanesque exterior you may be tempted to ride on. Don't do it – make sure you walk through its doors, usually left open, to admire its marvellous interiors.
The church dates back to the 11th century, and it is one of the best examples of Lombard Romanesque, traditionally built using bricks. Inside, you'll find some Byzantine-style carvings and 14th-century frescoes on the apse.
There's also a very interesting, unusual feature on the altar. If you look carefully, you'll see the image of a goat-like head with a cross carved on the top, documenting the passage from Paganism to Christianity.
Anzola dell'Emilia
After the stunning Pieve in Sala Bolognese, there's one more stop before Bologna – one that lovers of sweet things should not miss!
Anzola dell'Emilia is home to Carpigiani, the world's largest manufacturer of ice-cream machines. In the headquarters, you'll find the Carpigiani Gelato Museum, documenting the history of ice-cream – from its origins in Mesopotamia and Ancient Rome, to the extravagant iced desserts during the Renaissance, all the way to its development into modern-day ice cream.
It's fun to wander around the museum, take pictures of 'ancient' gelato-making equipment and have fun with the hands-on exhibits. But yes, I know what you're thinking – after all this riding, when do I get to eat some ice cream?
Carpigiani also organizes Gelato Experiences, masterclasses ranging in duration from 1 hour to half a day where you'll learn how to make ice cream, and naturally sample the results!
You can park your bike right in front of Carpigiani – make sure you set aside some time for this unusual experience on the Ciclovia del Sole!
Entering Bologna
The last stretch of the Ciclovia del Sole is especially beautiful, surrounded by trees and with some picturesque bridges offering cool photo opportunities. The cycle path along the former railway ends in Osteria Nuova, where you have two options – hopping on a quick 15 minute train to Bologna, or keep riding!
The Osteria Nuova-Bologna cycle path is currently under construction, but for the time being you can follow the Eurovelo 7, leading you all the way to Bologna and beyond.
Along the way you'll encounter some interesting sights – one of them is the Cippo di Sacerno, a monument built around a Roman marble inscription announcing the formation of the Second Triumvirate, when 3 Roman generals split the Empire following the death of Julius Caesar.
After the Cippo, the ride to Bologna follows some high-traffic roads, before taking you through the outskirts of the city. This is probably the least pleasant part of the whole experience – please pay attention, or ride to a train station and hop on a train for the final part.
In Bologna, you can leave your bike and explore the city for a few days – check out our Bologna 1-day itinerary, Bologna in 2 days guide or our article about non-touristy things to do in Bologna for some inspiration!
To find out more about outdoor experiences in Bologna and around, visit the eXtraBO office in Piazza Nettuno – there's plenty more to explore on two wheels!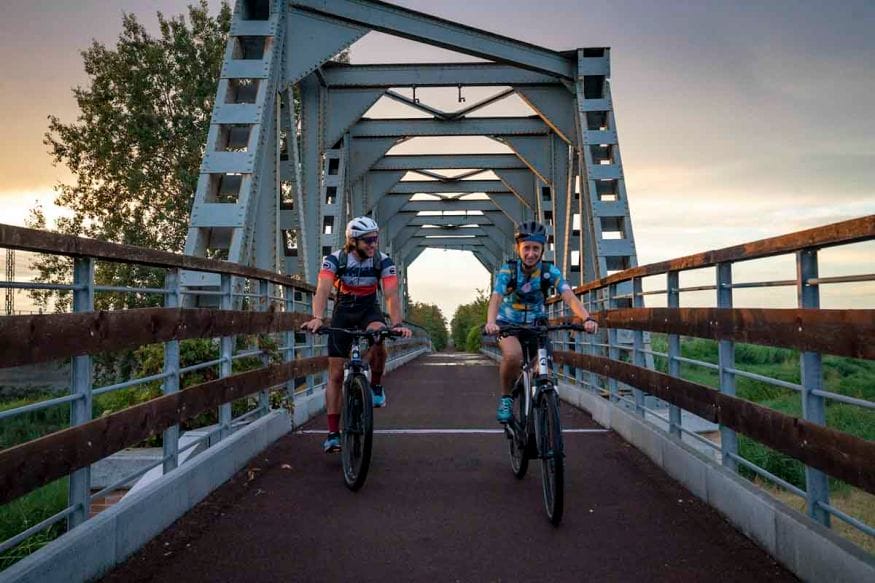 Our trip along the Ciclovia del Sole was in collaboration with iAmbassador and BolognaWelcome. We would like to thank Valentina, Nicholas and Emiliano for having shared the trip with us!