New year, new long-distance hike in Emilia-Romagna! This time we'll be sharing highlights from the Cammino di San Vicinio, a loop-shaped hike between the hills of Romagna and Tuscany!
'When you need him, San Vicinio will find you' – these were the words of Cristina, the President of the Cammino di San Vicinio (St. Vicinius's Way), one of the creators of the long-distance hike we were about to explore.
We were sitting down with a coffee in Sarsina, the town in the hills of Romagna that marks the beginning – and end – of loop-shaped Cammino di San Vicinio. Soon, people started streaming into the Cathedral behind us.
'The blessing is about to take place' said Cristina.
Now, church and saint-related things are not my forte, but I could see that San Vicinio had found many people that needed him.
So, what was the appeal of this saint, and why were so many people visiting this offbeat Romagna town?
Introducing San Vicinio/Saint Vicinius
San Vicinio (Saint Vicinius) lived between the 3rd and 4th century AD, during the height of Christian persecutions at the hand of the Roman Empire. He was originally from Liguria, and moved to the hills near Sarsina, to live a hermit life in prayer and contemplation.
Vicinio became known as a healer, able to cure people from various illnesses and perform miracles after placing a chain around their neck.
When it was time to elect the new bishop, a divine vision of angels holding a bishop's hat appeared over the mountain where San Vicinio lived – a sign God had chosen him to lead the church of Sarsina.
Vicinio was Bishop of Sarsina for just under thirty years, but kept spending much of his time in solitude, in the mountains and forests around the town. After his death, his body was placed in a marble coffin in the crypt of the church in Sarsina, and miracles continued.
Almost two thousand years later, countless miracles and healings have been performed. Sarsina is also one of the few places in Italy where exorcisms still take place regularly (thankfully, behind closed doors).
The original chain that San Vicinio used to heal people is still kept in Sarsina Cathedral, and routinely used to perform blessings – attracting scores of pilgrims and worshippers daily.
Now, after having learned about the saint, it's time to find out more about the trails that take his name – the Cammino and Ciclovia di San Vicinio.
Where is the Cammino di San Vicinio?
The Cammino di San Vicinio is 325 km long, and follows a loop-shaped itinerary between the Adriatic coast and the Apennines between Romagna and Tuscany, starting and ending in Sarsina.
From Sarsina, the Cammino travels southwest through Bagno di Romagna and across the Foreste Casentinesi National Park to Tuscany, where it passes by the two famous sanctuaries of Camaldoli and La Verna.
Then, it loops back north, crossing back into Romagna and passing by Monte Fumaiolo, where you can see all the way to the Adriatic coast if you're lucky.
After Monte Fumaiolo, the trail starts descending, going through Sant'Agata Feltria before crossing the Rubicone hills all the way to Cesena, a short distance from the coast. Then, it travels back to Sarsina, where it ends.
The Cammino was officially inaugurated in 2009, but some of the trails comprising it are among the oldest pilgrimage routes in Italy, being used by worshippers of the Saint for over 17 centuries.
The route passes through locations the Saint visited during his life, plus villages, churches, monasteries, and other places of outstanding natural beauty – like Monte Fumaiolo. It is divided in 14 different stages, ranging in duration between 9 and 37 km.
There are also some signposted variants and connections, allowing you to cut the loop short in a couple sections, or to hike further if you so wish.
The altitude difference is considerable along some of the mountain stages, exceeding 1000 meters/stage, but you'll be rewarded with scenic views, secular forests, and the feeling of being immersed in nature – the Cammino di San Vicinio runs mainly along trails and unpaved roads, with only some very small sections on asphalt.
What about the Ciclovia di San Vicinio?
After the Cammino di San Vicinio was launched, people started inquiring whether it was possible to cover it by bike. This led a group of cycling enthusiasts to create the Ciclovia di San Vicinio, an itinerary that follows the same blueprint as the Cammino, but can be done by bike.
The Ciclovia di San Vicinio is 320 km long, climbing approximately 8000 meters throughout the entire itinerary. It develops along forest trails and minor roads, most of them unpaved.
A mountain or gravel bike is necessary, it is not suitable for road bikes.
Depending on your fitness level, the Ciclovia can take between 5 and 10 days to cover. Some sections present considerable technical difficulty – unless you have considerable mountain biking experience, we recommend going with a guide.
Get in touch with the Ciclovia di San Vicinio association at info@camminodisanvicinio.it to arrange a bike guide, bike rental, or van support, or to ask for the GPX track if you're set on cycling independently!
Cammino di San Vicinio – Practical Information
Best Time to Visit
The Cammino di San Vicinio is best covered between April and October. It reaches a maximum altitude of 1200 meters – for this reason, avoid the coldest months, when some paths may be icy or covered in snow.
Also be very careful if it's raining, especially if you are travelling by bike!
The best months for the Cammino and Ciclovia di San Vicinio are probably April/May and September/October. We visited the area in mid-October and the weather was sunny and stable, albeit a bit cold sometimes.
Summer can also be a good time to hike, especially in the Foreste Casentinesi National Park, which are pleasantly cool even in the hottest months.
You might suffer a bit as you get close to the Rubicone hills and the flatlands surrounding Cesena – please avoid hiking/cycling in the hottest hours of the day, and consider skipping some stages if it gets too hot!
Fitness
The hiking itinerary can be tackled by anyone in good physical conditions. The first stage, 37.5 km from Sarsina to Bagno di Romagna, is the hardest – so if you have no problem with that, you'll be golden!
Alternatively, consider dividing the longest stages into parts, and concentrating only on parts of the Cammino if you don't have enough time – you can always travel back another time and explore more.
For the Ciclovia di San Vicinio, not only will you need cycling experience and fitness, you'll need technical mountain biking experience. If you have doubts on whether you're up for it, get in touch with the association at the email address listed above and discuss more with them!
Orientation
Both the Cammino and Ciclovia di San Vicinio are extremely well marked, with clear white and red signs with directions and the official symbol, representing San Vicinio's chain.
On the signs, you'll find the remaining distance to the official end of that stage, as well as the distance to the next point of interest. Also, close to the main landmarks along the Cammino there are panels providing information about the place.
You'll also find some smaller signs, mounted on pickets or on walls, normally with just a red and white stripe and San Vicinio's chain, and painted signs on tree trunks and street corners.
Accommodation
Both Romagna and Tuscany are tourist-oriented regions, and you'll find a good variety of accommodation even in smaller villages.
You can choose between hotels for all budgets, especially in larger towns, plus affittacamere (rooms for rent in private homes), campsites, apartment rentals, and even some hostels.
In Camaldoli and La Verna, you can stay in pilgrim accommodation for a nominal fee, and in Bagno di Romagna, make sure you book a spa hotel – you won't regret it!
To get a good overview of all accommodation available along the way (and book in advance, especially in summer) we recommend purchasing the official guide to the Cammino di San Vicinio (only in Italian for now) – get in touch at info@camminodisanvicinio.it if you're interested!
Cammino di San Vicinio – The Highlights
Sarsina
The Cammino di San Vicinio starts and ends in Sarsina, a town on the edge of the Apennines between Romagna and Tuscany.
It's worth paying a visit to the Cathedral, one of the finest examples of Romanesque architecture in Romagna. The chapel to the right of the main altar is dedicated to San Vicinio – that is where blessings are routinely performed, and where the Saint's chain is kept.
Sarsina was a bustling town in Roman times, famous for its large necropolis and for having been the birthplace of famous playwright Plautus.
There's an important archaeological museum with findings from the necropolis, and some rebuilt mausoleums – but it's only open on Tuesday and Saturday.
Luckily, you can see one mausoleum out in the open – the Mausoleo di Obulacco has been placed in a public park, in memory of fallen soldiers.
Between Sarsina and Bagno di Romagna
We spent a day exploring the area between Bagno di Romagna and Sarsina by mountain bike, to visit some of the places where San Vicinio lived, prayed, and performed miracles.
Our first stop was the Abbey of San Salvatore in Summano, located in a narrow valley surrounded by oak trees, with views over the surrounding mountains. The abbey was built on the site of a pagan temple, dedicated to the gods of the underworld – 'summano' is believed to derive from 'sub umano', in reference to Hell.
Our tour continued with a visit to Monte San Vicinio, and its nearby spring. This mountain is believed to be the place where the Saint spent the majority of his time in prayer and isolation, and where worshippers visited him in search of healing.
The chain now kept in Sarsina Cathedral (and used for blessings) was first and foremost worn by Vicinio himself, to weigh his neck in penance, as he believed not to be worthy of looking at the sky.
We also visited the tiny but stunning Pieve di San Salvatore in Sorbo, with some beautiful marble columns and fragments originally from Turkey. There is also a beautiful altar canopy, but decorations are sadly incomplete – the church was abandoned and looted in the 1950s, after the last priest died.
Bagno di Romagna
Oh, Bagno di Romagna! I can just imagine how amazing it would be to end the first stage of the Cammino di San Vicinio, 37 km climbing over 1000 meters, and finding yourself in this cute town on the edge of the Foreste Casentinesi National Park.
If you are indeed hiking or cycling, you probably won't be up for sightseeing, but you'll be happy to know that Bagno is a thermal town, popular since Roman times. Its waters are rich in sodium bicarbonate and sulphur, making them ideal for bone and joint inflammations, as well as respiratory and circulatory diseases.
The thermal water is also drinkable – if you are staying in a spa hotel (something we really, really recommend!) there are taps where you can fill your water bottle, alternatively take a short walk to Sorgente Chiardovo, at the end of a pretty tree-lined path.
Monte Fumaiolo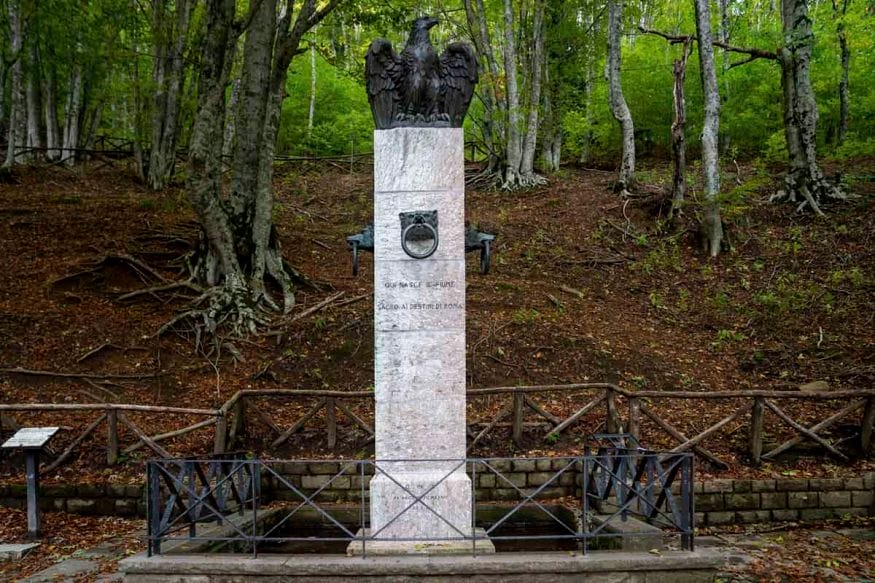 From Bagno di Romagna, the Cammino continues into Tuscany, through the Foreste Casentinesi National park all the way to Camaldoli Hermitage and La Verna Sanctuary.
Then, it crosses back into Romagna at Verghereto – we hiked part of the stage leading to Balze, which included the famous Monte Fumaiolo, the highest point encountered along the Cammino at about 1400 meters above sea level.
In mid-October, the autumn display was already at its most vivid, with deep red, burnt orange, and bright yellow leaves, and a sharp wind heralded the arrival of winter. We followed local guides to Sant'Alberico Hermitage, deep in the forest, where a single hermit lives.
The hermitage is a really magical place, where you can breathe the peace and stillness of the forest, and get close to the Creator through prayer and solitude. Regardless of your beliefs about religion, I really recommend visiting this place.
Monte Fumaiolo is very well known for being the location of the source of the Tiber River. The exact place where the mighty river springs from the earth is marked with a Fascist-time monument – it's hard to believe this tiny rivulet becomes Rome's mighty river, but Nature always has a way to amaze you.
Sant'Agata Feltria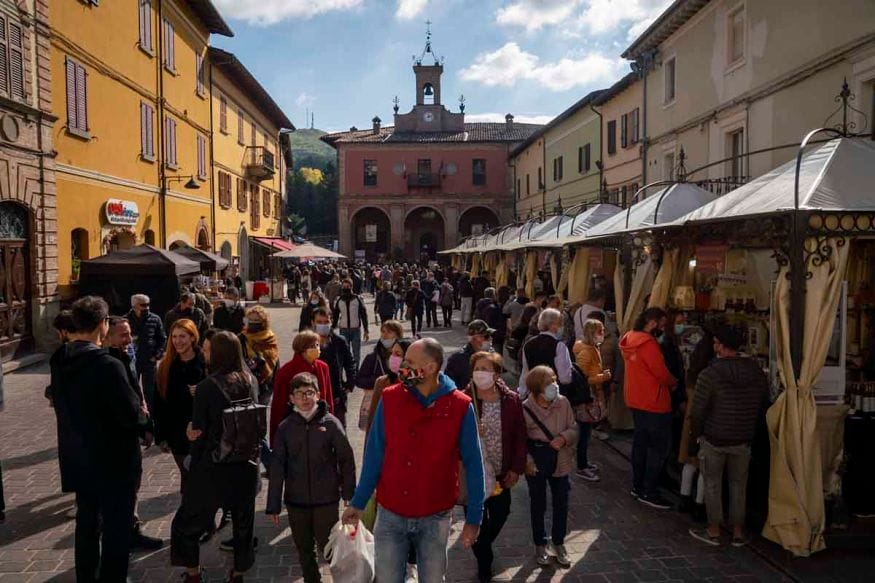 After leaving the tallest peaks of the Apennines behind, the Cammino di San Vicinio enters Montefeltro, a region of hills, castles, and scenic hilltop villages like Sant'Agata Feltria, where the stage from Balze ends.
Sant'Agata Feltria is dominated by Rocca Fregoso, a 10th-century fortress built directly into a rocky crag, and affording a vantage viewpoint to survey the surrounding hills. It's also worth visiting Teatro Mariani, a 17th-century theatre built entirely out of wood.
However, Sant'Agata's best claim to fame is undoubtedly the Fiera del Tartufo, taking place every Sunday in October. The narrow streets of the historic centre are filled with stalls selling truffles and showcasing artisans of surrounding villages like Rosella from Montetiffi, the last remaining maker of clay trays for piadine, the region's traditional flatbreads.
To taste some delicious truffle-based specialties at bargain prices, make your way to the 'restaurant tent' and purchase a meal ticket – prices in 2021 were only €9 per dish!
Perticara
The Cammino di San Vicinio is not just a journey to the distant past, to the time of the Saint and when pilgrims crossed these hills, it's also a way to learn more about the recent past, and the mining heritage of Romagna.
Perticara, just 9 km away from Sant'Agata Feltria, was once home to one of the largest sulphur mines in Europe. The mine closed its doors in 1964, after the demand for sulphur decreased and fracking became established.
Nowadays, it's possible to visit the Sulphur Museum, located in the vicinity of Pozzo Vittoria, where miners used to descend to the bowels of the earth. The museum includes a reproduction of the tunnels, allowing visitors to get a feel of how it would be to work deep underground for hours on end.
The last trolley to ever exit the mine is also on display, with 'per il museo' (for the museum) written in chalk, on the day the mine was closed for good.
Sogliano sul Rubicone
Moving northeast towards the Adriatic Sea, the hills gradually become softer – Sogliano sul Rubicone marks the start of the Rubicone hills, the territory surrounding the river made famous by none other than Julius Caesar himself.
Sogliano also marks the end of the stage starting from Pietra dell'Uso, a fairly easy day with just 9 km hiking – which should leave you enough time to visit the village. Start at the Fontana delle Farfalle (Butterfly Fountain), work of local artist Tonino Guerra, and if you're into music, pay a visit to the incredible Museo del Disco d'Epoca, with thousands of LPs and assorted music paraphernalia.
Make sure you also pay a visit to a formaggio di fossa producer. Starting from the 16th century, Sogliano locals started storing their cheese in natural caves to preserve it and protect it from looters. It was discovered that leaving the cheese into these sealed limestone pits actually improves their flavour – making it smoother, or more intense, depending on whether or not fermentation takes place.
Nowadays, in Sogliano you can find several infossatori (pit-keepers) offering tours to shed light on this ancient technique, ending with a tasting of pit-aged cheese. We visited Fossa Brandinelli and highly recommend their tour!
San Giovanni in Galilea
The following stage, from Sogliano al Rubicone to Borghi, passes through the hilltop hamlet of San Giovanni in Galilea – the first of a series of scenic fortified villages, home to just about 50 people.
Don't miss visiting the cemetery located at the very edge of the hill, called by artist Tonino Guerra a 'tappeto volante' (flying carpet) because it truly offers unbeatable views over the surrounding hills.
Also, make sure you pay a visit to Museo Renzi, an eclectic museum founded by a local priest. You'll find a varied collection, with exhibits ranging from copper-age tools to letters of World War I soldiers, plus an enviable collection of ceramics.
Monteleone
Blink-and-you'll-miss-it Monteleone is a true gem, a tiny Medieval village dominated by a castle, which is sadly closed to the public.
You enter the village from two arched doorways, and there's a shady square where you can sit and take a break from all that hiking. The square is called Piazza Byron, in memory of the great Romantic poet who visited Monteleone during one of his Grand Tours.
Sorrivoli
Just 5 km after Monteleone you'll reach Sorrivoli, another sleepy village in the shade of a large Medieval castle – which can be visited, even though sadly we didn't have time to do so.
Sorrivoli hosts a puppet festival every year, during which the castle and streets of the town become alive with puppet theatres recounting tales of places near and far. There are also puppet-making workshops for those who want to know more about this craft.
Montiano
Montiano marks the stage where the hills end, and the coastal plains begin. It's also the last little town you'll cross before hitting Cesena.
It's worth spending a couple of hours in Montiano – walk down the shady streets of the historic centre, admire the view from the war memorial on top of a hill, surrounded by pines, visit the unique heart-shaped castle or just have a sit-down and a drink in the main square.
If you fancy hiking more, the Montiano municipality just created eight loop-shaped hikes in the hills surrounding the town, between 2 and 18 km long. They also arrange themed events, like sleepovers in nature in summer and chestnut-picking in autumn.
Cesena
Cesena marked the end of our jaunt along the hills of Romagna, following the footsteps of San Vicinio. It's a medium-sized town, which felt like a bit of a shock after so many days between nature and small villages.
With just a day to spare, I would recommend focusing on three main sights. The first is the Santa Maria del Monte Abbey, a scenic vantage point to see all the city from above. The Abbey is still inhabited by monks, and has two beautiful cloisters and one of the world's largest ex-voto collections.
Another place worth checking out is the Rocca Malatestiana, dominating the city. To appreciate it properly we recommend booking a tour with an official guide like Ivan Severi – you can access the inside of the towers and the city walls only with a guide.
The final Cesena point of interest – which also happens to be the most amazing – is the Biblioteca Malatestiana, the only 15th-century library to remain unchanged to this day. Everything you'll see is original – from the bench seats to the long wooden tables, the books and chains securing them.
The Biblioteca has been a public library ever since its creation, and still welcomes scholars to consult its priceless books. There's a lot more to see and do – here's our article about 8 reasons to visit Cesena to know more!
After that, it's time to go – to start the slow hike back to Sarsina, where you'll bide farewell to San Vicinio.
Our trip along the Cammino di San Vicinio was in collaboration with iAmbassador and Emilia-Romagna Turismo. We would like to thank Cristina and Domenico for their help!